Discover
Brenda Pearce's tracks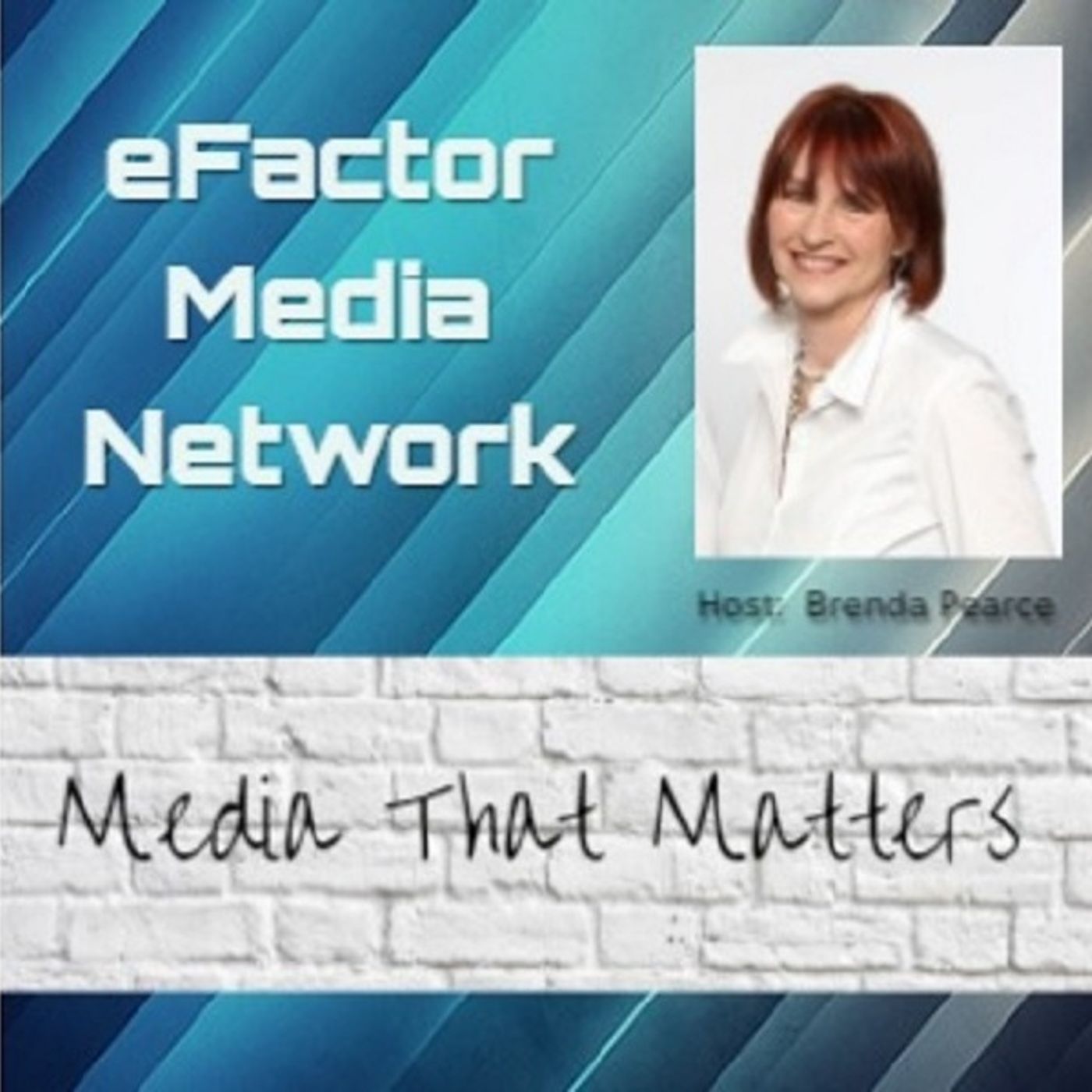 Claim Ownership
Author: Brenda Pearce
Subscribed: 3
Played: 1,049
© Copyright Brenda Pearce
Description
Join E Factor Radio Network's Fresh Approaches To Living! Brenda Pearce hosts talk radio with with many leaders of transformation to help elevate humanity to new levels of consciousness to live full happy, vibrant lives in all areas of life... health, wealth, happiness and JOY!
This Power Hour will make you laugh, cry and feel empowered and inspired. It is a double feature with my guests Teresa Syms, Author, healer, Life Coach and so much more. We talk about her journey, enlightenment and a special heartfelt resolve and healing. Part 2 features Anson Williams AKA Potsie Webber from the 70's hit show Happy Days. He also shares his 'Blue Sky' moment which has led to the development of a product to help front line responders and any one experiencing fatigue without the use of stimulants or caffeine. Join us for a true power hour of empowerment.
Are you aware of the effects of our wi-fried world? Digital surveillance, and Digital Dementia candid conversation with Dr. Sherry Kelly, and Brenda Pearce on Radio Time Productions and host Valerie Jarrette Bass. Join in and listen to this important conversation that everyone should e aware of.
Welcome to Ageless Blissings Radio on the Divas That Care Network. Bringing you media that matters. Check out www.divasthatcare.com for more great podcasts with heart. Check out special gifts and offerings from our guests by visiting https://tinyurl.com/ABMarketplaceToday's guest... Kerri KannanKerri Kannan has a gift that allows her to ask the universe to facilitate change on behalf of anyone who listens to her and the Universe Delivers! People have reported financial windfalls, healed relationships, soul mate connections, business success and more... the best part is, it requires no particular effort on behalf of the listener. You just sit back, say yes and watch as you experience INSTANT energy shifts and shortly after, life miraculously aligns to be in harmony with your desires.Http://CommandMiracles.com (this is to the Manifesting Miracles Program)Http://divinewithin.com This is for the general websiteBliss & BlessingsBrenda ♥
Welcome to Ageless Blissings Radio on the Divas That Care Network. Check out gifts, products and services on the AB Marketplace https://tinyurl.com/ABMarketplaceToday's special guest is Dr Sue DenkKnown as The Transformational Psychologist, she hails from Chicago.  She is a very special friend of mine had met on a trip uniting all the contributing authors of our first mutual book.  Since then we learned that we had so much in common, including the mutual loss of children.  It has been a seed to create a book of healing, and sharing, which has evolved over the past 6 years to become a series.  The Secret Child series will share stories from parents from all types of loss.  Dr Sue's professional practice has helped people across the span of the human continuum and has a special affinity for parents of loss.Together we both have a very special invitation for you. Invitation to collaborate. Putting together a very special series of books from the heart. Have you lost a child? If you have a drive or desire to give voice to their lives, and your journey through loss, and share the gifts their life has given to you to make you a better person, or share a charity and foundation that you now support, or have created, then this is the series for you. The Secret Child book series will be one of deep healing and sharing for the writers as well as the readers. Volume 1 Life After Loss is in the works and will be a book of sharing across the age groups. We are open to receiving submissions for the various volumes. Vol 2,  Your story could give help and hope to so many who grieve. Find out more here.https://secretchildbook.wixsite.com/secretchildbookser or www.secretchildbookseries.com Check out the  Facebook page www.facebook.com/secretchildbookseries
Learn about how resonance and regeneration are key to healthy life. Brenda shares candid conversation with Valerie Jarrette Bass Learn more at www.facebook.com/groups/pemfconsultant, or check out https://tinyurl.com/pemfconsultant
Ageless Blissings Radio with Brenda Pearce brings you true media that matters. Join me with another contributing author from Light At The End Of The Funnel Vol 2. Visit http:tinyurl.com/ABMarketplace to get inspired services, books, workshops and more from our amazing guests!Today's show features Cheryl Bassitt.Cheryl Bassitt#1 International Best-Selling AuthorAward-Winning Creator of the Unstoppable Family Meeting ToolkitInspired by her own family's journey, Cheryl's work for creating unshakable, unbreakablefamilies is recognized as one of the top 5 Next Best Brilliant Ideas for Humanity.Cheryl is referred to as the Connection Coach, taking a practical approach to life, family valuesand communication. After two decades as the Executive Director for a major health careassociation, she then embarked on an entrepreneurial journey that led her back home…literally.As an International Best-Selling Author and speaker, she shares that journey and a true pathwayof how to connect with your family for life. Her message is grounded in 4 Gifts that fosterpersonal responsibility, effective communication, goal setting, and what it means to trulycelebrate ourselves and others.She is also an Award-Winning Creator of Unstoppable Family Meeting Toolkit. The Toolkitalong with the 4 Gifts, gives a family everything they need today, to have an unstoppableconnection with their family tonight. However, Cheryl's message doesn't stop at the kitchentable…her 4 Gifts are powerful at boardroom tables around the globe. To discover the 4 Giftsand uncover more of Cheryl's work visit www.UnstoppableConnections.com.
Welcome to Ageless Blissings Radio with Brenda PearceOur guest on this episode is Tina Byrd - contributing author to Light At The End Of The Funnel Vol 2Specializing in: Group Work, Personal & Professional Development, Lunch & Learns, Interactive Workshops & WebinarsWorking Professionals and Businesses hire me to defy the odds of STAGNATION to get IMMEDIATE RESULTS because most are lost, unfulfilled and frustrated SO I help them refine, define and execute SUCCESS. Bottom line, they command the "NOW" to own their greatness- Discover how your thoughts and choices COLOR your life.- Get what you desire in ALL areas of your life.- Spark your inner motivation to reach goals and change your life.- Awake in others the inspiration to excel.- Build a fulfilling life on the foundation of your values.- Discover your leadership impact.- Have the courage to take risks for great rewards.- Learn the power of effective communication.- Reclaim your time and live a more fulfilling life.Website: www.coachmellc.com Facebook: https://www.facebook.com/coachmetinabyrd/LinkedIn: https://www.linkedin.com/in/coachmellctinabyrd/Email: coachme@tinabyrd.com
Welcome to Ageless Blissings Radio with your host, Brenda Pearce. Bringing you media that matters to empower your life to its fullest. Connect with our marketplace for workshops, books, services and so much more. Visit http://tinyurl.com/ABMarketplaceToday's guest is Miranda DeHaanMiranda joins Brenda as one of the contributing authors to the international best-seller Light At The End Of The Funnel Vol 2 book which can be currently found on Amazon and will be released to retail bookstores in the near future.Miranda is an Animal Health Technologist, speaker, and Chief Navigator of Petwell Navigation. As part of her training in the field, she was required to work in the Euthanasia section of the Humane Society. It broke her heart to have to kill these cats, dogs, and other surrendered animals who weren't necessarily sick simply because nobody was adopting them. Upon reading some of the reasons that pets had been surrendered to the humane society, she realized that if the guardians of these pets had had better access to certain information and resources about pet care, health, and wellness, they may have not have felt the need to give up their beloved pets. Miranda's mission is to help reduce the number of animals ending up in rescue shelters, enhance knowledge and awareness, and help guardians feel empowered to make decisions so their pets can be the happiest, healthiest versions of themselves.https://www.facebook.com/petwellnavigationYEG/
Welcome to Ageless Blissing Radio with host Brenda Pearce. Triage for body, mind and spirit with empowering conversation is truly media that matters. Visit http://tinyurl.com/ABMarketplace for books, workshops, services that are brought forth by our various guests.Today's guest is Erin Hill NewmanErin is an Authentic Courage and Shamanic Mentor. She helps women entrepreneurs to move through doubts, blocks, and fears so that they can finally have the business of their dreams. A graduate of the University of Virginia and a fluent German speaker, Erin left a successful career in the corporate world to pursue her dream of helping others to discover their inner power. Using a mixture of mindset tools and powerful ancient practices, she helps entrepreneurs to create a business and life they truly love. If you wish to be Authentic & Courageous in your business, check out her Facebook Group https://www.facebook.com/groups/AuthenticCourageSpiritualEntrepreneurs/FREE GIFT--The Authentic Courage Guide: ?A Proven 3-Step Method to Uplevel Your Confidence and Create an Aligned, Authentic, and Successful Biz. https://www.subscribepage.com/authenticcouragebook2
Scalar energy is the fundamental life force found everywhere in the world, space and universe. It originates from the sun and stars. Chi, prana, OM, mana, life force, pyramid energy or zero-point energy are synonymous terms for scalar energy. Come learn how Tom Paladino has harnessed energy to help humanity through distance healing.
THIS IS THE MOST IMPORTANT PODCAST YOU WILL EVER LISTEN TO. PLEASE LISTEN AND SHARE WITH FAMILY AND FRIENDSToday's guest is Charlene Doak-Gabauer. Former educator, and network supervisor, Charlene has created her theory of Digital Supervision based on her experiences in the education system. She is internationally recognized by many governmental and police agencies for this protocol. She is an acclaimed international speaker. She has developed a national charity in Canada called Internet Sense First. She is a voice for reform in the digital world.lcome to Ageless Blissings Radio on the Divas That Care Network www.divasthatcare.com. We are bringing you media that matters. Visit the online marketplace http://tinyurl.com/ABMarketplacCharlene says, "My Theory of Digital Supervision is necessary for online child and family protection".Do your children use gaming systems, iPads, cell phones, laptops - digital devices? Few adults realize the magnitude of their responsibilities as parents and professionals. We are responsible for minors (anyone under the age of 18), even if they are on digital devices. Predators are everywhere on the Internet and their numbers are becoming stronger every day. Do you REALLY know what your children are doing online? Parenting in the digital age is to protect our most vulnerable, our children. Learn and practice DIGITAL SUPERVISIONa user-friendly method to monitor and supervise your children as they game, do social media, surf and chat on the Internet.Learn more http://internetsensefirst.com/Facebook: https://www.facebook.com/Internet-Sense-First-513418275797499/
Welcome to Ageless Blissings Radio. Today's guest, Jean Brannon shares tips on wellness from a bottoms-down perspective. Jean uses metaphysical & Eastern mysticism concepts as tools to help people become self-empowered. Her dream is to give ancient wisdom & New Thought ideas a voice in popular culture. She is working on the 2nd chakra book in the Ancient Ways to Wellness Series. A licensed acupuncturist, Jean Brannon explores the fascinating connection between little-known lower body chakras & our self-limiting beliefs in Pants Down: How the Trousers-to-Toes Chakras Can Keep You Turned On, Tuned In, & Toned Up. In this min-e-book™, dive deeper than the well-known seven chakras to discover how these powerful energy centres can empower you to better vitality. Using ancient tools from Buddhism and Hinduism, as well as modern brain science, Brannon shares tips and tools she has developed during more than 20 years of clinical practice to help you break through these constricted beliefs & live a more expansive life.Examine how the lower body chakras have evolved & their effect on usLearn how emotion and memory can cause unwanted behavioursTap into and balance the trousers-to-toes chakras for a greater sense of well-beingwww.jeanbrannon.comhttps://www.facebook.com/jeanbrannon.authorhttps://absolutelovepublishing.com/pants-down
Welcome to Ageless Blissings Radio on the Divas That Care Network . Check out Teresa's book A Century of Secrets on the Ageless Blissings Marketplace www.tinyurl.com/ABMarketplace along with gifts, and offerings from our guests. Check out my FREE gift http://bit.ly/brendasfreegift to you as thanks for listening to this show, and register for my newsletter.Today's guest is my very special friend Teresa Syms, who is also a host on the Diva's Network. Teresa overcame a life of an outcast child and divorced mom to come fully into her beingness as an adult. Overcoming PTSD, abuse, trauma, divorce to overcome the secrets of generations past. It was when she began to sift through the lies that had defined her life that she discovered the truth. Writing her story in A Century Of Secrets helped to boldly put the pieces together to discover wholeness, truth and balance for the first time in her life. She now is a life coach who helps people overcome their past traumas to live more fully in the present. Join us for lively & timely conversation. Connect with Teresa http://www.teresasyms.com
Cali Gilbert is an international bestselling author, award winning photographer and filmmaker. As the creator of the IT'S SIMPLY book series, Cali has published several bestselling books of her own and now coaches other writers through the publishing process. As Founder & CEO of Tower 15 Productions, Cali is passionate about writing and directing social impact films and supporting other creatives through education and collaboration. Cali has a passion for supporting women in transition and shares her personal story of transformation as an inspirational speaker. Cali resides in Santa Monica, California. To learn more, visit www.CaliGilbert.comCheck out Cali's online publishing Masterclass that you can also link to here - https://caligilbert.teachable.com/p/its-simply-publishing-masterclass
Welcome to Ageless Blissings Radio with host Brenda Pearce. It is truly our mission to get credible information out to you to help you fill your life with bliss and live ageless to enjoy your life. Check our resources market by visiting www.tinyurl.com/ABMarketplace Follow us www.facebook.com/agelessblissings Listen to Divas at www.divasthatcare.com website.Today's guest: Martina BillMartina Bill stumbled into the world of Cannabis Education through her role as an Administrative Assistant at a medical clinic in 2016. As a front line face to patients in the clinic, it soon became evident that she would become an educator helping patients to understand how to use cannabis as medicine. She received her Master of Marijuana Certificate from the Cannabis Training University.There is much misunderstanding regarding Medicinal Cannabis despite the legalization of Pot in Canada. Martina is filling the gap in understanding and education. She has several great anecdotes to success with this natural way of helping so many to overcome chronic pain, and seizures, and withdrawal from other drugs & addictions, depression and more, and is adding quality to people's lives when used with knowledge and care.Lyte Cannabis Resource Centre 647-325-LYTE (5983)https://lyteclinic.com
Welcome to Ageless Blissings Radio.Today's guest... Jim Phillips is a LIFE Strategist, author, speaker & business coach. For over 30 years he has been inspiring others to higher levels of achievement and understanding through his strategy sessions, coaching, writing and presentations. One of Jim's gifts is his ability to help others understand and apply complex spiritual concepts to their personal life which has resulted in their creating and experiencing more of who they truly are and what they desire from life.Jim's books... "The Key to LIFE; living in full expression", & "From Inspiration to Intention",Jim is also a featured expert in the transformational movie, "Becoming the Keys", written and produced by award-winning film producer Robin Jay. The movie also stars such notables as don Miguel Ruiz (The Four Agreements), Dr Joe Vitale (The Secret) and Dannion Brinkley (Saved by the Light).www.livinginfullexpression.comjim@livinginfullexpression.comFor more bliss visit http://tinyurl.com/ABMarketplace - Join the Ageless Blissings Community at www.facebook.com/agelessblissings
Welcome to Ageless Blissings Radio hosted by The Empowered Nurse, Brenda Pearce. It is our mission to create empowered media through inspiring conversation with amazing guests who empower and inspire. Check out our marketplace filled with items, products, books, services from our guests visit www.tinyurl.com/ABMarketplace Connect with the Ageless Blissings community at www.facebook.com/agelessblissings Catch more empowerment on the Divas That Care Network www.divasthatcare.comToday's guest: Malinda ZarateMalinda Zarate is a wellness coach, transformation specialist, energy practitioner, and founder of the Emboldened Heart online global training academy. Malinda has developed an inspired energetic approach that anyone can learn to use to create more health, wellness, wholeness and happiness. After years of working long, stress-filled hours in the world of finance as an international consultant, Malinda experienced burnout and real health challenges. Desperately seeking answers, she immersed herself in learning about bold alternatives and soon discovered a life-changing energy approach which completely changed her life for the better. She now has an enormous passion and enthusiasm for her mission, inspiring others to use life-changing energy processes to transform health, emotional, financial and relationship issues. The result is more health, more peace of mind, more happiness, more abundance.Sign up for Malinda's Emboldened Heart series www.emboldenedheart.comCheck out The AUTUMN EQUINOX CRYSTAL RETREAT in Arkansas Sept 21 - 23/19
Kelly sustained burns to 75% of her body as a 2 year old. She lived a live of stares, and criticisim and not fitting into societal norms of beauty. She has risen to be one of the top motivational speakers in the world. A documentary of her life has been filmed. Lookf for Still Beautiful, the book and the film. Check out her products at www.tinyurl.com/ABMarketplace
Dr. Ynge Ljung ND is on a mission to irradicate once and for all, allergies lurking and ruining our lives. We may have allergies and not know it. Learn more about some of these culprits and how the Allergy Kit may give yu a new lease on life. https://theallergykit.com/ref/109/
Celine Cloutier is a herbalist who uses the essences of native Canadian trees to help produce calm and healing. Discover more by listening to this very informative show. You will learn so much!
United States