Discover
On Your Sht Podcast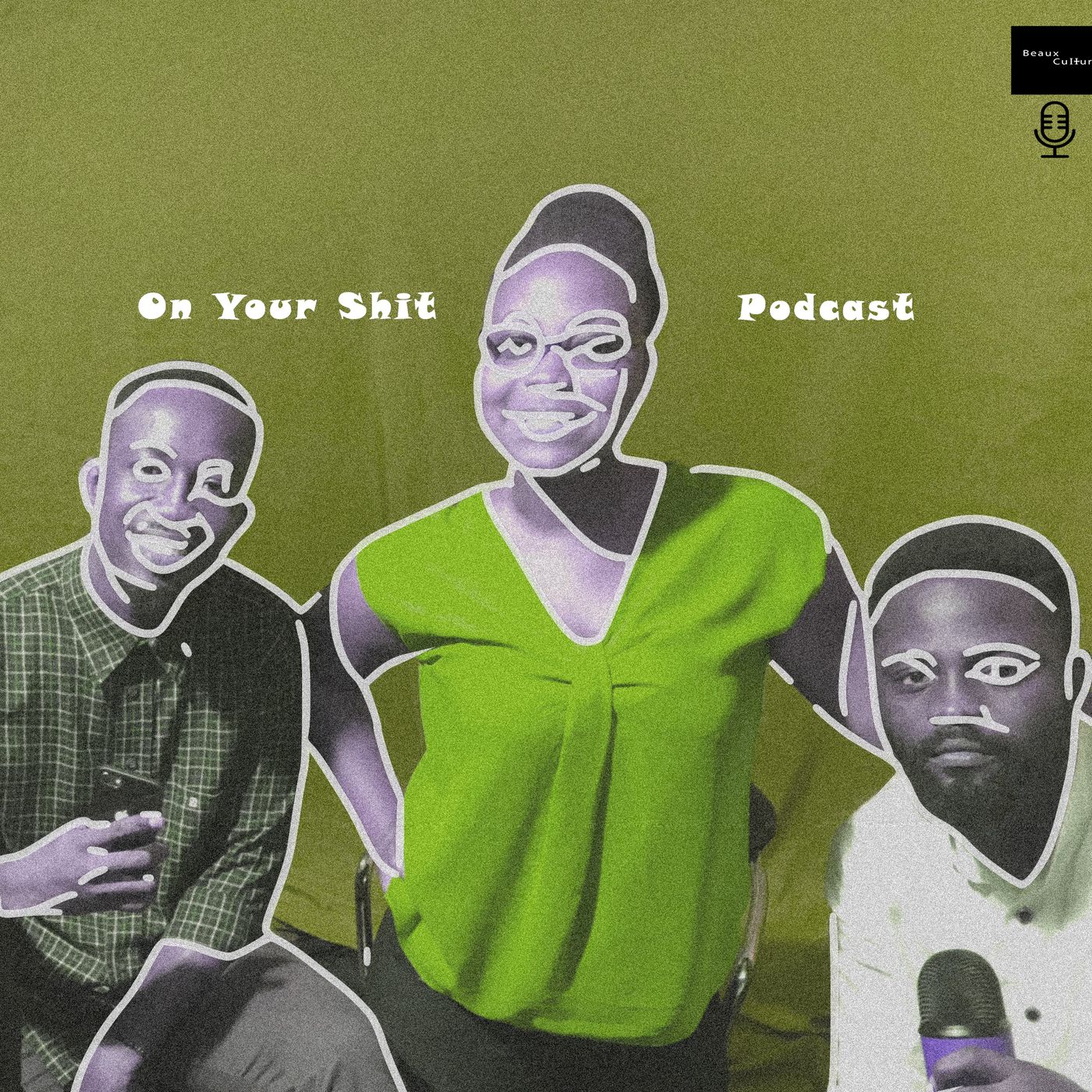 Claim Ownership
On Your Sht Podcast
Author: Beaux Culture
Subscribed: 0
Played: 3
© Copyright Beaux Culture
Description
Ghana! Adulthood is a soup and millennials are forks trying to manage and grasp what little they can of life. These Ghanaian millennials can say their truth on current issues in the most blatant way possible and yes at the end of the day, the point is to make you feel crappy, annoyed or reformed!
Submit:
cbackstagegh@gmail.com
via #TGOLPodcast: On this Podcast with Onyeka, we identify how rape and sexual violence or misconduct is rooted deep into toxic and hyper masculinity and the need for discontinuing it - "Change the narrative of how men see women's bodies as theirs for the taking". We touch on consent, calling your sexual abusers or perpetrators out, Men learning and applying it to their day-to-day and a lot more!Podcast is monetized by Spreaker Ads.
The simple question in this podcast is "WHAT'S THE LOWEST YOU'VE GONE IN AN ARGUMENT?" as a result of a tweet that blew up on social media. Rather than the 'perfect' response we expected; it became a war of who is more toxic or misogynistic in a relationship in the narrative.Song Plug: JKO (@JKO_Dame) with Red Lights >> https://soundcloud.com/jko_dame/red-light
On this week's podcast- We talk President Nana Addo's lockdown as a result of the #coronavirus outbreak, sort of a PSA and re-echo the need to stay safe at all times.- We talk new music; ToluDadi's new single "FAYA" feat Gyakie and Joojo Addison x PARTYNEXTDOOR with the "Partymobile" album and THE WEEKND's album, "After Hours".PODCAST brought to you by @Beauxculture (on socials). STAY SAFE #COVID19
On this week's podcast with our favourite person who is also a proud Transgender, Ohemartin - we talk fantasies; sexual and non-sexual, Nicki Minaj being a 'LGBT bad bitch', Celebrity fantasy…. (again) and LEARNT a thing or two from the LGBT community……Oh and Ohemartin brought out her two other cool transgender friends, Calerky & Jerrinova!Subscribe to our podcast (ON YOUR SHT PODCAST)
On this week's podcast; Sel, Red and Queue talk about mental, physical and emotional insecurities!What are you doing to compensate your insecurities?
Valentine's day edition of the 'OYS' Podcast we talk, forgiveness; the transgressor's point of view in reference to a tweet from @Sena_frost on twitter, healing and being solely entitled to the way and how one feels.Jazz compliments in the background to bring the Val's day close to you.WITH LOVE, 'OYS' podcast team!
On this week's podcast, we talk about 20 basic and new things to dare try in 2020. Off course we will always make your time a good one with the way we approach this topic, tell a friend to start something interesting in 2020!
We sat in on a conversation with Ghanaian transgender, Ohemartin on life after coming out, Gender validation, Mental Health/Wealth, longevity as a currency, dating and other…. you know, REALLY REALLY NAUGHTY STUFF – We think you'd want to hear all of this tea!
#PLAY: On this week's podcast, we take a scope on the conversation as started by social media and Pulse Ghana's interview with Ghanaian transgender, #Ohemartin. -Analyse a case study from a conversation between two heterosexual people on the view of sex with a transgender-Do men think with their dicks-Thoughts on friendly relationships with trans, homosexual, lesbians basically the LGBTQ community.#Announcement - We'll use this as an opportunity to have a full blown conversation with Her soon. We also discuss Kan Dapaah's video call in a pyjamas with a lady which went viral and begs the reality of the question; Is it normal for married people to have a side piece? and finally thoughts on Fella Makafui and Medikal's showbiz narrative.Special music highlight - Bosom P Yung // Attaa Adwoa
On this podcast which marks the end of 2019 - Red, Sel and Queue talk about the year in review, areas to improve on any human's personal journey, achievable moments and possibilities of the coming decade, 2020.We rendered our own version of the Christmas CarolSong featuresCommon > HER Love feat. Daniel Caesar (Let Love Album)Ed Sheehan > Don't Care feat. Justin Bieber (No 6 Collaboration Album)Special Christmas song requestMariah Carey > All I Want For Christmas Is YouPodcast is sponsored by Beaux CultureFollow us on Facebook > https://www.facebook.com/BeauxCulture/?ref=bookmarksTwitter > https://twitter.com/beauxcultureInstagram > https://www.instagram.com/beauxculture/
On this week's podcast we talk about Cardi B coming to Africa for the first time, the purpose of her visit to Africa and her encounter with some Ghanaian female celebrities over meet and greet saga all in a timeline!This podcast was recorded before any further development or reaction to the saga - thus, the 09 Dec 2019.Podcast is sponsored by Beaux CultureFollow us on Facebook > https://www.facebook.com/BeauxCulture/Twitter > https://twitter.com/beauxcultureInstagram > https://www.instagram.com/beauxculture/
On this week's podcast we talk - Entertainment journalist, David Mawuli's wedding ceremony i.e a 3rd person perspective on marriage (even though we've absolutely no idea what marriage is - we are just saying what we observed) - KiDi shocking fans with showing his 3 year old son for the first time- Kuami Eugene playing an audio of a fan begging him for sex on national radio. New album plug - Tory Lanez' #ChixtapeV 'Jerry Springer feat T. Pain' (Special request)Follow Beaux Culture Instagram > https://www.instagram.com/beauxculture/Facebook > https://www.facebook.com/BeauxCulture/Twitter > https://twitter.com/beauxculture
On this podcast we talk about finding the balance in dressing to look fantastic and dressing to overly make a statement, not forgetting how Ghanaians and the virtual world (Social media) as a whole tend to always control the narrative when it suits them - which kind of makes us a little bit hypocritical, no? A little PSA - Keep the same energy and drink some more water Check out sip0clock on IG for some fresh bissap and PineGinger juice! Order here > https://www.instagram.com/sip0clock/
We talked about two extreme cases of what we think is bad PR in our opinion, Comm. Minister, Ursula Owusu's alleged comment over hardship in Ghana and Fantana's video of 'wardrobe malfunctioning' that resurfaced on social media and her reaction to it.'We surfaced on the disadvantages of bad PR and bad content being saturated on the internet & ways and measures to filter them' - PT2 next weekCheck out @Tripp_Nie's new EP "BiTS" #BeautyInTheStruggle \\ A master piece - 23 minutes onwardsApple Music >> https://music.apple.com/pg/album/beauty-in-the-struggle-ep/1484857288Soundcloud >> https://soundcloud.com/tripp_nie/sets/beauty-in-the-struggle
#SexForGrades - On this podcast, we talk BBC Africa's video expose on West Africa Universities and we applaud BBC Africa for that. We talk about the reportage ethics, sexual harassment and Coercive power as a cycle in social institutions - education, government, family, religion, economy. Big S/O to Kiki Mordi for spearheading and stirring this conversation. we insert a typical role play on how victims who are sexually harassed go through a lot of trauma and ways the University (Institutions) can help curb sexual harassment and sexual predatorsWE TAKE SEXUAL HARASSMENT VERY SERIOUS! and yeah victims are always 100% right.Podcast is dedicated to Red, we love you. #Ad Eat_Awaye's food blog is popping, check Anita's IG out and follow her > https://www.instagram.com/eat_awaye/ Follow, Like and Subscribe to Us on social for other podcasts Facebook > https://www.facebook.com/BeauxCulture/Instagram > https://www.instagram.com/beauxculture/Twitter > https://twitter.com/BeauxCulture
This week, we tried to make sense out of Ghana's soon-to-be added new teaching curriculum "Comprehensive Sexuality Education" and the enlightenment it represents. We continue the conversation on the increase in Communication Tariffs next week.This podcast is proudly running on;Sip0clock Bissap juice, finest bissap juice in New York, bronx. Check them out here > https://www.instagram.com/sip0clock/Silk and Satin, amazing Tie-Dye streetwear apparel you'd totally love > https://www.instagram.com/silkandsatin.co/Follow, Like and Subscribe to us on socialFacebook > https://www.facebook.com/BeauxCulture/Instagram > https://www.instagram.com/beauxculture/Twitter > https://twitter.com/BeauxCulture
Audio #Bloopers for Episode 5 Follow us on socialFacebook > https://www.facebook.com/BeauxCulture/Instagram > https://www.instagram.com/beauxculture/Twitter > https://twitter.com/BeauxCulturesubmit: cbackstagegh@gmail.com
On this podcast we react to Ghanaian TV presenter, Serwaa Amihere's 'infamous' tweet about whether betting is becoming a national crisis in Ghana? and also Indonesia's planned policy to punish (especially Jail time) fornicators or people engaging in premarital sex - yeah, we didn't expect it too. This podcast is brought to you by;- B Make Up by Beryl Boo. contact her for an amazing Make Up experience 0577380156- Nyonyo Essentials, your local neighbourhood restaurant. come and Eat, Drink and Enjoy > https://www.instagram.com/nyonyogh/Follow, Like and Subscribe to us on socialFacebook > https://www.facebook.com/BeauxCulture/Instagram > https://www.instagram.com/beauxculture/Twitter > https://twitter.com/BeauxCulture
Audio #Bloopers for Episode 4 Follow us on socialFacebook > https://www.facebook.com/BeauxCulture/Instagram > https://www.instagram.com/beauxculture/Twitter > https://twitter.com/BeauxCulturesubmit: cbackstagegh@gmail.com
On this episode we talked a "little bit more" about mental health and sexual abuse - the symptoms and the things to do to escape it....Tell a friend about thisthis podcast is running on Thefruitkenkey visit them for some amazing mashed kenkey experience > https://www.instagram.com/fruitkenkey/Follow us on social Facebook > https://www.facebook.com/BeauxCulture/Instagram > https://www.instagram.com/beauxculture/Twitter > https://twitter.com/BeauxCulture
United States