Discover
Soul Fire Wisdom
Claim Ownership
Author: Kate Olson
Subscribed: 2
Played: 8
© Copyright Kate Olson
Description
Soul Fire Wisdom is a weekly live podcast focused on change and transformation and the journey we all take as humans in finding our path and purpose by following our soul passions. Kate interviews guests who have followed their unique path and can share the wisdom gained through their journey and personal experiences. Kate is a Holistic Integrative Life Coach, Hypnotherapist and NLP Practitioner who blends knowledge from a range of alternative modalities to help clients find their path, purpose and peace, She is committed to empowering the creative expression and voice of her clients. Kate calls herself a "Change Adventure Navigator" and loves to guide clients on their journey to joyful living and alignment with their authentic, unique self. She is Owner of Soul Fire Wisdom Life Coaching, Embrace Change Hypnosis & NLP, Total Wellness Products & Circle of Love Retreats. She previously hosted "Embrace Change with Kate" for almost two years on Contact Talk Radio. Episodes can be found at
https://www.embracechangeradio.com
. Soul Fire Wisdom can be found on Soul Fire Radio website,
https://www.soulfireradio.com
, as well as, Spreaker and other hosting platforms. Kate is a Speaker and Author in addition to a radio/podcast host. The show airs weekly on Tuesday at 3:00 PM Pacific time. Listen Live or on your own time to podcasts. Videos available on YouTube. Please tune in, like, follow and download episodes.
Kate interviews Dr, Anna Margolina, Hypnotherapist, Coach, Scientist, Author & Speaker. Dr Anna is the founder of Agleless with Anna & Outdoor Hypnotherapy and believes that connecting with nature is a big part of our health and wellness. She uses her background in hypnotherapy and tao energy healing to help clients focus inward and connect to their deepest self. Dr. Anna's latest endeavor came about as a result of Covid-19, when she took her office outdoors and began taking her clients on forset walks. We will talk with Dr Anna and learn more about dthis and why nature may be the key to a longer, happier and helathier life. Tune in for a fun and informative show.
Kate's Adventure is two-fold. This was to be her first solo broadcast and live stream as she talks about her big adventure selling her home in Washington and moving to Arizonia totally on her own for the first time in her life ---all during the challenges of the pandemic. Things did not go as planned doing the broadcast, only 11 seconds were recorded, so this is actully her practice show. Luckily, she had a practice recording to post and will be ready for the live with a guest next Tuesday at 3:00 PM PDT. Experience is usually the best teacher. Oh, and she had a lot of that experience during her moving adventure, too!
Kate interviews Debby Handrich, Author, Speaker and Radio Show Host of Story U Talk Radio. Do you believe we all have a story in us. Debby will share with us the importance of telling your story. We will talk about her own journey and her passions, as well as, her hopes. Tune in for some great tips & insights.
Kate interviews Lori Hardman, Singer, Songwriter, Founder of The Lori Hardman band. We will talk about Lori's passion for singing, how it developed, what drew her away from it and the joy and delight she found in rediscovering it later in life. Tune in for a fun and inspiring show.
Kate interviewa Bettina Carey, CMO of Women's EmPowerment Summit & Marketplace, Brand Strategist & Publicist, Speaker and soon to be author of her first book. Bettina advocates for women and specifically, women entrepreneurs in all that she does. She is known as, "the woman behind the women". One aspect of equity for women is financial equality and Bettina has some ideas on how to make that happen while still maintaining the passion and heart-centered nature of the way women work and relate. that is what we are going to talk about today - Linking Your Passions and Your Pocketbook. we will hear about Bettina's own story and why she feels passionate about advocating for and guiding women to achieve success.
Kate interviews Alex Montoya, CEO of A-MOtivational Communications, Author, Motivational Speaker and Writing Coach, Alex has written 8 books, the last two of which were recently presented in a double release. One of them is a children's book,"Alex Masters the Monkey Bars" and the other is a motivational book, "You Got this!" WAlex first love and is still his passion. We will talk about his writing, his books and the journey that brought him to his current path in life. Tune in for an inspirational show!
Kate interviews Davina Lyons, founder of Tribe Authentic Women, Writer, Speaker and Educator. Through her own journey in finding her way to her true and authentic self after a background of adversity, abuse and depression, she discovered her passion for leading other women to find their way and their authentic self and passion to life and to move forward and share their gifts. We will talk with Davina about her journey and her community, Tribe authentic Women. Tune in for some insight and perspective.
Kate interviews Sandra Vesterstein, CEO of Thrive Learning Collective, Speaker, coach and Certification Trainer for NLP, Hypnosis, Reiki & Personal Development courses. Thorugh her own experience and working with clients, as well as, training in NLP processes sandra has gained special expertise in helping people through the grief process. At this time, that is a much needed skill and one that many people are not comfortable with. We will talk about Sandra's own journey and what led her to this work, as well as, the nature of the grief process. Tune in for an informative show.
Kate interviews Brenda Reiss, CEO of Brenda Reiss Coaching, Forgiveness Coach, Author & Motivational Speaker. With her 5-Step Radical Forgiveness Program, Brenda guides women entrepreneurs and business owners to become aware of and eliminate unconscious behaviors & patterns that are sabotaging their business and personal lives and relationships. She helps them to move forward and gain peoace and clarity. We will talk about Brenda's journey, her process and forgiveness itself, to get more insight and some great tips. Tune in for a rewarding show.
Kate interivews Maria Salamao Schmidt, Life Coach, Energy Healer, Reiker teacher, Author & Motivational Speaker. Maria is the author of Finally Full of Yourself: Unlocking Your Spiritual DNA, a Best-selling book on amazon and one of the top 100 books on happiness. Maria is an incredible tsunumi of love and has made it a mission to live her live joyfully and spread happiness wherever she goes. We'll talk with her about her book, her life and what's next on her journey. Tune in for a fun and inspiring show.
Kate interviews Brad Zude, Author, Speaker, Podcast Host, Parenting expert. Brad and his wife, Greta, are the parents to 8 children, from a few weeks old to 12 years old. They were interested in parenting even before they they had children, but learned the true lessons that led them to their book and podcast through on the job training and experience. Their book, My Baby Can Sleep, is a Best-Seller on Amazon and they love sharing what they have learned with followers on their podcast, Parenting With the Zudes. Tune in for an inspiring and informative show.
Kate interviews Robin Callahan, Jewelry designer, Metalsmith, Lapidary Artist and founder of Robin Callahan designs, LLC. Robin's passion for her work is apparent in her beautiful creations. You would truly think she had been doing this all her life, but she pursued this long time talent and passion just 6 years ago and found her true life path and purpose, as well as, the joy of creation whe now enjoys. We will hear Robins'story and I promise it will inspire you. Tune in for a motivating show!
Kate interviews Pamela Cummins, Dream Interpreter and Teacher, Author and expert. Pamela is the author of the best-selling, Learn the Secret Language of Dreams and has helped hundreds of people find the meaning on their dreams through her private consultations and taught many to be able to interpret their own dreams. Her goal is to show clients the wisdom and guidance they can gain from the messages in their dreams that will enhance their lives and accelerate their personal and spiritul growth. Tune in for a fascinating and infromative show.
Kate interviews Orlando Zucchetto, Licensed NLP coaching Trainer, registered Clinical Hypnotherapist and Design Human Engineer. Just 3 short years ago, Orlando owned an HVAC business in New Zealand and had a totally different life. He now resides in the UK and loves the transformation his life has taken. We'll hear his story and find out about his journey and the steps he took, as well as, the motivation behind it. Tune in for an interesting and inspiring show.
Kate interviews Dr. Patricia Boulogne, known as Dr. Pat. is a Certified Functional Medicine Practitioner, Coach, Chiropractor, Acupuncture Physician, Speaker, and Author. She helps her patients find out the WHY and the CAUSE of the problem, and identify the starting point: and how to begin their health journey to live longer, better, and healthier. Dr. Boulogne makes sense of complex, confusing, and challenging problems, and simplifies them so people can get unstuck and get the solutions they need to thrive.. She is the founder and principle of AskDrPat ~ Health Team Network, a company dedicated to skyrocketing health, lifestyle, mindsets with strategies and programs that make sense, and help you age gracefully, think, move, and feel better, to live longer and happier! She is the Author of Why Am I Sick, Fat and Tired? We will talk aobut her book and how it helps people with thier health challenges and questions. Tune in for an important and informative discussion!
Kate interviews Edie Weinstein, MSW, Licensed Social Worker, Author, Speaker, Editor, Producer, Bliss Coach, Founder of Hug Mobsters and more. Edie is a master communicator and expresses herself in many ways. You might say she has a passion for communication and we'll find out, not only where it all started, but why it is so important in her life. Tune in for an informative and inspiring show.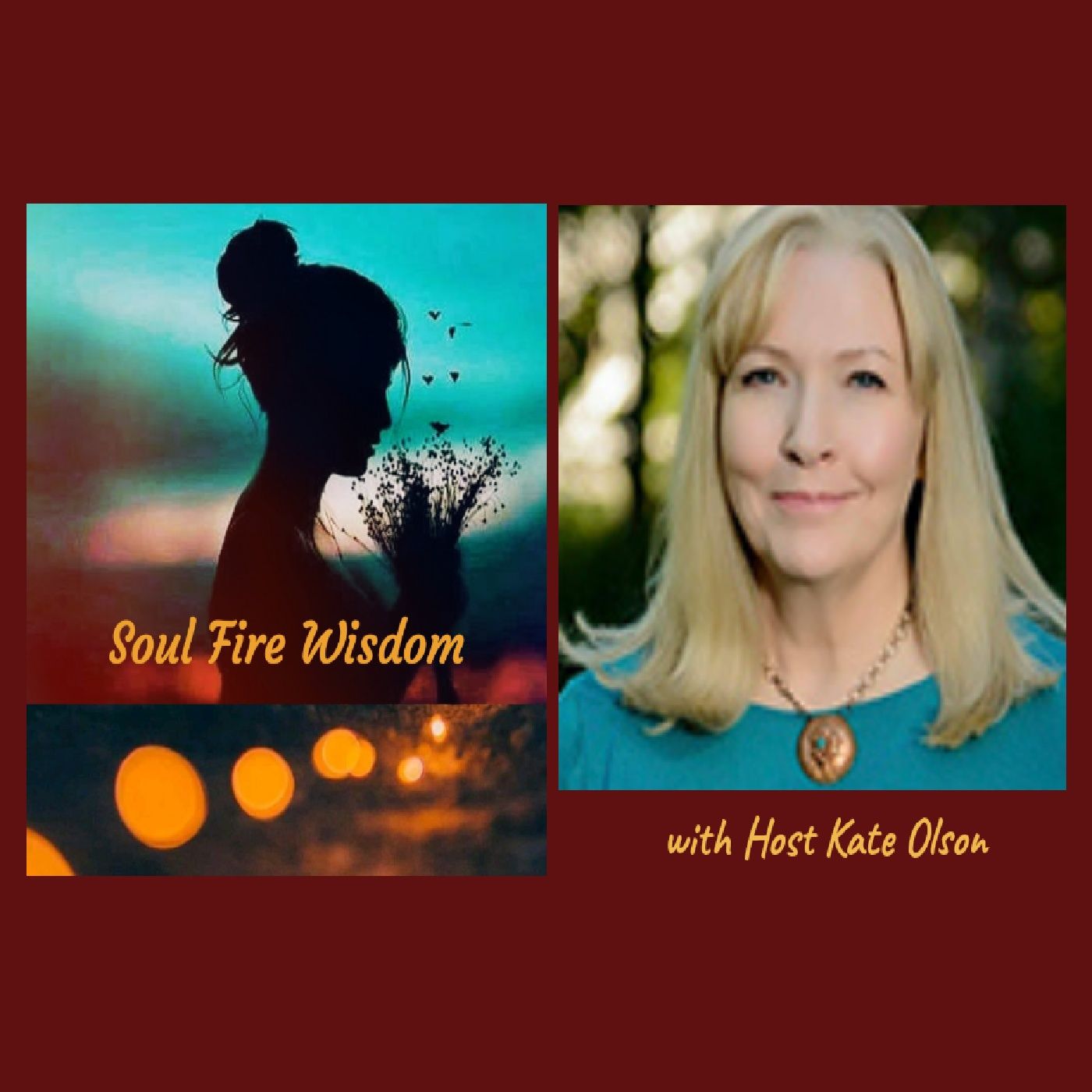 Kate interviews Jo Ann Kobuke, founder of Mif-Life Rewritten, Speaker and Coach. After experiencing her own crisis when she suddenly faced her children leaving the nest and choosing a new direction for her own life, Jo Ann decided to help other women better navigate this time in their lives and the possibilities it offers. We'll talk about her journey and how she helps others. Tune in for some insight and inspiration.
Kate interviews Lois Wagner, Speaker, South African Business Leader, Author, Coach, mentor and advocate for resilience and recovery after rape. Lois draws upon her own life experience and shares a message of resilience and forgiveness with others. It is her mission to empower other women from the strength she has gained to not only survive, but to thrive. Tune in for an inspiring show.
Kate interviews Megan Cuzzolino, Wellness Coach, Retreat Facilitator, Yoga and Meditation Instructor. Megan is known as the "Lazy Wellness Coach" and has her own approach to wellness that is down to earth, practical and meant for anyone to adapt to their own life and needs. She takes a no-nonsense approach and leaves out a lot of the woo-woo. Tune in to hear about Megan's own journey and how she helps othere.
Kate interviews Jim Kellner, Hypnotherapist, Stage Hynotist, Speaker, Author and Comedian. Starting out with stage fright, extreme shyness and depression it's amazing that Jim made the choice that he did and now has a passion for being on stage, making people laugh and entertaining. We will find out about his journey, his motivation and how hedhelps otherson their journeys. Tune in for an inspiring show.
United States