Discover
Winnipeg's Real Estate Podcast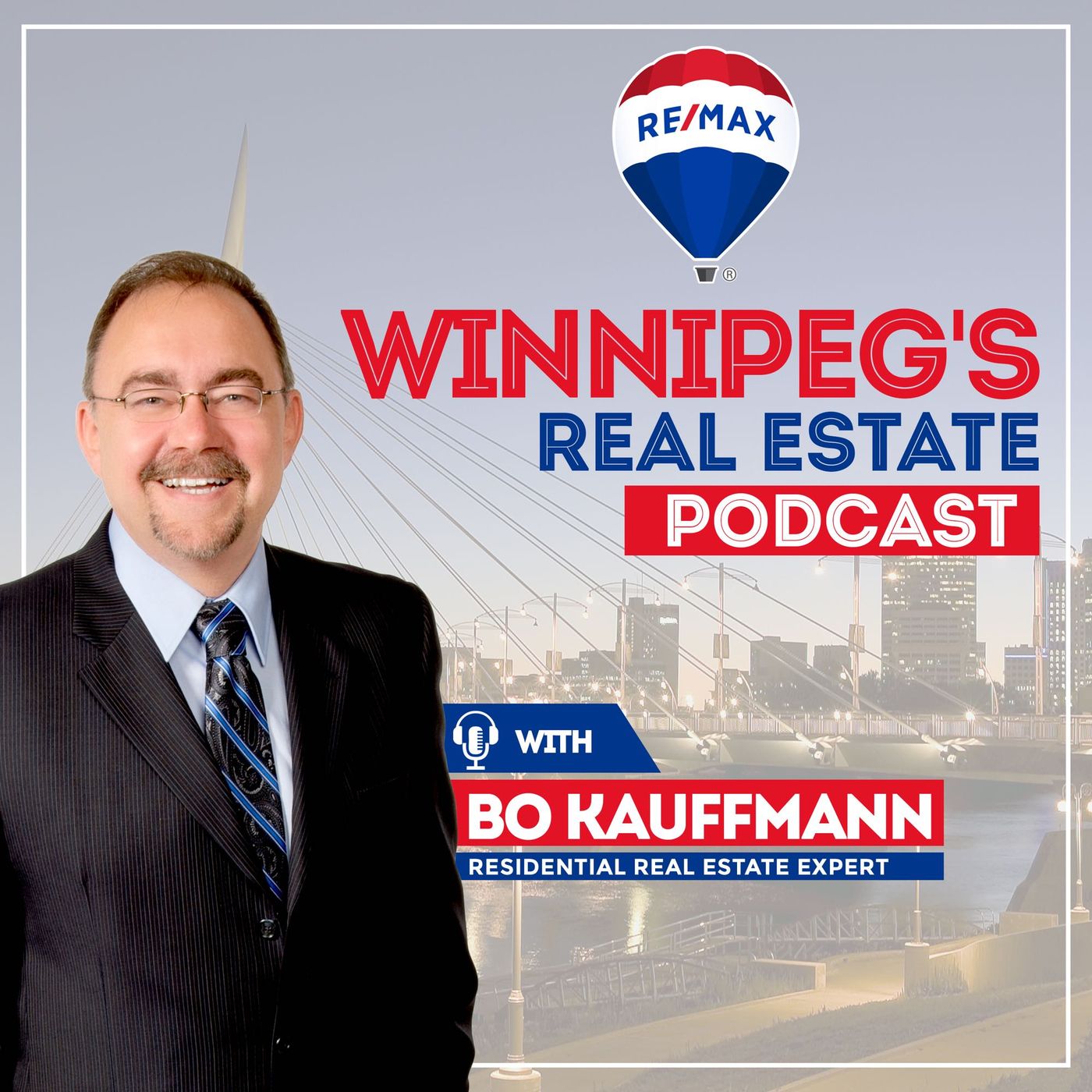 Claim Ownership
Winnipeg's Real Estate Podcast
Author: Bo Kauffmann
Subscribed: 0
Played: 0
© Copyright Bo Kauffmann
Description
This is the audio-only version of episodes in Winnipeg's Real Estate Podcast. Information for home and condo buyers, sellers and owners in Winnipeg.
Operated by real estate agent Bo Kauffmann of REMAX performance realty in Winnipeg.
Your 60 second market report for Winnipeg in October 2019. .   October sales of 1,173 homes was an increase of 6 percent over October 2018. Now, while that normally would drive prices up, the fact that our inventory is higher by 18 percent over last year helps keep prices in check for home buyers. The bidding wars of the springtime are nothing but a bad memory.   In fact, 87% of houses and 93% of condos sold at or below list price in October. In fact, the average list price of a house is at $315,889 , which is down 2.7% from the same month last year. And we see a similar pictures in condominiums with the average sale price of $227,878 is down 2.8% from last year.   And for anyone wondering why luxury homes, those had like five, six, eight hundred thousand dollars and more take so long to sell. Winnipeg's market really is between the 200 and 400 thousand Dollar range, where 60 percent of total single family home sales occurred this month. This limitation is even more pronounced in condominiums, where 51 percent of all sales occurred between one $150,000 and $250,000.   The big question is what kind of market are we in? We'll give you an idea mid August. We had 1,905 houses for sale in Winnipeg.  This morning, that being November 10th, we had just over 1600. So that's three hundred fewer listings in Winnipeg as opposed to August. Listings are slowing down. But if you can still find one right now is a great time to buy. Don't wait till spring.   Speaking of spring, I just read a great piece in Mortgage Broker News Scott S.A., where half the economists polled believe that the Bank of Canada will have a rate cut at the end of December or early into January. Great news for the spring market.   Are you looking to buy a house or a condo in Winnipeg? Work with the agent who takes the time to explain the process to you, guiding you through every step for service beyond the sale. Book your home buying consultation with Bo Kauffmann of Remax performance today. Bo knows real estate.
[00:00:08] This is actually a very common question I get from home buyers. They see a house listed at, let's say, 300,000 dollars and then find the city assessed value is just 250K. What's going on? The house is grossly overpriced, right? [00:00:23] So here's what's happening. The city assessed value is simply an average for that type, style, size and age of home in that particular neighborhood. Since the city in all likelihood has never stepped foot inside that particular home, they wouldn't know that the owner recently replaced all the windows, upgraded the heating and cooling, installed all new flooring and repainted inside and out. [00:00:45] None of those things require building permits, so the city has no idea that that's been done: so that this home would be above average when compared to others in the area. Now this can also happen the other way around, and a house which is city assessed at 255,000 might hit the market with the listing price of 220. In that case, the original owner might be selling the house in all its original glory with galvanized plumbing, knob and tube wiring and the walls filled with newspaper clippings pretending to be insulation. [00:01:16] The bottom line is: don't rely on city assessed value (i.e. an estimated average) to guide you as to the proper market value of any home. [00:01:25] After all, that's what your real estate agent is for.
September caps off a STRONG 3rd quarter in Winnipegs Real Estate Market    The third quarter of 2019 ended up being the strongest quarter of market  activity on record.  September's 1211 sales were a 16% increase over last year, and only 4 sales short of the best September on record, in 2016.   Making things a little easier for buyers is the fact that this September saw a 10% increase of new listings coming to market, when compared to 2018.   This helps to keep prices in check.  The average single family home sold for  $325,215  less than 1% increase over last year.   What does all this mean:  The fall-time is usually a buyers market, and that is especially true this year.  Right now is the best time to buy a house or condo in Winnipeg.
First time home buyers can use RRSP's to increase their down payments
Home Sellers are asking: should we be present when a buyer views our home?
Tips and pointers for anyone looking to buy their first rental property.
Home Buying Timetable - 6 months before looking at homes
Home Buyer questions to ask the Listing Agent at an Open House
Great info for home buyers in Canada.  Talking about the need for CMHC and what the new 'stress test' for home buyers is all about.
As a new home owner, which is better to get:  mortgage insurance or life insurance?
Gonna try the apartment life-style? Should you buy or rent?
Avoid these home buying mistakes
May 2018 Market Update, Interview with HVAC company, more
The latest real estate info on listing and sales in Winnipeg.  Houses, Condos, sold and expired states.  Is it a buyers market?  Sellers Market.  Listen and find out.
How to buy and hold real estate, buying rental properties in Winnipeg
Latest real estate market conditions, interview with Investment Guru Nelson Camp (part 2) and more...
Is Winnipeg the right market to buy investment property?  Are YOU the right person to invest in real estate?  Winnipeg real estate market update for Feb 2018.  Interview with investment guru Nelson Camp.
What are some of the benefits of investing in real estate?  What kind of person wants to invest in properties?  Whose help will an investor need (and benefit from)
December Market Update, Interview with D'Arcy Johnston of D'Arcy's ARC
A brief, fun informative chat with D'Arcy Johnston, founder of D'Arcy's Animal Rescue Centre (A.R.C.) in Winnipeg.
United States