Discover
Which Murderer?
Claim Ownership
Which Murderer?
Author: Which Murderer
Subscribed: 90
Played: 4,258
© Copyright Which Murderer
Description
Which Murderer talks about the methods, motives and background to murderers and their victims, covering two crimes per episode and debating from the victim's perspective which murderer we would pick to kill us if we HAD to choose.
Hosted by Holly (the Canadian) and Gemma (the Scot) from Edinburgh, Scotland.
Instagram (
https://www.instagram.com/whichmurderer/)
Twitter (
https://twitter.com/whichmurderer)
Explicit content and subject matter.
In Season 4 Episode 15 the girls talk about Murders that happened in Courtrooms – aka Courthouse Murders. Holly kicks it off with Tahir Naseem and Mel follows with Brian Nichols who we are not a fan of. There is a very informative cereal knowledge session which includes singing, Holly finally writes down her sources, Mel is very encouraging of some crimes possibly, the girls are finally aware of how much they are talking and stick to the half hour slot (totally unintentionally of course) and the snack bowl takes a hard hit. Production, recording and postproduction completed by Holly who has stopped sending Consulting Producer Craig carrier pigeons and is now testing out carrier seagulls as they are easier to entice with rotten food. Holly edited this week. All complaints should be sent directly to Consulting Producer Craig who is not happy about the message carrying system. He has had to wash his car 93 times this week. www.whichmurderer.comWARNING - Explicit language, content and themes (plus whatever else will cover us legally). All opinions stated are our own and case information was gathered from legitimate sources within the public realm.Pre-recorded in Scotland
In Season 4 Episode 14 the girls talk about Murderers Who Were Inspired by Music. Mel kicks it off with the Columbine High School Shooting before Holly covers the story of Jared Lee Loughner.Mel tea shames Holly but also doesn't know what year it is so maybe don't listen to her too much, we find out that Holly doesn't make her own tea ever, a recap of girls night reveals a severe difference in musical tastes, Mel tries hard to get Calvin Harris to take notice (sorry Calvin) of the podcast, Holly has a slightly worrying level of knowledge about pipe bombs and also really loves the song from her case. Production, recording and postproduction completed by Holly who has been informed that Consulting Producer Craig is in contact with Calvin Harris to share his knowledge of restraining orders. Holly edited this week. All complaints should be sent directly to Consulting Producer Craig who recently had to take out a restraining order against a carrier pigeon who was sent by Holly with a list of editing demands. www.whichmurderer.comWARNING - Explicit language, content and themes (plus whatever else will cover us legally). All opinions stated are our own and case information was gathered from legitimate sources within the public realm.Pre-recorded in Scotland
In Season 4 Episode 13 the girls cover a suggested topic from Season 1-3 Co-host Gemma – Incels Who Murder. AKA Involuntary Celibates. Holly starts things off with the poster boy for this group who was responsible for the 2014 Isla Vista murders before Mel chats through the case of Alek Minassian. Shout-out to Carrie for her lovely comments about Mel who is doing much better at checking Facebook occasionally. The girls are up against a big deadline, Holly tries to describe World of Warcraft and possibly gets it entirely wrong….she will never know, manifestos are a red flag, Mel judges Holly's post-breakup phase of 2019, and the girls cases are very closely related this week. Also Gemma is once again proven to be a witch. Production, recording and postproduction completed by Holly who sent Consulting Producer Craig a massive stuffed pillow in the shape of her tears to try and convince him to take over all the things she has to do. Holly edited this week. All complaints should be sent directly to Consulting Producer Craig who has taken his new pillow to the Airport for a thorough scan and cavity search. www.whichmurderer.comWARNING - Explicit language, content and themes (plus whatever else will cover us legally). All opinions stated are our own and case information was gathered from legitimate sources within the public realm.Pre-recorded in Scotland
In Season 4 Episode 12 the girls cover Olympic Murders with Mel starting things off with the Dave Shultz tragedy before Holly covers the Munich Massacre. Shout-outs to lovely bestie Loulou and our Gemma. Also high fives to Melinda for suggesting this weeks theme. Holly is all over the place with food and time, Mel tries to get the listeners arrested and fired, evil geese fight for their lives, Holly has an unreasonable dislike for poor Mark Ruffalo, a wild pooper is spotted in the city, Mel has a nervous breakdown over a city and there are a couple Podcast recommendations for 'The Witness' and 'Dan Snow's History Hit'. Production, recording and postproduction completed by Holly who has requested an intervention with Gemma to get more support from Consulting Producer Craig as she has totally forgotten all his lessons. Holly edited this week. All complaints should be sent directly to Consulting Producer Craig who is trying to explain the costs of multiple restraining orders to Gemma. www.whichmurderer.comWARNING - Explicit language, content and themes (plus whatever else will cover us legally). All opinions stated are our own and case information was gathered from legitimate sources within the public realm.Pre-recorded in Scotland
In Season 4 Episode 11 the girls cover tales of Murder and Revenge! Mels starts us off with the story of Connie Serbu before Holly tells the sad tale of the Ding family. Things start off terribly with Holly drinking while recording, Mel is outed as a drink sniffer, Holly has a police connection and a burning body story, the girls have an actual fight over funding each other going on the run and we all learn what sport will kill you – if you play it with Holly. Production, recording and postproduction completed by Holly who drunk dialled Consulting Producer Craig and accused him of replacing her ability to record with a pet duck running circles in her brain. Holly edited this week. All complaints should be sent directly to Consulting Producer Craig who is now massively in favour of bringing prohibition back. www.whichmurderer.comWARNING - Explicit language, content and themes (plus whatever else will cover us legally). All opinions stated are our own and case information was gathered from legitimate sources within the public realm.Pre-recorded in Scotland
In Season 4 Episode 10 the girls talk about Clowns and Circus Murders…which are extra terrible because CLOWNS. Mel starts off with a true crime Goliath…..John Wayne Gacy before Holly leaves you with the slightly less horrific but still murdery tale of Eva Clark.Shoutouts to Melinda (who superfanned a theme suggestion our way – which we are absolutely using) and Lindy who revealed there is a Which Murderer team member on Love Island. Probably.Holly reveals how she traumatises Mel with her messaging habits, Mel loses petrol roulette, Holly is confused at how long it took doctors to figure out the obvious, there are people with neverending names, moving to Mexico erases murder and for some reason Mel just doesn't like Gacy. Production, recording and postproduction completed by Holly who is aware the sound is still troublesome but was drowning in her tears so she just dressed her cat up in Consulting Producer Craig outfit and cuddled her for 3 hours straight. Holly edited this week. All complaints should be sent directly to Consulting Producer Craig who is a bit confused about the full body cat costume he just received in the post. www.whichmurderer.comWARNING - Explicit language, content and themes (plus whatever else will cover us legally). All opinions stated are our own and case information was gathered from legitimate sources within the public realm.Pre-recorded in Scotland
In Season 4 Episode 9 the girls tackle the horrific topic of Genocide. While we figure if you are listening to a murder podcast you are pretty Teflon, we do include a bit of warning with this one due to the brutal level of violence spoken about. Holly kicks it off with the Killing Fields of Cambodia before Mel talks about the Armenian Genocide. The girls discuss the Dead Body Window and Holly's DNA, farming is hard, the Kardashians make an odd appearance, smart people don't do well under dictators and there are promises for happier murders. Production, recording and postproduction completed by Holly who cannot figure out volume and is preparing her trial papers to sue Consulting Producer Craig for not holding her hand through every moment of editing. Holly edited this week. All complaints should be sent directly to Consulting Producer Craig who is fully prepared for his upcoming trial and is wearing a judges wig full time. www.whichmurderer.comWARNING - Explicit language, content and themes (plus whatever else will cover us legally). All opinions stated are our own and case information was gathered from legitimate sources within the public realm.Pre-recorded in Scotland
In Season 4 Episode 8 the girls talk about Athletes Who Murder. Mel starts off with Robert Rozier who was the Mr. Bean of Murder before Holly tells you about Mark Anthony with a truly tragic nickname. Holly is hungry and leaking, Mel loves the sports theme but regrets it when she has to actually communicate with Holly about the sports, the girls judge cults pretty harshly, fences are the natural enemies of footballers and the girls figure out their one common agreement point. Production, recording and postproduction completed by Holly and her new Consulting Producer Craig which may or may not be a volleyball wearing Craigs face. Holly edited this week. All complaints should be sent directly to Consulting Producer Craig who now has a frequent restraining order request card with the police and is only two orders away from a free coffee. www.whichmurderer.comWARNING - Explicit language, content and themes (plus whatever else will cover us legally). All opinions stated are our own and case information was gathered from legitimate sources within the public realm.Pre-recorded in Scotland
In Season 4 Episode 7 the girls talk about Arsonists Who Commit Murder. Holly kicks things off with the very first namey Bruce George Peter Lee before Mel tells you all about John Leonard Orr.Shoutouts for Facebook fans Sarah and Mel's new friend Dave. You are both now legally required to suggest topics. Mel's singing talents are showcased, bouncy castles are a very important topic requiring actual research, Holly almost dies before recording because of her hair, the dark ages of information are discussed, Mel's Murderer is a crime fighting hose user and the girls didn't think through the theme this week. Like at all. Production, recording and postproduction completed by Holly who has become a little grumpy in the Scottish heat and screamed outside Consulting Producer Craig's house for several hours when she lost her mind with the machines this week. Holly edited this week. All complaints should be sent directly to Consulting Producer Craig who is now grumpy at having to spend so much money on noise cancelling headphones. www.whichmurderer.comWARNING - Explicit language, content and themes (plus whatever else will cover us legally). All opinions stated are our own and case information was gathered from legitimate sources within the public realm.Pre-recorded in Scotland
In Season 4 Episode 6 the girls talk about Fast Food Murders. Mel covers the story of Evan Ebel before Holly tells you how badly wrong Paul Dennis Reid turned out. Holly died 5 times from the heat during this episode, Mel tip-toes around the topic of football, there is some confusion about whether some people can play golf after death, Holly makes up facts yet again and the brain has been renamed as 'doodads in the front of your head'. You're welcome. Production, recording and post production completed by Holly who for some reason wept openly when she realised she is no longer able to channel the spirit of Consulting Producer Craig. Holly edited this week. All complaints should be sent directly to Consulting Producer Craig who is thankful for his new tinfoil hat. www.whichmurderer.comWARNING - Explicit language, content and themes (plus whatever else will cover us legally). All opinions stated are our own and case information was gathered from legitimate sources within the public realm.Pre-recorded in Scotland
In Season 4 Episode 5 the girls talk about Con Artists Who Murder. Holly kicks it off with the case of Carol Waugh before Mel tells you about Sante and Kenny, a super healthy mother and son duo.Shoutouts to Mark on Facebook, Superfan Caitriona (whose last name we will never say out loud), Dave on Insta and Cara who Holly annoyed with her sweeping incorrect generalisations – sorry Cara! And the country of South Africa. And the continent of Africa. It's still hot in Scotland and Holly lets everyone know how to celebrate Canada Day in the past, the girls agree that no savings plan is the best savings plan, we find out the way to reset Holly's English is a punch to the head, Holly is going to start a worldwide information campaign about NEVER KEEPING A MURDER DIARY and Mel is going to have her people contact your people. Production, recording and postproduction completed by Holly who saw Gemma and Producer Craig in person this week – he was absolutely not injected with a brain changing nanobot. Holly edited this week. All complaints should be sent directly to Consulting Producer Craig who all of a sudden has the urge to travel two hours twice a month to take over the pluggy inny machines and do allllll the work again. Weird. Unrelated to not getting injected with a nanobot. www.whichmurderer.comWARNING - Explicit language, content and themes (plus whatever else will cover us legally). All opinions stated are our own and case information was gathered from legitimate sources within the public realm.Pre-recorded in Scotland
In Season 4 Episode 4 the girls talk about Lawyers Who Were Murdered. Mel kicks it off with the case of Sarah H. Quirt Sann before Holly tells you about Rashid Rehman in Pakistan.Holly is stripping off in the corner of Mel's recording loft, Mel is the only one who actually remembers to tell you who they are, gun laws are once again questioned in America, Holly's voice is sad but she is not, there is a big debate at the end and Mel actually uses the word 'groovy' in a real life sentence. You also get to hear about the Melnado.Production, recording and post production completed by Holly who has a catch up in person planned with Gemma and Consulting Producer Craig where he will absolutely not be kidnapped and kept in the recording loft for technical assistance. Holly edited this week. All complaints should be sent directly to Consulting Producer Craig who will be happily working away from home in his new loft for the foreseeable future. www.whichmurderer.comWARNING - Explicit language, content and themes (plus whatever else will cover us legally). All opinions stated are our own and case information was gathered from legitimate sources within the public realm.Pre-recorded in Scotland
In Season 4 Episode 3 the girls tell you all about Abductors Who Murder. Holly teaches you about Donald 'Nappey' Neilson who was not a fan of diapers or postal workers before Mel covers Anni Dewani's murder right after Holly awkwardly snickers at the name. Shoutouts to Facebook Sarah (are you still listening?) and a weird one to the wonderful Gemma and Consulting Producer Craig. We find out Holly is finally back to work and sad that she can no longer nap, you are all introduced to the best girl Rosie (aka Roro), there are admissions of criminal behaviour by both girls, it's recommended you don't rob post offices anymore, African names prove a challenge for our poor Mel and Mel makes it official that she does not wish to be dangled. Production, recording and post production completed by Holly who sent Consulting Producer Craig a vial of her tears in the post last week. Holly edited this week. All complaints should be sent directly to Producer Craig who has found out the market value for a vial of Holly tears is negative twenty four currency. www.whichmurderer.comWARNING - Explicit language, content and themes (plus whatever else will cover us legally). All opinions stated are our own and case information was gathered from legitimate sources within the public realm.Pre-recorded in Scotland
In Season 4 Episode 2 (Part Two) the girls finish talking about Journalists Who Are Murdered. Holly covers the twisty tale of Jake Lingle then there is a detailed debate. Mel kicks it all off by insulting an entire nation, Holly continues the mob theme from episode one despite hating mob murders, there is a big debate despite the method of murder being exactly the same in both cases, there is a discussion on all the mistakes in Hollys life and the girls are entering their seven year itch. Production, recording and post production completed by Holly who asked Consulting Producer Craig to help with the big button machine but he didn't respond. Maybe the fax machine is broken. CHECK YOUR FAXES CRAIG.Holly edited this week. All complaints should be sent directly to Producer Craig who as it turns out doesn't own a fax machine. So rude. www.whichmurderer.comWARNING - Explicit language, content and themes (plus whatever else will cover us legally). All opinions stated are our own and case information was gathered from legitimate sources within the public realm.Pre-recorded in Scotland
In Season 4 Episode 2 (Part One) the girls talk about Journalists Who Are Murdered. Mel covers the sad story of Jill Dando in the first of this two part episode. Mel emphasises the best way to keep Holly happy, the girls decide gynaecologists are undatable, Mel makes a royal comparison, and Holly has to badly sum up this episode post-recording due to her being an idiot. EVERYTHING IS FINE. Production, recording and post production completed by Holly who despite thorough training from Consulting Producer Craig forgets everything the moment she's learned it. EVERYTHING IS FINE. Holly edited this week. All complaints should be sent directly to Producer Craig who is programming his Craigbot to teach the unteachable Holly. www.whichmurderer.comWARNING - Explicit language, content and themes (plus whatever else will cover us legally). All opinions stated are our own and case information was gathered from legitimate sources within the public realm.Pre-recorded in Scotland
Welcome to Season 4 of Which Murderer!In Season 4 Episode 1 Mel and Holly cover Mob Murders - Mel's choice as Holly has terrible taste in TV shows. It all connects. Holly kicks off the episode with the story of Albert Anastasia before Mel tells you about Abe Reles.The girls discuss Holly's terrible brain, some new possible career options, an overview of Mel's extensive criminal history, there are some absolutely fabulous names and crazy case connections made between the two murderers. Production, recording and postproduction completed by Holly who has taken out a contract to have a microchip put into Consulting Producer Craigs head so she can talk to him at any given moment. Holly also edited this week. All complaints can be gently folded into origami as Consulting Producer Craig is more likely to open them then. www.whichmurderer.comWARNING - Explicit language, content and themes (plus whatever else will cover us legally). All opinions stated are our own and case information was gathered from legitimate sources within the public realm.Pre-recorded in Scotland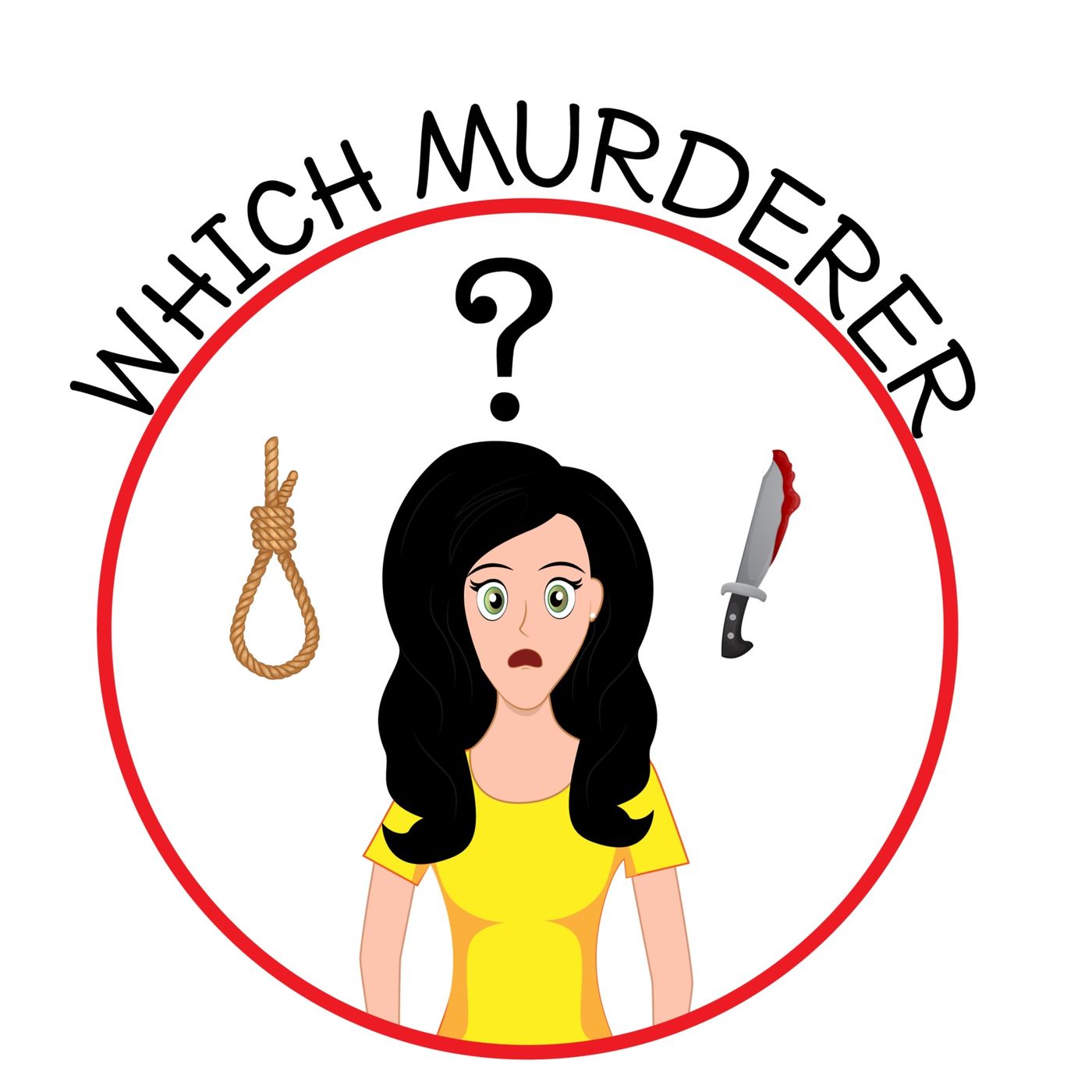 Season 4 Introduction
2021-05-2804:09
Welcome to Season 4 of Which Murderer!In the Season 4 Intro you finally get to meet this season's new co-host – MEL! You'll hear how she started off on this journey hating true crime and podcasts….look how that turned out. Almost as well as Holly saying she would never date again. There are loads of great cases lined up for this season so stay tuned! Production, recording and postproduction completed by Holly who is trying to convince Consulting Producer Craig to be on permanent Facetime. Holly also edited this week. You will find her shoving the complaints in the mail slot of Consulting Producer Craig's door while whispering 'help me'. www.whichmurderer.comWARNING - Explicit language, content and themes (plus whatever else will cover us legally). All opinions stated are our own and case information was gathered from legitimate sources within the public realm.Pre-recorded in Scotland
In the Season 3 Final Episode the girls cover Diagnosed Psychopaths Who Murder for Gemma's final podcast appearance. Gemma chats through Robert Black before Holly talks about Jane Toppin.Holly has some nickname confusion, Gemma tells a horror story of note, Holly may be serving seconds when it comes to her murderer and the girls share a final tough choice at the end of this episode.Much love to Gemma and Producer Craig ss they start their next big project in life, we wish them all the very best and cheers to the last three years of murder. Production, recording and postproduction completed by Producer Craig who has finally gotten the union of neighbourhood cats to sign his petition resulting in his promotion to unpaid consulting producer. Gemma edited this week. All complaints should be sent directly to Producer Craig who is under investigation for feline bribery. The girls will totally write to him in prison. www.whichmurderer.comWARNING - Explicit language, content and themes (plus whatever else will cover us legally). All opinions stated are our own and case information was gathered from legitimate sources within the public realm.Pre-recorded in Scotland
In Season 3 Episode 51 the girls talk about Beauty Pageant Murders with Holly kicking off her story of Svetlana Kotova before Gemma dives into her tale about Michaela McAreavey.Shoutouts for Sarah with a case suggestion and Woody over at Real Life Real Crime who helped solve a cold case murder recently. We are super impressed and proud and totally recommend you listen to him. And not just because of his melty voice.Time travel breaks Holly once again, the girls have a moment over Gemma's second to last episode, there should be a thing called a cake passport according to Holly, Gemma totally misjudges a hitman, Holly finds out Gaelic football has nothing to do with speaking Gaelic during the game and THERE IS A HUGE APPEARANCE FROM PRODUCER CRAIG. Production, recording and postproduction completed by Producer Craig who has given up on flagging duties and is now misusing paper towels as flags. Gemma edited this week. All complaints should be sent directly to Producer Craig who is about to lose his paper towel sponsorship for not using it as THE GOOD LORD INTENDED. www.whichmurderer.com WARNING - Explicit language, content and themes (plus whatever else will cover us legally). All opinions stated are our own and case information was gathered from legitimate sources within the public realm.Pre-recorded in Scotland
In Season 3 Episode 50 the girls cover Cabin in the Woods Murders with Gemma telling you all about the murder of David and Estelle Akeman before Holly chats through the nightmare of the Tiede family. BIG PODCAST ANNOUNCEMENT FOR SEASON 4The girls reveal some dirty secrets, Producer Craig loses his sweet little mind, Holly is outraged by Producer Craig's opinions on cats, random adoptions might be a new trend and the girls ask you to make the public uncomfortable. Production, recording and postproduction completed by Producer Craig who is about to get a very cat filled delivery on his doorstep. Gemma edited this week. All complaints should be sent directly to Producer Craig who is regretting that humans domesticated the cat a few thousand years ago. www.whichmurderer.comWARNING - Explicit language, content and themes (plus whatever else will cover us legally). All opinions stated are our own and case information was gathered from legitimate sources within the public realm.Pre-recorded in Scotland
United States