Discover
The Talent Economy Podcast
Claim Ownership
The Talent Economy Podcast
Author: staffing.com
Subscribed: 25
Played: 189
© Talent Economy Podcast 2021
Description
Companies today are facing a global war for talent. At the same time, the talent with the skills companies are fighting over wants more flexibility around the way they work and the way they live.
Talent now has a choice and this is pushing companies to change. We will bring together thought leaders, staffing experts, and top freelancers to talk about the changing nature of work and how companies can navigate these changes to attract talent that will alter the course of their business to ensure success as the pace of technological disruption increases.
Welcome to the Talent Economy Podcast.
---
See acast.com/privacy for privacy and opt-out information.
In an ever-changing world, the employer-employee relationship is more crucial than ever before. After nearly a year and a half of remote work and video meetings, properly managing employee burnout has become one of the most important factors in corporate success. In this episode, we speak with Mai Ton, Chief People Officer of Kickstarter, about what happens when a company takes the time to listen and respond to its employees' needs.  Ton has spent the last 20 years leading all aspects of human resources in several businesses. She was the first Vice President of HR at six companies, where she helped build the people function from scratch. Ton has won 14 awards for her companies and was named to the list of the Top 50 Most Powerful Women in Technology, Top 50 Tech Leaders in 2019, and Top 20 Tech Trailblazers from Insights Magazine. She is a board member of LEAP (Leadership Education for Asian Pacifics), a nonprofit organization that helps Asian and Pacific Islanders achieve equality through education, leadership, and empowerment. She is also an advisor to some of the newest HR technology software companies.  In this episode, Ton shares her thoughts on the exhaustion of working remotely through COVID-19, the evolving culture of startups, and what happens when the way of work stagnates. She also talks about the rapidly changing future of work, why the pandemic caused Kickstarter to flourish, and her new book, Come Into My Office: Stories From an HR Leader in Silicon Valley.  See acast.com/privacy for privacy and opt-out information.
The past 14 months have changed the way we work. And as workplaces grow more flexible, companies can begin to adapt their cultures in creative ways. In this episode, we speak with Kristin Johnson, Chief Human Resources Officer of Fortune 500 company Edward Jones, about what reopening can look like. Johnson joined the premier financial services firm in 1995 as a member of the internal audit department, and continued to climb the ranks over the next 24 years. In November 2019, she was appointed Chief Human Resources Officer and began leading efforts to attract, develop, and engage the 49,000-person workforce with a commitment to diversity and inclusion. She serves as a senior executive sponsor of Edward Jones' Black/African American and Young Professionals Business Resource groups, as well as serving on the boards of the Center of Creative Arts, Webster University, and the Saint Louis Fashion Fund.Johnson shares insights into why being a human-centered company matters, the importance of respecting the individual, and what it's like to work as a high-ranking executive in a male-dominated industry. She also discusses the challenges corporations face in a post-pandemic world, including effectively communicating in a remote environment while still focusing on employees' continuing education. Some Questions Asked:Can you tell us a little bit about your path from accounting to leading almost 50,000 people?What role would you say that continuous learning plays in attracting and retaining top talent?How has Edward Jones expanded wellness programs in light of COVID-19? What direct benefits are you already seeing?In This Episode, You Will Learn:The role creativity plays in human resourcesHow lessons from ballet translate to the world of HRHow COVID-19 has affected training and development programsLinksKristin Johnson - Edward JonesKristin Johnson - LinkedIn  See acast.com/privacy for privacy and opt-out information.
As lack of transparency in the hiring process is becoming a thing of the past, we ask our guest, Austin Belcak, CEO of Cultivated Culture, what this transition to greater openness looks like for both companies and job candidates.Belcak pursued a bachelor's degree in biology from Wake Forest University and put his minor in entrepreneurship to the test after a harrowing experience working in healthcare put him back on the job market. He had sent more than a hundred resumes in 30 days without getting a response, when Belcak designed a solution: a system to get employed by the companies he dreamed of working for. His method was so effective that he landed interviews and offers from Twitter, Google, and Microsoft. Belcak, whose strategies were featured in Forbes, Business Insider, Fast Company, and Inc. Magazine, shares his ideas about what candidates and companies should do differently to get the best out of the hiring process. We discuss one-way interviews, and why most candidates don't like them. We also touch on the importance of referrals and their role in employee retention. You will hear Belcak's vision of how assessments should be run and what candidates can do to differentiate and highlight their resumes. Some Questions Asked:How should companies better tell their stories to recruit top talent?How can companies tell whether an applicant is aligned with their values and what they're trying to accomplish?What impact do referrals have on retention and performance?In This Episode, You Will Learn:About companies taking public stands on social issues to attract the type of talent that is aligned with their valuesThe risks companies are taking when they are not open and transparent in their search for candidatesThat potential and knowledge are not the same, and what folks with no traditional work experience can do to get hiredLinks:Austin Belcak - LinkedInAustin Belcak - InstagramCultivated Culture websiteCultivated Culture Free Tools for Job SeekersThe Dream Job System Podcast See acast.com/privacy for privacy and opt-out information.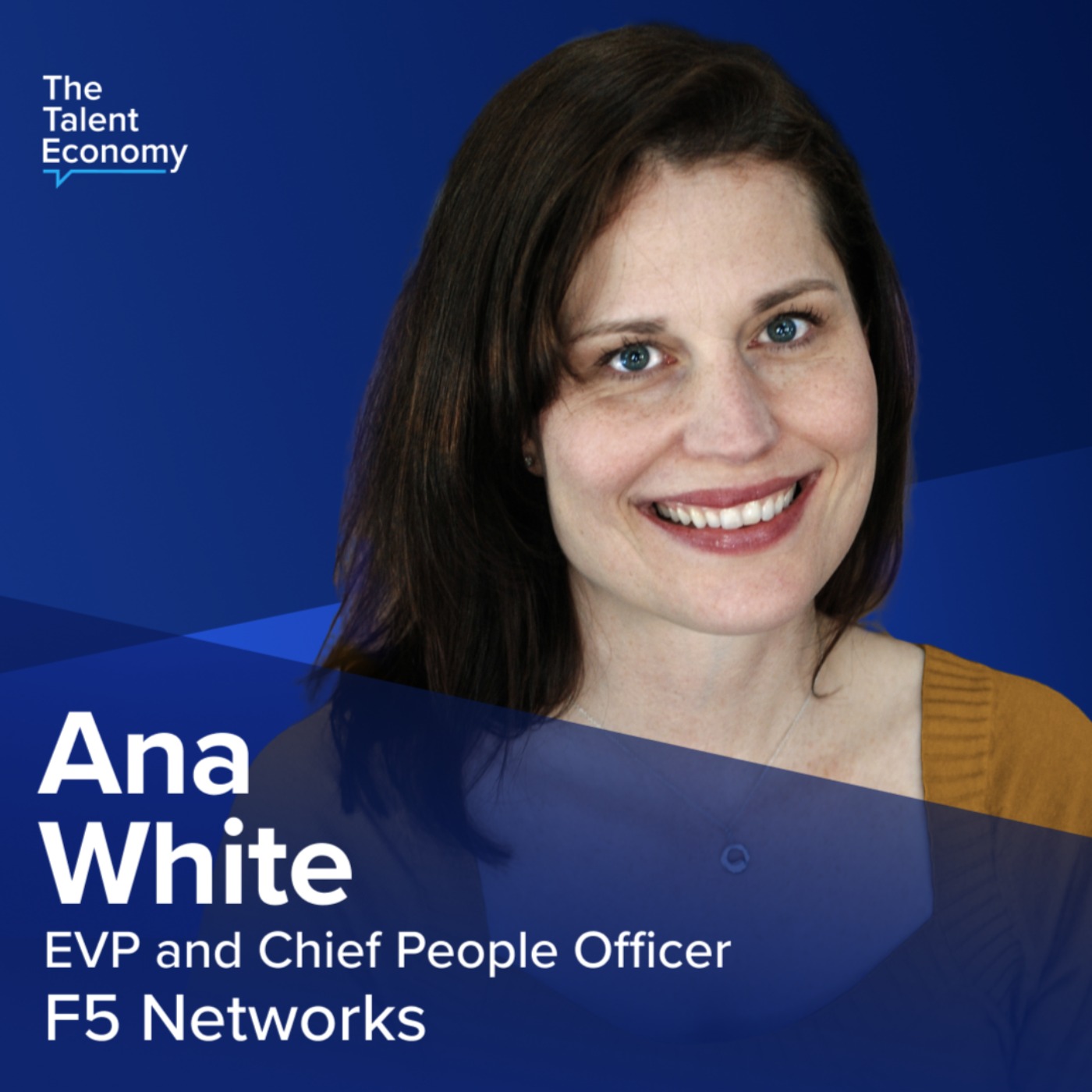 A healthy, empowering, and people-centered culture is vital for any company to thrive, but leaders must model the company's culture every day for it to take root. Toptal's Chief People Officer Michelle Labbe speaks about this with Ana White, Executive Vice President and Chief People Officer of F5 Networks.Ana White earned a Bachelor of Science in Mathematics and a minor in Economics from Seattle University. She graduated with honors and received both academic and athletic scholarships. Early in her career, White discovered that her love for people was more prominent than her other passion, her love of numbers. Before joining F5 Networks, she worked as a Compensation Consultant at Watson Wyatt Worldwide and as General Manager of Human Resources at Microsoft. White, who is dedicated to generating social impact through her work, shares her thoughts on the importance of bringing the company's culture alive through rewards and recognition and focusing on creating an environment of support and positive feedback rather than a competitive one. We also speak about how crucial it is for companies to provide a platform for employees to realize the personal satisfaction that comes from helping the community and what F5 Networks is doing to raise awareness about mental health issues. Some Questions Asked:Now that COVID-19 is upon us, how have you all had to shift or pivot with the people's needs?I read a really great article that you wrote on LinkedIn about empowering employees to make a personal connection and social impact. Can you tell us more about that?F5 Networks has around 6,000 employees. How are you keeping everybody together to feel like it's a family with that many people?In This Episode, You Will Learn:About shifting into an agile mindset from the engineering perspectiveThe importance of the people-first approach at F5 Networks bringing clarity and certainty during difficult timesHow normalizing the conversation about mental health issues through education, understanding, and support is an essential part of well-beingLinks:Ana White - LinkedInF5 Networks See acast.com/privacy for privacy and opt-out information.
The COVID-19 pandemic produced what might be the largest workforce disruption since the Great Depression; its effects on the global economy are devastating. Unemployment in some areas hit 30%, which turns the economic crisis into a human resources crisis. Our guest, Christy Pambianchi, Executive Vice President and Chief Human Resources Officer of Verizon, explains how her company has transformed recruitment, hiring, and retention, given the chaotic scenario. She describes the challenges of maintaining the company's values and culture in a virtual environment. Pambianchi has more than 30 years of experience working as an HR professional. She has a bachelor's degree in Industrial and Labor Relations from Cornell University. Before Verizon, she worked for 10 years as HR Director at PepsiCo Inc. When the internet revolution arrived, her passion for communication and technology spurred her to join Corning Inc., optic fiber inventors. She worked her way up in the company, becoming Executive Vice President of the People and Digital department. Creating People + Work Connect while at Verizon is definitely among her career highlights. The idea came about as an answer to the HR crisis generated by the pandemic. The free, online employer-to-employer platform helps companies that need talent or are displacing workers to quickly identify and fill positions. The hiring process is also evolving, according to Pambianchi. Companies used to hire for job titles, looking for workers who fit into a specific role. Nowadays, it is more about skills and every worker's attributes and interest in learning. She believes the skill economy will gain even more prevalence in the next decade. Plus, Pambianchi shares her thoughts on the best way to assist workers during the unstable times we are going through and the silver linings of the pandemic's effect on companies.Some Questions Asked:What are the biggest challenges and surprises this pandemic has presented to companies?How did Verizon recruit for the summer 2021 virtual internship program?How does People + Work Connect help people who have lost their jobs because of COVID-19 get back to work? Are companies looking for previous experience with a specific role, or are they looking for the skills that can be applied to a variety of roles? How can companies help their employees, both full-time and contract, with navigating times of change and instability? The pandemic has hit women, working mothers in particular, especially hard. Can you tell me how Verizon is stepping up for women and what you believe is important to help women in the workforce thrive?In This Episode, You Will Learn:Verizon's growth plan in technology and innovationFinding fulfillment in working for companies where you feel connected to the purposeWays to drive retention and tenureThe innovation happening in HRWhy the Verizon 2020 summer internship was recognized as one of the best virtual internship programsHow Nestlé filled 75 open roles quickly using People + Work Connect when business demand increased due to COVID-19 Links:Christy Pambianchi - LinkedInVerizonPeople + Work Connect See acast.com/privacy for privacy and opt-out information.
Companies have faced many challenges during the pandemic, but the best ones prioritized their employees' mental and physical health—and were successful as a result. In fact, the only way to maintain a healthy work environment is to make sure staff feels safe, heard, and valued. Joining Toptal's Thought Leadership Lead Editor Meredith Bodgas today is Roche Diagnostics' Bridget Boyle, People and Culture Business Partner, Enterprise Diagnostics North America. She is the former Vice President and Senior HR Business Partner of JPMorgan Chase & Co. and has more than 25 years of experience working in HR. Since Boyle joined Roche Diagnostics in 2007, she has helped transform its culture and beliefs, leading to a strong and sustainable relationship with employees, customers, and patients.In this episode, we talk about how Roche increased its retention rate during the pandemic, all while creating and distributing key COVID-19 tests and diabetes-care products. We also talk about the company's tactics to prevent employee burnout, the importance of nurturing connections, and how to make workers feel secure and cared for. She explains how Roche dealt with internship programs, recruiting, and much more in an inspiring conversation. Some Questions Asked:Tell us about your path to leading people and culture at Roche.Roche has been in the news during the pandemic for creating tests. Can you tell us a little bit about those tests? You mentioned that you thought about how to feed your essential employees. What do you mean by that? What did you do for the parents at Roche and the other caregivers?How did you prevent employees from burning out? Mental health apps exploded in 2020. Did Roche offer any of these to their employees? How did Roche keep employees physically healthy? How did Roche approach internships during the pandemic? In This Episode, You Will Learn:Roche's two types of essential workers How Roche ensures people feel connected to leaders and the company's vision New ways for providing employees relief How Roche makes essential workers' lives easier The positive impact of less formality and more realness How having a lighter touch in the performance review process increases connection and discussion Links:Roche USA websiteRoche Diagnostics USA TwitterRoche Diagnostics USA FacebookBridget Boyle - LinkedIn Toptal Insights - How Roche Diagnostics Improved Employee Retention During the Pandemic See acast.com/privacy for privacy and opt-out information.
The value proposition in the relationship between companies and employees is changing. A company's prestige or pay scale is not at the center anymore; people are. Toptal's Chief People Officer Michelle Labbe speaks about this with Eric Hutcherson, Executive Vice President, Chief People and Inclusion Officer of Universal Music Group (UMG).Eric Hutcherson earned a bachelor's degree in political science from New York University and a master's degree in sports management and administration from the University of Massachusetts Amherst. He worked in sports marketing, public relations, and HR for several companies, including the Boston Celtics, Foot Locker, Marsh & McLennan, and the NBA, before joining UMG. Looking back at his journey, he believes that he was always looking for the best way to maximize people's personal and professional lives.Hutcherson, who specializes in people and culture at UMG, gave his thoughts on this change in value proposition and how companies attract talent by emphasizing their focus on diversity, inclusion, and belonging. He also talks about how and why companies must earn their employees' commitment, the four questions to determine if a company deserves people's greatness, and more. LinksUniversal Music GroupLinkedIn - Eric HutchersonStaffing.com - Universal Music Group's Secret to Retaining Top Talent See acast.com/privacy for privacy and opt-out information.
How would you define the digital transformation of the workplace? Prior to the pandemic, many had begun incorporating some remote work into their schedules, and virtual meeting platforms were helping to keep distributed teams connected; cut to the present day, the transformation has been accelerated, and these practices have become daily standards. Today's guest,  Amy Loomis, PhD, describes digital transformation as "the intersection of technology and organization —a cultural change that is reshaping how location is approached in the workforce."Loomis is Research Director of IDC's worldwide Future of Work market research service. Her research looks at how varying technologies influence workers' skills and behaviors, organizational culture, and worker experience, and how the workspace itself enables the future enterprise. Prior to IDC, she spent 15 years at IBM and was Co-founder of IBM's Think Academy, a global digital learning platform and program designed to engage employees and partners in learning about emerging technologies and digital transformation.In addition, Loomis is an independent analyst and Founder of Loomis Digital Learning, consulting with a range of clients from Fortune 100 organizations to startups on digital transformation, learning, and employee engagement. She speaks candidly about the importance of education and how organizations can best navigate the accelerated transformation during the pandemic, offers insight on how leaders can effectively shift their operations while keeping their teams empowered and connected to their work, and provides examples of companies that are successfully leading the charge.LinksAmy Loomis, PhD - LinkedIn See acast.com/privacy for privacy and opt-out information.
Much of the conversation surrounding the staffing industry and the future of work has been centered on the US and Europe. Today, we speak with Yasmin Kumi, Founder of Africa Foresight Group (AFG), and Rasheeda Seshie, AFG's Partner and Chief People Officer.AFG is the leading platform for freelance consulting services on the African continent. Over the past three and a half years, the organization has evolved into a fully female-led business that runs a network of more than 100 consultants, helping midsize and enterprise companies.Kumi and Seshie, who both held prior roles at McKinsey, speak candidly about their vision for AFG, how the organization came to be, and why talent networks are uniquely positioned over traditional consulting to address the needs of the African continent. They also speak to how AFG is working to attract and nurture key talent and the opportunities available to those engaging in the talent economy across the continent.LinksYasmin Kumi - Why Africa Needs Talent Networks Instead of More Consulting Companies - Yasmin Kumi - LinkedIn Rasheeda Seshie - LinkedIn Africa Foresight Group See acast.com/privacy for privacy and opt-out information.
When you think about your career, do you think within the context of your current position? If you were to take into account the kind of life that you want and the things that you most value, how would that redefine your definition of success?These are the types of questions that today's guest, Lisa Hufford—author, founder, and CEO—faced when she became a new mother. Driven by a desire for flexibility and freedom to do the work she wanted and to do it where she wanted, Hufford founded Simplicity Consulting in 2006. Simplicity Consulting is the preferred on-demand business consultancy for the new world of work and home to top marketing, communication, and program and project management experts in the Seattle area.A five-time honoree on the Inc. 5000 list as one of the fastest growing private companies in America and recognized as one of Washington's largest female-owned companies by Puget Sound Business Journal, Simplicity Consulting is female-founded and run, with an all-female leadership team.During our conversation, Hufford offers key insights from her first book, The Personal Brand Playbook, and advice on how we can all begin to reenvision our careers on our terms.LinksLisa Hufford - LinkedInSimplicity Consulting See acast.com/privacy for privacy and opt-out information.
When you think about a talent company, what roles come to mind? More than likely it's a project manager, software developer, or copywriter. Have you ever thought about remote HR freelancers?Today, we are joined by Emma El-Karout, Founder and Managing Director of One Circle, an online platform connecting businesses with on-demand, freelance HR experts from around the world. One Circle provides businesses with access to quality HR consultants who can support the full employee life cycle, providing organizations with transparent reviews, track records, and a secure payment ecosystem.El-Karout discusses the events of her childhood that inspired her work and world outlook, the disruption of the traditional HR role, and how One Circle is empowering HR leaders to take their rightful place in the talent economy while providing in-house HR teams with an infusion of innovation, creativity, and knowledge sharing.LinksEmma El-Karout - LinkedInOne CircleOne Circle - Twitter See acast.com/privacy for privacy and opt-out information.
As more teams are settling into their remote work experiences, a number of challenges have surfaced: prolonged workdays, increased time spent in meetings, feelings of loneliness among employees, and frustration from managers struggling to effectively manage their distributed teams.In this episode, we are joined by Shiran Yaroslavsky, CEO and Founder of Cassiopeia, a startup that empowers managers who lead fully or partially remote teams to maximize their workplace experience through data. Cassiopeia offers a solution that delivers actionable insights to help boost team collaboration, belonging, and mental health by analyzing communication patterns within and between teams. A former product manager, Yaroslavsky was featured in 2019 Forbes 30 Under 30 in Israel.She discusses how Cassiopeia is utilizing data to help teams better navigate how they work and how they want to work. She also shares her professional journey from intellectual property litigation to tech CEO, a transition inspired by Yaroslavky's desire to connect directly with people and wanting to pivot "from advising to creating."LinksCassiopeiaShiran Yaroslavsky - LinkedIn See acast.com/privacy for privacy and opt-out information.
"Mobile First" has become the reigning mantra for a number of organizations and platforms, and it was only a matter of time before the staffing industry joined the ranks. Paul's guest today is Ahmad Kadhim, the head of product at TimeSaved, a platform that provides mobile-first workforce management solutions that help to attract, manage, and deploy a workforce in a timely and effective manner.Ahmad takes us on a journey through the evolution of his career. Having originally studied biopsychology and economics, he shares how both fields have helped to shape his career in technology and the staffing industry, providing him with a deep understanding of varying cognitive biases, and how they inform user behavior. He and Paul also deep dive a bit into the important work that TimeSaved is doing, and Ahmad sheds light on the company's two-phased mission of promoting a seamless mobile experience that promotes a powerful feedback cycle.Connect with Ahmad:TimeSavedTwitterLinkedIn See acast.com/privacy for privacy and opt-out information.
As the nature of work continues to evolve, more platforms spring up in an effort to tackle the pain points of staffing, for both the talent and the organization. Easing friction in the hiring process is paramount, and Vivek Anand, the founder of Workonomix, has a unique vision for doing so. Anchored in blockchain technology, Workonomix is a verified, portable worker passport that reduces friction delays in the hiring process. Vivek believes that a single, trustable professional identity owned by the talent is fundamental to the future of work, and he founded Workonomix for that reason: "to ease the life of a worker and accelerate the hiring process for the employers."Paul and Vivek discuss the inconsistencies in various talent profiles, the challenges posed for talent who work through multiple platforms, the benefits of blockchain technology, and Workonomix's mission to ensure that organizations are able to hire the right person tomorrow.Connect with Vivek:WorkonomixLinkedIn See acast.com/privacy for privacy and opt-out information.
There are currently five generations in the workforce, with millennials representing almost 30% of new managers. It's no secret that younger generations tend to disrupt the status quo, and while this new group of leaders has certainly shaken things up, being so misunderstood upon entering the workforce led to a number of widely held mischaracterizations of their work ethic.Today, Paul speaks with Gabrielle Bosché, president of The Millennial Solution and co-founder of The Purpose Company helping organizations and leaders bridge the generational gap. Gabrielle is also an international speaker and best-selling author (The Purpose Factor, 5 Millennial Myths: The Handbook For Managing and Motivating Millennials, etc.). She and her husband Brian have been called the "next generation's motivational titans," having worked with celebrities, US military officials, presidential campaigns, and Fortune 500 companies.Connect with Gabrielle:WebsiteLinkedInThe Purpose Factor (Brian Bosché and Gabrielle Bosché)5 Millennial Myths: The Handbook For Managing and Motivating Millennials (Gabrielle Bosché)The ONE Thing: The Surprisingly Simple Truth Behind Extraordinary Results (Gary Keller) See acast.com/privacy for privacy and opt-out information.
The future of work is here and it's redefining how and where teams collaborate. In this episode, Paul speaks with Mariano Suarez-Battan, co-founder and CEO at MURAL, a visual collaboration workspace for modern teams. Mariano, a three-time co-founder and an inventor by trade, is on a mission to inspire, enhance, and connect imagination workers so they can collaborate and problem solve, building what he calls the imagination cloud.Connect with Mariano:LinkedInMURALThe Definitive Guide To Facilitating Remote WorkshopsMURAL Consultant Network See acast.com/privacy for privacy and opt-out information.
What if the secret to your organization's success existed outside of the organization? Hackster.io is a testament to this, having used top freelance talent to achieve exponential growth. Hackster, an Avnet community, is the world's fastest-growing developer community for learning, programming, and building hardware.Arthur Beavis, an award-winning marketing professional and Hackster's CMO and editor-in-chief, joins Paul for a discussion on how the company successfully evolved into a community where talent meets opportunity and how top freelance talent helped Hackster News become the go-to resource for staying abreast of the latest trends and cutting-edge technologies in IoT, wearables, machine learning, and artificial intelligence.Connect with Arthur:LinkedInHackster.ioEmail See acast.com/privacy for privacy and opt-out information.
Have you ever thought about an organization as a living entity? Think about it. Much like our bodies' organizations, as Parker Lee describes, are "living, breathing networks with integrated holistic systems that will thrive in a networked fashion" and can build the necessary defenses to fight off any type of invasion or, in their case, innovation—making it challenging to enact even the slightest change.Parker Lee, Global Managing Partner at Territory Global, says it's essential that companies are clear about their WHY: the reason(s) they want to enact change. He joins Paul for a conversation about the Work Forward movement and how Territory helps companies structure a plan of action (the HOW), and provides insight on how the future of work can be embraced today.Connect with Parker:LinkedInThe Art of Opportunity: How to Build Growth and Ventures Through Strategic Innovation and Visual Thinking (by Marc Sniukas, Parker Lee, Matt Morasky)Learning Done Right & Done RemotelyContact TerritoryWork Forward: Get InvolvedTranscript of this episodeParker Lee:I'm so tired of people talking about the future of work because the future can be achieved right now. It's not about the let's look way out there and maybe we'll get there, or what new shiny little toys are there. It's about taking advantage of all the different tools, and approaches, and resources, et cetera that exist today.Introduction:There's a revolution taking place right now. Talent and intelligence are equally distributed throughout the world, but opportunity is not. The talent economy: the idea that at the center of work is the talent, is the individual.Paul Estes:Companies today face a global war for talent. High-skilled talent is demanding flexibility around the way they work and the way they live. This podcast brings together thought leaders, staffing experts, and top freelancers to talk about the evolving nature of work and how companies can navigate these changes to remain competitive, drive innovation, and ensure success. Welcome to The Talent Economy Podcast. I'm your host, Paul Estes.Today, my guest is Parker Lee, managing partner at Territory Global. Parker joins us today to discuss a new way of working and the impact that a collaborative, co-creative working environment can have on both talent and the organization.Parker Lee:As you said, I'm managing director at Territory. I love speaking about working forward transformation, about helping people and teams achieve better outcomes and results.Paul Estes:Now, before we get into your organizational behavior background, long-range planning, your journey to Territory Global is quite an interesting one, to say the least. Tell me a little bit about your love for music and how that took you to Caesars Palace.Parker Lee:I had been in music and passionate about it since a little boy and played piano and trumpet. And then all through school, drum major of the Cal Aggie Marching Band when I was at UC Davis. Formed my own little madrigal group, had a barbershop quartet, did a lot of singing, and that. Upon getting out of UC Davis, broke my parents' heart when I told them instead of being president of the United States, I was going to sing on the streets of San Francisco and I was a busker.That led to getting a night in a club, and then multiple nights, then quitting my job and doing that. We became the number one club act, did five national tours, got on MTV. It was a remarkable experience.I figured at that point in your life, if... You can't do that when you have a family and later, so I said, "Now's the time." It was remarkable. It was a very different time than it is right now.Paul Estes:It was back when MTV actually played music on television, right?Parker Lee:That's the only way we got the video on the... They needed content, and it was all they do. It was a running video, quote, "show." So it was their very beginning, and it was a blast. This was in '80, '81, somewhere in there.I did find the love of my life, got married, had our first child. I went out on tour at three months. Came back at six months, and my daughter rolled over in the crib when I walked into the room and started crying. I said, "That's it. I'm out."The next day, I got a phone call from a friend of mine from UC Davis who had gotten a job at Caesars Palace. He had engineered a transition there to be in charge of advertising, entertainment, and PR, and he needed somebody he could trust. He picked up the phone and called me and said, "Would you come down and run the entertainment department of Caesars Palace?" I interviewed, said, "There's no way," and then he said, "You don't get it, Parker. It's the same thing you've been doing. You just need to put butts in the seats. That's the goal. Just a few more zeros after the contracts from what you've been doing." I went, "Okay, I'm in."It was amazing. I was able to take advantage of my passion for arts, and performing, and entertainment. I met Frank Sinatra on my first day on the job, and Diana Ross, Rodney Dangerfield, Tom Jones, Wayne Newton, Crosby, Stills & Nash, James Brown, et cetera. Some are still alive, some aren't. But it was great. Then I did the special events. Grand Prix auto racing in the parking lot, boxing matches. It was insane.Paul Estes:How did you get from that to really understanding organizations and how collaboration and co-creative working environments unlock innovation?Parker Lee:My passion when I was in school was... and I wrote my own major because that's what I wanted to understand better... was in organizational development, long-range planning, and organizational design. I started studying it. Because there wasn't a program there, UC Davis had a way where you could write your own major. So I was just researching on my own.I said the form of education is actually flawed greatly because it has just rote learning and you just regurgitate back stuff that you're passed passively. I said, "There is a better..." You have to be engaged. Learning is lifelong. Learning is not passive, it's active.I had an idea for a research center on campus run by students that would enable students to get grants for doing independent learning and to do programs that would enhance education and their community and have engagement. I got a grant, one of only two student grants from the federal government, and that program was started. So my passion started in school. I just took a little detour in music.Now, that said, while in music and then I went into sports marketing, I still was studying and watching how do organizations improve, find engagement, do planning, do transformation, change management, build innovative programs. I left that life when... Just like Jerry Maguire, I was a sports agent briefly. I got fired, came back to the Bay Area at the beginning of technology, and started getting into how do you grow small businesses, entrepreneurial businesses. How do you start them, grow them, manage them, do the sales and marketing, do the business development, and do the innovation programs? I've been doing that for now 25 years.Paul Estes:Now, when you look at organizations and the rise of technology and distributed teams, I mean, one of the things we talk about on this podcast often is sort of anti the construct of an organization. Not completely, but it starts to push against this idea of a hierarchical organization. How do you see the evolution of organizations in the work that you do today or from when you first started studying this in college up to today?Parker Lee:Well, it's funny. In college, and you've got to keep in mind, I was in school in the '70s, which brands me right there for the use of alternative ways of getting enlightenment. However, while there, one of the things that came into my brain was organizations are living. They are organisms. They're alive so that they... They have systems, they have processes, they have a life cycle, and they have to have everything moving in an integrated fashion for health and growth. I think that still holds true. There are in fact books now called The Living Organization and other things.So it is seeing them as not hierarchical, as linear, but seeing them as integrated holistic systems-based groups that will thrive in a networked fashion. The infusing of technology in that is what has put it on steroids, where there is the capability of doing this even more effectively now, I believe.Paul Estes:What are some examples where you think in your studies, in the journey that organizations have gotten this concept right? Where they've looked at an organization not as an org chart per se, but sort of a living, breathing network.Parker Lee:I sadly can think of a few on a huge multinational basis that have done it well. There are bright lights of that and pockets of it where they'll start innovation programs, or teams of people operate in a Holacracy or in an integrated team-based approach that is flat, that relishes and encourages experimentation, that uses remote working to its advantage.But I don't know any organizations of the large ones that are doing it. There are many startups that do this. Part of that is scale. It's hard. The larger you get, the more you are building rigor mortis into the organization, just because like a body, it naturally fights innovation, because innovation is like an invasion coming into the well-oiled parts of your body that's invading it. It's finding a way to not make that so it's a negative disruption, but it's a positive disruption, I think.Paul Estes:In your work, what are some of the things that you coach organizations on as they aspire to have a more innovative or co-collaborative environment? Because I've experienced companies saying, "I want innovation. I want all of these things," and then when you actually go to put the program in place, I think to the point you made earlier, it's like an invasion. It is so foreign to the living body of the large organization, that they didn't know what they were getting into.Parker Lee:Yeah, you're exactly right. This comes into our transformation practice, change management, et cetera. It is destined to fail if there is not. There are a few key things that have to happen. Support from the top. If there is no full endorsement and backing and understanding at the very top leadership, executive leadership, it'll fail, because you'll be creating something below it, and it starts to rise and it gets squashed. Either budgets pulled away, people get moved to other areas, and it falls apart. I've seen that half a dozen times. That's number one.Number two, it can't be done by a consultant. The consultant can be the Sherpa or the guide and help, but it has to be organically bred, and developed, and nurtured internally, which means there has to be... And there's another part of it. There needs to be a shared vision. Where are we going? Why do we want to get there? There has to be an understanding of what are the resources required internally and externally to get there. There has to be an understanding of what are the things that are going to prevent us from getting there. Which can be anything from systems, process, technology, talent, any of that. And there has to be a plan. It takes resources to do this. It takes focus and resources. It's like running a campaign that has... It should have a start and a stop. There have to be measures. How do we know when we're going to get there? What does it look like when we get there? How do we know as we're progressing, and measure that?Those are some of the key elements, but most organizations will look at that academically but then can't put it into practice. That's where it will fail.Paul Estes:Sometimes, companies don't know why. When you talk to companies and you outline all of the items that you just mentioned, how many of them actually know the why behind what they're aspiring to do?Parker Lee:The five whys, as we say. Very few. Usually, that needs to be established obviously right at the get-go, because there has to be a case for change. There's a compelling reason. Sometimes, it's external factors. Sometimes, it's internal. More commonly, it's a combination of the two. But that needs to be understood, otherwise, you can't garner the champions or the advocates. That's another thing that has to happen.When you're breeding this internally within the organization, again, it can't be done by a consultant. There have to be people that have the passion, have the understanding, and have the "This is why we have to do this." There has to be a reason to do it. It's oftentimes our culture, it's toxic, or it has to be competition coming in, or the world around us is changing way too rapidly, and if we don't, we're going to be ostriches with our heads in the sand. It's usually a combination of all of those, and then clearly seen, so that now build a plan, design a plan.But it's designed by the people in the org. They have to get it. Because it's the context of the organization that drives how you're going to accomplish it.Paul Estes:Now, you talked about the high-level management buying it. So the main leader who's going to give permission for a team to do maybe work differently. Maybe say, "Hey, look, this team's going to work in a distributed fashion. We're going to bring on-demand people into the organization so we can get the expertise that we need to accomplish this goal." How do you educate those middle managers that are going to be impacted? Because now you're asking them to do something new and, to your comment earlier, to do something risky. There's an old saying that no one was ever fired for hiring IBM, right? I mean, just that-Parker Lee:Amen. There you go.Paul Estes:... general idea. So middle managers are not, in many cases, incented to embrace new ideas. What do you tell those groups when you actually go and implement an innovation program from Territory?Parker Lee:That's one of the rocks, one of the barriers that has to be gotten around as you look at the culture of the organization and the decision-making process and governance understanding. There needs to be an acknowledgment from upper management, middle management, and the people that are actually doing all the work that that situation exists. Then you create tools and processes, and endorsements, and systems that will give them an alternative path, and reinforce that, and reward it.It will be different with every organization. Sometimes, it's literally in the compensation system. Sometimes, it's in the technology that's used. Sometimes, it's in the way that they conduct meetings. Sometimes, it's in the actual workflow and governance of how work is approved, and executed, and delivered. All of that is... Again, it comes back to this holistic look at it with the organization determining what those are.What we found, though, it's very few organizations that have the knowledge and understanding. So how do you do that? The how is the most important part. That's where you usually do bring in somebody like Territory or otherwise, that says, "We've done this in lots of places. Here are the best practices. Now, which ones are going to work for you? You decide you embrace it. We'll help you build some of the tools, but you're the ones that are going to have to pick up that hammer and start putting together that new house. It's not us." Otherwise, it doesn't stick.Paul Estes:I want to plug your book because when we first met, I got a copy of it, The Art of Opportunity. If people have not seen the book, it's more of a practitioner's guide to finding opportunities than it is a textbook that I would read. One of the things that stuck out to me is how visual it was.When I was going through the book, it explains to me how to think about driving transformation and change, but in a very visual language. I know you're also passionate about design thinking. Tell me a little bit about what inspired the book and how you think of innovation as it relates to visual thinking.Parker Lee:It's crucial. Humans are visual creatures since cave people. It's how we... You drive, you may find you do everything. Storytelling is one of our core areas. We believe you'll accelerate understanding, clarity, action by having visualization in there.In the book, we have five key principles. One of them is visualization and storytelling. So we practice what we preach in saying, "It will help you get to that goal, or objective, or outcome faster, better." And it brings people along because storytelling is very emotional. It gets to a different place in your brain. Because we believe in that as a core principle, we said, "We have to have the book emulate that." That's why we designed it in a visual way. The table of contents is a reader's journey, so you see what you're going to experience, what you're going to use, and get there.We use that in everything that we do: in how we engage with our customers and our clients from the very first conversation to the end of it, to the deliverables. It's because it's what we believe is more effective and impactful.Paul Estes:It was also a very approachable book, the topics in the book around opportunity and business model. I mean, there were some meaty topics in the book, but the book itself was approachable. Like you said, it took me through a journey that says, "Hey, problem-solving." It was a visual journey on problem-solving, which I found very interesting and very engaging. So if there's anyone who is thinking about innovation and thinking about transformation, The Art of Opportunity is a good starting point.I also found myself jumping into different places and being equally as engaged no matter where I landed. So it was kind of an interesting experience as compared to sort of a standard business book.Parker Lee:By intent, designed that way. It's funny, even one of our senior facilitators just picked it up recently and used it for one of the engagements he had, where he cherry-picked three or four of the activities that are in there. Because he was able to put them together in a very different pattern, but use them to get the outcomes that he needed to achieve. So it's fun that you're able to let people kind of use it in their own context. That was another intent, it's saying, "You may be a startup, you may be a huge multinational. There isn't a prescriptive path. Here are lots of jewels, and gems, and ideas. Put them together in your own pattern."Paul Estes:Yeah, the patterns in the book were, I think, one of the things that resonated with me because I've been in both large companies and small companies. There were a lot of commonalities and like you said, brain food in the book… that made me think… so it's a great workbook.On Territory's LinkedIn page, it states that Territory helps you break free of well-worn yet ineffective or unsatisfying approaches to problem-solving. Help me be specific. What are the ones today or this year or last year that you see next year that are the main challenges blocking organizations from really taking advantage of opportunity?Parker Lee:I believe it's in conducting business in the same way and thinking it will give you the same outcomes. We've had a lot of strategy sessions where they have us do, an offsite or otherwise, and we attack that even in the practice what we preach, where we say, "We are basically facilitating their ability to observe and see the obstacles, the barriers, and the context of the world as it's working, both in the organization and outside them, to then lay a path for what are the critical initiatives we have to undertake for us to succeed." So it is in a combination of strategy.I think the other thing that we're all seeing right now is, with coronavirus, et cetera, a lot of heat and spotlight on remote working. It's how do we weave that into the way of having teams be more effective? One of our core principles is about diversity, and not just in diversity of race or other, it's the diversity of thought and diversity of personality in ways of thinking. That implies team-based. With a more diverse team, you have better outcomes, because it makes the ideas... They become battle-tested, and new ideas will surface. That's some of the other stuff that we try to put forward is bring in a group. Our approach, in what you were describing and what Territory says, is much of it workshop-based, whether it's remote or in person, it's visual-based, and it's taking a different tact on going after the problem that you're addressing so that you'll have a different outcome.Paul Estes:You do both in-person consulting and remote consulting. Tell me the difference between the two.Parker Lee:Radically and significantly different. We are huge proponents of remove the technology and eyeball to eyeball because we as humans thrive on the kind of social aspects of creating ideas and building off of each other, et cetera. You don't always have that luxury. With climate change and with now coronavirus, et cetera, you can't always be in the same place and take advantage of that. So the design of the experience has to change dramatically.When you can be in one place, and I think there are times when it's mandated otherwise, you take advantage of that. When you can't, you can either do the hybrid of a few pockets of people, or one group is in one place and then others dial in, or you have everybody 100% remotely. In each one of those scenarios, you design and architect the meeting differently. There are different roles that are required. Sometimes, for example, when there are more remote working, you need to ensure that there is a scribe, there's a digital manager of the technology that's going on that keeps things going, there's somebody that's taking care of questions and how to order that, there's the facilitation or lead of what's going to happen with the experience, there's the preplanning and how that's done either as a group or independently, and there's the communication of what happens in and then outside of the session. You try to get the same outcome. It's just the process has to be different and designed.Paul Estes:I think you said something really important. Actually, I experienced this earlier this week here in... We live in Seattle. My wife works at Microsoft, and everybody's working from home. For the first two days, she was getting... She's got a team. They work in Azure, the cloud. They were working in the same way that they would work at the office. You could see her coming down, getting kind of frustrated, and then she started to realize, "I need to change the way I work. I can't be in back-to-back meetings from 9:00 to 5:00," and she needed time to get up and do different things. She needed time to write things down.There's a different way of working when you're working with distributed teams. I think many organizations try to apply the way they work when they're all located in the same hallway to a distributed working environment. To your point, you have to adapt the way you work to who you're working with and the modality by which you're working.Parker Lee:Completely right. I just did a post. I'm working in our Work Forward site on writing an article about working remotely and the barriers and the challenges and how to overcome those and get there. It takes a different way of working.Paul Estes:Yeah, and we'll make, we'll post that in the show notes. Tell me a little bit about the Work Forward Summit.Parker Lee:It came from an... I met with Jim Kalbach from MURAL. We were having a beer in New York about a year ago. I said, "I'm so tired of people talking about the future of work because the future can be achieved right now. It's not about the let's look way out there and maybe we'll get there, or what new shiny little toys are there. It's about taking advantage of all the different tools, and approaches, and resources, and time-shifting, et cetera that exist today."The other thing that I brought up is that you talk with any company, you bring up Microsoft. They say, "The future of work is Teams, and is Surface Hubs, and are in our SharePoint platform." Okay, you're smart. Then MURAL would say, "Well, it's asynchronous, synchronous creative platforms that are in the cloud." Steelcase would say, "You have to have the right physical situation." WeWork says, "Well, it's being able to be flexible and get in when you want. Sometimes together and sometimes apart." You're all pretty children. The answer is it's all of that.Paul Estes:That's right.Parker Lee:That's when we said, "Okay, so how do we tackle that and talk about it?" I said, "Well, Jim, let's bring together a group of smart people that can go through a day of trying to articulate: So what are we talking about here? What does it look like? How might we address it? And how do we maybe create the tools or the ways people can become and activate the conversation at their own organizations for what they might do about it?" That was the genesis of the Work Forward Summit. We held it last... I think it was in October. And came out with, "What does work look like? What are the work activities? What is it today? What can it be? And then what can we do about it to try to make it better?"We now have a site and we're trying to, quote, "build a movement." The people that all showed up, we finished the summit and said, "What's next? What do we do?" They all said, "There's a 'there' there. This is big. We're signing up for being a part of the founders of the movement. Let's make this thing viral and go." So there's a Work Forward site now. Go to workforward.co. That's where it is.We're just starting. I, we, Territory doesn't plan on doing all the work. It is people. Sign up on a Slack channel. We're trying to get new events, and create assessments, and build other tools, and have further delineation of what does Work Forward look like. I'm really excited about it, obviously. You can tell that, right?Paul Estes:I can.Parker Lee:Yeah. But I think there's something there for us because it is making the business of work better. That's what it is. It's not that there's a single answer. You have a passion about the gig economy, which is part of working forward, but it's the sole answer. It's a critical answer, but it's not the only part. We all have a place to play in this.Paul Estes:That's one of the things that I've liked about your work is bringing together both the physical, and the remote, and the various technologies that are all trying to give a value proposition. I like to say often the future of work is here. It's just not evenly distributed. That's how I think about it. Because I run into people that are way ahead of me, and then I run into people that are way behind me, and then I run into a lot of people who are kind of in the same ballpark that I'm in as it relates to adopting technology and really pushing against the standard ways that work gets done.Parker, thank you so much for taking time to chat with me today. If somebody wants to learn more about you, The Art of Opportunity, Work Forward, or anything else at Territory, what's the best way to get in touch?Parker Lee:We have a contact form on the Work Forward site, on Territory's site. Reach out to me on LinkedIn. Any of those would be great.Paul Estes:Sounds great. We'll keep all that information in the show notes. Thanks again.Parker Lee:It's been great. I appreciate your candor, your honesty, and your curiosity. Keep doing the work that you're doing.Paul Estes:I'm your host, Paul Estes. Thank you for listening to The Talent Economy Podcast. Learn more about the future of work and the transformation of the staffing industry from those leading the conversation at staffing.com, where you can hear from experts, sign up for our weekly newsletter, and get access to the best industry research on the future of staffing. If you've enjoyed the conversation, we'd appreciate you rating us on iTunes or wherever you get your podcasts, or just tell a friend about the show. Be sure to tune in next week for another episode of the Talent Economy. See acast.com/privacy for privacy and opt-out information.
The best products are those built to address and solve a problem. Amir Salihefendić did just that in his college dorm 13 years ago. He built a simple task management app to help him stay organized. That app would eventually become Todoist, one of the world's most popular to-do list apps with nearly 25 million users.Salihefendić, Founder and CEO of Doist, leads a fully distributed team of more than 70 people located in 30 countries. Doist went on to address its own challenges with productivity and collaboration with the launch of Twist, an asynchronous communication platform that offers a calmer and more organized user experience.He credits the "remote-first" movement and his ability to hire the most talented team members—no matter where they live—as the secret to success.Links:Amir Salihefendić - TwitterAmir Salihefendić - LinkedIn See acast.com/privacy for privacy and opt-out information.
We talked with Dr. Jonathan Wright about the diagnostic and economic challenges that need to be overcome before patients can fully take advantage of the benefits of telemedicine.Learn more about Dr. Wright's practice and research, or connect with him on Twitter:Dr. Wright, University of Washington, Dept of UrologyUW Medicine, Dr. Jonathan WrightSeattle Cancer Care Alliance, Dr. Jonathan WrightTwitter See acast.com/privacy for privacy and opt-out information.
United States