Claim Ownership
Author:
Subscribed: 0
Played: 0
Description
Tonight on Family Meal we sit down with Chef Jason Congleton and talk His new restaurant, Lil Bit Nola and their BSB Brown Sugar Bourbon Cocktail while eating incredible New Orleans style dishes. Not to mention trying BuzzPops for the first time...simply put...WOW! They are trouble on a stick for sure! Follow Family Meal with Mark Conway on all your favorite podcast sites!
This week FamilyMeal catches Clemetine's at Riverview on their day off. We play in the kitchen with Hassell Cattle Denver Steaks and Waygu Beef Bacon while a new twist on a traditional cocktail is created with BSB Brown Sugar Bourbon. Join us at the bar for a Chefs Day Off.
Family Meal is joined by incredible Celebrity Chef and super Samurai Elizabeth Falkner! We catch up on her travels and the issues she has become an advocate for. Wait till you here about her stage show and the BSB Brown Sugar Bourbon cocktail of the week.
Today on FamilyMeal, my great friend and Celebrity Chef, Jay Ducote joins the show. He shares his take on Tacos, World Food Championships, and being a daily live radio host! Not to mention the BSB Brown Sugar Bourbon Cocktail of the Week.
Today my great friend and stellar Chef Aaron McCargo Jr joins me to talk the life, food, and stardom! Don't miss the BSB-Brown Sugar Bourbon cocktail of the week!
Today on #familymeal I am joined by Chef Chad Barrett hot off his appearance and work at the Food Network & Cooking Channel New York City Wine & Food Festival. He shares his passion for collaboration and the exciting news of his newest project! Brought to you by the newest family member, BSB-Brown Sugar Bourbon!
familymeal dives into the realm of Spirits this week. Not the spooky kind...the Brown Sugar Bourbon kind with the man behind Heritage Distillery, Justin Stiefel. We talk all things liquid libations and the evolution of the modern distillery. If your haven't tried the incredibly smooth BRB you'll want to after the show.
Today on #familymeal I get to explore Indian Food at its finest with Chef Sujan Sarkar of ROOH and Baar Baar. Listen to the Chef talk about the culture and ingredients in traditional Indian Food and how he is bringing his own touch to today's food scene. Tune in at 1pm and 9pm eastern to Spoony Radio on iHeartRadio.
Today on #familymeal the Doctor is in! Ray "Dr. BBQ" Lampe shares stories from his career and the beginnings of BBQ on FoodNetwork. Don't miss his stories from around the dinner table and so much more.
Well today is the day!! #FamilyMeal turns 50 episodes old. I'm so excited to share this journey with all of you. So for number 50, here are 4 exciting guests! Ernie Hudson Robert Hayes Trish Stratus and Chef Arnold Myint!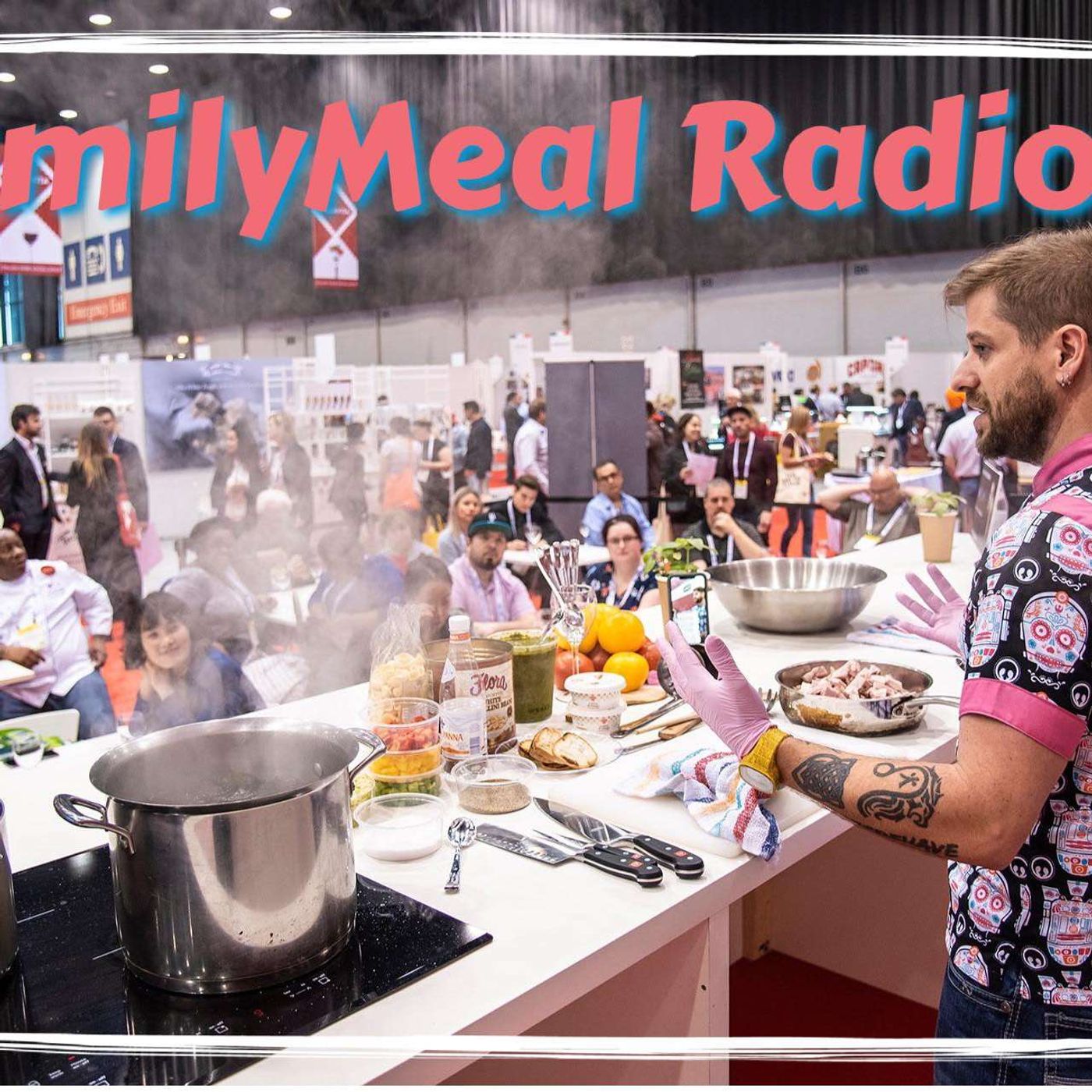 Today on #familymeal the amazing and endearing couple behind Cook in Tuscany! George and Linda Meyers got tired of the rat race, took a huge risk by traveling for a year and what started as entertaining friends in Tuscany, turned into a thriving business – Cook In Tuscany.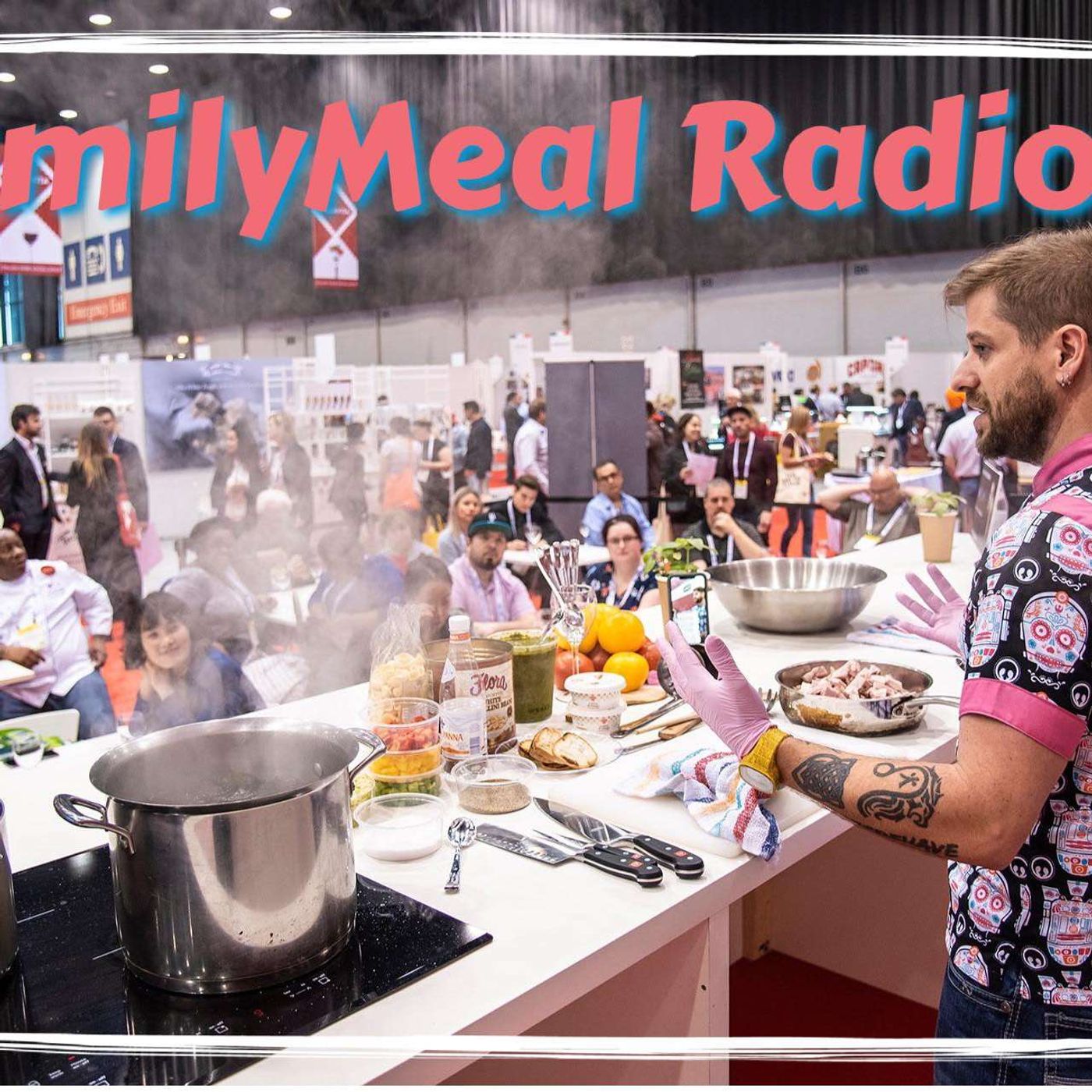 FamilyMeal has a guest like no other today. There is only one Chef Plum and you'll understand why after hearing the show. He's celebrity Chef and host to one of the best podcasts, PlumLuvFoods on iTunes, in existence! I had the pleasure of being a guest on his and now the wait is finally over...here is Chef Plum!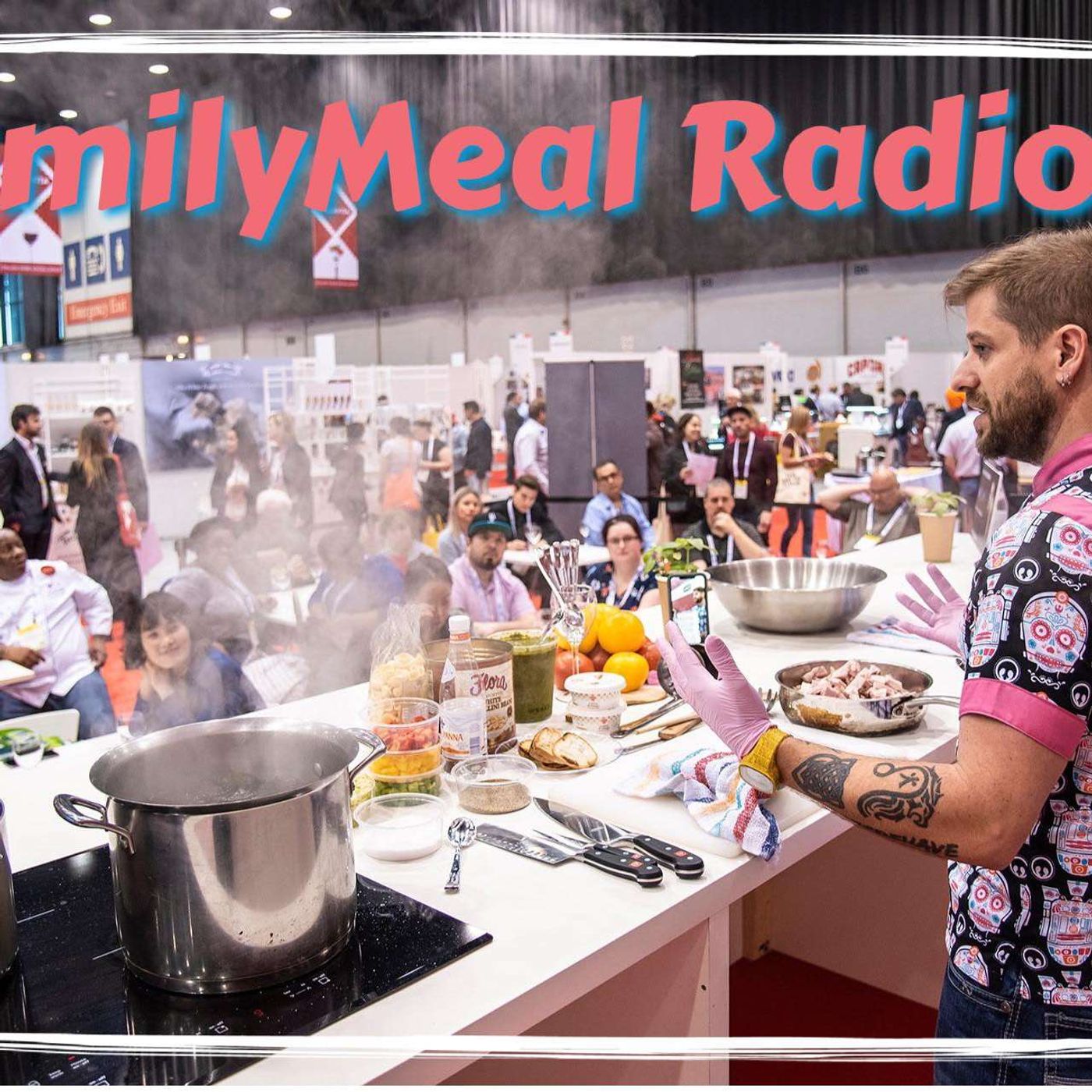 Today on FamilyMeal my good friend Simon Majumdar of Food Network and Eat my Globe is my guest. He shares about his travels, podcast, and so much more. He is a true culinarian and even better person.
Today on Family Meal I am thrilled to talk with WWE Superstar Mark Henry. Mark has been one of my most polarizing guests yet. You think you know him from his in ring persona, but he is so much more! From his Championship Athletic background to his work with kids, he is a man on a mission. Not to mention his wealth of knowledge on food and of course comics!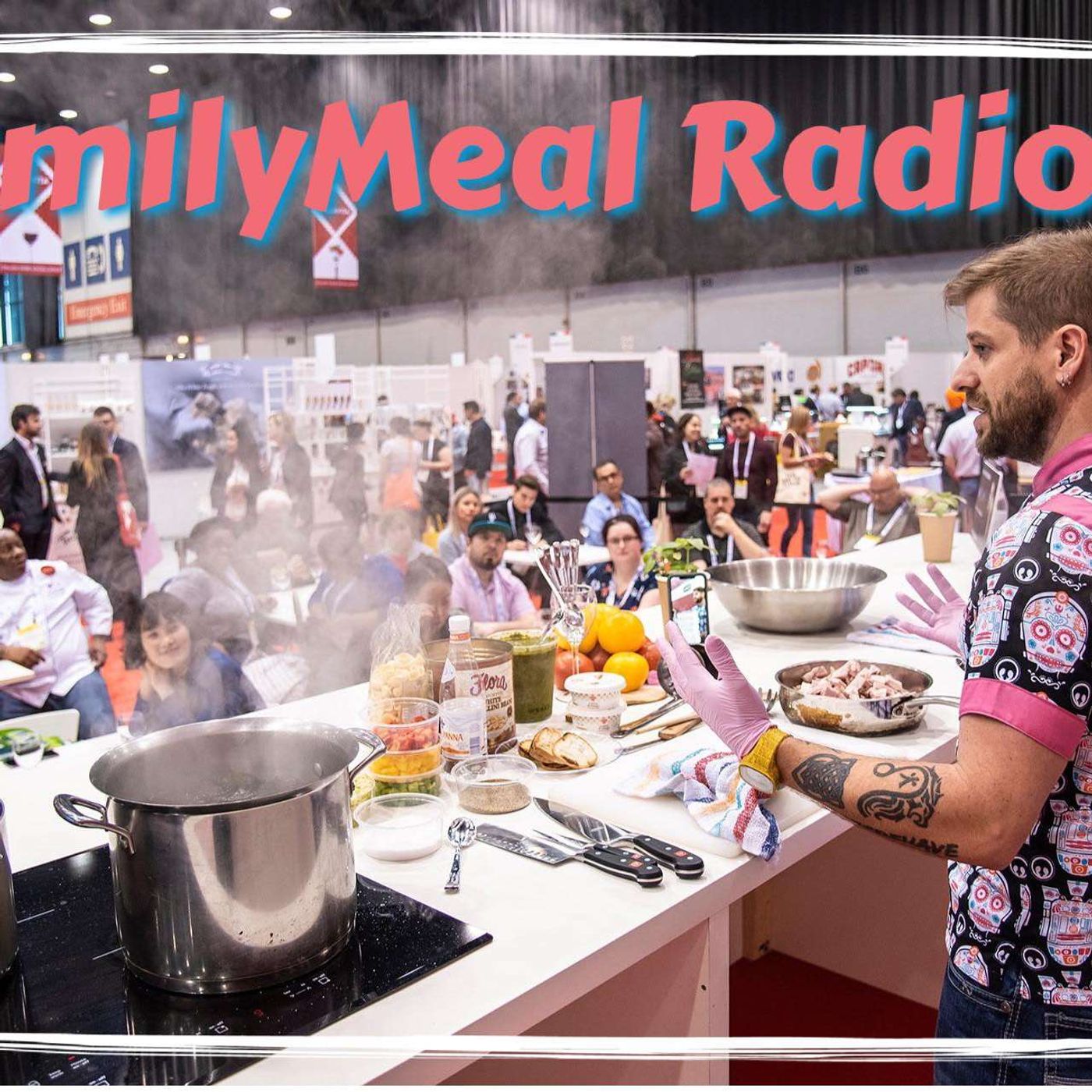 Today on an all new Family Meal, the one and only Chef Brian Duffy! This is one of the busiest people I've ever had the pleasure to speak with. Tune in at 1pm and 9pm eastern to Spoony Radio on iHeartRadio.
On Family Meal today I have a guest I met at the 2019 National Restaurant Association Restaurant, Hotel-Motel Show in Chicago. Shandee Chernow of CertiStar, Inc., Joins me to talk food and allergies, a highly debated topic in and out of the industry. Shandee also shares stories from her life and dinner tables with family. Tune in at 1pm and 9pm eastern to Spoony Radio on iHeartRadio.
Today on Family Meal We launch our all new format with Lisa Blackwell host of Bama-Q! We talk all things BBQ and roll out our July Contest where you can win a beautiful Gunter Wilhelm set of Bama-Q steak knives. Check out Social Media to see the video for the rules and trivia question then listen today for all the fun! www.facebook.com/chefmarkconway
We are getting ready for Poosa-Q at the WindCreek Casino and Hotel in Montgomery Alabama! This is one of the largest BBQ competitions in the country with $50k in cash and prizes. Hear from Chef Kelly Hargrove and Pitmaster Chester Lewis. Don't miss this one!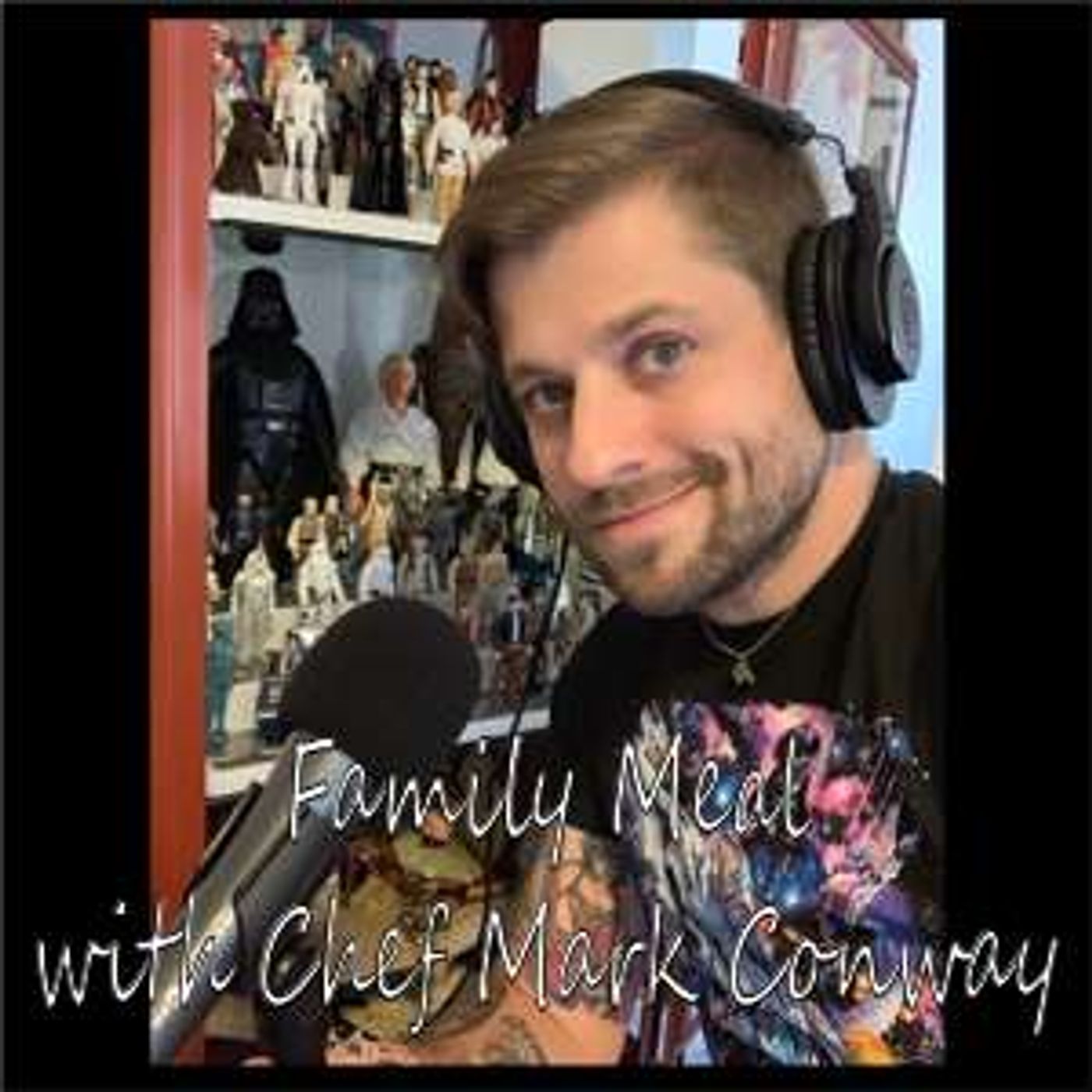 Some times you just need to find a fantastic happy hour after a long day. My guests today are the dynamic duo of cocktails and eats! Meet the women of L.A. Happy ! Their show on Hideout.tv is a social media sensation and defines what happyhour is all about. Sit back and listen to all the work they are doing for women in the food media industry and then go watch an episode...or all of them. It's a blast! Tune in at 1pm and 9pm eastern to Spoony Radio on iHeartRadio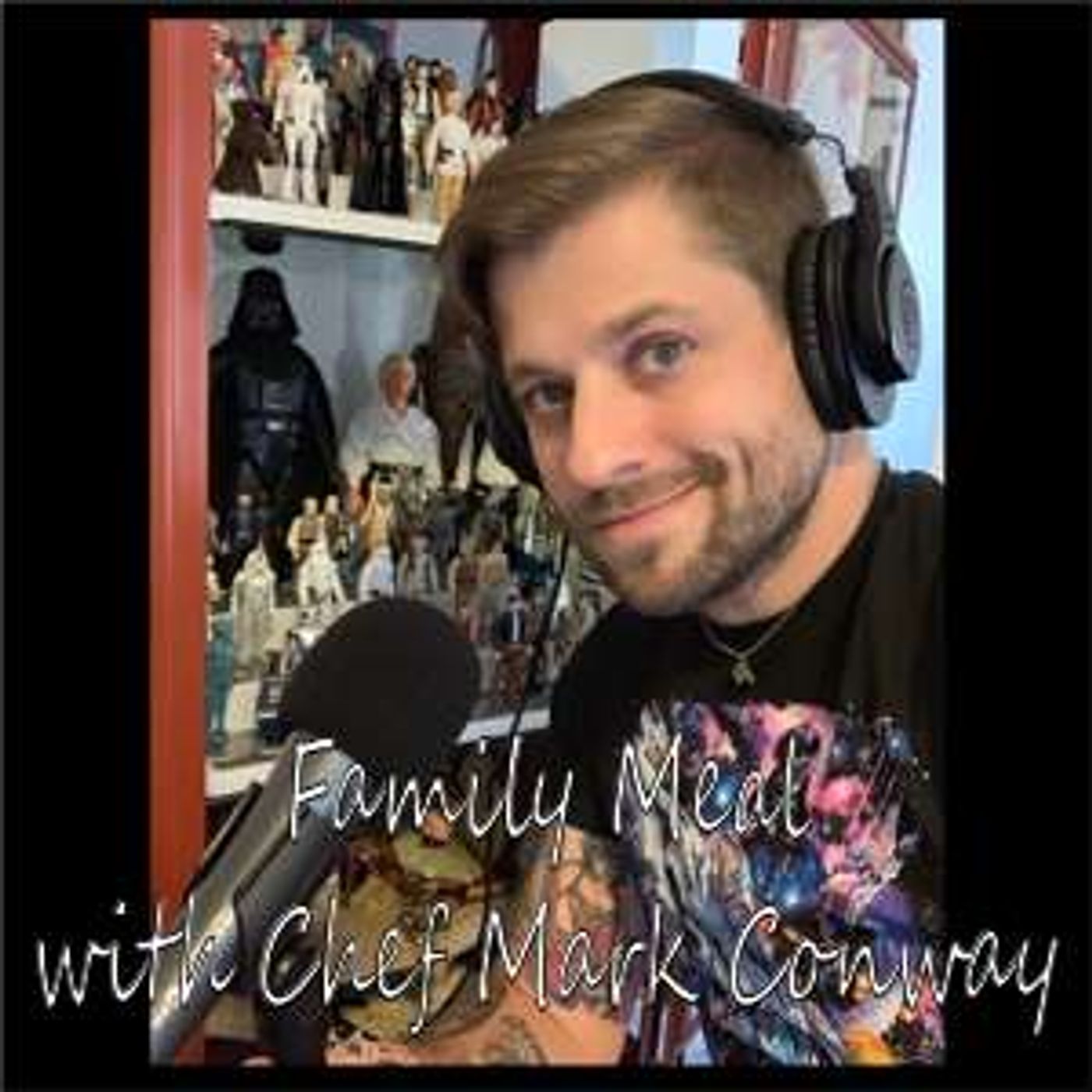 Family Meal dives right back into the fire, I mean kitchen with Chef Gizzy Rawlins of Gizzy Rawlins catering and meal prep. She is so much more then a contestant on Hell's Kitchen. The experience taught her about herself and the challenges of being in the limelight. Gizzy's new business connects all the dots on her journey from her Dad's garden to the simplicity of Italian, classic French technique, and healthy eating. Tune in at 1pm and 9pm eastern to Spoony Radio on iHeartRadio.
United States