Discover
UFO Chronicles Podcast
Author: Nik Hunter
Subscribed: 1,398
Played: 64,515
© Copyright Nik Hunter
Description
First-hand witness encounters of the Strange and unexplained.
The host Nik will take you head first down the rabbit hole in a refreshing and different podcast format. Witness accounts from everyday people from all over the world with uninterrupted monologues of their encounters. The phenomena that people experience that is shared on this show range from sightings of UFOs to traumatic alien abductions, the paranormal with scary heart stopping stories of ghosts, demons and the Occult. Accounts of crossing paths with Bigfoots, Sasquatches and all manor of dark entities that lurk in the woods and remote areas. Psychic abilities of Precognition, premonitions, remote viewing and the people who have been crossed to the other side with near death experiences. The encounters in this podcast will stay with you long after you have finished listening to it.
Have you had an unusual experience you would like to share?
Email:
UFOChronicles@gmail.com
Podcast Website:
https://ufochroniclespodcast.com
This show is part of the Spreaker Prime Network, if you are interested in advertising on this podcast, contact us at
https://www.spreaker.com/show/3395068/advertisement
Throwbacks are where I re-release old episodes from the archives. So don't worry if you have heard it already, as 'New episodes' will continue to come out on Sundays. To get some of the old episodes heard.~~~The first guest we have joining us tonight is Ken from California and his UFO sighting in Saratoga back in 1998. Ken witnessed a large and unusual shaped object, moving silently overhead with no visible signs of propulsion. Then we head to the State of Michigan to speak to Ethan about a couple of his paranormal encounters, one from his home state and another in Ghana West Africa. While he was attending a traditional festival that involved a procession of participants that would be possessed by the spirits of their ancestors. More information on this episode on the podcast website:https://ufochroniclespodcast.com/ep-153-flutes-and-spirits/Want to share your encounter on the show? Email: UFOChronicles@gmail.comPodcast Merchandise:https://www.teepublic.com/user/ufo-chronicles-podcast Help Support UFO CHRONICLES Podcast www.patreon.com/UFOChroniclespodcastDonations via PayPalhttps://www.paypal.com/paypalme/UFOChroniclesPodor tip and support by buying me a coffeehttps://ko-fi.com/ufochroniclespodcastThank you for listening!Please leave a review if you enjoy the show.This show is part of the Spreaker Prime Network, if you are interested in advertising on this podcast, contact us at https://www.spreaker.com/show/3395068/advertisement
Our first stop tonight is with Stephanie in the state of Ohio, sharing a few of her encounters she had throughout her life. Then we drop in on Lincoln in South Yorkshire, to hear about an unexplained event that occurred back in the 1990s.More information on this episode on the podcast website:https://ufochroniclespodcast.com/ep-247-when-darkness-falls/Want to share your encounter on the show?Email: UFOChronicles@gmail.comOr Fill out Guest Form:https://forms.gle/dPxd35ii1m2ejGgU9All Links for Podcast:https://linktr.ee/UFOChroniclesPodcastPodcast Merchandise:https://www.teepublic.com/user/ufo-chronicles-podcastHelp Support UFO CHRONICLES by becoming a Patron:https://www.patreon.com/UFOChroniclespodcastTwitter:https://twitter.com/UFOchronpodcastThank you for listening!Like share and subscribe, it really helps me when people share the show on social media, it means we can reach more people, more witnesses. Without your amazing support, all this wouldn't be possible.This show is part of the Spreaker Prime Network, if you are interested in advertising on this podcast, contact us at https://www.spreaker.com/show/3395068/advertisement
Throwbacks are where I re-release old episodes from the archives. So don't worry if you have heard it already, as 'New episodes' will continue to come out on Sundays.~~~Tonight's guest is Trent from Long Island, New York, and he will be sharing his experiences beginning with the Paranormal when he would see Cats and a Lady in his house when he was young. And then on to a disc-shaped object that appeared to be following the car he was travelling in at 9-years-old, and a sighting of a UFO in 2019. These events that Trent believed led him on a path to a spiritual awakening using the practice of meditation.More information on this episode on the podcast website:https://ufochroniclespodcast.com/ep-152-shelter-island-discs/Want to share your encounter on the show? Email: UFOChronicles@gmail.comPodcast Merchandise:https://www.teepublic.com/user/ufo-chronicles-podcast Help Support UFO CHRONICLES Podcast www.patreon.com/UFOChroniclespodcastDonations via PayPalhttps://www.paypal.com/paypalme/UFOChroniclesPodor tip and support by buying me a coffeehttps://ko-fi.com/ufochroniclespodcastThank you for listening!Please leave a review if you enjoy the show.This show is part of the Spreaker Prime Network, if you are interested in advertising on this podcast, contact us at https://www.spreaker.com/show/3395068/advertisement
Throwbacks are where I re-release old episodes from the archives. So don't worry if you have heard it already, as 'New episodes' will continue to come out on Sundays. To get some of the old episodes heard.~~~We are joined tonight by Justin from Southern California, sharing multiple experiences that started in the mid-80's. Justin would have regular visits from a little being in his bedroom when he was a child, flashes of light would be seen that came from an unknown origin that would leave the family confused as to why they would be in a different part of the house directly afterwards.More information on this episode on the podcast website:https://ufochroniclespodcast.com/ep-151-a-flash-of-light/Want to share your encounter on the show? Email: UFOChronicles@gmail.comPodcast Merchandise:https://www.teepublic.com/user/ufo-chronicles-podcast Help Support UFO CHRONICLES Podcast www.patreon.com/UFOChroniclespodcastDonations via PayPalhttps://www.paypal.com/paypalme/UFOChroniclesPodor tip and support by buying me a coffeehttps://ko-fi.com/ufochroniclespodcastThank you for listening!Please leave a review if you enjoy the show.This show is part of the Spreaker Prime Network, if you are interested in advertising on this podcast, contact us at https://www.spreaker.com/show/3395068/advertisement
Arkansas is our destination tonight, and it's where we meet Stephanie, and she will be taken us through some of her unusual encounters. Her personal experiences started before she could speak and her first aware alien abduction was in 2012, she grew up in South Africa and was taught traditional healing practices by Zulu Sangomas, and was later mentored by a powerful teacher in the occult.HelloFresh Adhellofresh.com/50ufoPromo Code: 50UFOMore information on this episode on the podcast website:https://ufochroniclespodcast.com/ep-246-the-snake-channeler/The Snake Channellerhttps://www.snakechanneler.comWant to share your encounter on the show?Email: UFOChronicles@gmail.comOr Fill out Guest Form:https://forms.gle/dPxd35ii1m2ejGgU9All Links for Podcast:https://linktr.ee/UFOChroniclesPodcastPodcast Merchandise:https://www.teepublic.com/user/ufo-chronicles-podcastHelp Support UFO CHRONICLES by becoming a Patron:https://www.patreon.com/UFOChroniclespodcastTwitter:https://twitter.com/UFOchronpodcastThank you for listening!Like share and subscribe, it really helps me when people share the show on social media, it means we can reach more people, more witnesses. Without your amazing support, all this wouldn't be possible.This show is part of the Spreaker Prime Network, if you are interested in advertising on this podcast, contact us at https://www.spreaker.com/show/3395068/advertisement
Throwbacks are where I re-release old episodes from the archives. So don't worry if you have heard it already, as 'New episodes' will continue to come out on Sundays.~~~We are going to be starting off this episode with Ian in California, and his family's strange paranormal occurrences and lights in the sky that Ian witnessed. Then we head out East to hear from Cavaja in Virginia about a 75-100ft saucer shaped object witnessed on a hunting trip. More information on this episode on the podcast website:https://ufochroniclespodcast.com/ep-150-shawsville-ufo/Want to share your encounter on the show? Email: UFOChronicles@gmail.comPodcast Merchandise:https://www.teepublic.com/user/ufo-chronicles-podcast Help Support UFO CHRONICLES Podcast www.patreon.com/UFOChroniclespodcastDonations via PayPalhttps://www.paypal.com/paypalme/UFOChroniclesPodor tip and support by buying me a coffeehttps://ko-fi.com/ufochroniclespodcastThank you for listening!Please leave a review if you enjoy the show.This show is part of the Spreaker Prime Network, if you are interested in advertising on this podcast, contact us at https://www.spreaker.com/show/3395068/advertisement
Throwbacks are where I re-release old episodes from the archives. So don't worry if you have heard it already, as 'New episodes' will continue to come out on Sundays. To get some of the old episodes heard.~~~Brent, from the state of Florida, and he will be taking us through a couple of his paranormal and UFO encounter. While at college in 2007 studying at Iowa Falls, he witnessed an apparition of a girl, that appeared to glide instead of walk then would simply vanish. Several years later, Brent would witness a strange light in the sky that would change direction and turn up in different parts of the sky.More information on this episode on the podcast website:https://ufochroniclespodcast.com/ep-149-iowa-falls/Want to share your encounter on the show? Email: UFOChronicles@gmail.comPodcast Merchandise:https://www.teepublic.com/user/ufo-chronicles-podcast Help Support UFO CHRONICLES Podcast www.patreon.com/UFOChroniclespodcastDonations via PayPalhttps://www.paypal.com/paypalme/UFOChroniclesPodor tip and support by buying me a coffeehttps://ko-fi.com/ufochroniclespodcastThank you for listening!Please leave a review if you enjoy the show.This show is part of the Spreaker Prime Network, if you are interested in advertising on this podcast, contact us at https://www.spreaker.com/show/3395068/advertisement
We are starting off tonight with Darren in Lancashire, UK, and Darren will be sharing a couple of his UFO sightings and of a ghostly apparition of a monk by the side of the road. Then we move on to Dante in Oklahoma in the United States. To hear about his witnessing of a UFO for the first time, prior to this experience he was sceptical of the whole idea, but in the following days and months he continued to see several UFOs he couldn't explain. The whole experience inspired him to begin composing some songs, about his events and of other famous encounters with his band Dante & the bird dogs.More information on this episode on the podcast website:https://ufochroniclespodcast.com/ep-245-i-want-to-believe/I Want to Believe by Dante & the Bird Dogshttps://www.youtube.com/watch?v=ZKKYMMR_sDoThe Ballad of Betty & Barney Hill by Dante & the Bird Dogshttps://www.youtube.com/watch?v=2bj8a03NOKEContact: Dante Schmitzdanteschmitz@gmail.comWebsitehttps://danteandthebirddogs.com/Want to share your encounter on the show?Email: UFOChronicles@gmail.comOr Fill out Guest Form:https://forms.gle/dPxd35ii1m2ejGgU9All Links for Podcast:https://linktr.ee/UFOChroniclesPodcastPodcast Merchandise:https://www.teepublic.com/user/ufo-chronicles-podcastHelp Support UFO CHRONICLES by becoming a Patron:https://www.patreon.com/UFOChroniclespodcastTwitter:https://twitter.com/UFOchronpodcastThank you for listening!Like share and subscribe, it really helps me when people share the show on social media, it means we can reach more people and more witnesses and without your amazing support, it wouldn't be possible.This show is part of the Spreaker Prime Network, if you are interested in advertising on this podcast, contact us at https://www.spreaker.com/show/3395068/advertisement
Throwbacks are where I re-release old episodes from the archives. So don't worry if you have heard it already, as 'New episodes' will continue to come out on Sundays.~~~We will be joined by Tyler from Ontario in Canada, sharing unexplained occurrences with Waking Dreams, visits from beings and premonitions. And our witness submission this episode is from Tekam from Cameroon and his experience with Astral projection.More information on this episode on the podcast website:https://ufochroniclespodcast.com/ep-148-journeys-out-of-the-body/January Competition:https://ufochroniclespodcast.com/competition/Want to share your encounter on the show? Email: UFOChronicles@gmail.comPodcast Merchandise:https://www.teepublic.com/user/ufo-chronicles-podcast Help Support UFO CHRONICLES Podcast www.patreon.com/UFOChroniclespodcastDonations via PayPalhttps://www.paypal.com/paypalme/UFOChroniclesPodor tip and support by buying me a coffeehttps://ko-fi.com/ufochroniclespodcastThank you for listening!Please leave a review if you enjoy the show.This show is part of the Spreaker Prime Network, if you are interested in advertising on this podcast, contact us at https://www.spreaker.com/show/3395068/advertisement
Throwbacks are where I re-release old episodes from the archives. So don't worry if you have heard it already, as 'New episodes' will continue to come out on Sundays. To get some of the old episodes heard.~~~The first of a couple of guests tonight is Ramon in Canada, sharing a recurring dream he has had since childhood involving UFO's. Then we make our way across the pond to speak to Charlie from the UK, about some of the many strange dreams she has experienced with one in particular that can be classed as 'Precognition' that was also a lifesaver. More information on this episode on the podcast website:https://ufochroniclespodcast.com/ep-147-more-than-just-a-dream/Want to share your encounter on the show? Email: UFOChronicles@gmail.comPodcast Merchandise:https://www.teepublic.com/user/ufo-chronicles-podcast Help Support UFO CHRONICLES Podcast www.patreon.com/UFOChroniclespodcastDonations via PayPalhttps://www.paypal.com/paypalme/UFOChroniclesPodor tip and support by buying me a coffeehttps://ko-fi.com/ufochroniclespodcastThank you for listening!Please leave a review if you enjoy the showThis show is part of the Spreaker Prime Network, if you are interested in advertising on this podcast, contact us at https://www.spreaker.com/show/3395068/advertisement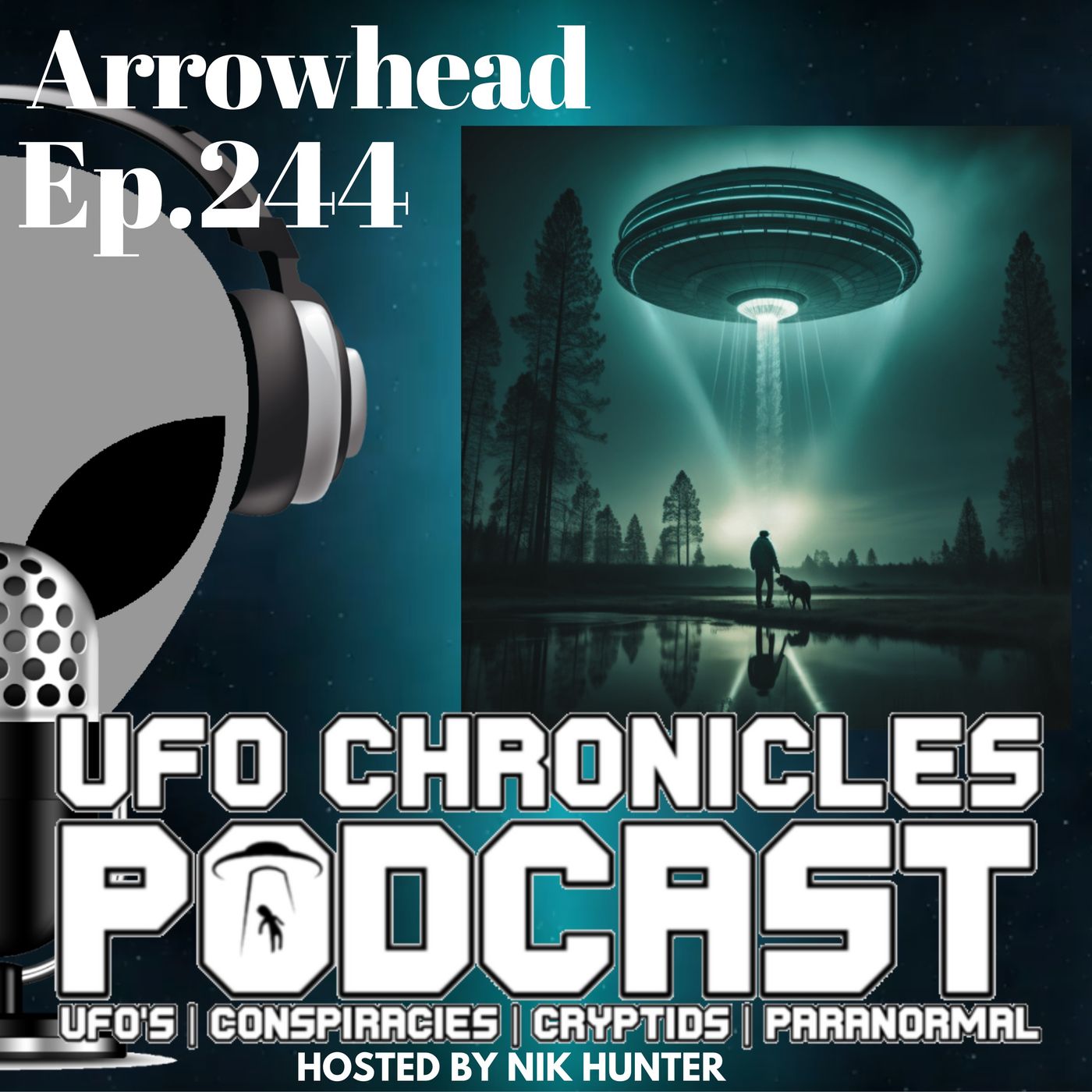 We are in California this episode to hear from Christian about his multiple UFO sightings and visits from dead friends that passed without a chance to say goodbye, and his ongoing relationship with the phenomenon.More information on this episode on the podcast website:https://ufochroniclespodcast.com/ep-244-arrowhead/Want to share your encounter on the show?Email: UFOChronicles@gmail.comOr Fill out Guest Form:https://forms.gle/dPxd35ii1m2ejGgU9All Links for Podcast:https://linktr.ee/UFOChroniclesPodcastPodcast Merchandise:https://www.teepublic.com/user/ufo-chronicles-podcastHelp Support UFO CHRONICLES by becoming a Patron:https://www.patreon.com/UFOChroniclespodcastTwitter:https://twitter.com/UFOchronpodcastThank you for listening!Like share and subscribe, it really helps me when people share the show on social media, it means we can reach more people and more witnesses and without your amazing support, it wouldn't be possible.This show is part of the Spreaker Prime Network, if you are interested in advertising on this podcast, contact us at https://www.spreaker.com/show/3395068/advertisement
Throwbacks are where I re-release old episodes from the archives. So don't worry if you have heard it already, as 'New episodes' will continue to come out on Sundays.~~~We meet Brandie from Iowa in the US about her encounters that began at the age of 5 years old. Experiences involving children coming to her window followed by missing time and a craft in her backyard. Sightings of UFO's and her child recalling memories of a past life he had, and many more strange occurrences Brandie with be sharing with us this episode.More information on this episode on the podcast website:https://ufochroniclespodcast.com/ep-146-come-and-play/Want to share your encounter on the show? Email: UFOChronicles@gmail.comPodcast Merchandise:https://www.teepublic.com/user/ufo-chronicles-podcast Help Support UFO CHRONICLES Podcast www.patreon.com/UFOChroniclespodcastDonations via PayPalhttps://www.paypal.com/paypalme/UFOChroniclesPodor tip and support by buying me a coffeehttps://ko-fi.com/ufochroniclespodcastThank you for listening!Please leave a review if you enjoy the show.This show is part of the Spreaker Prime Network, if you are interested in advertising on this podcast, contact us at https://www.spreaker.com/show/3395068/advertisement
Tonight's guest is Gloria in Arizona and her first UFO sighting was at 9 years old, and she believes that she has been abducted by aliens on several times. And is part of the Alien Hybrid program and has been impregnated on three separate occasions.More information on this episode on the podcast website:https://ufochroniclespodcast.com/ep-243-little-green-men/Want to share your encounter on the show?Email: UFOChronicles@gmail.comOr Fill out Guest Form:https://forms.gle/dPxd35ii1m2ejGgU9All Links for Podcast:https://linktr.ee/UFOChroniclesPodcastPodcast Merchandise:https://www.teepublic.com/user/ufo-chronicles-podcastHelp Support UFO CHRONICLES by becoming a Patron:https://www.patreon.com/UFOChroniclespodcastTwitter:https://twitter.com/UFOchronpodcastThank you for listening!Like share and subscribe, it really helps me when people share the show on social media, it means we can reach more people and more witnesses and without your amazing support, it wouldn't be possible.This show is part of the Spreaker Prime Network, if you are interested in advertising on this podcast, contact us at https://www.spreaker.com/show/3395068/advertisement
Throwbacks are where I re-release old episodes from the archives. So don't worry if you have heard it already, as 'New episodes' will continue to come out on Sundays.~~~To kick off the first episode of 2022 we are going to be in the company of Brian from New Jersey, and Brian will be sharing he's paranormal encounters that began in the fall of 1988.More information on this episode on the podcast website:https://ufochroniclespodcast.com/ep-145-uncle-chickies-grave/Want to share your encounter on the show? Email: UFOChronicles@gmail.comPodcast Merchandise:https://www.teepublic.com/user/ufo-chronicles-podcast Help Support UFO CHRONICLES Podcast www.patreon.com/UFOChroniclespodcastDonations via PayPalhttps://www.paypal.com/paypalme/UFOChroniclesPodor tip and support by buying me a coffeehttps://ko-fi.com/ufochroniclespodcastThank you for listening!Please leave a review if you enjoy the show.This show is part of the Spreaker Prime Network, if you are interested in advertising on this podcast, contact us at https://www.spreaker.com/show/3395068/advertisement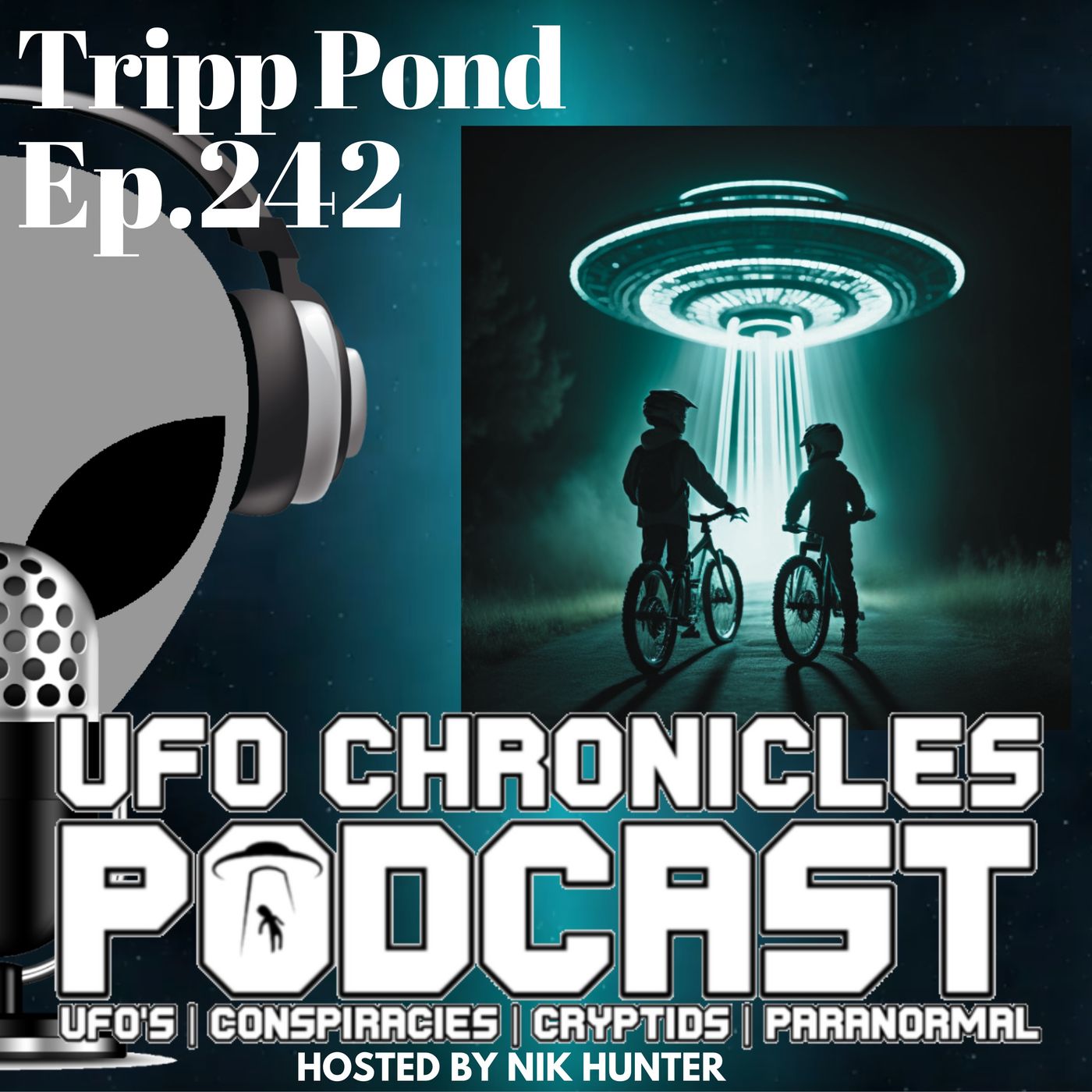 Our guest tonight is Jaime in Massachusetts, and he will be sharing a couple of strange UFO sightings which he experienced with his friend in the 90s. And a peculiar encounter from when he was in first grade, and later on getting hypnotic regression to try to get more clarity on what had happened. And a visit from a friend, Which Jaime later came to find out that she had passed away some time before. Out of the body experiences, orbs in his house and Unbeknown to Jaime at the time, a haunted microwave purchased on Craigslist.More information on this episode on the podcast website:https://ufochroniclespodcast.com/ep-242-tripp-pond/Want to share your encounter on the show?Email: UFOChronicles@gmail.comOr Fill out Guest Form:https://forms.gle/dPxd35ii1m2ejGgU9All Links for Podcast:https://linktr.ee/UFOChroniclesPodcastPodcast Merchandise:https://www.teepublic.com/user/ufo-chronicles-podcastHelp Support UFO CHRONICLES by becoming a Patron:https://www.patreon.com/UFOChroniclespodcastTwitter:https://twitter.com/UFOchronpodcastThank you for listening!Like share and subscribe, it really helps me when people share the show on social media, it means we can reach more people and more witnesses and without your amazing support, it wouldn't be possible.This show is part of the Spreaker Prime Network, if you are interested in advertising on this podcast, contact us at https://www.spreaker.com/show/3395068/advertisement
Arizona is our destination tonight, as we hear from Don from The Grand Canyon State, about his UFO and paranormal encounters. Dons encounters began as a child and over the years has experienced multiple UFO and orb contact on occasions, and it's something that he shared with his Grandmother as she also had a similar connection.More information on this episode on the podcast website:https://ufochroniclespodcast.com/ep-241-aliens-walk-amongst-us/Want to share your encounter on the show?Email: UFOChronicles@gmail.comOr Fill out Guest Form:https://forms.gle/dPxd35ii1m2ejGgU9All Links for Podcast:https://linktr.ee/UFOChroniclesPodcastPodcast Merchandise:https://www.teepublic.com/user/ufo-chronicles-podcastHelp Support UFO CHRONICLES by becoming a Patron:https://www.patreon.com/UFOChroniclespodcastTwitter:https://twitter.com/UFOchronpodcastThank you for listening!Like share and subscribe, it really helps me when people share the show on social media, it means we can reach more people and more witnesses and without your amazing support, it wouldn't be possible.This show is part of the Spreaker Prime Network, if you are interested in advertising on this podcast, contact us at https://www.spreaker.com/show/3395068/advertisement
We are starting off tonight with a voice submission from Paul in Cambridgeshire, with a UFO sighting in November of last year. Then following Paul we speak to Stella in Bristol about her childhood experiences, a strange sighting in 2018 of what looked to Stella like the bird on top of a Totem pole, and an encounter with the mysterious and elusive big cat.More information on this episode on the podcast website:https://ufochroniclespodcast.com/ep-240-a-bristol-sighting/Want to share your encounter on the show?Email: UFOChronicles@gmail.comOr Fill out Guest Form:https://forms.gle/dPxd35ii1m2ejGgU9All Links for Podcast:https://linktr.ee/UFOChroniclesPodcastPodcast Merchandise:https://www.teepublic.com/user/ufo-chronicles-podcastHelp Support UFO CHRONICLES by becoming a Patron:https://www.patreon.com/UFOChroniclespodcastTwitter:https://twitter.com/UFOchronpodcastThank you for listening!Like share and subscribe, it really helps me when people share the show on social media, it means we can reach more people and more witnesses and without your amazing support, it wouldn't be possible.This show is part of the Spreaker Prime Network, if you are interested in advertising on this podcast, contact us at https://www.spreaker.com/show/3395068/advertisement
Oregon is our first destination tonight as we meet Marisa to hear about her UFO sightings of strange metallic balls, and other unexplained things above the Beaver State. Then we make our way North-East to Ottawa in Canada, to speak to Michael about the paranormal activity that surrounded him since his youth. And more recently, the sightings of orbs of lights in the woods around his property.More information on this episode on the podcast website:https://ufochroniclespodcast.com/ep-239-over-the-reservoir-tormentor/Want to share your encounter on the show?Email: UFOChronicles@gmail.comOr Fill out Guest Form:https://forms.gle/dPxd35ii1m2ejGgU9All Links for Podcast:https://linktr.ee/UFOChroniclesPodcastPodcast Merchandise:https://www.teepublic.com/user/ufo-chronicles-podcastHelp Support UFO CHRONICLES by becoming a Patron:https://www.patreon.com/UFOChroniclespodcastTwitter:https://twitter.com/UFOchronpodcastThank you for listening!Like share and subscribe, it really helps me when people share the show on social media, it means we can reach more people and more witnesses and without your amazing support, it wouldn't be possible.This show is part of the Spreaker Prime Network, if you are interested in advertising on this podcast, contact us at https://www.spreaker.com/show/3395068/advertisement
Throwbacks are where I re-release old episodes from the archives. So don't worry if you have heard it already, as 'New episodes' will continue to come out on Sundays. To get some of the old episodes heard.~~~Our guest today is Terry Lovelace, and he has one of the most interesting and also disturbing abduction accounts I have heard. It all began on a camping trip in 1977, Terry was a 22-year-old Staff Sergeant in the United States Air Force. Terry and his friend Toby went on a two-night camping trip to an Arkansas State Park known as Devil's Den, they had planned the trip as a wilderness adventure, but instead of a wilderness adventure, they experienced an encounter with something unimaginable.Links to Terry Lovelace website & Bookwww.terrylovelace.comIncident At Devil's Den: a true story by Terry Lovelacehttps://www.amazon.com/Incident-Devils-story-Terry-Lovelace/dp/0692072012More information on this episode on the podcast website:https://ufochroniclespodcast.com/ep-30-31-terry-lovelace-incident-at-devils-den/Want to share your encounter on the show? Email: UFOChronicles@gmail.comTwitter: @UFOchronpodcastHelp Support UFO CHRONICLES Podcast by becoming a Patron:www.patreon.com/UFOChroniclespodcastor tip and support as a one-off donationhttps://ko-fi.com/ufochroniclespodcastThank you for listening!Music Credits:Artist: Patrick McFadden Jr Track: War of Independencehttps://soundcloud.com/patrick-mcfadden-jrThis show is part of the Spreaker Prime Network, if you are interested in advertising on this podcast, contact us at https://www.spreaker.com/show/3395068/advertisement
Throwbacks are where I re-release old episodes from the archives. So don't worry if you have heard it already, as 'New episodes' will continue to come out on Sundays. To get some of the old episodes heard.~~~Our guest today is Olin an avid outdoors-man and hunter from Minnesota. He saw a silver saucer object when he was a child, but when he got older and spent more time in the woods he would see some very strange things out there at night, then on a camping trip in 2016 Olin and members of his group heard some very loud and powerful vocalizations.If you have had encountered a Sasquatch in Minnesota/Wisconsin, Upper Peninsula Michigan, Iowa, Ontario, Manitoba.You can contact Olin at:glsasquatch@gmail.comMore information on this episode on the podcast website:https://ufochroniclespodcast.com/ep-29-north-star-state-sasquatch/Want to share your encounter on the show? Email: UFOChronicles@gmail.comTwitter: @UFOchronpodcastPodcast Merchandise:https://www.teepublic.com/user/ufo-chronicles-podcastHelp Support UFO CHRONICLES Podcast by becoming a Patron:www.patreon.com/UFOChroniclespodcastor tip and support as a one-off donationhttps://ko-fi.com/ufochroniclespodcastThank you for listening!Like share and subscribe, it really helps me when people share the show on social media, it means we can reach more people and more witnesses and without your amazing support, it wouldn't be possible.This show is part of the Spreaker Prime Network, if you are interested in advertising on this podcast, contact us at https://www.spreaker.com/show/3395068/advertisement
United States