Discover
Unfettered
Claim Ownership
This episode of the unfettered podcast featuring Madukwu Chinwah, songwriter, producer and the second Nigerian to win a Grammy, is a breath of fresh air.Madukwu comes from a family of musicians and the term 'multi-instrumentalist' still feels short when describing Chinwah, who plays something between 17 to 20 different instruments; he can't keep track- a gift he says he got from his parents. As a seasoned songwriter, producer, and grammy award winner, Madukwu shares some of the lessons he has learned in the entertainment industry, the importance of being prepared for opportunities, the freedom we need to pursue our passion and why we should pursue our passion with patience.This episode is rich, entertaining, super enlightening and full of insight. Listen!
The 16 Days of Activism against Gender-Based Violence is an annual international campaign that kicks off on 25 November, the International Day for the Elimination of Violence against Women, and runs until 10 December, Human Rights Day. The global theme for this year is "Orange the world: End violence against women now!"All over the world, gender-based violence is prevalent and the statistics are gloomy. As we join in the campaign to orange the world and eradicate gender-based violence, Dr. Kemi DaSilva of WARIF gives us dire statistics of gender-based violence in Nigeria, and tells us the significance of this campaign in ending gender-based violence around the world. This episode will teach you all you need to know about GBV and the role(s) you can play in ensuring our society is safe for all, particularly for women and girls
It keeps getting better on the Unfettered Podcast! In this episode, we unveil two new co-hosts of the Unfettered Podcast, while delving deeper into the life and thought-process of Adebayo Adeleke, the founder and host of Unfettered. Here, Adebayo talks on why he founded Unfettered Podcast, his favourite guests on the podcast, his unconventional thought processes, the AA LLC contracting course, the highs and lows of being an entrepreneur, and what the world should expect from the Unfettered podcast, and many more. This episode is fresh, interesting and has all you need to know about the host and the podcast. Dig in!
Africa is home to 54 countries and billions of people. Still, some of the major setbacks for many countries in the continent are political instability, poor governance and leadership.Adebayo had a conversation with Chief Olusegun Obasanjo, one of the former presidents of the Federal Republic of Nigeria, to talk about governance in Nigeria and Africa, and how we can posture the youth for leadership.From social media conversations to the #EndSARS protests, youths in Nigeria and beyond are fighting against bad governance, agitating for a better life, and calling for a chance to lead. In this episode, Chief Olusegun Obasanjo gives us insight into how African youths can become part of governance and be better leaders, and how we all can position the continent for growth.You don't want to miss this!
At the age of 10, one thing changed Tunde Onakoya's life: A chess piece. In moving chess pieces, Tunde discovered a world better than his imaginations. A world where possibilities were endless. Now, through ChessinSlums, Tunde is paying it forward by teaching children living in Nigerian slums chess, and showing them a better world. Today, many of the kids are not only playing chess, but they are winning scholarships, attaining greater heights, and changing their lives.In this episode, Adebayo and Tunde have a conversation on how he started ChessinSlums, his journey so far, how he has changed the kids' lives, and what lies ahead in the future. You don't want to miss this!
All around the world, journalists and storytellers are mandated to unearth stories that matter, stories that cut at the core of justice systems, and stories that spark the change we need. But how can they do this in a world that seems to clamp down on press freedom? An "old-school journalist and new-school storyteller," Neil Foote gives us a glimpse into his background as a journalist and storyteller, the stories that have touched him the most, what gets him going, and his impacting knowledge in the University of North Texas.In this episode with Neil, we talk about cancel culture, journalism in Africa and in the US, the clampdown on the freedom of the press, journalism in the digital era, on the role journalism plays in our community, and how we can build a society where the storytellers are free to cover and tell stories.
Many times, other people's lives and successes are hinged on ours and we do not know. For them to live and thrive, we need to 'get up' and take charge of our own lives. In this episode, John Arroyo, a believer and follower of Jesus Christ, and a former Green Beret soldier, tells us how he was shot by a soldier and the .45 bullet went through his jugular into his voice box, into his Adam's apple, and into his right shoulder. As he lay on the floor thinking "this is where I die", he distinctly heard a voice that said "John, get up, or your wife would die." John not only triumphed over death, his life took a different turn from then on, and today, he is using his scars to let people know that they too can 'get up' one more time.
It's Mental Health Awareness Month! All over the world, people are struggling with anxiety, depression, panic disorders, phobias, and other mental illnesses, and many do not know how to get help. Our guest for this episode, Amanda Iheme of NDỊDỊ is a psychotherapist cum architectural photographer. To create more awareness on mental health, Amanda talks about mental health advocacy in Nigeria, how to manage anger, frustration, trauma and remain mentally sane in a country where violence is rapidly increasing, and in a world that keeps sinking into chaos. Amanda also shares her journey as an architectural photographer, how she is wearing her many hats, and how she's changing the world one human mind after another.
What do you do when it feels like the world keeps throwing rocks your way or you are sinking in life's tsunami? Do you bow your head and drown in your grief, or do you raise your head, take charge of your life, forge your own path and continue to fight? In this episode, our guest, Adina B. Peyton, is one who has had to navigate life through grief, and yet she stands tall. From growing up in a violent home to becoming an alcoholic at age 14, seeking validation from other people, getting pregnant at 16 years of age, quitting school, joiningthe US Army, and seeking justice for her son who was shot 16 times by a policeman, Adina bares in all in this episode, shares how she was able to take charge of her life and live through the grief.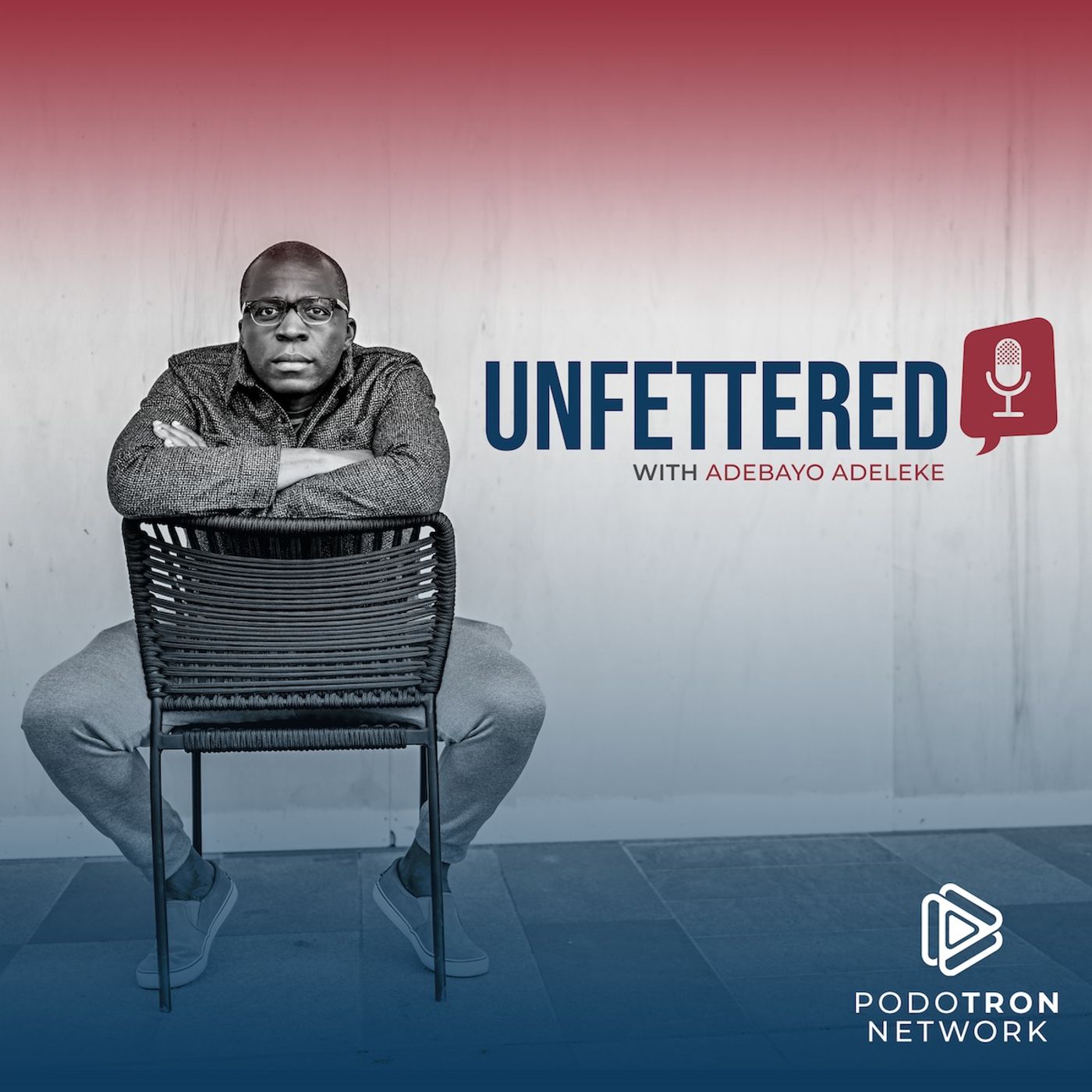 Adebayo enters his own unfettered zone and discusses the recent and unexpected lost of his father. Listen in as he reflects on Legacy and Love!
It is important for entrepreneurs, especially black entrepreneurs, to know that they cannot attain success alone. It takes a community! - Kerylyne Jean-Baptiste. In this episode, Adebayo speaks with the Founder and CEO of KerlyGirl natural hair care products, Kerylyne Jean-Baptiste. Being of Haitian hair-itage, she was determined against all odds to build a successful brand in the US. We have a deep dive into her journey from her modest upbringing to running one of the top 10 startups in Rhode Island. This soothing conversation is packed with nuggets to help anyone who's growing an idea from scratch. Share your learning points after listening. We know you will have plenty!
Hot o the heels of a successful rst season, Unfettered Podcast is back with season two, and it promises to give you more exciting and insightful content. In this episode, Adebayo Adeleke speaks to Akash Patel - an almost nuclear engineer who walked away from a prestigious scholarship to pursue his passion for teaching children from disadvantaged backgrounds across America. In 2011, after realizing he did not want to be a Maths teacher, Akash sent 50 emails to random people in the Dominican Republic asking for an opportunity to share his culture with kids across that country. There is so much to discover in this podcast, but we will leave you with a quote from Akash. ''You never stop learning, especially after traveling to over 50 countries. When you travel, you see how small of a human you are compared to this giant world that we live in full of information and diversity and culture andeverything that you can think of."
We must understand that we are fully loved and accepted. We are His and completely made in His image.'' Marva Hanks We are ending the first season of the Unfettered Podcast in style. Our guest is Marva Hanks, a servant leader, and thought influencer that activates her audience to greatness. In this episode of the podcast, Marva shares the need to impact and influence women and build whole families if we want our nation and the global community to thrive. This conversation deep dives into how the empowered and courageous women and men around her have shaped her outlook on life and the need for more role models who can mirror what is possible. We especially love how Marva emphasizes the importance of understanding your identity for you to live a full and impactful life. In her own words, ''We must understand that we are fully loved and accepted. We are His and made in His image''. – Marva Hanks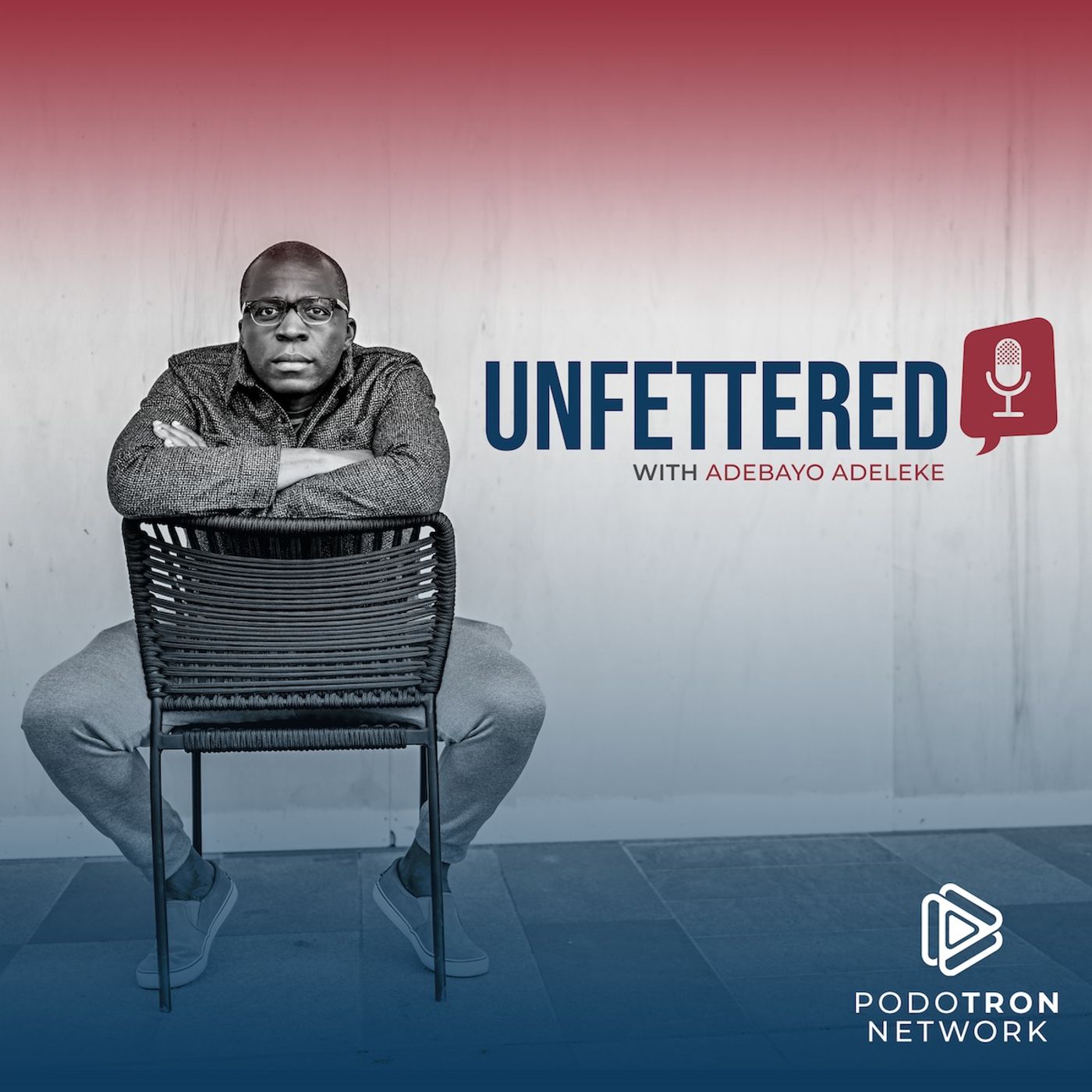 Adebayo talks to blockchain expert Professor Dr. Justin Goldston. How the blockchain will change the way we live and do business.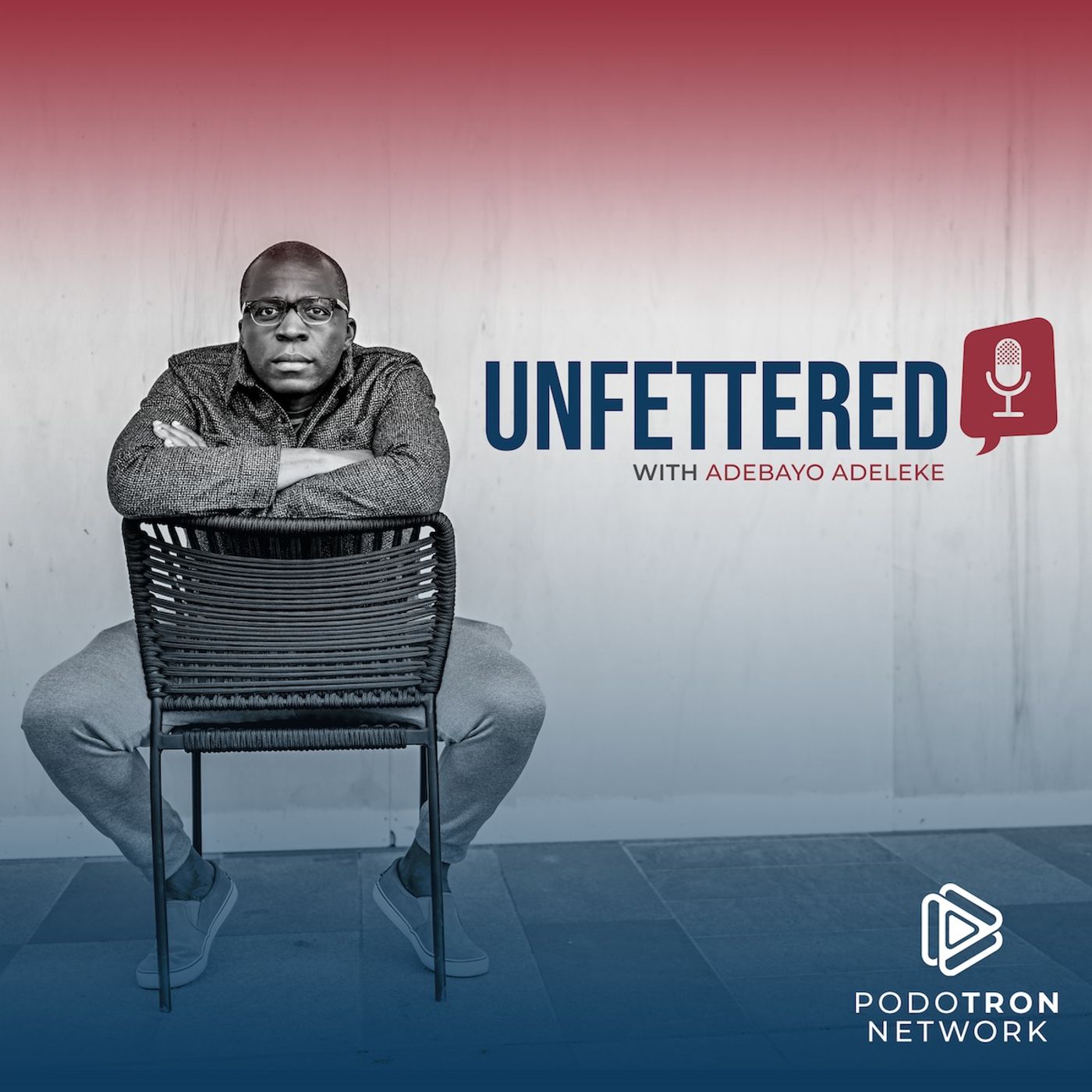 This segment featuring "Art with Heart," Adebayo has landed a rare opportunity to interview the Founder and CEO of the PODOTRON Podcast Network, Walter Johnson, Jr.Walter details some of the dominate influences of his storied journey working in radio and film with various companies as well as luminaries like Tom Joyner of Black Radio fame. From humble Godly beginnings to a prized contact list of who's who in music and entertainment, our guest is a renaissance man with talents and curiosities ranging from sculpting to painting, creating art, making beats, and making music.The conversation touches on cultural issues and themes. In the odyssey of this art with heart show the theme is revisited through intimate revelations and insightful truths.Enjoy
In this episode of Unfettered Podcast, Adebayo and Silver Lion explore different criticisms of the Christian faith. The conversation in this podcast expanded on the historical context of Christianity stand on social injustice, slavery, homosexuality, abortion amongst many other sins. This episode speaks to the heart of areas of concern for non-believers and how the church can address these concerns.
It must be interesting to lead a nation within America!

This episode of the Unfettered Podcast features Chief Gary Barton, the leader of the Chocktaw nation in America. 

Chief Barton shares how his losing his brother to suicide at the age of fourteen and his childhood experience with travesty shaped his leadership style. He also shares the importance of leaders to empathize with their followers in order to make an impact.

How has he been able to keep manage the nuances of leading a nation within another nation while preserving the identity of his people?

This episode will inspire you to be proud of your identity and celebrate your uniqueness.
This episode with Tosin Oshinowo, Architect, Designer, andCEO CMD Design Atelier is a breath of fresh air. Tosin challenges us on the need to champion a greater Africa through our work and change the narrative about the continent. As a woman in a male dominated industry, Tosin shares nuggets on how to excel as the minority in an existing industry. She also shares the reason she started Ile Ila, a Nigerian lifestyle furniture design brand that creates functional art and celebrates the culture of the Yoruba people. Indeed, she is not called and Culture Enthusiast and History junkie for nothing. This conversation is rich, full of insights and so fun to listen to. We guarantee a deeper appreciation of your history, culture, and a stronger desire to take your hand over something powerful to the next generation.
When Trish was diagnosed with cancer, she went from suppressing her fear to shutting down completely. Worry, doubt and uncertainty got the best of her. How then did she go from that to coaching leaders in homes and the corporate world on how to stop sabotaging themselves, facing fear and making better decisions? This is the crux of the discussion on this episode of the Unfettered Podcast. Trish highlights how important it is to identify your emotions and what triggers negative reactions if you want to nip them in the bud. This episode also shares insights that parents, business leaders and political leaders can implement to manage their emotions even in the midst of uncertainty and function effectively.
In the last few months, there has been so much unrest in the black in America. This unrest has always been in the background and every time another life is lost, we worry about when marginalized opinion will be respected, and all lives will be valued. On this episode of the Unfettered Podcast, Adebayo Adeleke speaks with Gerald Jackson on how to shift the system from the grassroots to provide the equality we truly desire. In this conversation, we learn how money, education, and laws are tools the underrepresented community must use to get back in the game. If we must see the changes we have been calling for we must do the work. We have no doubt that this episode will change your perspective and get you to take action.
United States