Discover
Strength Love Metal
Claim Ownership
Strength Love Metal
Author: MG Raevyn Vanover
Subscribed: 4
Played: 25
© Copyright MG Raevyn Vanover
Description
Retired roller derby athlete, Crossfit coach, and lifelong metalhead, MG "Raevyn" Vanover talks all things fitness, metal, and harnessing elements of both in and out of the gym. Be strong, love hard, live metal!
Brooklyn, NY's LEGENDARY Life of Agony has spent their pandemic downtime putting the finishing touches on their documentary feature film, "The Sound Of Scars". The Director's screening went live on Friday 4/16, and Raevyn bought a ticket. We talk about the film, and LOA's deep impact on the metal community over the last 30-ish years, and of course our SLM Playlist picks are from the iconic "River Runs Red" album. In addition, we bring back the Patron Saint of Underdogs with Melissa Soqui, a member of Perpetual Movement Fitness's Barbell Club, who recently competed in her first weightlifting comp with zero expectations...and won!Support the show at patreon.com/strengthlovemetalBuy stuff at teespring.com/stores/strengthlovemetal-shopStalk the soc meds at facebook.com/RaevynSLM@strength.love.metal on Instagram and raevynslm on TikTok.
The 2021 Crossfit Open is now behind us, and Raevyn talks about her experience getting back into it after a long hiatus. (Thrusters still suck!)In addition, we welcome the return of the Patron Saint of Underdogs, and check out some recommended listening from the Strength Love Metal playlist. Support the show at patreon.com/strengthlovemetalGet your MERCH at teespring.com/stores/strengthlovemetal-shopOnline stalking at Coach Raevyn SLM (Facebook), strength.love.metal (Instagram) and @raevynslm (TikTok)
This episode we're talking about the return of the Crossfit Open, and Raevyn's return to practicing what she preaches. In addition, we have another silly story involving our good friends Ron and Liz, along with the Three Little Pigs. Not sure what happened with the sound quality this week, but hopefully it won't be too distracting. Become a Power Patron or Epic Patron at patreon.com/strengthlovemetal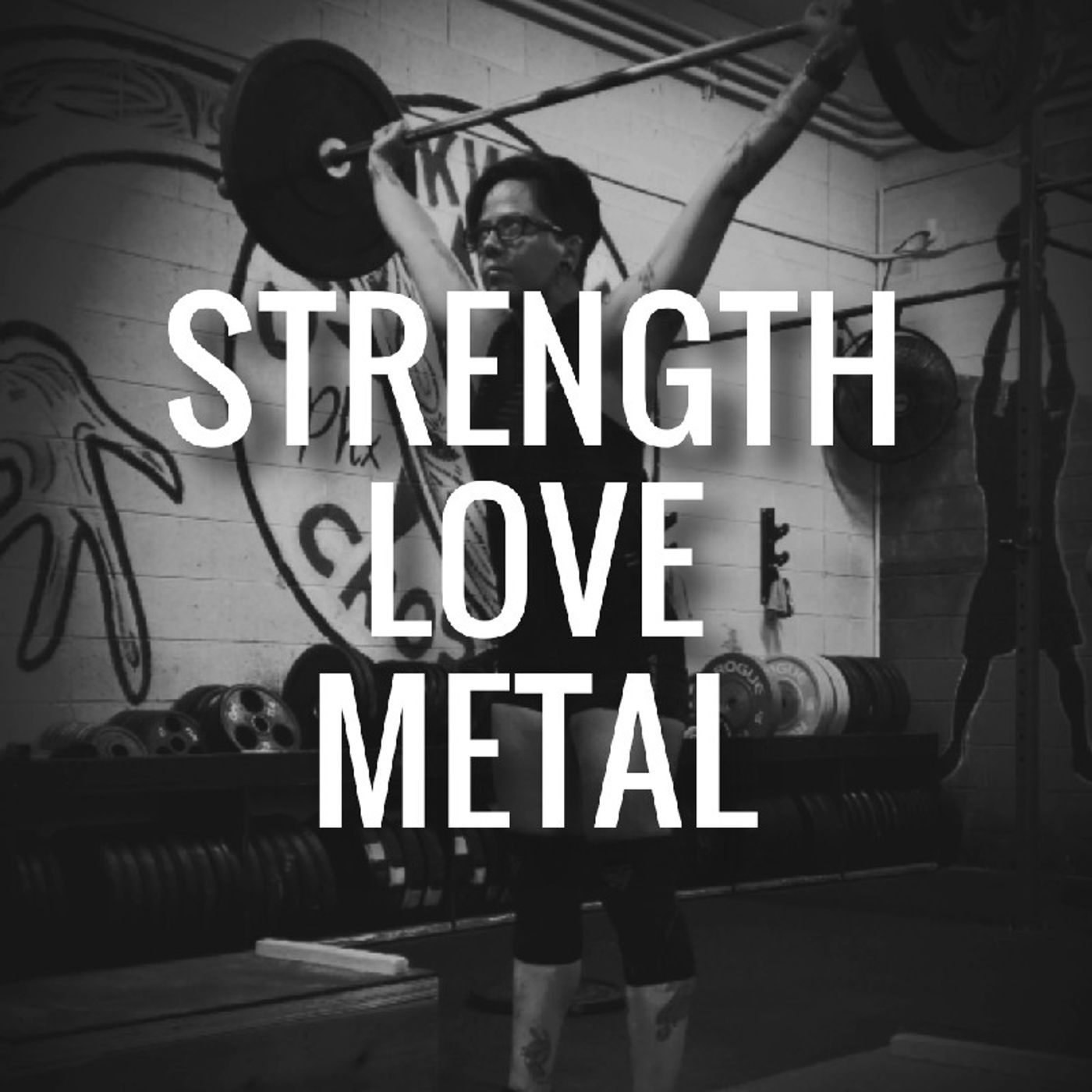 REBOOT!
2021-03-0345:30
SLM is BAAAAAACK! Fresh start at a new place in South Phoenix where all the fitnessing, content creating and metalling can happen. Thias first of the SLM reboot talks about the new digs, the seven new Crossfit "Girls" and suggestions on how to attack them, as well as a controversial silent protest that Lacuna Coil demonstrated online last week. In addition to the new show, there is a new Patreon account for supporters of the show! Go to patreon.com/strengthlovemetal to become a Power Patrron or Epic Patron, and get some awesome rewards for helping keep the show improving and the host caffeinated!
Strength Love Metal is back after a long (and emotional) hiatus. We have a sum up of the craziness that threatened to end Crossfit, how my girlfriend and I are handling fitness in the time of Covid, an unexpected surprise from one of my favorite progressive metal bands, and staying grounded and connected through music and fitness when it seems like the world around us is falling apart. I hope you guys missed me as much as I missed you. SLM merch and TONS of other goodies at my Linktree here!linktr.ee/strengthlovemetalCAVEGIRL COFFE CO. cavegirlcoffeeco.com
IDGAF
2020-06-0401:08:11
Went off book, off plan, and just spilled my guts for an hour. No filter, no editing, no fucks to give...and at the same time, ALL the fucks to give. Please donate (if you can) to any of the organizations listed at this link. Let's put an end to police brutality and systemic racism. It starts with us. https://linktr.ee/nationalresourceslist
Getting a little stir-crazy, so two of my best friends took the girlfriend and I to their 40 acre property in the high desert of Northeastern AZ for some camping, relaxation, critter chasing, fire-cooking, hiking, traipsing, and peeing in the bushes hundreds of miles away from civilization...and it was AWESOME! Discovered while I was away that some major developments took place in the realm of the Crossfit Games that directly relates to the Covid-19 pandemic (no, they're not cancelling, but still huge). Also checking in on local shelter in place orders that affect gyms in AZ. Finally, our Patron Saint of Underdogs is KREWE OF HOPE, a generous, compassionate collective of humans that are working here in Phoenix to accomplish two things during the pandemic; keeping small mom-and-pop restaurants in business, and feeding displaced seniors. Much love and respect to the Krewe!Strength Love Metal LinkTree: linktr.ee/StrengthLoveMetalKrewe of Hope FB: facebook.com/groups/2548083771196
In a SLM podcast first, I decided to go live on Instagram. A few people popped in with questions and well wishes, My girl Kate Hollenbeck, owner of Cavegirl Coffee Co. provided some of her delicious coffee and we commiserated a little about all the badass metal shows that have been cancelled. We also feature a new Patron Saint of Underdogs, Gretchen Lehman, aka "Emma Grenade"; my former teammate and derby wife, and one of countless medical professionals on the frontlines of the Covid-19 crisis. No editing, no filters...no script. Let's see how this goes.Strength Love Metal merch ON SALE in the Teespring shop! Use code PLAGUE20 at checkout for 20% off!linktr.ee/StrengthLoveMetal
The Corona Virus (Covid-19) is shutting down our way of life as events (METAL SHOWS), schools, and businesses (INCLUDING GYMS) close in an effort to contain and minimize the spread of infection. In this episode we talk a bit about the pandemonium with the pandemic, and how we can all get through it if we work together as a community and support those whose livelihood is in jeopardy. In addition, I give my review of Cavegirl Coffee, gush over Hannah Linzay's record breaking bag over bar at The Arnold (swamped it!), and share my new favorite torture method, er, core exercise...the body saw!
If you are a metal fan who is also an avid gym goer/ fitness buff, you may have noticed an abundance of poppy or hip-hop themed tee companies, but NO METAL. I started my own line of merch for that very reason. I've found that there is a number of entrepreneurs who had the same idea, and have created small businesses that cater to the headbangers in the fitness space (or gym rats in the metal space). This episode highlights several brands that have an undeniable metalhead appeal, and don't skimp on delivering quality.In addition, new SLM Community WOD date announced, and an update on the Caffeine & Kilos Add A Mile Challenge.Mosh pit = cardio. Just sayin'.linktr.ee/StrengthLoveMetal https://norsefitness.co/https://heavymetalfit.com/https://www.blackcraftcult.com/https://grimfrost.com/https://liftevil.myshopify.com/
On January 7th, the music world lost a LEGEND, when Neil Peart, drummer and lyricist for Rush lost his 3 year battle with brain cancer. On this episode, I take a bit of a break from talking fitness to pay tribute to Mr. Peart, and talk about the impact Rush's music has had on myself and fans all over the world. In addition, I give an update on my progress in the Caffeine & Kilos Add A Mile Challenge, announce the dropping of new merch in the merch store (BUY ALL THE THINGERS!), and update on the upcoming Strength Love Metal Community WOD. linktr.ee/StrengthLoveMetal
First episode of a new DECADE! *raises proverbial roof* As promised in Ep 3, we are reviewing the Empty Eyes Select Roast, which is the coffee collaboration between Trilogy Coffee Roasting, and my favorite Florida power metal band, Seven Kingdoms (Spoiler alert: I DIG IT!) In addition, My Man-Spawn has decided to get in shape from home, and with the help of the Add A Mile Challenge from Caffeine & Kilos, I'm working on my biggest weakness and nemesis; running. Metal gods give us strength! linktr.ee/StrengthLoveMetal
Today we talk about outdated steroetypes, misinformation, biases, and other bullshit that can confuse and intimidate the hell out of folks who are new to the fitness world. We outline a few tips on how to find the right trainer for you and your goals, and what kind of trainers to avoid. In addition, I share a fun mini-wod/warm-up that I utilized this week, and may have accidentally created a new, meaner variation on that wod. Oh yeah, and I'm a sadist. >;) linktr.ee/StrengthLoveMetal
Episode 3 is finally up! Had some unfortunate things happen last week that put a damper on my holidays, but some kind and generous individuals reached out to help, so yaaay! This week we talk about Seven Kingdoms and their new Empty Eyes coffee from Trilogy Coffee. I am a coffee fiend, and Seven Kingdoms is one of my favorite power metal bands, so trust and believe I'll be purchasing their coffee and reviewing on a future episode. In addition, we talk about an outing to Sedona a few months back that led to adopting the mantra "tell fear to f**k off", and what exactly that phrase means to me. A bit aggressive, I know, but that's what SLM is about, amirite? If all goes well, episode 4 will be right back on schedule, but for now, enjoy this one, and support the show by clicking this link here. linktr.ee/strengthlovemetal
"You can't kill my soul, kill my dream." -Lacuna Coil, "Underdog"This week's episode was all about the underdog. I talked about the prevalence of Lacuna Coil's music in my playlists and their impact on my outlook on life with ongoing themes of overcoming adversity and harnessing inner strength. From there I shared my story of overcoming physical and mental setbacks ("brain worms") when I played roller derby, and using that experience to not only turn my personal outlook around, but to reframe the term "underdog" as the ULTIMATE strong badass. Finally, I announce the "Patron Saint of Underdogs" segment that will appear in future episodes, where a nominated individual will be featured for fighting through adversity and achieving awesomeness. Workout of the Week: 15 min AMRAP 500m row 40 situps 20 weighted Russian Twists linktr.ee/StrengthLoveMetal
Welcome to the first episode of the Strength Love Metal Podcast! In this inaugural episode, I talk about the meaning of "Strength Love Metal". We touch a bit on my background in fitness, my die-hard love of heavy metal, and how all these things intersect to create and empower with hardcore self-love. Click on my linktree below for merch, amazing products and causes.linktr.ee/StrengthLoveMetal IG: @strength.love.metal FB: @raevynSLM Twitter: @Lunatik.Fitness
United States