Discover
Bearclan's Hiking Sedona Podcast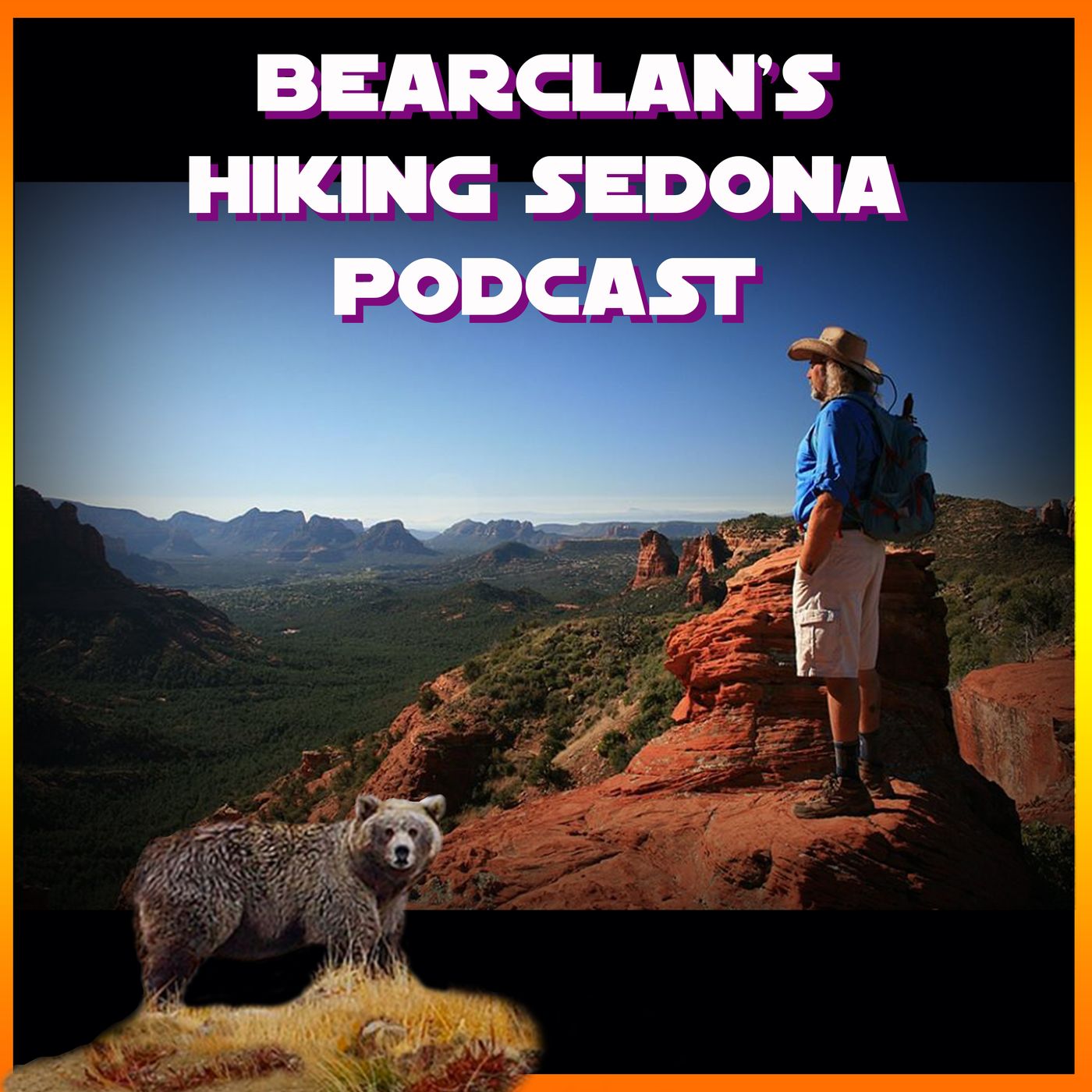 Claim Ownership
Bearclan's Hiking Sedona Podcast
Author: Bear N Lora Lee
Subscribed: 3
Played: 48
© Copyright Bear N Lora Lee
Description
What you need to know before you start hiking in Sedona, AZ. This podcast is designed to get you a TRUE sense of what Sedona has to offer. The Safety of hiking. The Best time of season to hike and most of all...the BEST places to Hike!!
Doe Mesa is the correct term, but it really doesn't matter...it just NEEDS to be hiked by YOU!!! On the easier side of trails that go up, this one boasts some insane vista views of Secret Mountain Wilderness and you might just catch the Hot Air Balloon rides if you do a Sunrise hike!
I could get a lot of feedback from this one, but too bad! It needs to be talked about, especially since this whole Social Distancing thing is happening. Why or Why Not go to Devil's Bridge? This Podcast will easily answer it for you.
One of the most shared Loop Trails of Sedona; Brins Mesa to Soldier Pass! On the scale of easy to hard, this is moderate because at the meeting place of the two trails, Brins Mesa, there is a climb up and a climb down. It's not like you're on a ledge, its just switch-back style hiking up an ascent. Each person has their definition of Levels, so I am rating it this way because I try to take into consideration ALL types of hikers. And as I always tell people, hike until you don't want to, then turn back!Anyway, this loop provides some of the most spectacular vistas Sedona has to offer. It's just under 6 miles round trip and the wonders given are beyond words. Check it out...
Campers Podcast!! Sedona Camping....what do we have and where is it? This could be one of the hardest things to find in Sedona because we always look for the trails first and worry about somewhere to camp after. Well, this podcast has it all. From Tent camping to RV camping and everything in between! I even provide phone numbers for setting up your Campground stays.
Welcoming Kristen Cooper and her son Jeter to the Podcast. Kristen has been coming to Sedona for many years and has recently introduced her son to the magnificence of the Red Rocks. I wanted to get a little bit of Jeter's perspective so I decided to interview them both and I think Jeter knocked the ball right outta the park!!!! What an exciting time for me to share this beautiful place I live in.*Please excuse the background noise, as my guests were using a cell phone with the speaker on and there are some noises I wasn't able to work around through the editing process.
Mountain Biking Sedona....For Simon...it's like "Water On The Rocks"! Simon Bosman is the man credited with "Riding The White Line" in Sedona. But what you DON'T know about him is that he is a loving father and husband as well as a Healed man from his Life wounds. Check this Podcast out as I interview the most incredible Mountain Biker in Sedona...and quite possibly...the First!
So when DO you come and visit Sedona??? Well, let me review the seasons and special aspects of each and then you can make a better decision about when YOU want to come.
10 Trails no one will tell you about....except me.....and a few other Locals. The reason I say this is because the Spring Time in Sedona is also when the United States takes Spring Break. Thus, we get TONS of visitors wanting to hike. When they arrive, they ask the folks at the grocery store, the hotels or the gas stations and get the exact same answers. What I'm trying to do it lessen the aggravation of trying to find parking spots and trying to minimize the cluster of hikers on the trails by giving you 10+ Phenomenal hikes most folks won't tell you of.
LET"S KICK SOME BUTT!!! Trail Talk today is about the HARDEST hike in Sedona; AB Young. I tell you why it's the hardest, but when you're back at the bottom of the WALL, you will be elated with your accomplishment! Views of Oak Creek Canyon like you can't imagine all the way up! Around 2000ft of elevation, it is INTENSE!If you don't have great cardio or good knees, then just give a listen and find one of the other Trails I talk about.*UPDATE 2-27-20 6PM - Please excuse the additional repeated information at the end of the Podcast. In my haste, I managed to copy a chunk of info and add it to the end of the cast. I will work harder on Editing to ensure things like this don't happen again.
When it Reigns, it Pours! Loving how the Interviews just keep piling in! I hope you do as well. Roger Blakiston is a Brit turned Sedonian and has been someone I've become fond of through our time of at Unity Of Sedona. But sometimes its best to find the story behind the story and to see what kind of BEing this Jolly Roger really is...* My apologies to you all for messing up the Podcast Number. This should be Episode 24 even though I said it was Episode 25. No excuses for the error. I will do better next time to ensure this doesn't happen again.
Hello again everyone! Cruising through another magnificent Interview with another Local Sedonian; Jeff Schlict. I've known Jeff for around 4 years through our Unity of Sedona work and he brings us a totally different look as to why he is here in Sedona and what Sedona means to him. *Due to some Technical Difficulties, we weren't able to combine music with this Episode.
This story comes from my first ever visit to Sedona and how I wasn't as "Sedona" ready as I have been over the last 5-6 years. Living here and doing what I do (hiking and Segway Tours) provides me with the time I desire to be out in the Rocks of Sedona. Bear Mountain, other than the obvious nomenclature similarities, has been one of my top 3 hikes of Sedona since this hiking moment happened. I share with you my very first experience from "Back in the day"....when THIS Bear wasn't quite conditioned for Sedona's Bear Mountain!
What a Super Neat Treat today! Sharmeen Dia Qudrot, better known on FB as "Dia Seven", is here with me to talk SEDONA! As if there was anything else to talk about! It's funny how after years of hiking Sedona, we really get to see how similar our paths are for those of us who lived here or have lived here....or who have visited! Just another day in Sedona folks!
This interview was a little different from all my others. Nina is someone I have known for many years and being a Sedona Resident meant something a little different and her path was extraordinary, yet, very similar in essence to all of us Sedona Locals. Take a listen as we talk a little Physical Therapy and Man-Eating Plants! OK...that last part isn't true...she has Bug-Eating plants!
No matter what road you travel, when you are here in Sedona, it tends to pull you deep into her caring arms and makes you one of us. Jimmy Nielsen is a friend of mine for some 6 or 7 years and he shares his experiences with Sedona as he grew 'into' her as we all tend to. Enjoy!
When you come to hike in a wilderness area, you need to be aware of what animals are out there with you...and the potential dangers. I'm not going to sugar coat this because you safety is priority 1. Give this a listen to hear about the varieties of Critters we have here and what to expect.
Off the beaten path today! I interviewed John Soderberg; a World renowned Bronze Sculptor who just happens to live in Sedona. I have known him for something like 7 or 8 years and have had the luxury of speaking with him on occasion while riding my Segway to his Art Studio. Today's interview revolves NOT around Hiking Sedona, but rather, it is all about the Humanitarian work he does and how he has impacted Thousands of lives!
The Interviewees are coming out of the woodwork. Today's Podcast is with a Non-native Local from NY that found the glory of Sedona over 20 years ago! Now a Local and LOVING it! Jim is a small business owner and provides Wine Tours along with other adventures. Check out his take on how life can bring us to exactly where we need to be!
The Interviews are starting to catch the wave!!! WooHooo! Jonathan Sprague joins me today for an unique viewpoint of Hiking Sedona. He is a life-long Sedonian with a wealth of knowledge of what Sedona offers and adds some humor to his presentation. I am LOVING how these interviews turn out and how we can share with you some insights of what Hiking Sedona is all about!
Another Interview and today we have another Sedona Resident; Lina Rueda. She has lived in Sedona for 15 years (this May) and comes from California. Let's take a listen to her perspective on Sedona shall we...
United States