Claim Ownership
Author:
Subscribed: 0
Played: 0
Description
Before they created their own TV show, The Other Two, Sarah Schneider and Chris Kelly were the youngest head co-writers in Saturday Night Live history. Sarah and Chris tell the story of how they found a writing partner in each other during their time at SNL, and how that grew into a friendship and business partnership. The Other Two is on HBOMax. You can follow Chris and Sarah on Instagram at @chriskellyinstagram and @sarahdschneider.
Ron Klain, President Joe Biden's Chief of Staff, and his deputy Chiefs of Staff, Jen O'Malley Dillon and Bruce Reed, discuss how they forged their professional chemistry on the campaign trail, and then brought that dynamic to the White House.  You can follow them at their official 46th President Twitter handles: Ron is @whcos, Jen is @jod46 and Bruce is @brucereed46.
Jenna Wortham and Wesley Morris are the co-hosts and co-creators of the critically-acclaimed New York Times podcast Still Processing. They relate the story of their friendship and professional partnership to another story that means a lot to them: When Harry Met Sally. You can follow Jenna on Twitter at @jennydeluxe, Wesley at @wesley_morris, and you can listen to their podcast, Still Processing, wherever you listen to podcasts.
The ice cream company Salt & Straw is famous for its imaginative and eclectic flavors. It was co-founded by CEO Kim Malek and Head Ice Cream Maker Tyler Malek – who are also cousins. Kim and Tyler describe the ups and downs of starting a business, and how the very different flavors of their personalities work together to make that business succeed. Check out saltandstraw.com to find a location near you. If there isn't one near you, get some in the mail! They ship pints of ice cream all over the U.S.
Roxane Gay and Debbie Millman are a creative power couple, each with their own impressive careers, built over decades of work. Roxane is the best-selling author of Hunger and Bad Feminist. Debbie Millman is a design legend, and host of the award-winning podcast Design Matters. Debbie's professional interest in interviewing Roxane about her work ended up blossoming into a romance that neither expected. You can learn more about Roxane's work at roxanegay.com, and Debbie's work at debbiemillman.com You can also follow them on Twitter at @rgay and @debbiemillman.
Robert Plant and Alison Krauss have made two albums together, Raising Sand and Raise the Roof, where they combine their respective rock and bluegrass sensibilities to reimagine songs. Along with all their individual accolades, they've won five Grammys for their work. Robert and Alison discuss how they were able to weave together their very different musical backgrounds and approaches. You can find Robert and Alison at plantkrauss.com or @plantkrauss.
Lin-Manuel Miranda and Thomas Kail are the composer and director, respectively, of the Tony-Award-winning Broadway smash hits Hamilton and In the Heights. Their creative partnership spans theater, television, and film. Lin and Tommy describe how, over two decades, they developed a trust and shorthand with each other.
Every successful partnership, no matter what kind, is sort of a love story. It doesn't matter if what you're making is a company, or a movie, or a marriage. For two people to co-exist and collaborate, that takes work, and it takes love. Partners is a podcast about those relationships. The second season of the show features seven fascinating, unique partnerships. Guests include the writer and the director of Hamilton and In the Heights, Lin-Manuel Miranda & Thomas Kail; White House Chief of Staff Ron Klain and his deputy chiefs of staff, Jen O'Malley Dillon & Bruce Reed; legendary musicians Robert Plant & Alison Krauss; creative power couple Roxane Gay & Debbie Millman; the co-founders of the ice cream company Salt & Straw, Kim Malek & Tyler Malek; the co-hosts of the New York Times' podcast Still Processing, Wesley Morris & Jenna Wortham; and the co-creators of the comedy The Other Two, former SNL co-head writers Sarah Schneider & Chris Kelly. Season 2 arrives April 13, 2022.
Jeff and Spencer are father-and-son bandmates in Tweedy, and musical collaborators across other projects, too. Jeff is the lead singer and songwriter of the band Wilco, so music would have always been a part of their family's life, but making music together has been the way the two of them have connected since Spencer was a very young kid. You can find their music at wilcoworld.net, and find them on Twitter at @jefftweedy and @spencertweedy.
Aminatou and Ann are the co-hosts of the podcast Call Your Girlfriend, co-authors of the book Big Friendship, and long-distance best friends. Their podcast made their friendship public, but behind the scenes, their geographic distance turned into emotional distance, and they realized had to find a way to re-connect. You can find their podcast at callyourgirlfriend.com, find their book at bigfriendship.com, and find them on Twitter and Instagram at @aminatou and @annfriedman.
Tegan & Sara have been bandmates for over 20 years. They're also identical twin sisters. Having a twin is already a special kind of relationship—how does it work when your twin is also your creative collaborator and business partner? For their entire lives, Tegan and Sara have been learning how to co-exist in a way that's inextricably linked but still allows them to define themselves as individuals. Learn more about their band at teganandsara.com, and follow them on Instagram and Twitter at @teganandsara.
Daveed and Rafael are best friends and artists who have collaborated across film, theatre, music, and poetry. Because of that their partnership extends beyond the normal boundaries of friendship, and the normal boundaries of a working relationship. From their days as high school classmates, to barely scraping by as roommates in LA, to the triumph of seeing their film premiere at Sundance, the two of them have been there with each other—and for each other—for nearly two decades. You can find them on Twitter and Instagram at @DaveedDiggs and @RafaelCasal.
PJ & Alex are the co-hosts and co-creators of the hit podcast Reply All. Their story together begins over a decade ago, when they were both starting out in public radio. Across multiple shows, they've refined their skills as storytellers, and their ability to understand one another. Reply All listeners know how much they torture each other when they're on the mic—but the two of them explain how that's evidence of their partnership at its best. You can follow PJ and Alex on Twitter at @pjvogt and @agoldmund, and you can find Reply All at replyall.limo, or wherever you listen to podcasts.
Rachel & Aline are the co-creators of the Emmy- and Golden Globe-winning television show Crazy Ex-Girlfriend. Their show challenged the tropes of romantic comedies, but before the two of them subverted the meet-cute, they had a meet-cute of their own. It led to a creative partnership that's been going for over six years. You can follow Rachel and Aline on Twitter, at @racheldoesstuff and @alinebmckenna.
Kevin & Mike are the co-founders of Instagram. What began with a chance meeting at a cafe turned into a billion dollar business and a partnership that's lasted a decade. A key to their relationship was understanding each other's strengths and how those translated into individual roles at a company: CEO and CTO, respectively. But the title that came first and foremost, for both of them, was co-founder. You can find Kevin and Mike on Instagram at @kevin and @mikeyk.
Samin & Wendy are the author and the illustrator of the award-winning cookbook Salt Fat Acid Heat. Their partnership began with an email that Samin sent to Wendy, out of the blue. Six years later, the book was published, and became a #1 New York Times Bestseller, and a hit show on Netflix. The two of them are already working on their next book. But like with any great recipe, their partnership isn't just about the ingredients; it's about finding the right balance between them.  Learn more about their book at saltfatacidheat.com, and follow them on Instagram at @ciaosamin and @wendymac.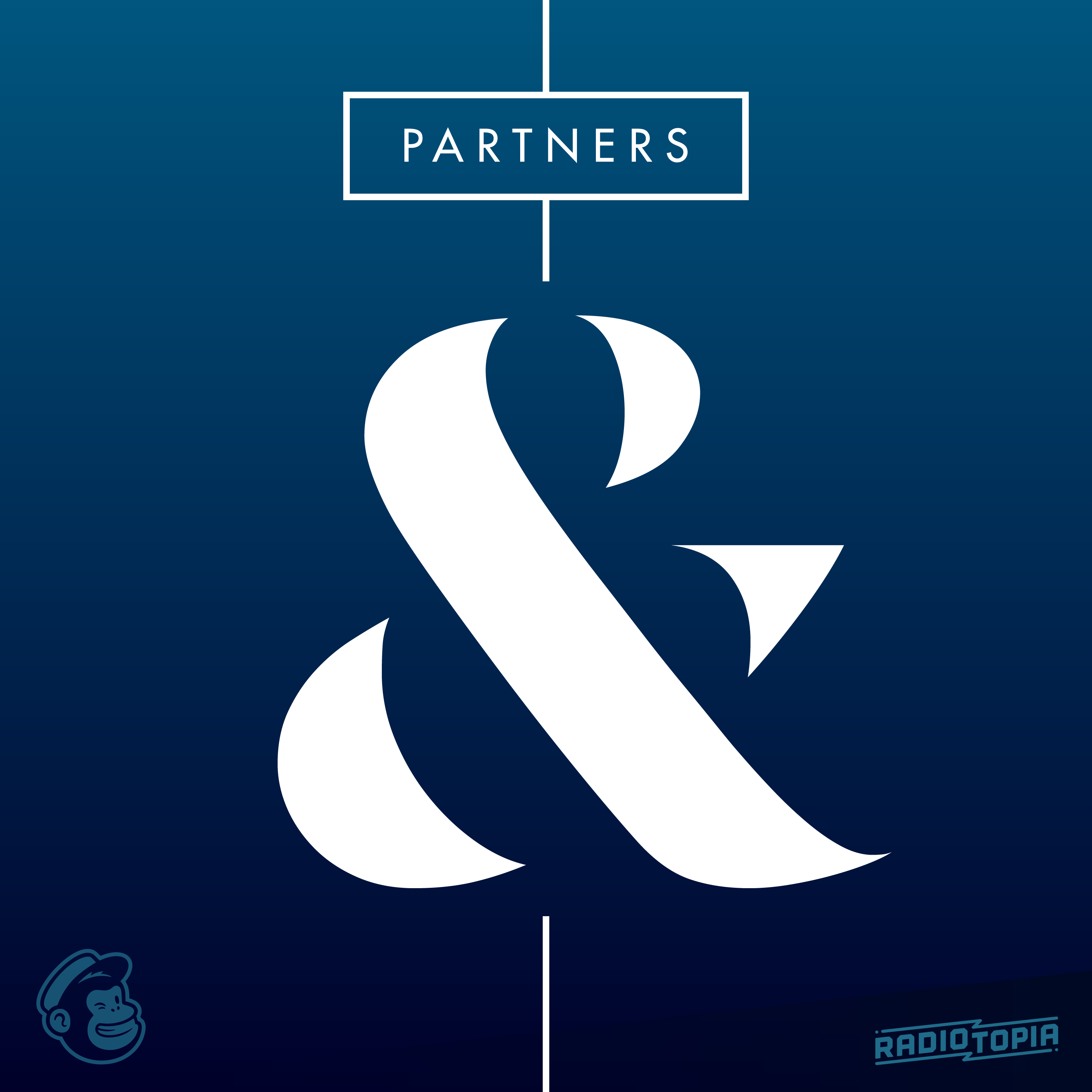 Trailer
2020-01-2101:43
1
Every successful partnership, no matter what kind, is sort of a love story. That's what this new podcast is about. What did it take for two people to meet, and figure out how to make something together? Each episode is a portrait of two partners and the story they share.
United States