Discover
Unsung Cinematics
Claim Ownership
Unsung Cinematics
Author: Stewart & Rastislav
Subscribed: 2
Played: 40
© Stewart Rathje & Rastislav Miklos
Description
The Unsung Cinematics podcast reviews some of the best kept secrets in TV and Film. Every week your hosts Stewart and Rasto provide insight to a misunderstood movie to see if it deserves the title of being "unsung". We dust off and discuss films and television shows that are considered underrated, forgotten, and even neglected.
Luna (2014)
2020-08-2301:31:44
Secrets are revealed as Grant and Christine visit an old friend for the weekend at a sea-side house. Luna is art film from 2014 directed and written by Dave McKean. Using dream sequences in the same way as his previous film Mirrormask; Dave KcKean has really come of age with this film. Ben Daniels, Dervla Kirwan, Stephanie Leonidas and Michael Maloney star in this delightful movie that explores what it means to lose your innocence and what's it like to keep secrets all bottled up. This movie is not suitable for younger viewers as it explores adult themes.
Dog Soldiers (2002)
2020-08-1601:19:00
Based in the Scottish Hilands, this 2002 UK film mixes horror, with werewolves and a bit of military based action. Directed and edited by Neil Marshall, in his directorial debut, and starring Sean Pertwee, Kevin McKidd, Emma Cleasby and Liam Cunningham. A British-Luxembourgian co-production, set in the highlands of Scotland, it was filmed almost entirely in Luxembourg. In the U.S., it premiered as a Sci Fi Pictures telefilm on the Sci Fi Channel. The movie is rated R for those considering it. Even though this film isn't considered a comedy there are some comedic elements to it because of it's low budget as you will discover.
Wiener Dog (2016)
2020-08-0901:09:09
Wiener Dog is a 2016 Comedy Drama by Todd Solondz who also directed Welcome to the Dollhouse. Wiener Dog is a spin-off from Welcome to the Dollhouse and also features Dawn Wiener. The story follows a dachshund dog that is passed off from owner to owner and inspires the lives of the dysfunctional people whom it comes in contact with. The film is basically 4 short stories and each segment can be watched independently. Directed by Todd Solondz and starring Ellen Burstyn, Kieran Culkin, Julie Delpy, Danny DeVito, Greta Gerwig, Tracy Letts, and Zosia Mamet, The film is also inspired by the 1966 drama Au Hasard Balthazar, directed by Robert Bresson.
Never Grow Old is a 2019 dark western that puts a small frontier Irish undertaker (Patrick Tate) played by Emile Hirsch and his family to the test when a bounty hunter played by John Cusack moves in to terrorize the small christian community just outside of California. Patrick develops a taste for the money he makes as the body count climbs and this in turn endangers his family. The film receives an R rating and was totally released under the radar. It bombed at the box office. I was particularly enthralled with this western as it puts a new spin on the western genre. Directed by Ivan Kavanagh, starring Emile Hirsch, John Cusack, and Déborah François.Never Grow Old Trailer: https://youtu.be/wX7ygRPG10M
Wish I Was Here was supposed to be a heartwarming tale of a struggling Los Angeles family but ends up being a R rated family film; if that is even possible? Zach Braff is the writer and director and even actor of this film and believe it or not this film was funded by a kickstarter (crowdfunding project). A 35-year-old father (Aidan) of two played by Zach Braff is struggling to be an actor in L.A. while his wife, Sarah works a tedious data job. Aidan relies on his father in-laws monetary assistance so that the kids Tucker and Grace can attend an Orthodox Jewish day school. Money is tight, and life becomes hard as Gabe (father-in-law) reveals he has cancer and the kids are then forced to be home-schooled. Through teaching them about life his way, Aidan gradually discovers some of the parts of himself he couldn't find. Staring Zach Braff, Pierce Gagnon, Kate Hudson, Joey King and Josh Gad.https://www.multeemedia.ca/media-channels/unsung-cinematics-podcast/
The Road (2009)
2020-07-1201:34:28
The Road is a 2009 American post-apocalyptic survival film by John Hillcoat and based on the book of the same name written by Cormac McCarthy. A man and his boy decide to leave their secluded home because of the impending harsh winter and the recent death of his wife. Resources and food were scarce so they decide to travel south. They make their way through many treacherous situations in the hopes of finding greener pastures. On their journey they encounter cannibals, and others who are out to steal, cheat and otherwise harm. This film has a slow methodical pace, with real locations mimicking abandoned and dead locations through the entire movie. Starring Viggo Mortensen as the 'father', Kodi Smit-McPhee as the 'son', and Charlize Theron as the 'wife'. The film is Rated R for adult situations. A truly inspiring journey that chronicles the struggle between survival and human kindness.Trailer: https://youtu.be/94KcI0gLq1Ahttps://www.multeemedia.ca/media-channels/unsung-cinematics-podcast/#unsungepisode-20
Fubar (2002)
2020-07-0501:35:15
I hope your remote control isn't broken because this movies suck knob is cranked all the way up to 10. Fubar is a Canadian made mockumentary film, directed by Michael Dowse, based on the lives of two lifelong friends and head-bangers living out their lives, constantly drinking beer. FUBAR debuted at the Sundance Film Festival and is based in and around Calgary Alberta. Mayhem, destruction, and just given er are the motto for these two delinquents. Starring Paul Spence, David Lawrence and Gordon Skilling.Trailer: https://youtu.be/DbW0_C2H19c
Detachment (2011)
2020-06-2101:49:53
Get out your notebook but don't write in it because you aren't making any new memories anyways. Detachment is a 2011 drama film about a substitute teacher who drifts from classroom to classroom and attempts to connect with his students. Henry Barthes attempts to help and befriend anyone he comes in contact with. This niceness comes at a cost as at times he becomes too connected with those around him as he isn't the stable teacher he pretends to be. Directed by Tony Kaye and was written by Carl Lund. The film stars Adrien Brody, Marcia Gay Harden, Christina Hendricks, William Petersen, Bryan Cranston, Tim Blake Nelson, Betty Kaye, Sami Gayle, Lucy Liu, Blythe Danner, and James Caan.Trailer: https://youtu.be/w7lBleOF9Pw
MacGruber (2010)
2020-06-1401:51:40
Stick that gun where the sun don't shine...Yeah where might that be? This MacGiver spoof is just what the proctologist ordered. MacGruber is a 2010 American action comedy film based on the Saturday Night Live sketch of the same name. MacGruber's work partner and love interest team up with a young lieutenant who becomes part of MacGruber's team to stop an evil villain called Dieter von Cunth from setting off a nuclear bomb. This movie didn't do so well in the box office, despite the big names behind it. Directed by Jorma Taccone, and starring Will Forte, Kristen Wiig, Val Kilmer and Ryan Phillippe.Podcast Hosts: Stewart Rathje, Rastislav MiklosRating: Restricted
Don't get caught in this spiders web like Lisbeth did. The Girl in the Spider's Web is a 2018 film and the 4th installment at producing this hacker/thriller and the 5th in the series. Lisbeth Salander is a young computer hacker and anarchist who is falsely accused of stealing a very important computer program. She has partnered with journalist Mikael Blomkvist who are set to take down cyber-criminals and corrupt government officials who are out to kill her. Directed by Fede Alvarez and starring Claire Foy, Beau Gadsdon, Sverrir Gudnason. This film is based on the Millennium series of best-selling and award-winning Swedish crime novels, created by journalist Stieg Larsson.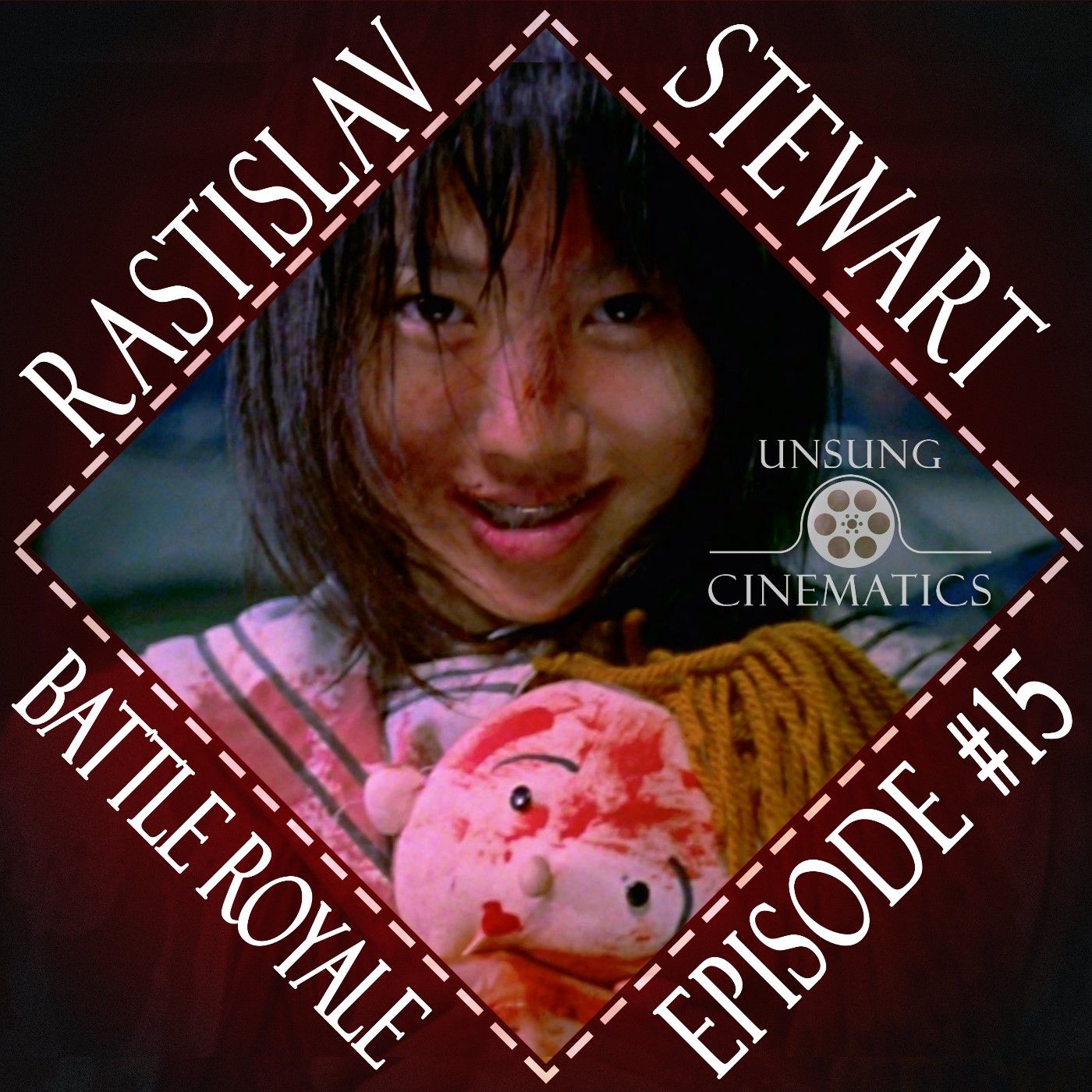 Battle Royale (2000)
2020-05-3101:53:54
Are you ready to kill your classmates with a pot lid? If so this film is for you. Battle Royale is a Japanese dystopian thriller from 2000 based in the near future. The Japanese government kidnaps a random class of ninth-grade students and forces them to kill each other under the revolutionary "Battle Royale" act. The film was controversial, underrated and was banned from distribution in several countries. Toei refused to sell the film to any United States distributor for a long time due to concerns about potential controversy and lawsuits. Directed by Kinji Fukasaku, starring Tatsuya Fujiwara, Aki Maeda, and Tarô Yamamoto. This film was eventually released to western markets in 2010/2011 and has since become a cult movie. This movie never had a formal rating, but was rated 15 in Japan and has many scenes of extreme violence. Not suitable for younger viewers and watchable via subtitles.Hosts: Stewart Rathje, Rastislav Miklos with Guest Tyler Reid
The Cobbler (2014)
2020-05-2401:20:21
If you put yourself in another mans shoes will you actually become that man? The Cobbler is a 2014 film that takes this concept and runs with it. Since his fathers disappearance Max has taken over the family shoe repair business and discovers a magical heirloom that allows him to walk in another persons shoes. This underrated dramatic comedy stars Adam Sandler, Steve Buscemi, Dustin Hoffin and is directed by Tom McCarthy.
The Prophecy (1995)
2020-05-1701:38:43
Do you believe in guardian angels?? If so the angels in this 1995 film certainly don't have your best interests at heart and would rather see your entrails laid out on the ground. The Archangel Gabriel is searching for an evil soul that is capable of turning the tides in an angelic civil war in heaven. A ex seminarian turned cop, a little girl, and her teacher have their work cut out for them as they try to stop Gabriel from attaining that soul for his own nefarious purposes. Directed by Gregory Widen; starring Christopher Walken, Elias Koteas, Virginia Madsen, Eric Stoltz and Viggo Mortensen. This movie series features 5 movies in total.Your Hosts: Rastislav Miklos, Stewart Rathje, and guest Ken Flatt.Watch the Trailer Below:https://youtu.be/-ynKNaSkih4
The Mission (1986)
2020-05-1001:45:06
This 1986 drama film records the experiences of a slave trader whom converted to the Jesuit religious order in 18-century South America. After establishing a brand new mission in an eastern Paraguayan jungle the Jesuit missionaries must decide between their religious vows and protecting the Guarni people from a territorial dispute between the Spanish and the pro-slavery Portuguese. Directed by Roland Joffé, starring Robert De Niro, Jeremy Irons and Liam Neeson.
Do you want to be a part of our special peoples club? If you do, join us for this 1995 middle school coming of age film and you can be as special as you want. Welcome to the Dollhouse is a coming of age dark comedy directed by Todd Solondz. Dawn is a quirky and dorky girl with thick glasses who tries to fit in with her peers and goes to great lengths to ensure this happens. Starring Heather Matarazzo, Christina Brucato, Brendan Sexton III and Eric Mabius.Watch the Trailer on YouTube:https://youtu.be/5U0QG3L6XsE
Four Lions (2010)
2020-04-2601:31:50
Only one sheep was killed in the making of this film. The dark comedy 'Four Lions' from 2010 takes you into the world of 4 inept muslims as they attempt Geeh@d on an unsuspecting marathon in Britain. Their ill-conceived plan culminates at the London Marathon with their bumbling attempts to disrupt the event while dressed in outlandish costumes. Directed by Christopher Morris. Also starring Will Adamsdale, Riz Ahmed, and Adeel Akhtar.
Hesher (2010)
2020-04-1901:59:58
"I don't want any trouble...I think you do miss piggy..." Hesher is a 2010 film about a self obsessed, fire starting, heavy metal rocker that is loosely based on the real life Metallica band member Cliff Burton. The movie explores the dynamic relationship between Hesher, a young boy who lost his mother in a car crash, and his depressed Father. Starring: Joseph Gordon-Levitt, Rainn Wilson, Natalie Portman, Devin Brochu and directed by Spencer Susser.
Little Monsters (2019)
2020-04-0501:32:02
Watch out kids, cover your ears, and get out your plastic golf clubs because the zombies are coming for you in this R rated version of Sesame Street. Little Monsters is a 2019 zombie comedy film and an international co-production from Australia, the United Kingdom and the United States, it stars. The story revolves around a washed-up musician and a kindergarten teacher who are dead set on protecting a group of young schoolchildren during a sudden outbreak of zombies. Directed by Abe Forsythe and staring Lupita Nyong'o, Alexander England, Kat Stewart, Diesel La Torraca and Josh Gad.Our episode guide is available at https://www.multeemedia.ca/media-channels/unsung-cinematics-podcast/
In this special episode we summarize some of our favorite 12 films that are centered around priests or have religious themes.Visit our episode guide at https://www.multeemedia.ca/media-channels/unsung-cinematics-podcast/
Mirrormask (2005)
2020-03-2901:49:11
1
The film's story revolves around a young girl named Helena Campbell, who is sick of her family's career as circus performers. Helena's mother is hospitalized after they have an argument, and Helena finds herself trapped in a fantasy world shortly after. This 2005 film produced by the Jim Henson Company and the brainchild of Neil Gaiman. The film concepts were conceived while spending two weeks in the family home of Jim Henson, this film is sure to peak your interest even if it is a bit strange at times. This family movie has a PG rating is suitable for all audiences. Dream interpretation or an acid trip...you decide.Visit https://www.multeemedia.ca/media-channels/unsung-cinematics-podcast/ for our episode guide.
United States