Claim Ownership
Author:
Subscribed: 0
Played: 0
Description
Open banking aims to introduce common, open, shared standards for the secure exchange of financial data. As a result, whether you bank with one bank or five, fintech or credit union, JPMC or PayPal, you can finally see all your accounts together, in one place - a concept known as account aggregation. In this episode, Eyal discusses this concept with Rolands Mesters, the CEO and Co-Founder of Nordigen, a European account aggregator who provides connectivity to thousands of banks, absolutely free. A regular guest at fintech events, Rolands has been featured by the industry's leading media outlets, including TechCrunch, Sifted and Medium, was included in Forbes 30 under 30, and is considered one of the foremost experts on open banking worldwide. During their discussion, Eyal and Rolands explore the story of account aggregation, including how it began, where it's going in the future and why it might just be the key to building open banking for all.Specifically they discuss: The definition of account aggregationOrigins of account aggregation as a conceptThe impacts of open banking on aggregationHow bank connectivity became commoditized The new role of the account aggregatorThe democratization of open banking Including developers in the narrative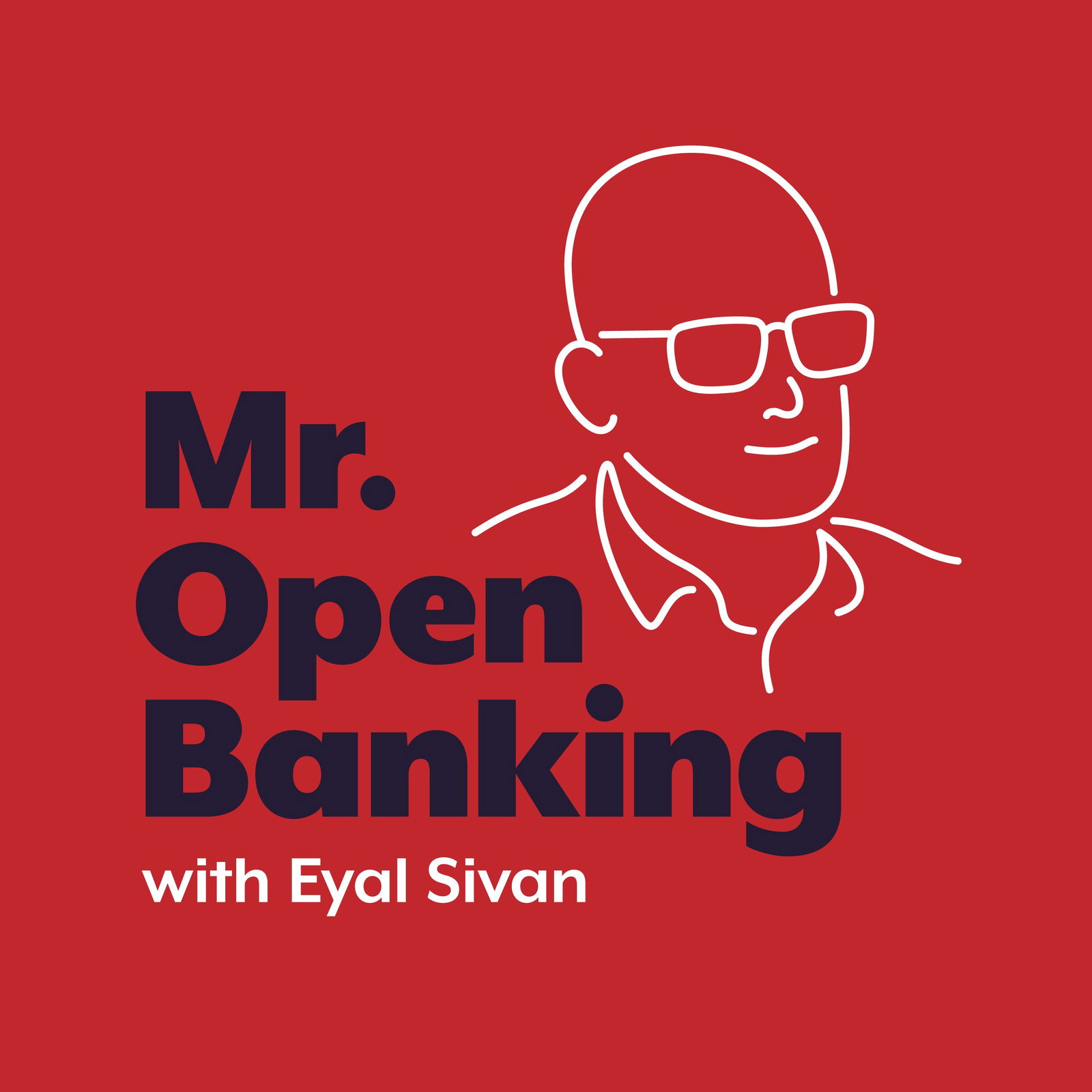 Introducing a disruptive movement like open banking into an already developed environment can be difficult. By contrast, introducing innovation where there is nothing to replace, often referred to as a "green field," makes it possible to adopt the latest technology immediately, leapfrogging whatever came before. Africa, the ultimate green field, has been undergoing a quiet but steady technological renaissance over the past two decades, as it aims to leapfrog its peers. In this episode, Eyal sits down with Ismail Chaib from Yassir Tech Hub, a startup based out of his birthplace, Algeria. In 2011, Ismail was COO of the Open Bank Project, where he built open banking before the term was even invented. During their conversation, Eyal and Ismail discuss the back story behind the Open Bank Project, the explosion of fintech in Africa, and how open banking can accelerate that boom.Specifically they discuss:-The story of the Open Bank Project-The state of fintech in Africa-M-Pesa and the rise of mobile money-African emergence of open banking-Market vs. Regulatory-driven approaches-Challenges to fintech adoption in Africa-Financial inclusion for over a billion Africans
Despite the doubts of skeptics, the open banking movement is here and it's evolving quickly. Right now, over 50 regions around the world are in various stages of implementing open banking, while some are already moving into the next stage of the progression: open finance. In this episode, Eyal sits down with Amit Mallick, the Global Open Banking Practice Lead at Accenture, to discuss the threat posed by open banking, and how major players like big banks can respond as they adjust their strategies to compete and succeed in the new financial ecosystem. During their conversation, Eyal and Amit discuss exactly what's at stake as we transition to an open data economy ($416 billion in bank revenue, to be exact), how banks can best respond to the coming disruption, and how to discover entirely new kinds of opportunities. Specifically they discuss: Why the stakes are so highHow big banks can avoid losing market share Competition from banks and non-banksThe four core capabilities banks will need Why embedded finance is the key to valueThe evolution of super apps The transition to an open data economy
While most of the financial sector is in the process of implementing open banking, it's time to look beyond the horizon to see where this evolution is heading. As open banking standards expand to address more and more sectors of the economy, we are moving from open banking to open finance to open data. Open data will enable individuals to grant and share access to every digital transaction, health record, or energy bill to merchants so they can receive customized services that meet their unique needs. In this episode, Eyal sits down with Samantha Seaton, a champion of financial wellness and CEO of award-winning fintech MoneyHub, to explore how open data is transforming the world. Sam discusses how banks will need to think differently to succeed in the open future, compelling them to revisit three fundamental tenets of banking: value, risk and trust. Specifically they discuss:   The current open banking landscape  How to generate new kinds of value  Empowering consumers to own their data  The risk-reward dynamic of banks and fintechs  Moving from open banking to open finance to open data  The importance of building customer trust  Curating your data an open world  
When it comes to both FinTech and open banking, the UK is leading the charge globally. In this episode, Eyal sits down with one of the key figures behind the country's leadership in financial innovation: Charlotte Crosswell, the newly appointed Chair and Trustee of the Open Banking Implementation Entity (OBIE), which is the organization responsible for bringing open banking to the UK and acting as a shining example for the rest of the world. During their discussion, Charlotte shares her perspective on the UK's strong FinTech reputation and how it's evolved throughout her 25-year career serving in key leadership roles at the intersection of financial services, regulation and technology. She also offers her position on the UK's national digital strategy, the factors that led to the UK's success and the importance of a strong and inclusive culture. Finally, Charlotte offers her advice to peers in other regions hoping to help usher in this new age of open banking.Specifically they discuss:The UK's FinTech landscapeCharlotte's time as CEO of Innovate FinanceThe UK's national digital strategyThe driving factors behind the UK's open banking success The importance of culture in open bankingThe next incarnation of the OBIEThe future of open banking on a global scaleCharlotte's advice for other practitioners aiming to adopt open bankingThe implications of smart data on businesses and individuals
The world of modern cryptocurrencies has evolved beyond just money, with currencies like Ethereum providing programmable open platforms to build the financial instruments of the future. These new tools aim to re-create and radically improve the centuries-old systems we have today, a movement that has come to be known as decentralized finance, or DeFi. As the head economist of Decentralized Protocols at ConsenSys, Lex Sokolin is an expert on DeFi, as well as crypto and FinTech in general. In his current role, he focuses on protocol crypto-economics, digital assets, public and private blockchains and decentralized finance. In this episode, Eyal and Lex sit down to discuss how DeFi is creating the fabric of an entirely new economy, including where open banking fits into the picture. They cover the difference between different cryptocurrencies, the introduction of smart contracts, and how DeFi is ushering in the new world of finance.Specifically they discuss:Overview of cryptoBitcoin vs. vs. other cryptocurrenciesWhat are smart contracts?The emergence of DeFiOpen banking as a bridgeThe old economy vs. the new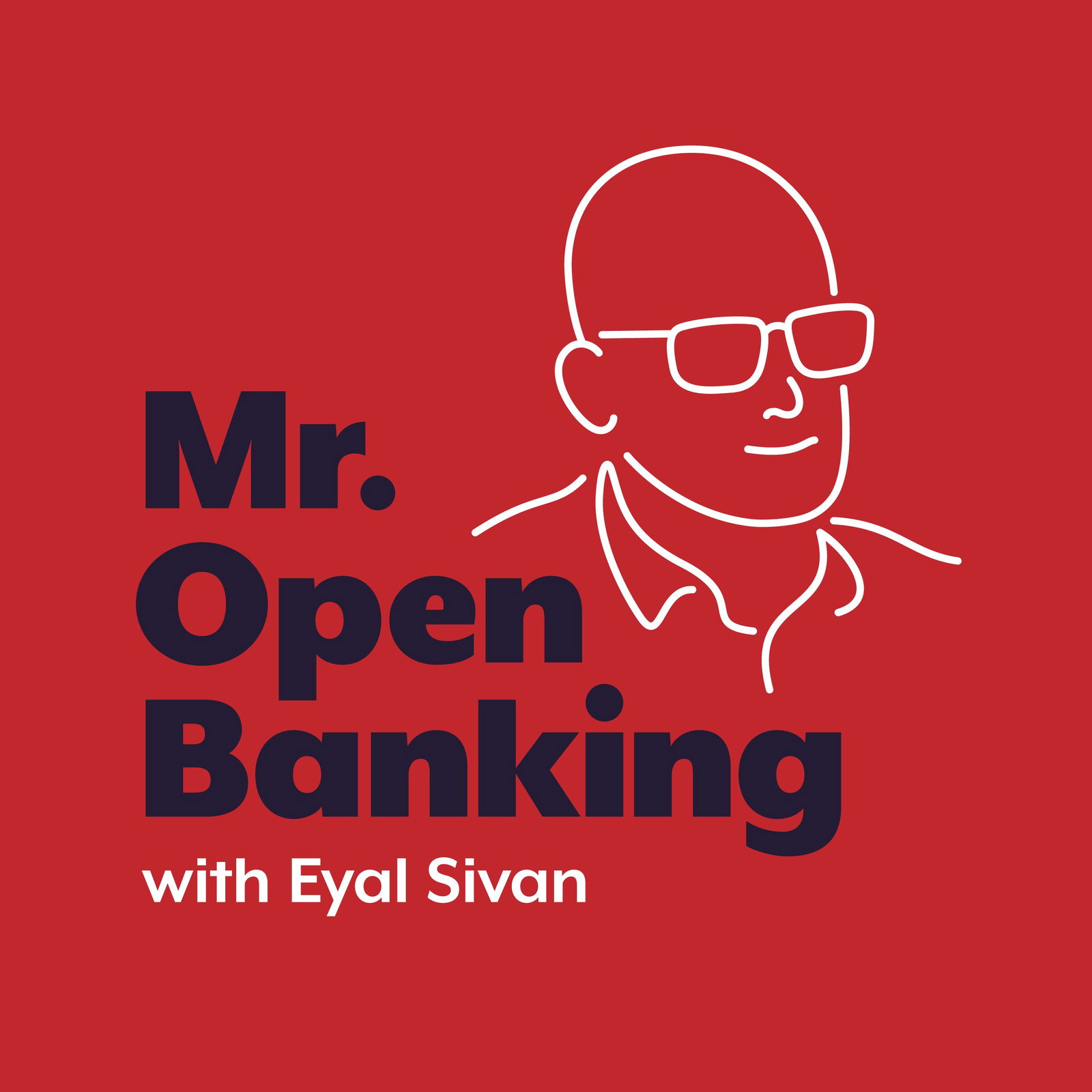 China has been at the frontier of digital banking innovation since 2014, when their tech giants WeChat and AliPay began driving banks to play catch up with raised user expectations. Creating an entirely different financial ecosystem than what one might experience in North America or even Europe, China's banking is completely digitally integrated, with cash a long lost piece of the past. In this episode, Eyal sits down with banking innovation expert and author of "Cashless - China's Digital Currency Revolution", Richard Turrin, to discuss how China got here and where they are headed. They discuss the inner workings of China's digital ecosystem, the role of WeChat and Alipay and the launch of Digital Yuan, and what regions with open banking aspirations can learn from China's experience.Specifically they discuss:How market demand fuelled China's cashless lifestyle;China's different approach to open banking compared to the Western world;Whether or not digital yuan is levelling the playing field for banks; How CBDCs will coexist with payment apps; What others can learn from China's digital banking journey
There is little doubt that the birthplace of open banking is Europe. As a concept, open banking can be traced to much earlier times, but it was Europe who, in 2015, enacted the first open banking legislation in the form of the PSD2. Fast forward to today, and Europe is reaping the rewards of being the first mover. Thousands of banks and hundreds of fintechs are now leveraging open banking to communicate with each other using common, secure standards, driving an explosion of innovative financial products and services all across the EU. Although Europe seems united behind common legislation, there have still been delays and confusion, and what works for some countries, doesn't necessarily work for others. In this episode, Eyal sits down with Panagiotis Kriaris, Head of Business Development at German payment services provider Unzer. Panagiotis has been at the forefront of global open banking since it began, and has spent his career at the intersection of business and technology, bringing senior expertise to financial services across the board, including banking payments, fintech and e-commerce.Specifically, Eyal and Panagiotis discuss:The history and evolution of open banking in Europe;The inevitable disintermediation of financial services;The coming age of embedded finance;Banks that have been successful in open banking;Advice for those hoping to implement open banking.
The concept of digital disruption is no longer revolutionary for most businesses. In fact, digital transformation has become a prerequisite for ensuring you're not left behind. Although banking is often perceived as a dated industry, banks are no strangers to digital disruption, dating back to the inception of ATMs. Yet disruption today is catapulting beyond familiar ground. The emergence and exponential development of the Internet has eliminated costs associated with running a bank and reaching your customers, costs that were previously considered fundamental. This opens up the door for competition and innovation, creating an environment where savvy customers demand intuitive, customized digital experiences from everyone they deal with - including their banks. In this episode, Eyal sits down with Andrew Moor, President and CEO of EQ Bank, Canada's Challenger Bank. EQ is committed to exploring how banks can leverage technology to improve the societies in which they operate, so it comes as no surprise that they are strong advocates of open banking.Specifically, Eyal and Andrew discuss: The Canadian banking landscape;The role of the big five banks;Infrastructure modernization for open banking;How to succeed at launching a digital bank;Business models for banks in the open space.
Open banking isn't just about finance, it's also about improving society. One of open banking's key facets is its ability to create non-zero sum outcomes, meaning that one person's gain doesn't equal another person's loss. Globally, we need to consider how best to harness this quality as we move towards a brighter, greener and more equitable future. In this episode, Eyal sits down with Faith Reynolds, champion of the open banking for good movement. Faith has been in open banking since the beginning, and has worked on a multitude of unique challenges, ranging from enforcement and redress all the way through to accessibility, vulnerability and other issues concerning financial inclusion. Today, Faith is on the board at Fair4All Finance and is a driving force behind Current Account Switch Service at Pay.UK. Together, they discuss how open banking can be used to create a better world, where banks are not just engines of capitalism but also engines of social good. Specifically, Eyal and Faith discuss: Do banks currently provide a social good?;Exploring the Open Banking Manifesto; How open banking can improve vulnerability, accessibility, and inclusion;The real needs of the underbanked; The right of individuals to claim value from their data.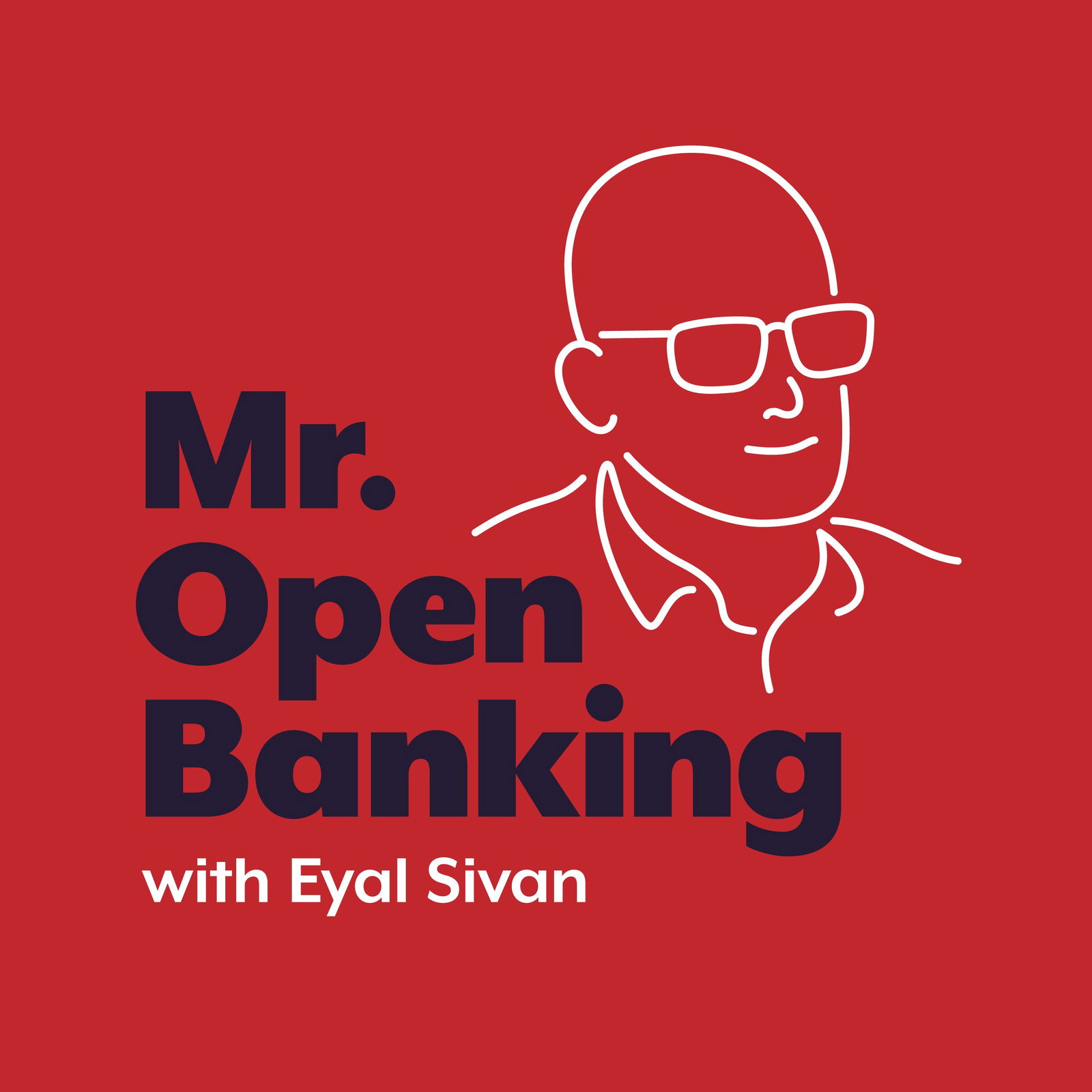 Right now, approximately two billion people across the globe are unbanked - meaning they have no connection to any banking system of any kind. Banks simply cannot make their business model work to serve low-income households properly, let alone the poor, which means that even the simplest of transactions such as payments become a challenge, often widening the gap between the haves and have nots. However, thanks to technology, things are improving. As the open banking movement continues to expand, the unbanked might just be the perfect source of untapped economic potential. On this episode of Mr. Open Banking, Eyal speaks with Carlos Kazuo Missao, the Director of GFT Group in Sao Paulo and a leader in the digital transformation of financial services. The two discuss how Brazil is using open banking to bridge their societal divide between a mature, developed economy and extreme poverty. Specifically, Carlos and Eyal discuss: Who are the unbanked and how do they fit into Brazil's plans; How Brazil's banks are catering the unbanked population; The big three regulations Brazillian banks need to follow;How open banking is leveling the playing field.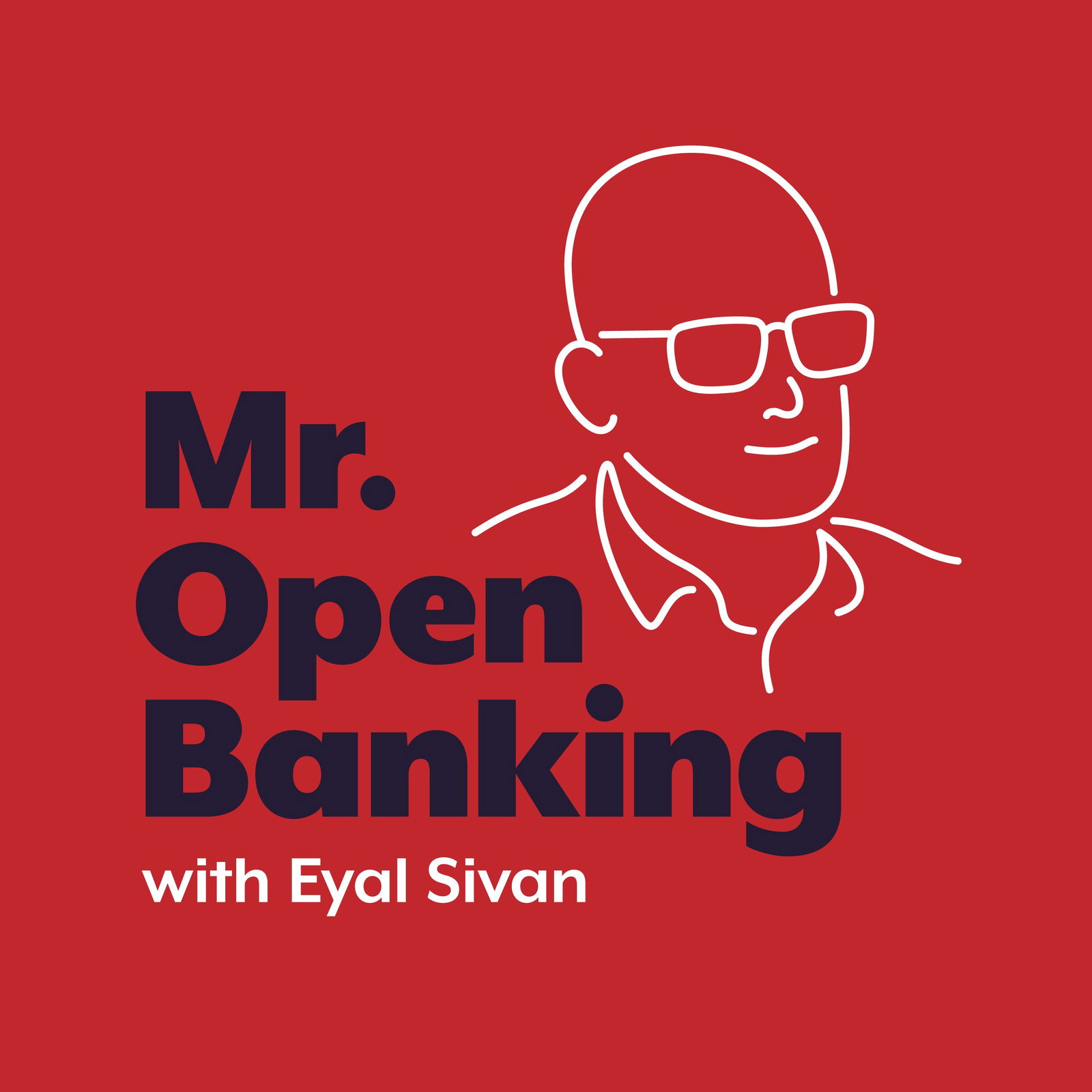 Identity - the simple yet complex concept that makes you, you. But in the digital era, identity encompasses not only the individual attributes you capture about yourself, but those that are only revealed only through your online interactions and behaviours. On the one hand, digital identity is a powerful tool for determining our preferences, helping us make decisions and linking us to our devices, as well as to each other. Yet at the same time, it is a form of surveillance, watching and tracking our every move. So how do we ensure that digital identity is used to evolve our abilities, rather than limit them? How do you manage identity in a distributed, digital world? In our first episode of Season Two, Eyal sits down with Nat Sakimura, a renowned technologist known for his work as Chairman at the OpenID Foundation, where he works as a leading identity and privacy standardization architect to answer these very questions.  Specifically, Nat and Eyal discuss:   Why digital identity and personal data are important;  What the OpenID Foundation is and how it works;  How open banking standards need to adopt digital identity;  Who the identity providers are today;  What is the nature of identity itself.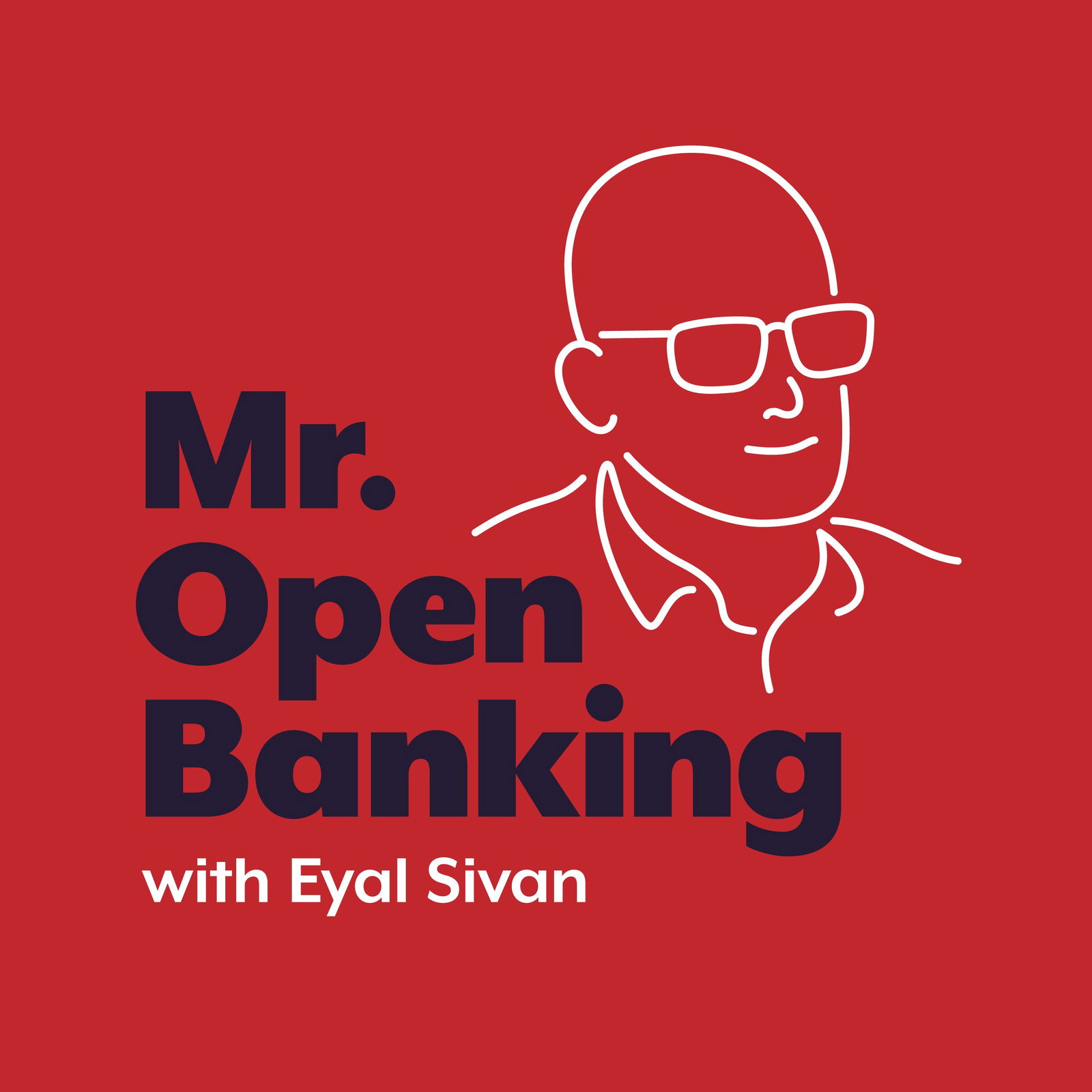 At the heart of open banking lies an important and difficult question: do you own your data?As internet giants like Facebook and Google continue to grow, data rights seem like a natural next step in our society. After all, data has surpassed oil in value and yet, most consumers know very little about what their data is actually being used for and how it is being shared. In our final episode of Mr. Open Banking's first season, Eyal sits down with industry expert James Bligh, Co-Founder of RedCrew and lead developer for Australia's Consumer Data Right (CDR). The two discuss what makes the CDR unique among open banking standards, the debate about whether data is even yours to begin with, and the ongoing journey towards the establishment of universal data rights.Specifically, James and Eyal discuss:What Australia's "Consumer Data Right" (CDR) is and what it means for consumers;The ongoing demand for data to be put back in the hands of consumers;The CDR's implications on Australian banks;The difference between data rights, data standards, data ownership, and data control;How the current data monopolies led by tech giants are impacted by open banking.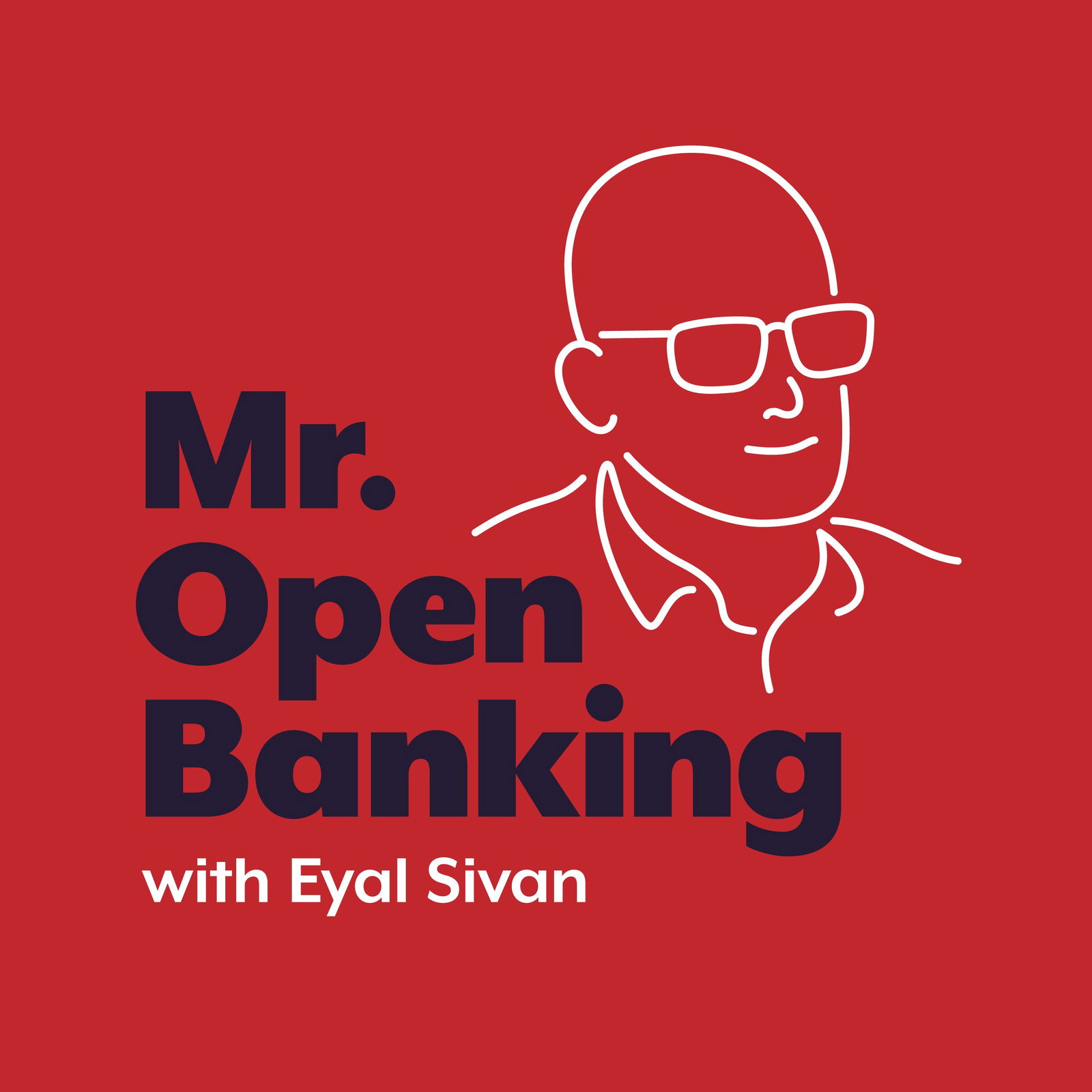 In modern banking, new digital challengers are taking on traditional players by providing a better experience for end-customers. Banks need to either keep up or get left behind. On the seventh episode of Mr. Open Banking, Eyal is joined by David Brear to discuss what David calls "The Banking Battlefield." The two dive into FinTechs' role in challenging major banks to solve consumer problems and the reasons why banks are inhibiting themselves from making changes. David Brear is the Founder and CEO of 11FS, a world-renowned FinTech consultancy that focuses on building and launching the next generation of digital propositions for some of the biggest banks in the world. Specifically, David and Eyal Discuss: What exactly "The Banking Battlefield" is and what it looks like today; The difference between digitize and digital;What GAFAs entrance into the FinTech space means for big banks;The relationship between fintech and open banking.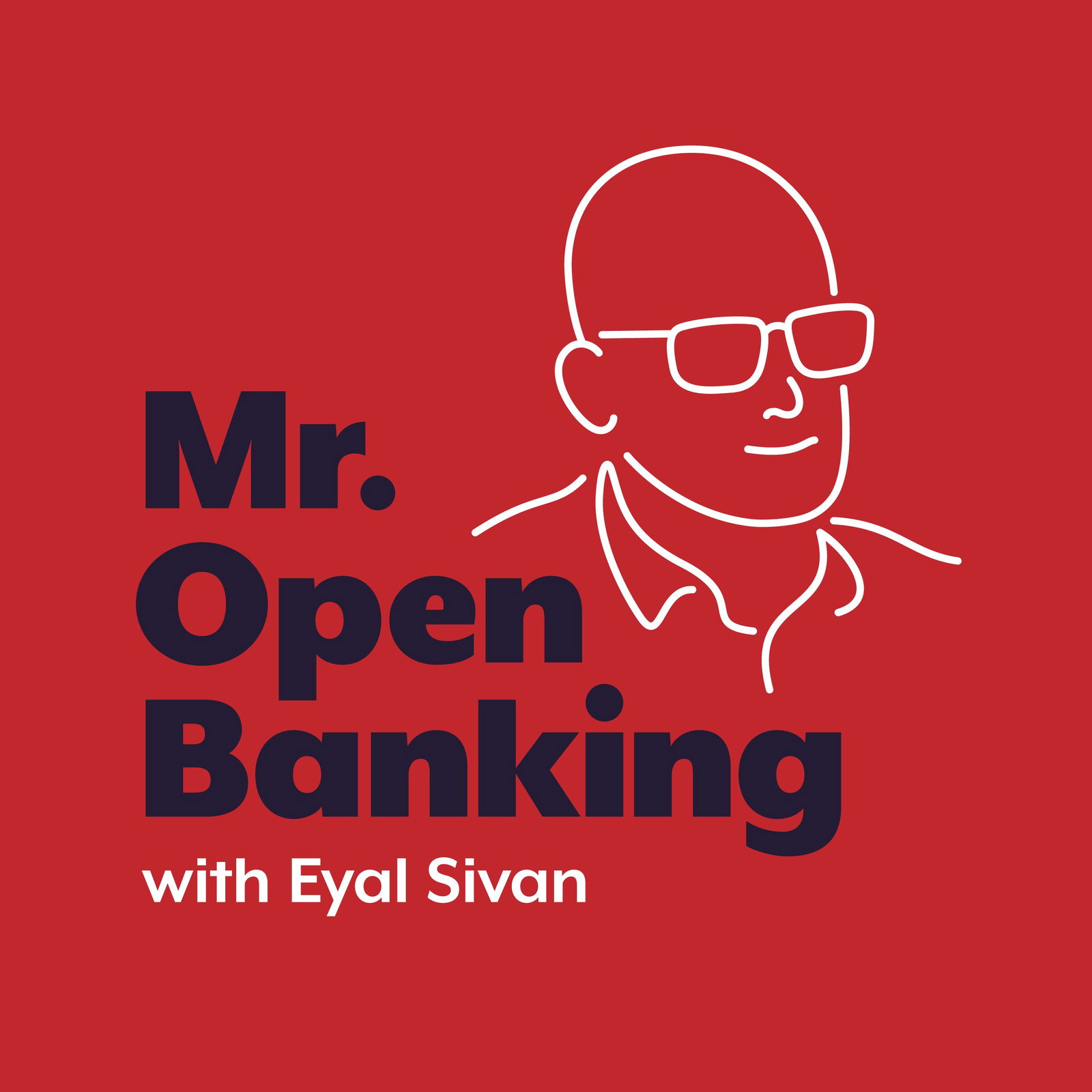 While sharing financial data is part of the equation, open banking only really gets interesting when you add the ability to move money around. In the sixth episode of Mr. Open Banking, Eyal is taking us through the world of payments with Nilixa Devlukia, the CEO and Founder of Payments Solved. A lawyer by background, Nilixa is shaking up the payment ecosystem to make it more secure, transparent, and inclusive. Her work has spanned the European Commission, European Central Bank, and even the EU. Throughout the episode, the two discuss what needs to happen to create an open payments ecosystem across the globe. Specifically, Nilixa and Eyal discuss:What electronic payments are and how they work; How open banking changes the payments landscape ; What still needs to be done to enable open banking payments; The role of cryptocurrencies and central banks;The future of the global payments landscape. To learn more about Nilixa, check out the following: LinkedIn: https://www.linkedin.com/in/nilixa-devlukia-49162a35/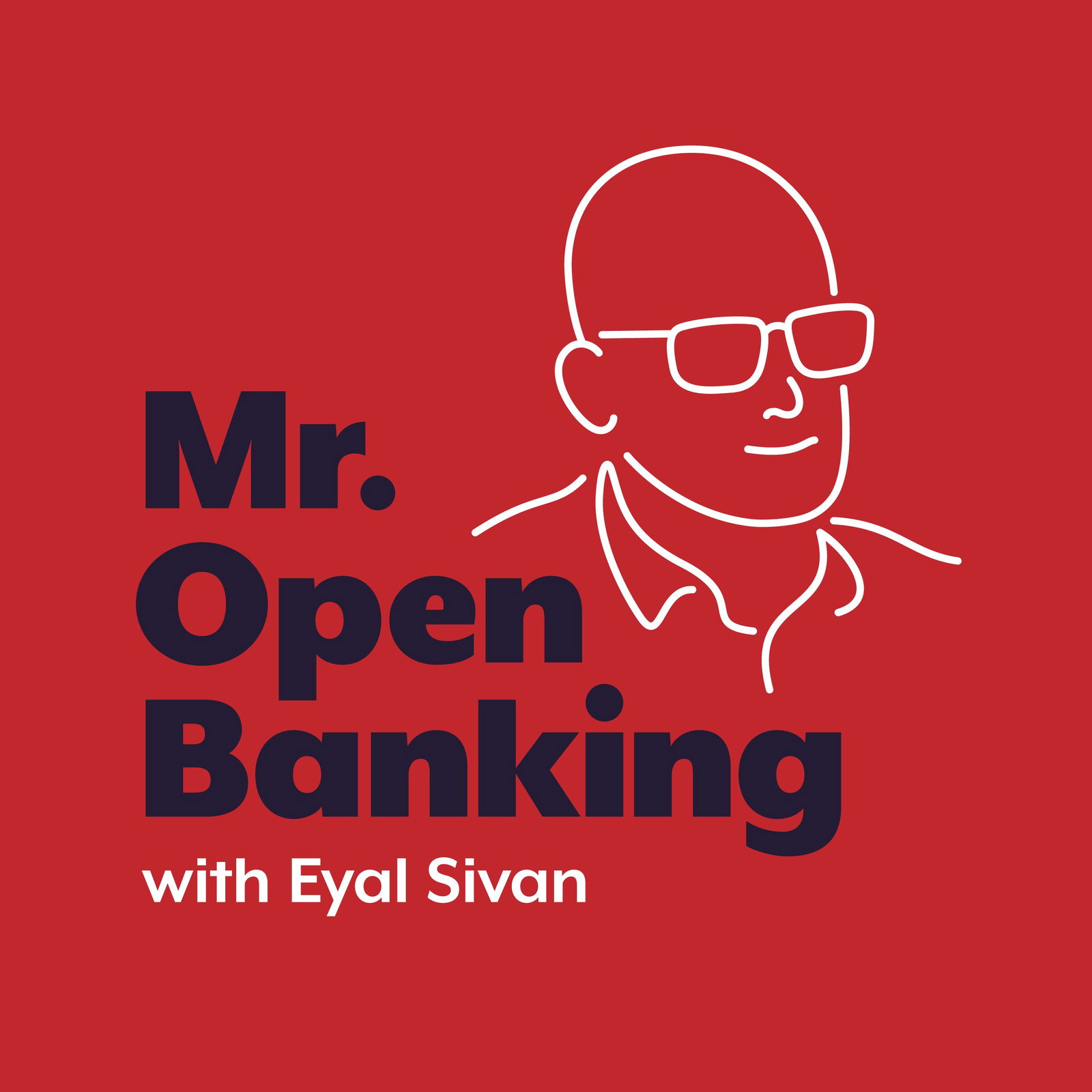 Who controls financial data in Canada? How will the ultimate arrival of open banking change that? In our fifth episode of Mr. Open Banking, Eyal comes home to Canada to discuss the challenges and opportunities surrounding the Canadian ecosystem with Senator Colin Deacon. Prior to joining the Canadian Senate in Nova Scotia, Senator Deacon ran several global technology businesses and today is a vocal advocate for open banking in Canada. During their conversation, they touch on data privacy, financial transparency, and the balance between regulatory and market demand. Specifically, Colin and Eyal discuss:What the financial landscape in Canada currently looks like;The importance of consumer data rights;Why financial transparency is needed to share information between institutions;What pushback has occurred when advocating for a more open, democratic financial system.To learn more about Colin, check out the following: Website: https://sencanada.ca/en/senators/deacon-colin/Twitter: https://twitter.com/colindeacon?lang=enLinkedIn: https://www.linkedin.com/in/senatorcolindeacon/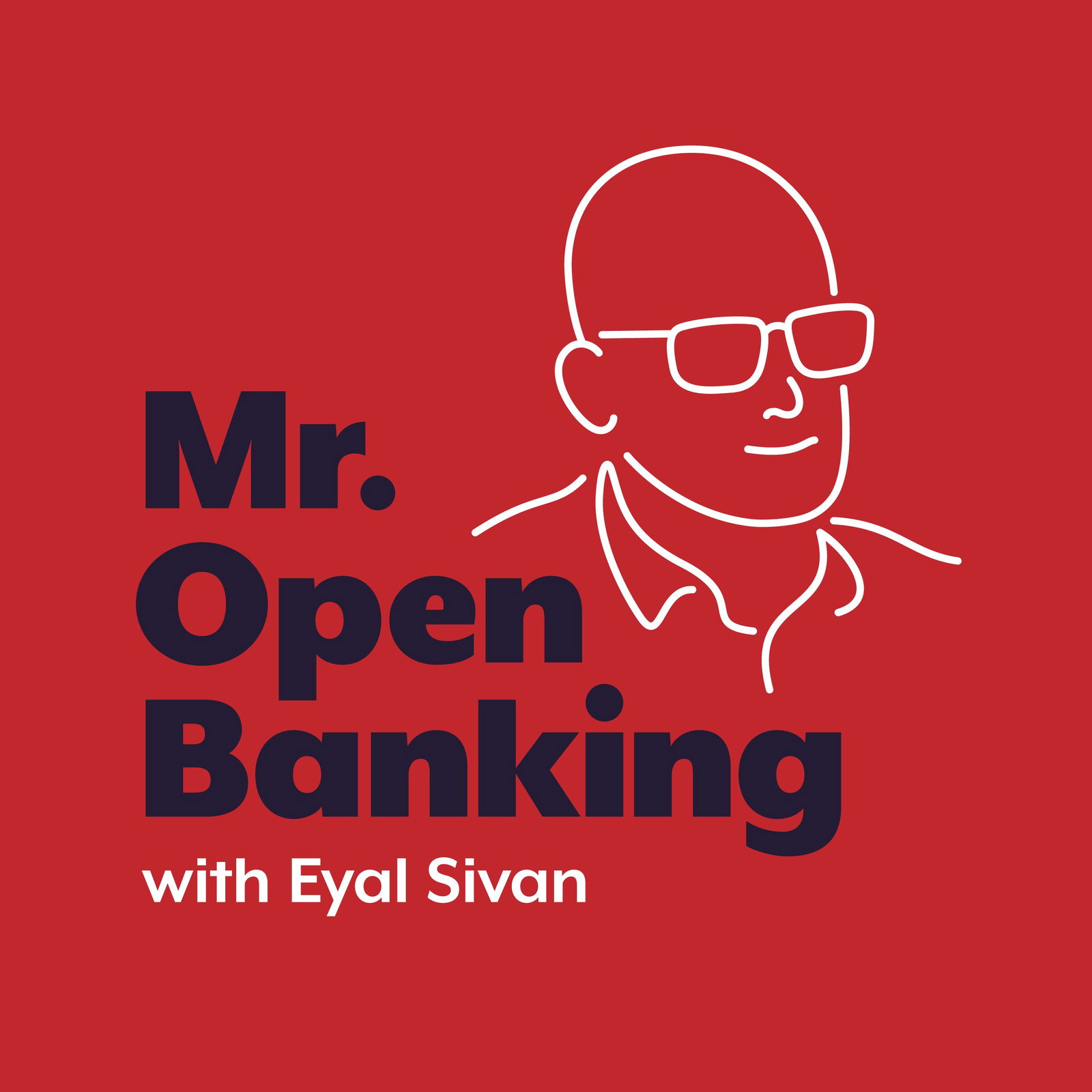 What could radical transparency do for our financial ecosystem? How do we create a world that is built on fundamental uncertainty, that adapts to our needs rather than determining them for us?  On our fourth episode of Mr. Open Banking, Eyal is joined by Paolo Sironi, Global Research Leader Banking and Financial Markets, IBM Institute for Business Value  and author of "Financial Market Transparency" and "FinTech Innovation". By the end of this episode, you will understand the driving philosophical forces behind the open banking movement and gain a big picture understanding of what our financial landscape could look like with and without open banking. Specifically, Paolo and Eyal discuss:How to build a system that is better tailored to our behaviour as human beings;How the economy can better withstand the shocks of uncertain times;Why "radical transparency" is vital for our evolving financial ecosystem; The role of fundamental uncertainty in continually volatile environments; The underlying philosophy of open banking as a whole. To learn more about Paolo, check out the following: Website: http://www.thepsironi.com/Twitter: https://twitter.com/thepsironiLinkedIn: https://www.linkedin.com/in/thepsironi/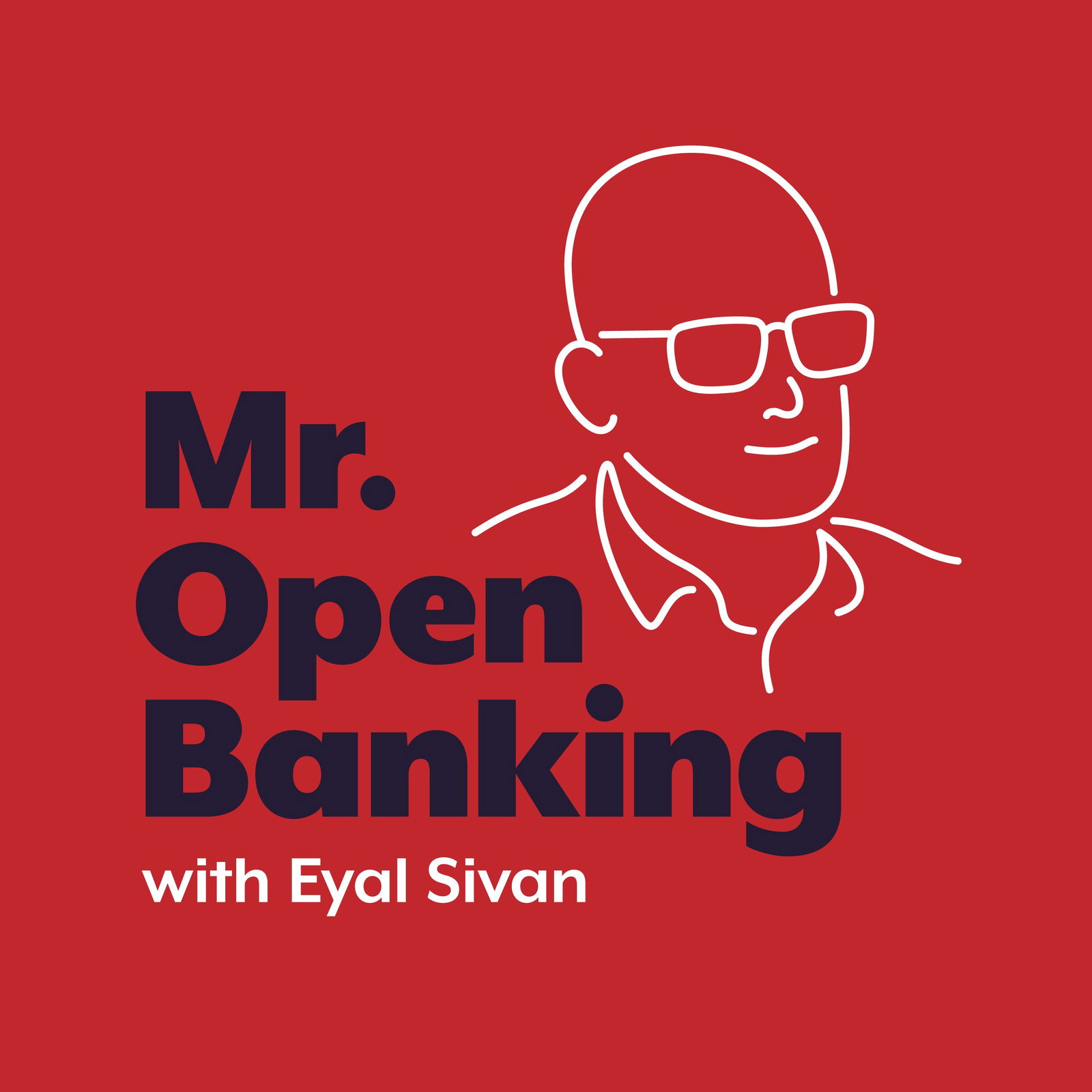 What should come first; customer-centric technologies or regulations? In episode two of Mr. Open Banking, Eyal is chatting with Don Cardinal, the Managing Director of the Financial Data Exchange (FDX). Based out of the United States, Don discusses his perspective on the evolution of open banking, led from a customer-centric perspective and the importance of building collective standards when implementing new financial technologies. By the end of this episode, you will understand the term 'screen scraping,' why APIs are a better way to move forward, and the need for customer-centric design amongst financial products. Specifically, Don and Eyal discuss: Why the term "open banking" isn't commonly used in the United States;The importance of API's to unify financial institutions;How FDX approaches the idea of a global standard; The five key principles to follow when developing an effective open banking standard;Whether or not open banking is simply a set of regulations.To learn more about Don and his work at FDX, check out the following:Website: www.financialdataexchange.orgTwitter: https://twitter.com/fdxorgLinkedIn: https://www.linkedin.com/company/financial-data-exchange/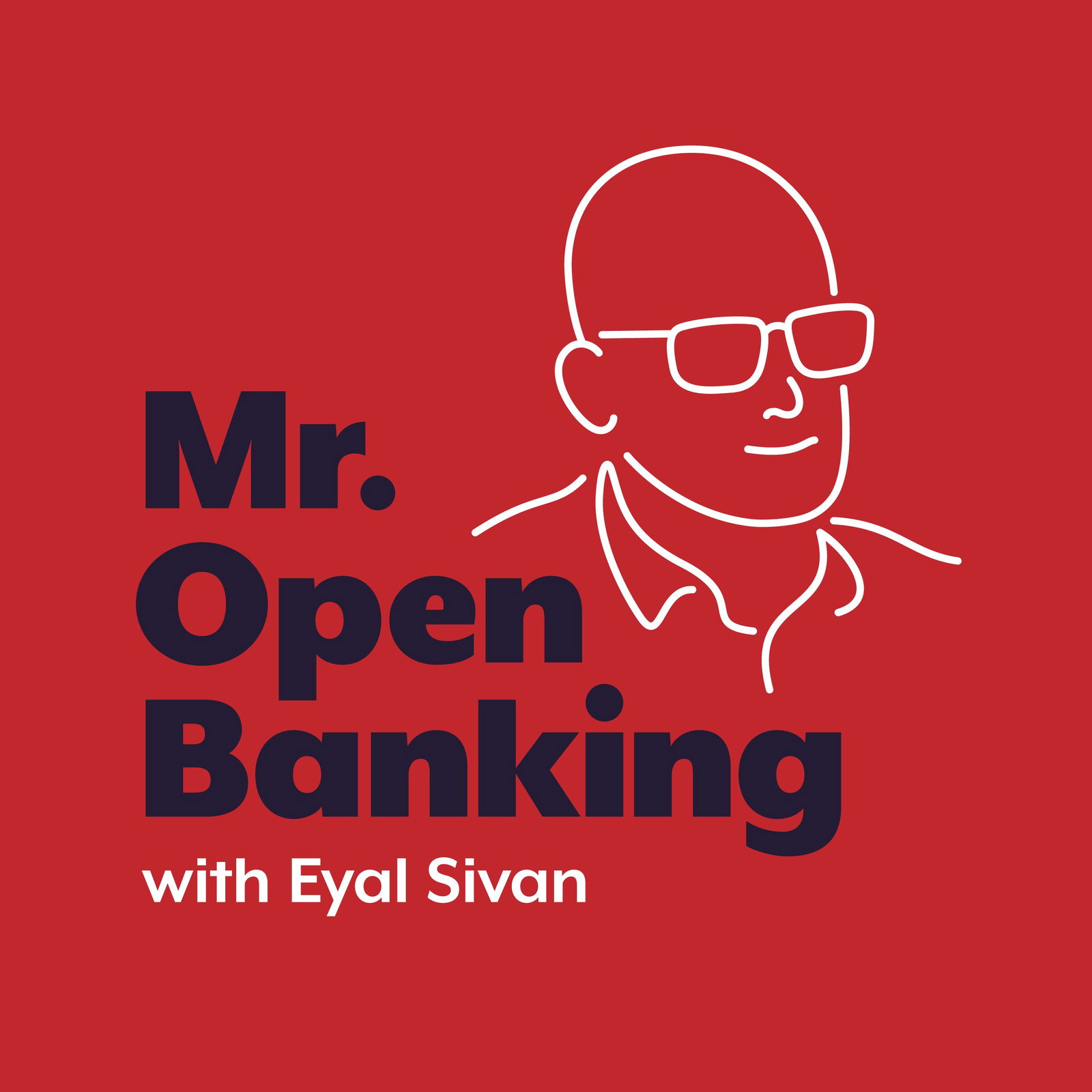 On this episode of Mr. Open Banking, Eyal is joined by Gavin Littlejohn, Chairman of FData Global, a not-for-profit that leads negotiations between banks and regulators to develop their open banking initiatives all over the globe. Their conversation spans the importance of data rights, creating standards, and the global landscape of today's open banking movement. By the end of this episode, you will have a better idea of how to take hold of your own financial data and why regulatory standards are vital to today's open banking movement. Specifically, Gavin and Eyal discuss:The impact of the Revised Payment Services Directive, commonly known as PSD2;The four building blocks of open banking;The difference between the UK and United States open banking efforts;What it means to own your data;The role that FDATA is playing in evolving the open banking movement.To learn more about Gavin and his work at FDATA Global, check out the following:Website: https://fdata.global/Twitter: https://twitter.com/FDATAglobalLinkedIn: https://www.linkedin.com/in/fdata-global-34017716b/
So, what is open banking and how does it work?In our first episode of Mr. Open Banking, Eyal sits down with Chris Michael, the Founder of Ozone API and the development leader of the open banking implementation entity (OBIE), to discuss the technology behind open banking.  If you're not a techie, don't worry, we do our best to explain everything in a simple, easy to understand way. By the end of this episode, you will have a clear foundation of what open banking is all about, how it can be used, and why it is supporting a better financial ecosystem for everyone. Specifically, the episode touches on:What is open banking?What are APIs and why are they important?Is open banking safe?Should we share our financial data?What could happen if banks don't adopt open banking?If you want to learn more about Chris and his work at Ozone API, you can find him atwww.ozoneapi.com. 
United States