Claim Ownership
Author:
Subscribed: 0
Played: 0
Description
A smart, but angry young student who dreamed of becoming a pediatrician; a chemistry major; a Target hourly employee; and a substitute teacher. This was Veronica Wylie's circuitous path to her high school classroom in Hazelhurst, MS. Along the way, she's earned three master's degrees, founded a nonprofit, interned with NASA and is currently collaborating with Harvard to create antiracist science curricula. The motivation behind all of this activity is providing her students opportunities – even if they are 60 feet underwater.Today we visit with Veronica Wylie, high school science teacher at Wylie is a high school chemistry and physical science teacher in Hazlehurst High School. She designed a Fund for Teachers fellowship to earn a diving certification to complete archaeology and marine life trainings with the organization Diving With a Purpose, a nonprofit that partners with the National Association of Black Scuba Divers on submerged heritage preservation and conservation projects worldwide with a focus on the African Diaspora. She is also a Ph.D. candidate in education leadership and administration at Jackson State University in Jackson, Mississippi. Her latest of three graduate degrees is a Master of Arts in Teaching chemistry student at Illinois State University. She interned this summer with NASA's Office of STEM Engagement in Houston and also started collaborating with teams as a Fellow at Harvard's Antiracist Science Education Project through the Department of Molecular and Cellular Biology. One of my first questions to her was, "When do you have time to teach?" to which she replied, "I teach whenever I can, wherever I can, about whatever is relevant." Then I asked her about her work, her students and her fellowship.
The Supreme Court recently ruled that college athletes may benefit from perks beyond tuition, room and board and five state legislatures determined that college athletes may begin profiting from their personal brands.This ruling can be life-changing for student athletes, like those with whom Wendy Hutchinson works. As the academic advisor for the men's basketball team at Edmondson-Westside High School in Baltimore, Wendy is part of the basketball team coaching staff – she even travels with the team and sits on the bench. While two of the school's graduates went on to play in the NBA, Wendy knows that only 1.6% of college athletes make it to the pros. Another statistic represents a more pressing issue for her students: only 55% of Black male student-athletes graduate from college within six years. According to a report produced the USC Race and Equity Center, "Perhaps nowhere in higher education is the disenfranchisement of Black male students more insidious than in college athletics." This summer, Wendy is using a Fund for Teachers grant to make sure her basketball players have a better shot at success in all its forms.
Prior to the pandemic, experts widely acknowledged that America's students were experiencing a mental health crisis. A 2017 CDC report showed that suicide was the second-leading cause of death for 15-24 year olds. Add incidents of self-harm into the equation and the outlook is even more bleak. The average age a student begins self-harming habits is 13 and 45% of people use cutting as their method of self-injury. And who has the most exposure to students during these years? Ostensibly, its teachers.Earlier this year, the Brookings Institution published an article titled "Educators are key in protecting student mental health during the COVID-19 pandemic." Cassi Clausen, teacher and founder of The Open School in Mission Viejo, CA, realized she was not equipped for this challenge. In 2018 Cassi received a Fund for Teachers grant to Attend the annual Sudbury Schools Conference in Kingston, NY, to learn best practices for supporting at-risk students. Using one of Fund for Teachers' new Innovation Grants, she will spend the summer in dialogue with psychology Dr. Thomas D'Angelo, an expert in pre-teen and teen mental health and self-harm practices, to shift her personal understanding of self-harm and learn how to create safe spaces for struggling students.____________________________________________________________________________Resources referenced in the podcast:This American Life's "Kid Politics" on democratic educationAmerican Psychological Association article "A New Look at Self Injury"
Two hours south of Helen Keller's home is the town of Trussville. Every elementary, middle and high school has the same mascot and the district prides itself on "One Trussville." So it stands to reason that when 15 visually impaired students lacked resources to help them stay on pace, their peers stepped up. Led by two Fund for Teachers Fellows, elementary students learned how to braille through a year-long elective called "Build A Better Book," an effort that drew the heartfelt thanks of parents and the interest of twelfth grade engineering students.Today we visit with April Chamberlain, technology director for Trussville City Schools. At the time of her fellowship, April was a librarian who, with the district's four other librarians, researched best practices modeled by Chicago-area school libraries to redesign how students work with space, time, resources and community mentors in order to explore, create and publish using new media. She holds a bachelors and master's degree in Early Childhood Education and is actively involved in the Alabama Leaders of Educational Technology, Alabama Digital Literacy Computer Science Course of Study Committee and Task Force, @TechBirmingham, and International Society for Technology in Education. April is now the technology coordinator for Trussville City Schools and when we learned how she is facilitating students' efforts to create adaptive resources for visually-impaired peers, we had to find out more.
For the first time in our 20-year history, Fund for Teachers will host a national convening of educators called Plan It for the Planet – An Environmental Summit on Saturday, April 10th. This free virtual event, cohosted by the Association of Zoos and Aquariums, will bring together leading innovators from America's preeminent environmental organizations to help teachers and their students develop action plans to implement in their school communities. (For more information and to register, click here.)The summit brought to mind a 2017 Fund for Teachers Fellow who is also an environmental innovator – Aaron Appleton. In addition to researching the connection between an Indonesian rainforest and the carbon marketplace with a Fund for Teachers grant, he has also researched the carbon sequestration capacity of meadows in the Sierra Nevada Mountains with a grant from Earthwatch Institute and cougars of Yellowstone National Park with a grant from Ecology Project International. Aaron is now leveraging his experiences teaching and researching to shift from environmental innovator to educational incubator by developing new virtual reality platform at the Harvard Innovation Lab to morph science education away from a transactional process to a constructive one.While we had an interesting discussion on his life as a teacher's kid and an ethnomusicology major, his startup and his thoughts on what science education will look like post-pandemic, Aaron had a few questions of his own about how things are going at Fund for Teachers...
When Enkeleda Gjoni's students enter her math class, learning geometry is the least of their problems. One hundred percent of her students are English Language Learners, as was Enkeleda when she immigrated from Albania with "only her education." Two decades later, she holds two master's degrees and models for her students what is possible – especially for someone who is competent in mathematics.Today we're learning from Enkeleda Gjoni, 2019 Fund for Teachers Fellow and math teacher at Boston International High School, where 100% of her students are English Language Learners. The daughter of a teacher, Enkeleda is originally from Albania, where she earned her bachelor's degree in Education and Mathematics. She immigrated to the United States two decades ago knowing no English and now holds one master's degree in Education from the University of Massachusetts at Boston and the other in Teaching Mathematics from Harvard University. She is also a member of the English Learners Success Forum, an Edvestor's Math Fellow, an advisory board member for the Better Math Teaching Network and member of the Massachusetts Consortium for Innovative Education Assessment. With her Fund for Teachers grant, Enkeleda investigated the connection between math, history, and art through research of the Parthenon, Acropolis, theaters, and churches in Greece to deepen knowledge of Greek mathematicians and founders of math (such as Euclid, Pythagoras, and Archimedes) and create hands-on, multidisciplinary projects for students and the wider educational community. In advance of Pi Day (March 14, 3.14) I was curious about how Enkeleda became a math teacher and, particularly, how she engages non-native speakers with mathematical equations.
Each generation has a novel. For teenagers today, it might be The Hunger Games, for the generation before, Harry Potter. It's the book that ushered students into reading when nothing else would. For those of us who grew up in the 70s or 80s, that book was The Outsiders by S.E. Hinton. Made into an iconic movie by Francis Ford Copolla who directed the VERY young Tom Cruise, Matt Dillon, Patrick Swayze, Emilio Estevez, Rob Lowe, Ralph Macchio, and C. Thomas Howell as Ponyboy, The Outsiders holds a consistent place on students' required reading lists, including that of Gary Malone – 8th grade English teacher at Junior High School 189 in Flushing, New York.Today we visit with Gary, who designed his Fund for Teachers fellowship to experience locations in Tulsa, OK, that Hinton and Copolla brought to life in The Outsiders. Along the way, he was interviewed by The New York Daily News and Tulsa World, attended the Grand Opening of The Outsiders House Museum, met author S.E. Hinton herself and established a collaborative writing initiative called "The Stay Gold Project" to inspire students' creation of their own realistic fiction pieces based on their communities.
Are you considering applying for a Fund for Teachers grant, but don't know where to start? What better place than to take advice from Maine's 2021 Teacher of the Year and Fund for Teachers Fellow Cindy Soule. Cindy is a 4th grade teacher at Gerald E. Talbot Community School and holds a Master of Science in Special Education from the University of Southern Maine and a Bachelor of Arts in Social Work from the University of Maine at Orono. In addition to recently being named Teacher of the Year, she is also a candidate for Presidential Award for Excellence in Mathematics and Science Teaching.This summer, she and two peers will use their Fund for Teachers grant to explore phenomenon in Hawaii related to Earth, Physical, and Life Science units to create opportunities for organic student-driven inquiry aligned to Next Generation Science Standards and applied across the district. We caught up with Cindy in her classroom to talk about her fellowship, statewide recognition, Brené Brown's influence on her well-being as a teacher and her tips for crafting a successful Fund for Teachers proposal.
A CNN report cites that after America's 2016 presidential election, our collective stress "metastasized into a full on cultural disorder" called American Thanksgiving Anxiety. So what are we approaching in the wake of the 2020 election AND a pandemic? Many of us are anticipating a Thanksgiving meal at a dinner table surrounded by masked and politically-polarized relatives – so there's no better time to learn from a Fund for Teachers Fellow who pursued learning around creating communities of peace.Today we visit with Treena Thibodeau, middle school teacher at New York City's Chinese/English dual language Shuang Wen School. After realizing the high level of stress and competition among her students who vie for coveted seats at one of the city's nine elite public high schools, Treena designed a fellowship to explore restorative justice practices among New Zealand's Maori culture and the Lakota Sioux to integrate equity and peacemaking practices within the school culture.We caught up with Treena in her classroom to talk about what she learned on her fellowship and what we can apply not only with students, but also with our larger communities.
The 1968 musical film "Chitty Chitty Bang Bang," gave us a charming performance by Dick Van Dyke, a nightmarish scene involving a Child Catcher, and an Academy-award nominated song that shares the film's title. The film's lesser known tune "From the ashes of disaster grow the roses of success" could characterize the work of Swedish landscape architect Charles Theodore Sorenson. From the ashes of HIS disaster, however, grew the concept of Adventure Playgrounds. Sorenson built elaborate playgrounds, but no children played. In 1931, he imagined instead a "junk playground" in which children could create and shape, dream and imagine a reality. His idea of a junk playground, one equipped with hammers, nails, saws and even fire, is now called an Adventure Playground and there are more than 1,000 of them across Europe. In the United States, there are only a handful of these sites that facilitate "risky" or "child-directed play," making the research of Adventure Playgrounds nearly impossible for two teachers from a suburban village adjacent to Chicago. Until they received a Fund for Teachers grant.
At first glance, commonalities between an Iowa women's prison, a teen sex education office, an alternative school in neutral gang territory, an orphanage in Rwanda, and Stanford University is difficult to identify. But there are actually two things all of these locations have in common – social emotional learning and today's guest, Lara Schmidt.Lara is a teacher on special assignment with the San Francisco Unified School District. She is currently a co-director of its Advancement Via Individual Determination program serving first generation college students and also an Induction Coach working with new teachers. Prior to this post, Lara earned a Master's degree in Education Policy, Organization and Leadership Studies from the Stanford University Graduate School of Education, where she also lectured and worked as assistant director of professional development; while in graduate school, she was also a policy analyst intern for restorative justice initiatives with SFUSD, where she previously established a special education program at Leadership High School. But before any of that, Lara was a Fund for Teachers Fellow and designed a fellowship to investigate how Agahoza-Shalom Youth Village in Rwanda teaches traumatized students coping skills through social emotional learning curriculum, advisory programs and service learning. My initial conversation with Lara was postponed due to the wildfires threatening San Francisco, so I was grateful for the opportunity to visit with her about her passion for social emotional learning, students burdened with multiple childhood traumas and the teachers who work alongside them.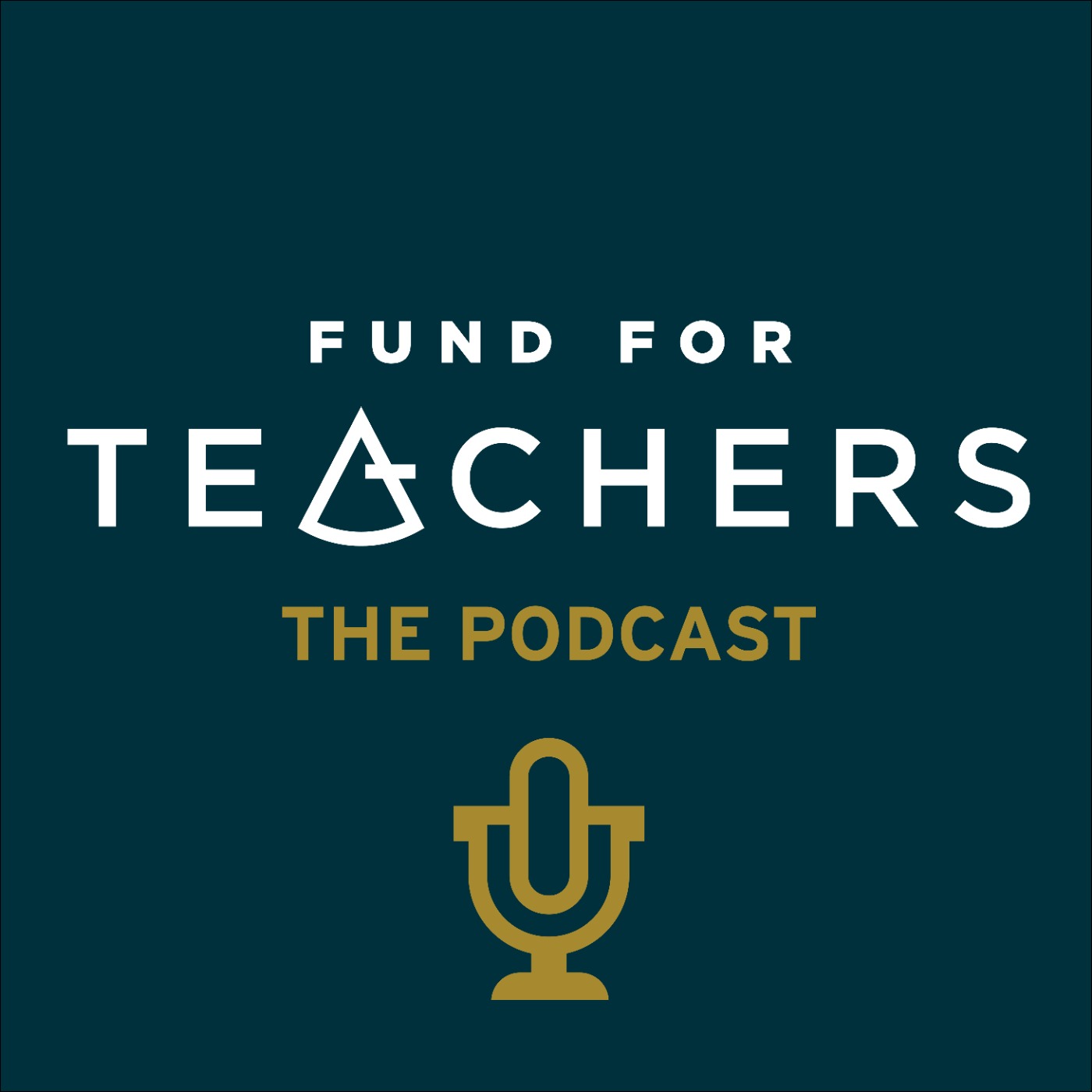 Tina Vasquez is a first generation American, and so are the students she teaches at Charlottesville High School. But their experiences as immigrants are very different. Tina came to America with her parents from Germany; one of her students arrived from Central America via a truck concealing layers of humans stacked on each other and a subsequent walk across a desert. Other students have never been to school before, never sat at a desk – spending their lives working in agricultural fields to help support their families. Her students most often arrive alone, hoping to connect with family members resettled there by the International Rescue Committee. And they look to Tina hoping to develop survival language skills, social emotional skills and friends.Today we visit with Tina Vasquez, teacher of Newcomer Students at Charlottesville High School in Charlottesville, VA. Tina is a new 2020 Fellow who designed a fellowship to attend the International Colloquium on Languages, Cultures, and Identity in Schools and Society, in Soria, Spain. When she executes her plans next summer, she will begin on the shores of southern Spain where most refugees arrive by boat, attend and present at the Colloquium, research across Spain innovative programming addressing the refugee issue, and complete a home stay. All of this to explore the impact of ethnic and cultural identity-related issues on academic success in Newcomer high school refugee and immigrant English Learners and develop new approaches that support them.
Were you one of the millions of viewers who didn't give away their shot at watching the Hamilton premiere on Disney+ last weekend? Billed as "the ultimate immigrant success story," the blockbuster musical was penned by and starred a man who grew up in an immigrant community playing the only Founding Father not from America. Lin Manuel-Miranda told Oprah that, "As an immigrant, you work three times as hard and are promised maybe a fraction as much." This fact, not the choreographed chronicle of Alexander, more closely reflects the lived experience of Tim Leon-Getten and his "Spanish for Spanish Speakers" students.Most of Tim's ancestors settled in Minnesota from Ireland during the Potato Famine. His great-great-grandmother was the first European born along the shores of Lake Minnetonka. His other side of the family came from Sweden in the 1880's and his great-grandfather Carl Gustav wrote the fight song for the University of Minnesota, where Tim earned his graduate degree. Tim's path to teaching Spanish began when he loved learning as an exchange student in Chile and later Spain. Twenty-nine years later, we have the privilege of talking with him about immigration and his students at Open World Learning Community in Saint Paul, MN.
According to a brief published by the Higher Education Research Institute at UCLA, white college freshmen entering civil, mechanical and electrical engineering programs outnumber Black and Indigenous People of Color 7:1. A panel of experts at the National Academies of Science, Engineering and Medicine cited factors such as lack of funding and resources available for minorities who want to focus on STEM, the lack of accessibility to technology by low-income students, and sub-par teaching at lower tier schools. These experts never toured The Howard School's Future Ready Institute of Architecture, Engineering and Construction in Chattanooga, or met its director, Japho Hardin.Japho designed his fellowship to enroll at Yestermorrow Design/Build School in Waitsville, VT. Afterwards, he will experience an off-campus design/build program called The Rural Studio at Auburn University, and document prominent works of American Architecture in New York City. His mission, both at The Howard School and with this fellowship, is to provide Architectural & Engineering Design students with equitable access to quality design education.
A report prepared by the US Navy for the Department of Defense documents that "more than 40,000 American Indians left their reservations during World War II to serve in ordnance depots, factories, and battle fields. American Indians also invested more than $50 million in war bonds, and contributed generously to the Red Cross and the Army and Navy Relief societies." The Institute for American Studies reports that Native Americans had the highest ratio of service men of any ethnic minority or the white majority -- with 42% of the eligible adult Indian males serving in the war. Furthermore, 40 percent more Native Americans voluntarily enlisted than had been drafted.Why, then, are there so few resources documenting Native Americans' role in World War II's European theatre? That's what Bret Godfrey wanted to know. The son of a Naval officer and the member of the Potawatomi Tribe in Oklahoma, Bret wanted to teach the sacrifices made by his forefathers and those of many of his students at the American Indian Magnet in Saint Paul, MN. After finding no curriculum and no mention of American Indians' WWII contributions in Minnesota's social studies standards – Bret decided to create his own resources using a Fund for Teachers grant.
In her essay "Don't Say Nothing," Jamilah Pitts exhorts educators that teaching as an act of resistance and teaching as an act of healing are not mutually exclusive. That when teachers choose to remain silent about moments of racial tension or violence—violence that may well touch students' own communities or families—these children are overtly reminded of their inferior place in society. That engaging in dialogue about mass incarceration rates; the militarism of police and the killing of innocent black men and women is but one antidote to systemic racism. That essay was written FOUR YEARS AGO, in the fall of 2016, after the murder of Trayvon Martin, Sandra Bland, Alton Sterling, and Philando Castile and before the killngs of Delrawn Small, Botham Jean, Breonna Taylor and Ahmaud Arbery. Last week, after the murder of George Floyd, Fund for Teachers reposted Jamilah's article and reached for her thoughts on what, if anything, has changed on the racial pandemic landscape since she wrote her piece in 2016.
In the United States, 6.4 million children between the ages of 4-17 have been diagnosed with Attention Deficit Hyperactivity Disorder and about 1 in 54 children are identified with Autism Spectrum Disorder. Those statistics are heightened at Ledyard Middle School in Gales Ferry, CT, where one-third of the student population receives either special education services or 504 accommodations for ADHD, autism, learning disabilities, or emotional needs. Kristen is a veteran special education teacher and recreational cyclist. When the Connecticut Cycling Advancement Program came to her school five years ago suggesting that cycling could help children focus and also improve academic performance, Kristen took the handle bars and now coaches the largest school bike club in the state. Listen to how she built a collaborative community among special education students and those from transient military families, members of the nearby Mashantucket Pequot Tribal Nation, and the general student population of the local middle and high schools; and how she plans to expand the program with a Fund for Teachers grant.
According to The New York Times article, "How Do We Tell A New Generation of Teenagers About the Vietnam War?" the majority of ground troops in Vietnam were teenagers and those who had recently been teenagers. This is exactly the age group that Rachel Eastman teaches United States History at Clear Creek High School in League City, Texas, 30 minutes southeast of Houston. A home-schooled student from kindergarten through high school, Rachel decided to become a teacher after her professors at College of the Ozarks made history come to life for her. She believes that students who value history will, in turn, become empathetic and thoughtful citizens who are invested in civil discourse and community involvement. It's this belief that inspired her Fund for Teachers fellowship proposal which ultimately made her a 2020 Fund for Teachers Fellow.In crafting her fellowship proposal to research the Vietnam War, Rachel attended a Veterans meeting and sought their input for designing an experience that would make Vietnam and the war meaningful and relevant to her students. As a result, she will explore, document and photograph historic sites, while volunteering with the non-profit Peace Trees to, enhance instruction of this era and accompany learning provided through Vietnam Veterans' classroom visits.
In the video Sarah Kirk submitted for the Oklahoma School Counselor of the Year last year – an honor she subsequently won -- she quoted a report stating that if students have just one person who loves and believes in them, their outcomes are far greater. "Well," Sarah said, "I want to go beyond that. I want to be the one person who is absolutely crazy about them. I want them to know that this is more than a job for me, that they truly have my heart." But how does Sarah do that when students can no longer come to Kendall-Whittier Elementary School in Tulsa, OK? That's what NPR's Morning Edition wanted to know for its April 20th story titled "Closed Schools are Creating More Trauma for Students." And because Sarah is a 2019 Fund for Teachers Fellow, we were able to catch up with her to hear more and learn how all of us can help students experiencing trauma.Sarah used her FFT grant to complete ChildLight Yoga and Mindfulness for Children Teacher Training in Dover, NH, to -- as the school counselor -- help young people develop body awareness, manage stress through breathing and access an alternative to tuning out through constant attachment to electronic devices. Sarah is a member of the American School Counselor Association Board of Directors, the Oklahoma School Counselor of the Year and a national finalist for School Counselor of the Year. The daughter of a teacher, Sarah earned undergraduate degree in Human Development and Family Science, as well as her Masters degree in Counseling from Oklahoma State University. She is currently pursuing her PhD in Counselor Education and Supervision. She has a heart for creating and implementing programs and interventions that meet the needs of the whole child, and – for the past four weeks – meeting those needs has primarily revolved around determining if the 900 students at her school are safe and have enough food to eat.
On the morning of March 11, as the coronavirus began closing schools and teachers began considering what remote learning might look like, Trina Harlow (a veteran art teacher) pondered what she could do to support her peers attempting to teach a tactile subject over Zoom. She created the Online Art Teachers (K-12) Facebook group, primarily as a service project of sorts – for art teachers/by art teachers. Now one month later, that group has almost 10,000 members from 110 countries and 130,000 posts providing art projects and resources for students learning from home.
United States