Discover
Let's Be Real with Karmen Stamps
Let's Be Real with Karmen Stamps
Author: Karmen Stamps
Subscribed: 1
Played: 6
© Copyright 2020
Description
Authenticity is hard to come by in our culture today. If you are looking for more "real-ness" in your life, this is the podcast for you. Join Karmen as she shares short devotionals that may be just what you need to be real in this thing we call life.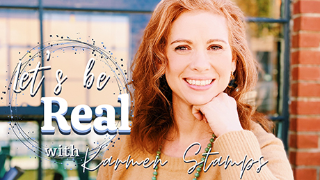 Episode 36: The last seven Psalms focuses in on the reasons to Praise the Lord. Find encouragement during Thanksgiving week to Praise the Lord regardless of your circumstances. Happy Thanksgiving! Scripture References: Psalm 144:1-4, 9-10 Psalm 145 Psalm 146:1-2 Psalm 147:1-7 Psalm 148 Psalm 149:1-5 Psalm 150
Episode 35: Karmen and her daughter Shelby look at Psalm 136 and discuss if they could be thankful if God was the only thing left in life. Could you?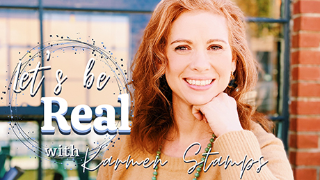 Episode 34: The heart of the believer should be thankful every day not just on Thanksgiving Day. Karmen encourages us in today's episode to begin being thankful with looking at the character of God described in Psalm 103
Episode 33: God can and does answer prayers. What have you prayed for? How has he answered? He is faithful to answer those. Join Karmen today as she looks at Psalm 138 to answer these questions.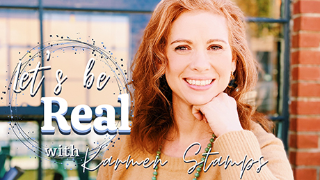 Episode 32: November 3rd will mark the day that the US decides it's future. I am not exaggerating. In my personal and humble opinion, the future of the US is at stake. Seek God. Research the candidates. Vote. Helpful websites for candidate information: https://ivoterguide.com https://www.myfaithvotes.org prayvotestand.org American Family Association
Episode 31: Spiritually we drift and if we are not careful, aware and watchful, we will be far away from where we started.
Episode 30: Are you tossed by the storms in your life? Do you fight the storms? Do you just want to escape? I challenge you (as well as myself) to not be so quick to pray the next storm away. God has purposes for those storms.
Episode 29: Today Karmen continues the journey through Psalm 107. She will be looking at the 3rd type of person in need of God's redemption. "The Sick Fool" finds themselves in a sick foolish state because not their own rebellion from God's way. Join Karmen as she looks at this person and how God breaks through the foolishness to bring redemption.
Episode 28: In today's episode, Karmen looks at the one needing redemption who has found himself/herself in a depressed dark prison shackled in place with iron chains. Frozen. Just sitting in utter seclusion not knowing what the next move should be. Join her as she looks at God's redeeming power for the "Depressed Prisoner".
Episode 27: Have you wandered from the good place of spiritual peace, rest, provision? If so, cry out to God. He is waiting to deliver you and lead you back to the good city where he can supply all your spiritual needs.
Episode 26: God is in the redemption business. He is out searching for those he can redeem. He can rescue. He can bring home. He did it for the Israelites and the early church. He did it for me and he can do it for you!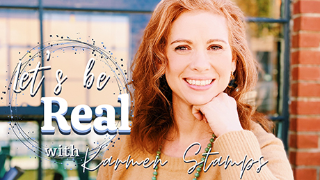 Episode 25: Join Karmen as she talks more with her coworker Debbie. Debbie shares her personal redemption story of deciding to her abort her 2nd baby and the healing and forgiveness that God brought to her life in the years that followed. Debbie wants anyone who has abortion as part of their story to know there is forgiveness. Post-Abortion Hotline: Concepts of Truth International 1-866-482-life.
Karmen sits down with her work "Sister" Debbie to discuss how God can be glorified and honored in your work life. They have learned through prayer and grace filled interaction, that they can work together in unity and love.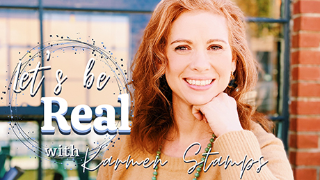 Karmen sits down with her mom, Adale for a real conversation about being a mother and the ups and downs that come with that calling.
Karmen continues her podcast with her husband, Bryan with a real conversation about marriage.
Karmen sits down this week with her husband, Bryan with a real conversation about marriage.
Episode #20 - The Glue of the Armor This last piece of armor is the glue that holds all the pieces together. Without prayer, those other pieces may fall off one by one and without even realizing it, we are again exposed to the enemy's attacks. Pray without ceasing!
Episode 19: A Sword, not a Butter-knife Don't go through your spiritual life thinking the bible is nothing more than a butter knife. See it as what it is--a deadly sword that can cut to the core of Satan's schemes and to the truth of any matter.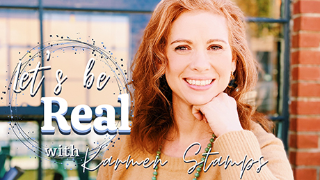 Episode 18: Helmet Yes Please! The free gift of salvation that we gladly accepted at the time of belief is the same salvation we need for the protection of our heads. More specifically our minds!
Episode 17: A Shield from the Elements This piece, regardless of the sour elements, shields and protects. The Shield of Faith is the 4th piece of God's supernatural protection plan. Faith will not work as a shield if I leave it in the proverbial spiritual coat closet. The shield is the outward demonstration of an inward faith.
United States