Discover
Erotic Stories from Wylde in Bed
Claim Ownership
Erotic Stories from Wylde in Bed
Author: Devlin Wylde
Subscribed: 825
Played: 27,937
© Copyright Devlin Wylde
Description
For your weekly experience of sensual erotic stories, you can enjoy deep and intimate erotic audio stories all designed with one thing in mind, to give you the deepest, most intense pleasure every Monday night at 10pm CST.
It doesn't matter if you are single or a couple, you can enjoy intense pleasure, all you have to do is lay back, put your headphones on and let me voice take you into your deepest fantasies.
Every story is crafted to enhance your deepest sensual pleasure, even after listening.
Let the 'Voice of Erotica' join in the comfort of your own bed, just relax and loosen any clothing, and let the warm resonant tones of his voice caress every inch of your body as you surrender to your deepest pleasure.
This show is part of the Spreaker Prime Network, if you are interested in advertising on this podcast, contact us at
https://www.spreaker.com/show/5520412/advertisement
"This podcast helps me get off every night" Download the Wylde App from the app store so you enjoy even more intense pleasure. The Beast from the deep has finally dragged Tess into the ocean. Submerged in the depths of the sea, what fate waits her now?Are the tales of old seamen true? Or is she destined for a watery grave.Has Finn truly gone?Or will he rise from the depths to protect her from this monster.Descending futher into her own insanity, does Tess even care?This show is part of the Spreaker Prime Network, if you are interested in advertising on this podcast, contact us at https://www.spreaker.com/show/5520412/advertisement
The exclusive premiere of Beyond the Veil the Road LeadethWritten by Burn Moor Available at Amazon and Audible, click here to grab your copy! Yellow serpents and glimpses of the past. Two lovers discover an altered world. Can they expose the truth of their souls?Mina feels she's living a lie. Barely present for her children while her ex-husband presses her for financial support, the successful CFO loses herself in daydreams filled with passion. But after a fiery affair sparks with a coworker, she's shaken to her core when they awaken to a new reality.Traveling far into the strange empty realm, Mina suspects they've entered the shadowy recesses of their minds. And to return home hand-in-hand with her lover, the Colombian beautymust confront her most fragile hopes…and her darkest fears.Can they face who they truly are in time to reclaim what's real?Beyond the Veil the Road Leadeth is a brilliant dive into surreal fiction. If you like psychological exploration, dazzling love affairs, and stripping back the layers of existence, then you'll adore Burn Moor's profound search for meaning.This show is part of the Spreaker Prime Network, if you are interested in advertising on this podcast, contact us at https://www.spreaker.com/show/5520412/advertisement
"I love this podcast, it makes me horny and relaxed all at the same time" Grab the new Wylde App on Apple App Store now, so you can enjoy even more aural pleasure Tess knows she needs to sleep, its been weeks, if not years since her last decent sleep. Her tension is only fuelling her fear of this beast the seems to be lurking at sea.Biding it's time.The storm has abated for now, But it still prowls the horizon,Waiting to return.Waiting to bring the monster back.But before that happens Tess needs to sleep.To stop this insanity that grips her mind.So she might face her fear.Alone.This show is part of the Spreaker Prime Network, if you are interested in advertising on this podcast, contact us at https://www.spreaker.com/show/5520412/advertisement
"Everything about this podcast is unbelieveaby good" For even more aural please, download the free app from: Google Play StoreApple App StoreSlowly Tess has begun to accept that Finn now only lives in her memories. As memories of Finn slips from her mind, she feels she is drifting further into insanity.Looking for any omens or signs that might explain the oncoming storm.The storm of a lifetime that seems to promise the destruction of their home.Beyond coincidence to Tess that the storm had arrived at the same time as the beast.The beast that still waits for her out in the depths of the ocean.With only the drunken council of old sailors she needs Finn more than ever.But he is gone and she must face her nemesis alone.Please remember this is an adults ony podcast and does contain a very erotic story for your sensual pleasure. So please only listen if you are 18+ and willing to immerse yourself in the depths of a sexy story.This show is part of the Spreaker Prime Network, if you are interested in advertising on this podcast, contact us at https://www.spreaker.com/show/5520412/advertisement
"So dark, so passionate, I love every word"Remember you can enjoy even more aural pleasure on the app at: Apple App Store and Google Play Store Finn is gone. The thought strains Tesses weak grasp of sanity perpetually.How can she expect to face every day without him?And when her home is under attack from some unknown assailant.The place she works, rests. The dream she created in Finn's honour. How the hell can she face this without him and stay sane?This show is part of the Spreaker Prime Network, if you are interested in advertising on this podcast, contact us at https://www.spreaker.com/show/5520412/advertisement
Grab your free version of the new Wylde app so you can enjoy even more intense sensual audio at Apple App StoreGoogle Play StoreFor one brief moment, Tess had thought Finn was there. For one moment, she thought she could save himFor one moment, she thought her was back with her.But with that hope now gone, doubt fills her mind as her heartbreaks all over again.Is she going mad?Has the loss of Finn caused her to lose her sanity?But when a strange sign turns up on the beach, is this proof she is sane? Or is it just another thing to drive her further into madness?This show is part of the Spreaker Prime Network, if you are interested in advertising on this podcast, contact us at https://www.spreaker.com/show/5520412/advertisement
Remember you can download the Wylde app from Apple Storeor Google Play Store So you can enjoy even more sensual pleasure for free. Tess has surrendered to her grief. The loss of Finn bears such a heavy weight upon her soul.Her only solace, here on the beach.To be embraced by the sea, the remembered arms of her lover.Her friend.Her husband.Now gone.Taken by the sea where she sought her own solace.But this impending storm that darkens the world, does it bring hope, or disaster.This show is part of the Spreaker Prime Network, if you are interested in advertising on this podcast, contact us at https://www.spreaker.com/show/5520412/advertisement
"Wow, that was a lot more fun than I exected"Don't forget to download the app so you don't miss an episode:Apple App storeAndroid Play StoreThe moment he walked out the door, Tess regreted him leaving during an argument. Turning his back no her to return to his beloved sea.As the last words of the tempest she had created echoed around their kitchen, doubt filled her mind. Would he ever come back?Would she feel his arms once again?Her grandmother had always send never part on a bad word. Would her sagely advice haunt Tess for the rest of her days?This show is part of the Spreaker Prime Network, if you are interested in advertising on this podcast, contact us at https://www.spreaker.com/show/5520412/advertisement
"I am always extremely horny after listening to this."This episode does contain descriptions of spanking and sensual BDSM.If you are on an iPhone or iPad and haven't got your copy of the app....why not???Grab your copy here...The Android version is coming...just Google taking it's time to make sure it's safe.A friends to lovers second chance sexy romance with a hint of BDSM.The party is ending.For the first time in 40 years Jane is staring into the eyes of the man she once loved with all her heart.The man she gave her virginity to..The man that left her to travel..The man that captured and broke her heart..Now with him in front of her after all this time, has it been just too long, have they both changed too much to even talk?Is he still the love of her life, or is that just her rose tinted spectacles clouding her sense?This show is part of the Spreaker Prime Network, if you are interested in advertising on this podcast, contact us at https://www.spreaker.com/show/5520412/advertisement
"Every woman should try this." Tasha has had a good day, meeting old friends and enjoying the beach.But now alone once again, as the sun drifts pass the horizon, she can let her imnd travel back to the romance of the sea. To that time in her teenage years where she discovered desire and pleasure. To that moment when she found out the true meaning of the passion of waves.To that moment of discovering sensul pleasure.But is she alone? Is her long held secret about to be unveiled?You can enjoy even more intense pleasure and a commercial free Wylde In Bed by joining the VIP Club here. This show is part of the Spreaker Prime Network, if you are interested in advertising on this podcast, contact us at https://www.spreaker.com/show/5520412/advertisement
"Holy Moly! This is just so good." On this episode of Erotic Stories from Wylde in Bed, an excerpt from Blackstone's Heart by Michelle Kee. You can go ahead and grab your copy from Amazon by clicking here. Former Marine Special Ops Ethan Blackstone thought his day would start off with business as usual at Blackout Security Inc. until a call for help from Austin's top DA changes everything.Krista Jameson's a romance novelist. She's also the DA's only daughter and Ethan's first love from long ago. With the success of her latest book, a crazed fan has marked her as his. When her stalker writes threatening letters to Krista's father, it forces him to hire security and unexpectedly brings Ethan back into her life. Ethan was dangerous to her heart as a teenager, the man he was now could be lethal.Will being forced to work together rekindle a flame that was never truly dead? As the danger to Krista grows so, too, does their passion. Together they will face her nightmare, but as their past meets their present, will they have a future once the danger ends?This show is part of the Spreaker Prime Network, if you are interested in advertising on this podcast, contact us at https://www.spreaker.com/show/5520412/advertisement
"This podcast is so damn hot" Ann is successful, there is no doubt about that.She is the CEO of a major corporation, she has the car the house, the money.But with that success comes a price.A heavy price, Ann pays every single day.But how can she release herself from that shackles of responsibility?How can she let someone else take the reins?You can enjoy even more pleasure by becoming a VIP member at wyldeinbed.comThis show is part of the Spreaker Prime Network, if you are interested in advertising on this podcast, contact us at https://www.spreaker.com/show/5520412/advertisement
"So relaxing, so sensual" Have you ever wanted to just let your inhibitions go? To just let the moment of passion fill you like never before? To sink in to your deepest passions and enjoy the moment completely? This meditation has been crafted to help you let go of anything that might inhbit your pleasure.This show is part of the Spreaker Prime Network, if you are interested in advertising on this podcast, contact us at https://www.spreaker.com/show/5520412/advertisement
"Turns me on every time" An ASMR Spooning Erotic Experience. Just as your waking, my breath against your eck, your ears.Gentle whispers as I seduce you in those waking moments. Relax back and surrender to the pleasure that is shared between us, the intimacy that burns like a fire in mornings first light. Experience our passion as it echos throughevery nerve of your body Just a teaser of the pleasures you can enjoy in the VIP club by clicking hereThis show is part of the Spreaker Prime Network, if you are interested in advertising on this podcast, contact us at https://www.spreaker.com/show/5520412/advertisement
"Every story just makes my toes curl, my got to placef or sensul relaxation"With the police in pursuit after Mel's impulsive attempt to rid herself of her past, things seem worse than ever.And to make matters worse she has dragged Jake and Gwynn into her situation.Will they all end up in Jail because of Mack?There seems to be no way out, no way out apart from Jakes idea.Could it really work?Or would it just be laughed out of court?To test ride the new erotic stories app then just email me at devlin@wyleinbed.com, places are very limited! This show is part of the Spreaker Prime Network, if you are interested in advertising on this podcast, contact us at https://www.spreaker.com/show/5520412/advertisement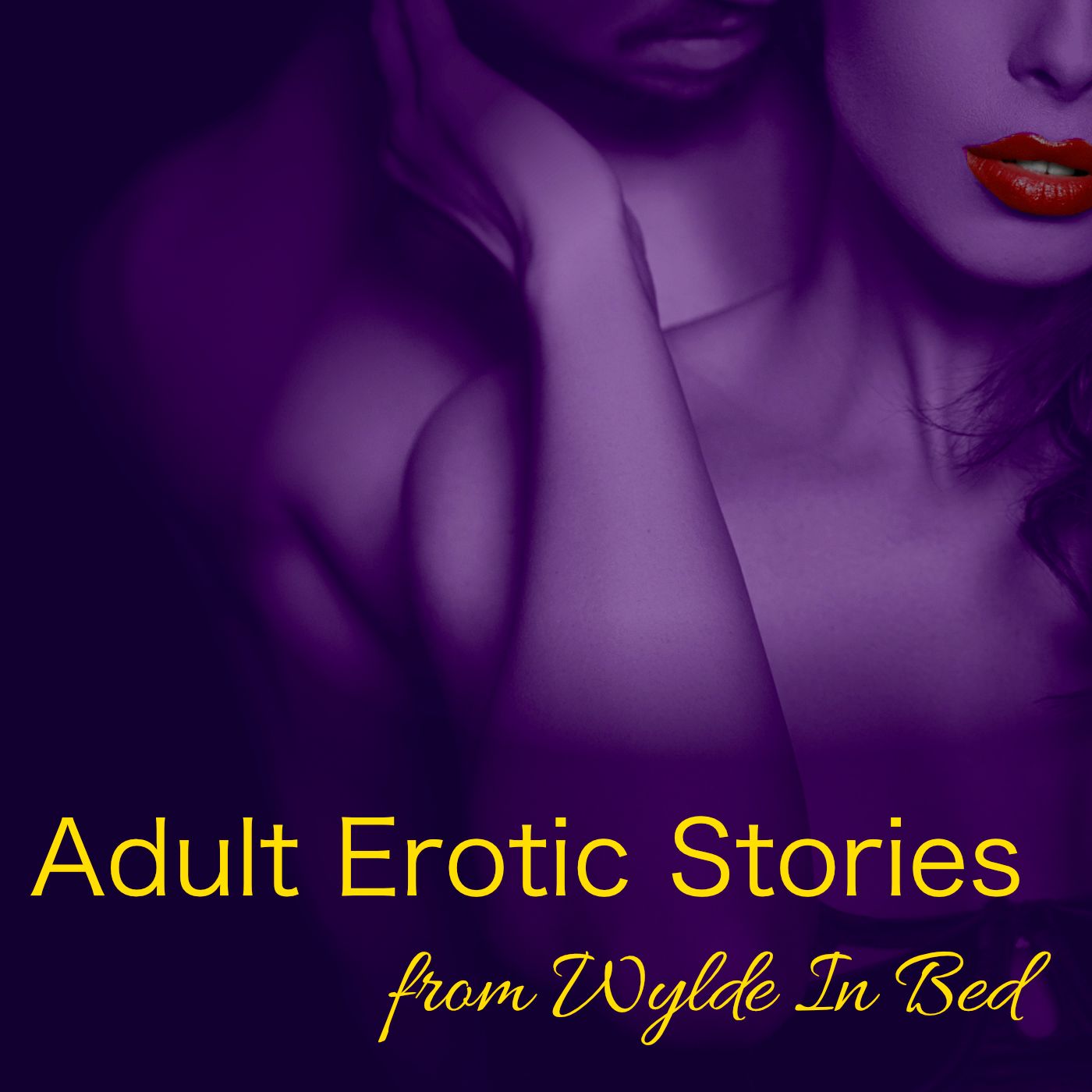 MFF-Strangers-to-lovers-taboo-fantasy
2023-02-1831:29
"Sexy as hell" Mel is plagued by her cop ex husband.A drunken walrus of a man who refused to pay alimony, the only reason he has anything to do with her is to have sex that no-one will give him.And every time she feels more disgusted with herself.Until a moment of impulse thrusts her and her best friend into a shopping trip like no other.But how fast does Mel have to drive to escape her past?For the most intense erotic audio on the internet come and see me at the Wylde In Bed VIP ClubThis show is part of the Spreaker Prime Network, if you are interested in advertising on this podcast, contact us at https://www.spreaker.com/show/5520412/advertisement
Devlin Wylde & Burn Moor: Bad Ass Storyteller Interview"A Blatant Beard Production" You knew it would be good when they worked together on the Brain Drips Yellow and created a truly unique audiobook experience. It got even better when they joined forces once more on Beyond the Veil. But now for the first time, two of the most noticeable characters in Dark Fiction meet over a god-damned latte and a mic.This show is part of the Spreaker Prime Network, if you are interested in advertising on this podcast, contact us at https://www.spreaker.com/show/5520412/advertisement
"His voice is so sexy, it will make your toes curl."With carnal thoughts of Martin and seduction a thing of the past, Lisa has already submitted to one man.Unaware another two were watching.But now, face with three handsome mountain men, trapped miles away from civilization in all this snow…Damn it, what's a girl meant to do?For even more intense pleasure, come and join me at the VIP club. This show is part of the Spreaker Prime Network, if you are interested in advertising on this podcast, contact us at https://www.spreaker.com/show/5520412/advertisement
"I am extremely horny after listening to it. | love this podcast"Lisa is travelling to a business ball dance. But she has one thing on her mind, the sedution of Martin. He obviously wants her and she had been waiting two years for him to make a move, but tonight she is going to make damn sure she would have him. And have him hard. For all his gentle good looks, baby blue eyes and clean shven jaw, she was determind to transform him into the animalistic beast she desired. And then in the middle of nowere, her car breaks down, leaving her lost and cold. So cold. Those desires are left broken in the snow. But is there a saviour out there, a place for refuge? Or will she end up in a worse postion than now.Will Lisa be the best dressed corpse in the snow? For more intense pleasure, come and see me at the VIP club. This show is part of the Spreaker Prime Network, if you are interested in advertising on this podcast, contact us at https://www.spreaker.com/show/5520412/advertisement
Erotic Stories: Friends To Lovers Second Chance Menage MFF Fantasy? Part 2From The Rule of Thirds by Ronda Kinneil Available here for free to read or enjoy all of Arabella's adventures here and remember the first book in Arabella's adventures is completely free this weekend.Arabella has just reconnected with Indy, an old girlfriend from her school days, and discovered that the passion that once existed between them is still very much there.But when Elliot insists on meeting Arabella's friend, they make a surprising discovery - for all Indy's experience, there are still a few things she has never tried.Indy was always a high achiever, but she's a grown-up now - does she still need a gold star?Rule of Thirds is a sweet, sexy, short tale of friendships old and new, passions rekindled, and new opportunities.This show is part of the Spreaker Prime Network, if you are interested in advertising on this podcast, contact us at https://www.spreaker.com/show/5520412/advertisement
United States