Claim Ownership
Author:
Subscribed: 0
Played: 0
Description
Welcome, Shelley Paxton to the Keri Faith On Purpose Show.  Think Brené Brown meets Biker Babe, with a dash of Liz Gilbert. As former Chief Marketing Officer of Harley-Davidson, Shelley found herself at the top of the proverbial mountain feeling success-EMPTY instead of success-FULL. That awakening led her on a profound Soulbbatical journey that became her mission, business, and bestselling book Soulbbatical: A Corporate Rebel's Guide to Finding Your Best Life, named #1 on Forbes' 21 Books to Read in 2021 list.  She's leading a REBELution to rewrite the script of success and liberate a billion souls. In the episode we talk about finding yourself again, reconnecting with your soul purpose, and what it takes to rebuild (it doesn't happen overnight).  I know you will enjoy it!  Connect with Shelley Paxton: https://soulbbatical.com/soulbbatical-a-corporate-rebels-guide-to-finding-your-best-life/https://www.instagram.com/soulbbatical/https://twitter.com/soulbbaticalhttps://www.facebook.com/soulbbatical/https://soulbbatical.com/connect/ Connect with Keri Faith: InstagramFacebookBook a CallAkashic Record ReadingsSupport this show http://supporter.acast.com/keri-faith-on-purpose. See acast.com/privacy for privacy and opt-out information.
Erin Claire Jones uses Human Design to help thousands of individuals and companies step into their work and their lives as their truest selves and to their highest potential. Her work as a guide, coach, and speaker has attracted a growing community of over 150,000 people who turn to her teachings for practical tools, digestible tips, and deeper self-knowledge they can access to live with greater ease and authenticity every single day.  Erin's insights are highly sought-after because they make Human Design pragmatic, tangible, accessible — and immediately applicable to everyday life. Human Design is a synthesis of ancient wisdom and modern science that sheds light on a person's energetic makeup, as well as specific tools they can use to live at their happiest, healthiest, highest potential. It doesn't change who they are; it teaches them who they are. It offers insight into what's possible and highlights the significance of understanding and living as the fullest expression of themselves.  By putting this tool to work in her own life, Erin is showing the world a new way of work, a new path toward success, and a new perspective on living as you truly are.Connect with Erin:  Look up their design: https://humandesignblueprint.com/ Enter code: FAITH for 10% off the Blueprint Book an individual session: erinclairejones.com/individual Instagram Free Intro Webinar: https://howdoyouchoose1.splashthat.comConnect with Keri Faith:InstagramFacebookBook a CallAkashic Record ReadingsEmail Keri FaithSupport this show http://supporter.acast.com/keri-faith-on-purpose. See acast.com/privacy for privacy and opt-out information.
Let's connect with a real-life chat HERE! Living your best life by 'Design' means uncovering your human design and discovering how it can make an impact in all areas of your life, especially in business. This week's expert, Kristi Sullivan, Kristi H. Sullivan is a Human Design and Self Care expert, author, and speaker on a mission to help busy women STOP OVERWORKING AND START OVERFLOWING! Kristi is an international speaker, workshop/retreat teacher, and lead author of a new best-selling Amazon book called Stop Overworking & Start Overflowing: 25 Ways to Transform Your Life Using Human Design.In this episode, we discuss Human Design and how to live your best life with self-care, prioritization, and utilizing your strengths for more flow, ease, and peace in life and business. Connect with Krist: WebsiteFacebook GroupInstagramConnect with Keri Book a CallWebsiteInstagramFacebookEmail ME!Support this show http://supporter.acast.com/keri-faith-on-purpose. See acast.com/privacy for privacy and opt-out information.
Mindfulness and Meditation in Everyday Life with Tamela AppelTree-huger, gardener, mindfulness expert, educator, and advocate, Tamela Appel, comes with a powerful message to bring presence into our everyday lives, and in the lives of our children. She states: "I practice gratitude daily. When I wake up in the morning, the very first thing I do is practice gratitude. I list 5 things that I can be grateful for. When I have things I am able to be grateful for, it brings more things to me that I can be grateful for."Highlights: What type of Character traits did you build growing up on a farm? (04:00)How Tamela fell in love with bridging mindfulness into the classroom. (08:41) "Just by calming my own body allowed them the freedom to calm theirs." (09:29)"Take little pauses throughout the day to just support them (children). I would take mindful moments where they can just BE." (14:35) Every hour on the hour we would do a round of gratitude. "Children are in 'fight or flight' and bring that with them from their parents into the classroom and into the home. Children are picking up the adult energy around them so bringing them into the present moment is so important."  (20:15)What happens when you are in 'fight or flight' is your memory isn't in a cognitive state to consolidate memories.I work with students on how they best can take action, who they really are so that they can accept the person that they are so they can advocate for themselves; not only at home but in school. They can advocate for their needs. We look at, 'How we can do better now, and part of it is mindfulness, meditation, and being present.' Contact Information for Tamela: Facebook LinkedInEmail: Tamela@kidsinstinctivesolutions.caContact Information for Host, Keri Faith Knudtson:Schedule a CallEmail: kerifaithonpurpose@gmail.comInstagramFacebookSupport this show http://supporter.acast.com/keri-faith-on-purpose. See acast.com/privacy for privacy and opt-out information.
Ludmila is a Visionary...She likes to call herself a "Wild at Heart Empath" and Cheerleader for Humanity".Ludmila's passion for Self-Development and NLP since she was 15 years old, combined with her Love for Leadership, Marketing, and people give her a cutting edge advantage to help her clients navigate this new world of technology, online businesses, and self-mastery, assisting them to feel certain about who they truly are or who they want to become.That passion took her to High Places, where she can now impact and change even more lives while working with Tony Robbins and Dean Graziosi's team, do work with AchieveToday, and her own Mentorship Programs.She also finds purpose in guiding her clients into bringing more joy into their own life.She lives by the phrase "Do more of what makes you happy" and trusts that this is a big part of the process of finding yourself again and living a more joyful and fulfilled life.Some fun facts about Ludmilla: She is a Mom of one amazing teenager / a Skydiver / a Ballroom Dancer / a Trail runner / a Golden Retriever Mom. She loves to learn and stay curious, Loves nature, animals, good company, good food, and a life full of fun adventures.Highlights:"I realized Prudential was the only insurance in Brazil that was selling insurance in high-risk sports." (08:00)"In life, we do things naturally to us and we don't think it's our purpose. We look for purpose so far and so high." (10:45)"I loved someone more than I loved myself." (14:35)"I knew in my heart. I had that sixth sense and that certainty in my life that we forget to have sometimes." (21:35)"Off to Canada to stay for six months with no English and $250 in my pocket." (23:45)"Some people are open to listening and some people are open to matching in their mind library with something that they know. Some people are willing to do that and some people are not." (26:50) "I started thinking, 'Who I am besides a Mom and besides a wife' and that's when I went deep into the process that I need to bring joy back into my life." (36:00)"When you combine business with your spiritual self and follow your 6th sense, it's powerful." (48:19)Contact Ludmilla:E-mailFacebookInstagramClubhouseContact Keri:InstagramFacebook GroupEmailSchedule a ReadingSchedule a FREE CallSupport this show http://supporter.acast.com/keri-faith-on-purpose. See acast.com/privacy for privacy and opt-out information.
Welcome back to the first show of 2022!I want to get intimate and more vulnerable with you....with permission of course...so you can have permission to do the same.That's why this episode will identify the top 5 blocks to manifesting abundance. Because abundance exists everywhere in the universe.When I work in the Akashic Records with my clients (Book HERE) we identify the blocks and channel the energy necessary to remove them while opening up the gateways to abundance. Opening up in your relationships will allow you to open up more and more to abundance all around you.Therefore, this episode holds the Key to abundance and deepening your own soul journey. If you want to connect deeper book a Discovery Call Highlights:Setting the Intention for 2022 (01:35)Identifying the 5 Blocks to Manifesting so you can Accelerated Growth in Your Life and Business because It's all interconnected (04:58)Why is Conscious Important for Manifestation? (06:12)How to trust your intuition for Manifesting More (08:00)Block #1 (09:00)Block #2 (09:45)Block #3 (11:46)Block #4 (13:13)Block #5 (15:23)References:Breaking The Habit of Being Yourself by Joe DispenzaBecoming Supernatural by Joe DispenzaContact Information for Keri FaithInstagramFacebook GroupEmailSchedule a ReadingSchedule a FREE CallSupport this show http://supporter.acast.com/keri-faith-on-purpose. See acast.com/privacy for privacy and opt-out information.
Find out who you are and define yourself and your speaking persona as a POWERFUL SPEAKER with Natasha Bazilevych.As a speaker and public speaking expert, she trains entrepreneurs and corporate executives to give powerful presentations so that they can share their messages. with clarity, confidence, and power.She is the Founder & President of ChangeView Academy and has been teaching presentation skills for 14 years and has taught hundreds of clients from more than 20 countries.She is the Podcast host of, Speak with Power Podcast, where she guides you to a confident speaker whose message is always persuasive and whose voice is always heard,Natasha is here to ground you to believe...."People ready need YOU and YOU have this." What is your energy? How can you develop your voice? How do you harness it?Questions: How do you overcome the fear 'English isn't my native language.'It's important that people can understand you.16:45 How do you get over the fear of judgment?20:40 How do you help clients to clarify their messages?24:00 What message do you want to leave on the world?27:07 Could you give an example of how you coach about energy?28:20Highlights:It doesn't matter if you have an accent because everyone has an accent. (04:00)I pivoted and changed my direction and started focusing on the rest of the world. (08:00)As soon as I believe that I am good enough, work on my confidence, then nothing will shake it. (17:20)It takes time and consistency (20:00)Before you speak you need to be super clear that you want to deliver (23:05)You have a unique energy that is learning how to harness and use it so that your message becomes unique and powerful.How to Master Your Energy with the 3D's: Define, Develop, and Distribute? (31:07)Grab your 'Mantras for Manifesting' so you can experience more time freedom and flow experiencesContact Keri Faith Knudtson:Schedule a CallEmail: kerifaithonpurpose@gmail.comInstagramFacebookContact NatashaWebsiteFacebookInstagramLinkedInEmail: nbazilevych@changeview.orgFREE Strategy Call: https://natbazilevych-coaching.youcanbook.meSupport this show http://supporter.acast.com/keri-faith-on-purpose. See acast.com/privacy for privacy and opt-out information.
Do you ever wonder about past lives? Twin frames versus soul mates? How to access your higher self?Dr. Bruce Goldberg shares fascinating knowledge about the Fifth dimension and how you can empower yourself through self-hypnosis guiding you into past and future lifetimes through Past life regression and future life progressionHis book, Search for Grace, was made into a CBS TV movie. He has conducted over 35,000+++ past life and future life progressions.In this episode you will learn about past lives, future lives, short-term self-directed empowerment also known as 'psychic empowerment' through hypnosis, connecting with the higher self also known as the 'superconscious mind' which lives in the fifth dimension.How Dr. Bruce Goldberg received information from the 36th Century? She connected through a wormhole and the upperQuestions:How can we simplify the 5th dimension? 06:06What is physic empowerment? 10:00Can you explain the difference between teleportation and out-of-body experiences? 22:55How important is spiritual growth in this lifetime? 33:00 What is the oversoul? What is conscious dying? 36:00What is conscious dying? It's an ascension technique. 38:00 How do you clear the Karmic Cycle? Highlights:Watch real-life examples of going into the 5th dimension on YouTubeThree hours a night you are going into the 5th dimension in the REM cycle.Learning more about Teleportation. 12:00Hear more about a personal story of teleportation. 20:25Find out more in Dr. Bruce Goldberg's book Exploring the Fifth DimensionExploring Parallel Lives 24:35Parallel Universes and New You technique 27:40Switching parallel timelines 29:30What is Conscious Dying? Emerging with your higher self at the moment of death so you can avoid going to the lower planes and access your spirit guides.Universal Laws come from the God energy complex. We want to merge with our higher self at the moment of death to ascend.References:The Search for Bridey MurphyGrab your 'Mantras for Manifesting' so you can experience more time freedom and flow experiences in the Fifth Dimension.Contact Dr. Bruce Goldberg:WebsiteContact Keri Faith Knudtson:Schedule a CallEmail: kerifaithonpurpose@gmail.comInstagramFacebookSupport this show http://supporter.acast.com/keri-faith-on-purpose. See acast.com/privacy for privacy and opt-out information.
Would you like to feel more grounded and present? Or do you want to discover how to tap into your intuition and trust it more? I'm here to help you manifest your dreams and our guest this week is going to guide you "HOW".Veronica Sanchez is here to share her mission to expand your consciousness through awakening and deepening your intuition. She is going to guide you on your spiritual path.Veronica is a Spiritual Awakening Teacher. She also is an expert in Pineal Gland Internal Activation, the Cyclopea Method, and in the power of words. Veronica is also a bestselling author, creator of journals and creator of online courses that help people to manage negative emotions. In this episode you will learn about how important it is to understand that we are all capable of activating our third eye and raising our vibrations in life. This episode could lead you to the heightening of awareness and consciousness! Just know that you have to have the will to make a change if you're getting caught up in the lower vibrations of life and are seeking to raise them.Remember, with darkness comes light, and it is within you to find the light. This episode offers many great resources to feel more grounded and present within ourselves.   Highlights:Veronica & the expansion of consciousness: The Beginning (02:01)When we understand that we are energy beings, our whole world opens (04:55)Pineal gland (aka the third eye) activation and what that looks like (08:23)Where there's always light, there's darkness too - The importance of presence (15:17)How can one elevate their frequency & why it's important (16:28)You have to have the will to make a change (19:07)Positive Habits: 21 Words That Transform Your Life Daily the book (19:25)Elevating our frequencies through writing & nature (20:25)Having the courage to overcome your fears (28:00)If this episode resonated with you and you are ready to live a more meaningful life, check out Veronica's book, Positive Habits: 21 Words That Transform Your Life Daily and here is access to Veronica's Course: Positive Habits.Grab your 'Mantras for Manifesting' so you can experience more time freedom and prosperity.Connect with Veronica: WebsiteConnect with Keri: Schedule a CallInstagramFacebookEmail: Kerifaithonpurpose@gmail.comSupport this show http://supporter.acast.com/keri-faith-on-purpose. See acast.com/privacy for privacy and opt-out information.
This week I welcome Sonja Martinovic to talk about how to overcome self-sabotage in business. Sonja is an online business and mindset mastery coach, an executive contributor for Brainz500 magazine, and a proud host of the top 2% globally ranked Podcasts. With her Podcast, The Vault, Sonja helps entrepreneurs unlock their potential and thrive in momentum.In this episode, you will learn that with transformation comes lessons. By doing this you can triple your energy and focus, which will help you with a game plan. If you're tired of talking the talk and you're ready to walk the walk -listen to this episode.We discussed in the episode,  "If you don't make mistakes, you cannot provide a very valuable lesson." We talk a lot about self-sabotage, what that looks like, and how to push through it. Short but impactful, this episode will definitely get you thinking about how your childhood, certain thoughts, and actions may have caused limiting beliefs and there's no better time than now to breakthrough! What a truly enlightening conversation with Sonja! If you want to learn more and reach that next level of success in your life and business, Sonja is sharing how.Highlights:Change & Transformation: What does that look like (04:15)WE are the self-saboteur. YOU are the self-saboteur. (07:25) Create new habits and learn your subconscious mind (9:33)The effects of self-sabotaging (10:40)When you criticize yourself you stack that belief (15:20)Money doesn't mean anything if you're not fulfilled (15:50)Success & creating space in your subconscious mind to resolve previous trauma (17:35)If you're not focused or committed, you're sabotaging yourself (20:28)Sonja gives us a TIP to move through resistance (21:22) Expectation is the child of the ego (25:00)She's offering a 5 day FREE challenge around overcoming limiting beliefs. Connect with Sonja: FacebookInstagramWebsiteConnect with Keri:Grab your 'Mantras for Manifesting' so you can experience more time freedom and prosperity.Schedule a CallInstagramFacebookEmail: Kerifaithonpurpose@gmail.comSupport this show http://supporter.acast.com/keri-faith-on-purpose. See acast.com/privacy for privacy and opt-out information.
On this week's show, you'll find a blend of spirituality, self-development, and practicality in supporting you to unapologetically manifest your wildest dreams. You will learn about the Chakra Centers that keep you rooted and connected to the world around you.I welcome the incredibly gifted Jennifer Clerkin to the podcast. She is also known as Multidimensional Jenn and is a transformational specialist. Jennifer helps align her clients to their highest selves. If you're wondering what that means, it means that she's able to help you raise your consciousness so you can reach your greatest potential for optimal results in your business and personal well-being. What you'll get out of this episode (besides raising your vibration) is a better understanding of what the lower chakras are and what they mean, as well as pendulums and how they can help you find guidance in your life. Jenn dives into how she helps people face their traumas and grow into who they're meant to be by raising vibrations. Amazing, right? Learn more inside the episode. Highlights:Jenn reads my aura color (05:47)Accessing your third eye chakra (06:55) Anxiety and excitement ride along the same vibration (12:49)We must talk about anxiety to be able to move through it (16:03)We have 7 main chakras in our body (17:10)Transformational healing and facing trauma (18:50)We are the masters of our reality (21:07)Transition, change, and finding trust in oneself (23:40)Demystifying the use of pendulums (30:14)If you're interested in purchasing a pendulum, I highly recommend you buy it from someone who is an energy healer, such as Jenn herself. If you're interested, message Jenn on instagram and she can get you set up with the perfect pendulum that resonates with you. If you're ready to raise your vibrations and become the highest version of yourself, you can book with Jenn here. Grab your FREE GIFT: Mantras for ManifestingConnect with Jenn:InstagramBook a sessionWebsiteConnect with Keri:Schedule a CallInstagramFacebookEmail: Kerifaithonpurpose@gmail.comSupport this show http://supporter.acast.com/keri-faith-on-purpose. See acast.com/privacy for privacy and opt-out information.
Hello and welcome to the Keri Faith On Purpose podcast Episode #38! This week on the show I have an impactful message about how not to give up on your dreams to grow your online business (or bold manifestations) with a dear soul sister friend, Dijana Llugolli hanging out with us. I truly believe that you will love her just as much as I do. You will learn in this episode more about Dijana's theory on how to have flow in business and life. Talking about how risk and failure come with entrepreneurship and seeing obstacles as opportunities. Oftentimes we let the obstacles get in the way of our success when in all honesty, success is inevitable if we keep moving forward, especially through those obstacles. We also discuss how crucial it is to check in with yourself and to make sure you're loving yourself and making time for yourself!Dijana Llugolli is an international success and business coach who teaches female entrepreneurs how to rapidly launch and scale their online businesses through aligned and inspired action. Drawing from her studies in business and nearly two decades of experience as a serial entrepreneur, she helps her clients to reach $40K in 90 days or less. Her goal is to inspire millions of women to BE more and HAVE more without having to DO more. With tons of education (she speaks 4 different languages!) under her belt as well as being a moderator and advocate for the Next Level in Self-Education for Dean Grazioso, Dijana is an incredibly successful woman, friend, and mentor.  Highlights: Risk & Failure when it comes to entrepreneurship (10:01)Finding balance between the left and right brain (12:14)Dijana's Hustle to Flow theory (18:05)Purpose, Productivity, Profit (22:54)Obstacles as opportunities (23:33)Success is always inevitable (30:00)What will keep you in check with your mindset? (31:00)Self-sabotage always comes when you're not kind to yourself (34:15)MAP ON (35:24)What is your definition of happiness? (39:37)Dijana is a firm believer that a person can have equal parts impact and income and that's why she is inviting you to a 2-Day virtual retreat on how to make the impact and income you were born to make without the hustle and burnout.  This business retreat is for you if you're ready to unlock your soul's purpose and uncover your unstoppable badassery.Click here to sign up for the retreat and to top it off I am going to throw in a FREE one on one Reiki or Akashic Records session if you sign up for VIP.  Connect with Dijana:InstagramWebsite Grab her BookTricolor Butterfly Connect with Keri:Schedule a CallInstagramFacebookEmail: Support this show http://supporter.acast.com/keri-faith-on-purpose. See acast.com/privacy for privacy and opt-out information.
Welcome back to the Keri Faith on Purpose podcast! In this episode, you will learn about absorbing energy, setting boundaries, and normalizing mistakes as growth spurts, not failures!What a truly special and inspiring guest this week, Jennifer Rose. We are going to talk about being spiritually connected as a gift of the mind, body, and spirit as a whole. And how Jennifer is a true believer that nurturing and learning how to heal yourself on all levels is the key to harmony within. And her own journey of healing which enhanced her psychic mediumship ability to serve. A little about Jenn:Jennifer is the creator of many great things. She is the Mother of two boys,  has created a successful and inspiring blog (NeuroticMommy.com) and is  the published author of Living Crazy Healthy. A plant-based recipe book about getting right with yourself in mind, body, and spirit… THROUGH FOOD!  Yes, please & thank you! When Jenn realized her energies were transformational not only for herself, but for other people… she did it! She found her PURPOSE in mediumship and strengthening her spiritual connection. She even was my teacher for Reiki 1 and 2 Certification. As well guided me in a past life and womb regression hypnosis experience.  Jennifer supports people on their journey to elevate upward toward higher vibrations and consciousness. Jennifer Rose is a:Certified Transpersonal Hypnotherapist who specializes in Past LIfe Womb RegressionUsui Reiki MasterPsychic/MediumOracle & Tarot ReaderCertified Trance + Crystal HealerHighlights from this episode:Healing and the dark night of the soul (09:55)"It's in our breakdowns we have our breakthroughs." (14:08) Absorbing energy and setting boundaries (20:00)Negative, healthy, and positive attachments (24:10)"Boundary Boss" by Terri Cole (25:01)Normalize making mistakes as not failures, but growth spurts (29:43)Past life womb regression (32:08)Rediscover your purpose in this lifetime (34:12)Grab your FREE Manifesting with Mantras HEREConnect with Keri Faith:Schedule a CallInstagramFacebookEmail:Connect with Jennifer Rose:WebsiteInstagramFacebook Support this show http://supporter.acast.com/keri-faith-on-purpose. See acast.com/privacy for privacy and opt-out information.
Welcome back to the Keri Faith on Purpose podcast! We are ringing in the second season of the show with the amazing and powerful influencer, Enetra Eynaud. Enetra, stepped away from a career in Corporate America to being a stay-at-home mom to becoming a moderator and business strategist for some of the top influencers and best-selling authors online. She is a living example of finding the harmony between motherhood and online leadership. Over the past 4 years, she has supported close to one million people between online launches and virtual live events. Her passion for self-development, life (and business) mapping, creating boundaries, and manifesting led her to build a dream life in Arizona mentoring, speaking, and leading teams online. She can't wait to map your dreams and guide you to making them a reality.Do you have a tendency of putting other people's needs before your own? That may show up as perfectionism, lacking boundaries, and lack of believing and trusting in oneself. In this episode, Enetra, will share her experiences about how she was able to accept that it's okay to not be perfect and how stepping into her power has helped her achieve greatness. We truly believe that if you're reading this now, you're on your way to achieving great things as well! Highlights: Perfectionism and how that shows up in your life (07:15)"No is a complete sentence." (12:39)When we say, "no" to others, we are saying, "yes" more to ourselves. (14:04)Women holding women back from stepping into their power. (14:33)Being a stay at home Mom with a voice (17:17)Asking for support (not permission) with certainty in your heart (19:48)Looking for support within ourselves (20:42)What is holding me back from pursuing my dream? A question women often ask themselves. (23:25)We have the right to say, "This is what I want" (27:57)Start with your core and find out what doesn't serve you now. (32:45)Grab your FREE KEY to the Collective Connect with Enetra:Email: enetra.e@gmail.comConnect with Keri Faith:Schedule a CallInstagramFacebookWebsiteEmail: Kerifaithonpurpose@gmail.comSupport this show http://supporter.acast.com/keri-faith-on-purpose. See acast.com/privacy for privacy and opt-out information.
JOIN THE OWN YOUR FUTURE CHALLENGE HEREOn this week's show, Laura Powers is sharing her gifts with you as a celebrity Psychic, clairvoyant medium, author, Podcast Host and entrepreneur.She is the host of the popular film and television podcast, "Behind the Scenes with Laura Powers," and her top 100 podcast on Apple Podcasts, "Healing Powers Podcast." Ever since she was a child, Laura has sensed spirits while learning how to manage those experiences she connected with the angelic realms.  She now uses her experience communicating with angels, spirits, and other energy beings to help her clients better understand and change their lives. Highlights and Questions: What's your best way to unplug and listen to the message? 11:00Crystals are a life form and a conscious form. How would you recommend to move through any obstacles in one's spiritual journey? 18:17 "Obstacles are lessons in our spiritual journey." What advice would you give someone looking to move through an obstacle on their spiritual journey? 18:17 Continue to grow and shift your circle. It's easier to grow and shift in a community. Take classes, a mentor, get in a group and learn learn learn. Explore and dive in. How do you tap into your spirit guides? 20:45I think it's important to constantly ask for help both general and specific enough for a request.What you receive from the universe will change when your conscious focus is on your choices and having strong boundaries on what you don't want in your life. Contact Laura Powers: 6-month training coursewww.healingpowers.netTwitterFacebookInstagramContact Keri Faith: Instagram https://instagram.com/kerifaithonpurposeFacebook https://facebook.com/kerifaithllcGrab a free copy of how to Instantly Shift Your Mindset for FLOW and SuccessJoin the FREE Manifesting with the Moon Workshops https://bit.ly/workshopwithkeriEmail: kerifaithonpurpose@gmail.comSupport this show http://supporter.acast.com/keri-faith-on-purpose. See acast.com/privacy for privacy and opt-out information.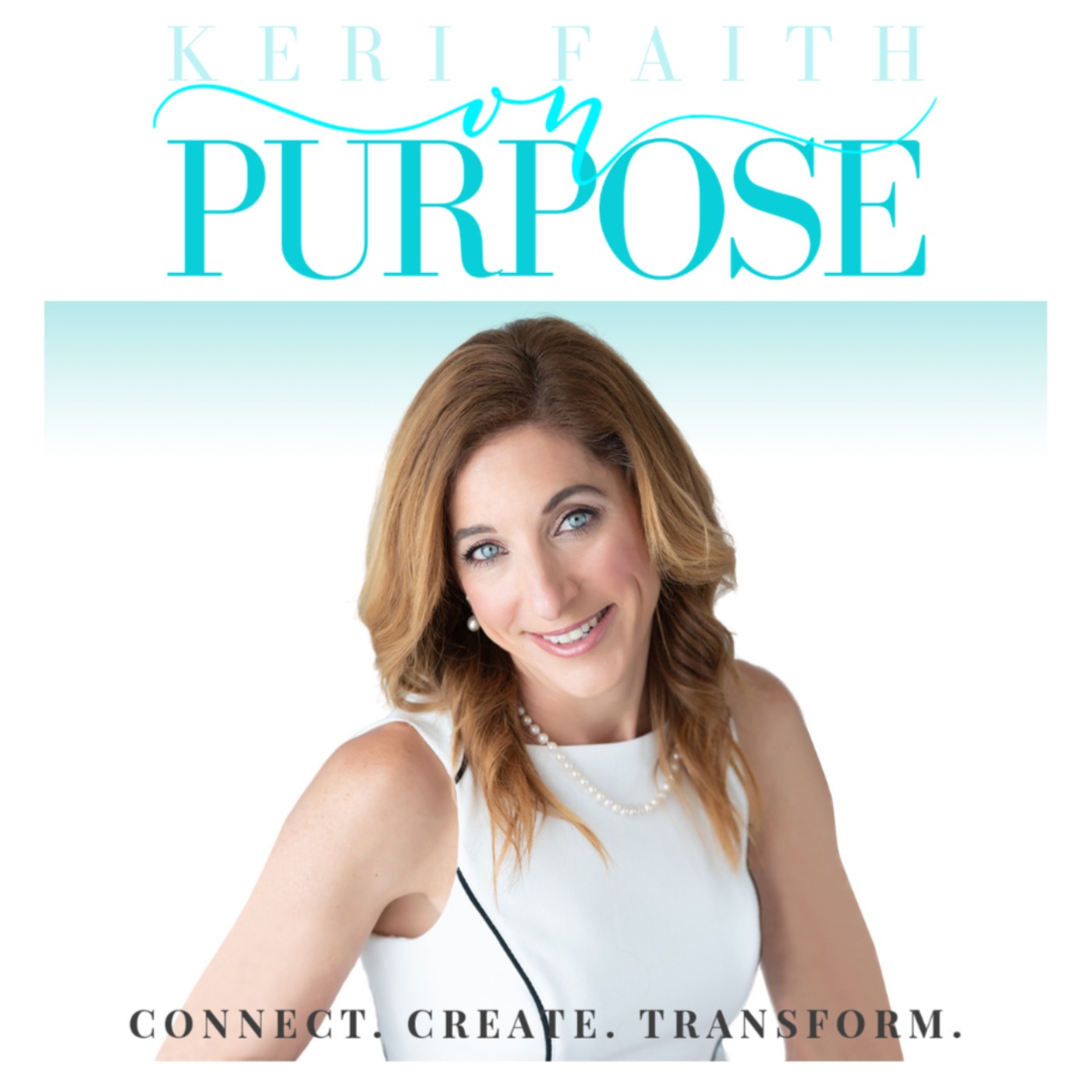 Laughing Lovebugs, Lauren and Alik Colbert, are a husband and wife team of Certified Laughter Yoga Leaders. Yes... LOL! You read that right they are "Laugh Yogis"...the Laughter Professionals.  Studies show when you start laughing, your chemistry changes, your physiology changes, and your chances to experience happiness are much greater. By elevating the mood of those around you by laughing, you may reduce their stress levels and perhaps improve the quality of social interaction you experience with others, reducing your stress level even more! The health benefits in Laughter include: Improved blood flow, cardio and lung function, Increase oxygen intake, Boost energy, Relieves pain, increases "feel good" hormones (serotonin and endorphins) & decreases "stress hormones" (cortisol), Creates a mood boost that lasts, releases your inner child and brings joy, promotes emotional intelligence, deepens your connection with others, clears negative emotions, and so much more!You can choose to be present, happy, and laugh...at any moment. The moment is now on this week's episode. Highlights from the show: What is laughing yoga? 02:50Learn more about physical, emotional and health benefits of laughter. 16:40What are some of the signs that your intuition is speaking to you? 25:10 "I realized I didn't want to be at war with my mind (25:10)How important is self assessment in your life? (26:50)What is your definition of happiness? "We don't laugh because we are happy, we are happy because we laugh." (33:30)Contact the Laughing Lovebugs:www.laughinglovebugs.comInstagramFacebookLinkedInYouTubeContact Keri Faith:Website InstagramFacebookGrab a free copy of how to Instantly Shift Your Mindset for FLOW and Successkerifaithonpurpose@gmail.comSupport this show http://supporter.acast.com/keri-faith-on-purpose. See acast.com/privacy for privacy and opt-out information.
Welcome to this solo episode about learning how to LET GO.I am honored to be your guide in this journey called life. Why is letting go so important?First off, because the only thing that you can control is how you react; to your circumstances, to others circumstances, and to the unknown. The reason on how to let go is uncovered in this episode. Some highlights include: Why it is so important to let go.How to learn where and what to let go of.How come it's so uncomfortable to let go.Pre-register for Manifesting FLOW for Freedom, Legacy, Opportunity, & Work with Passion and PurposeLet's Connect!Website InstagramFacebookkerifaithonpurpose@gmail.comResources: Believe It by Jamie Kern Lima Pillars to Positivity: The Art of Transforming Self-Doubt Into Self-Belief by Keri Faith Knudtson  Support this show http://supporter.acast.com/keri-faith-on-purpose. See acast.com/privacy for privacy and opt-out information.
Welcome to this week's episode where you will be guided to a healthier way of being as a parent and entrepreneur with Crystal Hilsley.Crystal Hilsley is a skilled author, child food advisor, passionate clean food activist, authentic marketing specialist, storyteller, and mother. She embodies her coined tag phrase "Bringing Clarity to Eating Well and Having Fun". Crystal received her BS in Psychology as a Certified Master Health and Wellness Coach, Certified Intuitive Eating Specialist and has extensive training in Parent Child Interactive Therapy. Combining her love for helping others with the tools and steps families can easily incorporate to heal nutritional struggles, Crystal believes every family can have a healthy future.HIghlights:How to practice your thankfuls and gratitude. (05:30)Biology of Belief by Bruce Lipton (06:20)"Everything you put in has an outward expression." (12:42)Children come into the world to trigger us and give us the lessons we need. (14:00)All disease starts in the gut. Perspective and perspective is what creates our reality. (26:20)Questions I ask Crystal:How did you find the concept of 'growth mindset'? (05:00)How did re-programming turn into your love and passion for food and nutrition? (10:00)Are there any specific foods we can eat to help with clarity and focus in our lives? (17:43)Contact Crystal Hilsley:FacebookInstagramWebsiteCrystal Clear KidsClean Eating for Kids PodcastConnect With Keri Faith: kerifaith.comInstagramFacebookKerifaithonpurpose@gmail.comSupport this show http://supporter.acast.com/keri-faith-on-purpose. See acast.com/privacy for privacy and opt-out information.
Have you decided to shine your light today? What about unlock your bravery to do something outside of your comfort zone? Do you get consumed with fear and freeze? Or are you unlocking your potential when you are faced with adversity? In this episode, I am joined by Lia Valencia Key, a designer, motivational speaker, and lighthouse whose mother told her to "Never leave the house without wearing your sparkling earrings, they will serve as reminders of the light within." Lia lost her mother at an early age but those beautiful words never left Lia's heart. And she is here to shine her light on you to unlock your bravery and open up to abundance. Raised in very humble beginnings in a super-impoverished neighborhood of Philadelphia, Lia Valencia Key lived in a homeless shelter with her mother, sister, and brother. Even in such dark times her mom told her, "your predicament does not determine your destiny." She encouraged Lia to never leave the house without wearing her sparkling earrings, because they would serve as reminders of the light within.Lia went on to rise above her challenges by Radiating Light obtaining a Bachelor's Degree in Business, Master's Degree in Education, a Cosmetology Instructor's License, becoming a Global Hair & Makeup Artist, received a United States Patent, then onward to create VALENCIA KEY JEWELRY company. Wearable JOY that symbolizes ALL THINGS ARE POSSIBLE, If You Can BELIEVE IT, You Can Achieve It! Created to inspire and unlock the bravery and light within. Lia's VALENCIA KEY JEWELRY, launched on QVC, one of the largest television shopping networks in the World. With the Power of Believing Lia went From homelessness to inspiring through jewelry in over 100 Million homes. Big Dreams continue to come ture, VALENCIA KEY Jewelry has Recently been featured in OPRAH Magazine 2020 Favorite Things Issue, Jamie Kern Lima founder of IT Cosmetics brought Lia to appear on the Mel Robbins Show and Speak on the stage with Brendon Burchard, Ed Mylett, Dean Graziosi, Tony Robbins and more to over 216k attendees at Jamie Kern Lima's BECOMING UNSTOPPABLE BELIEVE IT book launch.Lia reaches back to where she comes from donating & educating women in homeless shelters on the Keys to Light, how to rise up out of ruff environments. Lia is a living example that all things are possible by rooting the power of choosing joy and radiating light.Some Questions answered by Lia Valencia Key: "Your predicament does not determine your destiny." How did this shape you in your youth? (07:24)"How did you know you were made for more?" (20:28)How important is it to listen to the whisper in your heart and speak it out loud? (23:30)In this Episode You Will Learn: "Your predicament does not determine your destiny." (08:27)Do you want to be a follower or a leader? (09:10)When you are in darkness you literally have to open up your heart to what is possible. (11:25)What you can do to change your predicament around now. (14:40)Sometimes it's easier to stay in the condition you know but how bad do you want to open up to abundance? (20:28)Do not share out of expectation. When you are sharing your dreams you are planting seeds in the world. (25:00) When you pray it up, it will shower down to the right person and you won't even have to ask because you will have poured it out into the world. "Truly all things are possible if you have something to give to the world and you have a passion of love and you give it with pure generosity it will be life changing for the receiver." (28:00)Connect with Lia Valencia Key: InstagramFacebookwww.valenciakey.comlia@valenciakey.com Connect with Keri Faith: InstagramFacebookwww.kerifaith.comkerifaithonpurpose@gmail.comSupport this show http://supporter.acast.com/keri-faith-on-purpose. See acast.com/privacy for privacy and opt-out information.
Welcome to this week's Podcast episode with Ruchi Sharm, a ICF certified mindset coach, inspirational speaker, entrepreneur and writer. She offers exclusive personalized one on one coaching and mentoring to leaders and change makers across all platforms ranging from Driven Entrepreneurs to Corporate Executives. Her mission is to empower intentional leaders, who dare to dream and dare to be a beacon of light in the world. Her work focuses on creating strategies that lead individuals doing their best work, thrive among change and realize their full potential. Over the past decade Ruchi has worked in many scenarios from Full Time Teaching to working as a Marketing Professional at Yelp, Inc. She has a Masters Degree in Curriculum and Instruction from University of Houston and prides herself on being a Cougar. Ruchi lives with her husband and two children in Houston, Texas. .On leisurely days, she is a yoga and meditation enthusiast, an avid reader of books on psychology, spirituality and personal development, an enthusiastic dance partner and a hopeless music junkie.In this episode we discuss:What is the definition of success? (05:20)What values were you brought up to share and how did it shape you? (07:00)How do you guide women to their next next level success and goals? (11:00)Unmasking the ego (18:00)Energy of access your full potential (21:44)What is your soul's purpose? (22:20)What happens when you are out of alignment? (28:07)Resources: Wings of a Women: When Pain Becomes Your PowerConnect with Ruchi: www.ruchisharma.meINSTAGRAMFACEBOOK GROUP ruchi@ruchisharma.meClubhouse - @livingwithruchiContact Keri Faith:www.kerifaith.comInstagramFacebookYouTubekerifaithonpurpose@gmail.comClubhouse - @kerifaithSupport this show http://supporter.acast.com/keri-faith-on-purpose. See acast.com/privacy for privacy and opt-out information.
United States