Discover
Schein On
Author: pod617 - The Boston Podcast Network
Subscribed: 5
Played: 31
© 2020 pod617 - The Boston Podcast Network, All rights reserved.
Description
The podcast that explores high-profile divorces and much more. From Attorney Evan Schein and  Berkman Bottger Newman & Schein LLP. Evan Schein is a partner with the firm and leads the firm's litigation practice.  More info at www.berkbot.com
A production of pod617.com, the Boston Podcast Network.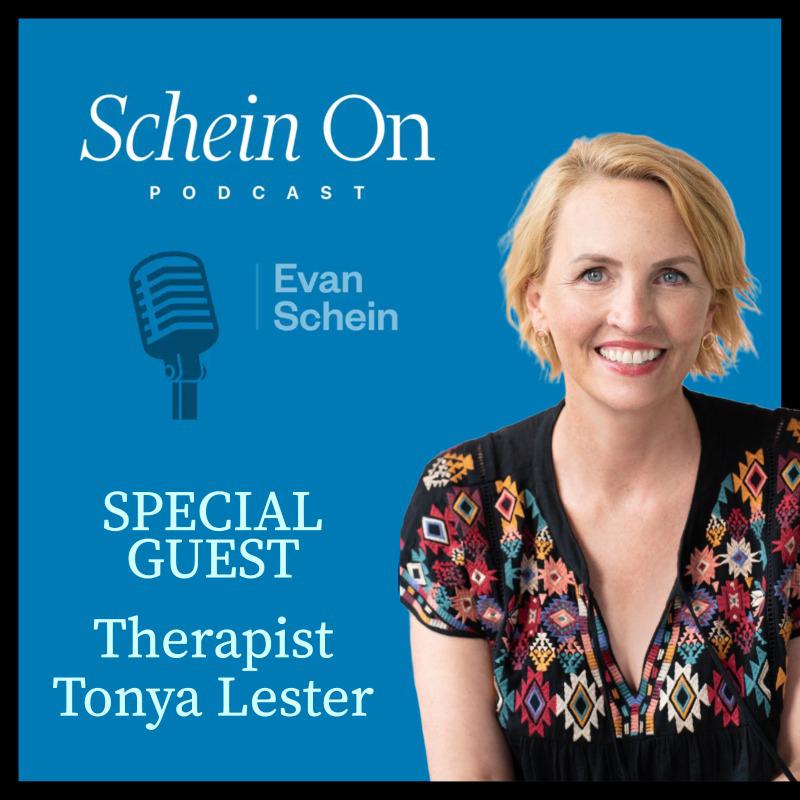 The guest is Tonya Lester, a psychotherapist in Brooklyn, New York. She's the author of the essay 'Couples Therapist, Heal Thyself' in the modern love section of the New York Times. More on Tonya at https://www.tonyalester.com/
Evan and producer Dave consider a host of current topics connected to divorce including:- The Case for Staying in a Broken Marriage- Why Divorce Registries Are A Real Thing- Is the Seven-Year Itch a Genuine Phenomenon?
Kiaundra Jackson is a trusted Licensed Marriage and Family Therapist. She has been featured in Oprah's Magazine and recognized by Beyonce and the NAACP. Website:www.KWCouplesTherapy.comHard Work of Harmony? www.HardWorkOrHarmony.comYouTubewww.youtube.com/@kiaundrajackson
The guest is Tess Wilkinson-Ryan, author and professor of law and psychology at the University of Pennsylvania. She is the author of "Fool Proof: How Fear of Playing the Sucker Shapes Our Selves and the Social Order― and What We Can Do About It."Get the book at https://www.amazon.com/Fool-Proof-Playing-Sucker-Order_and/dp/0063214261
The guest is award-winning documentary filmmaker Ellen Bruno.  Ellen's new film 'Split: The Teen Years,'  is the sequel to 'Split: The Early Years.'More on Ellen at www.brunofilms.com
Olivia Summerhill is a certified divorce specialist, money coach and certified divorce financial analyst. She's the host of the Divorce For Wealthy Women Podcast. More on Olivia: https://www.summerhillfirm.com/Follow the podcast at: https://podcasts.apple.com/us/podcast/divorce-for-wealthy-women/id1546130936
Evan is joined by Dawn Dais, author of the newly released book "The Shit No One Tells You About Divorce." Evan and Dawn discuss her book, which is an honest, transparent look into the divorce process and what really goes on from a person who has lived it and been through the good and the bad, the struggles and the successes.Get the book at https://www.amazon.com/One-Tells-You-About-Divorce/dp/0306828545
Dr. JoAnne Pedro-Carroll is a clinical psychologist, therapist, and an internationally recognized expert on children. She was a professor of psychology at the University of Rochester for 25 years where she developed award-winning programs used worldwide. Dr. Caroll serves as an advisor and consultant to many organizations, including Netflix, Sky Dance Studios and Sesame street addressing matters related to children, parenting and resilience.More at http://www.pedro-carroll.com/
Nate Klemp is a New York Times bestselling author, philosopher, founding partner at Mindful Magazine, and coauthor of The 80/80 Marriage.More on Nate at https://www.nateklemp.com/
Ian Kerner is the New York Times best-selling author of She Comes First   as well as the recently published So Tell Me About the Last Time You Had Sex.
Dr. Tracey Marks is a general and forensic psychiatrist with over 20 years of experience. She's the author of "Why Am I So Anxious?" She joins the show to talk about her mission to increase mental health awareness. More at https://markspsychiatry.com/
Dr. Jonathan Fader joins the show to talk about the psychology of sports, lessons about failing and what it means to be in "the zone."More on Dr. Fader: https://jonathanfader.com/
The Schein On podcast hits a milestone with the 50th episode. Evan looks back on memorable guests and then fields a few questions about hiw own life and career. Happy 50th!
Known as "America's Joy Magnet", Shari Alyse is a 2x TEDx & Inspirational Keynote Speaker, TV Host, and bestselling author on a mission to spread joy. She is the best selling author of 'Love Yourself Happy.' Motivated by her own journey through childhood sexual abuse and other childhood traumas, Shari Alyse has spent her life learning how to love herself fully and completely. The book: https://www.amazon.com/gp/product/B07TYH8YH3/ref=dbs_a_def_rwt_bibl_vppi_i0Shari's TEDx talk:  https://youtu.be/rGb9gH_lRds
Say hello to St. Louis Missouri's top divorce and family law attorney, Cary Mogerman. He is the president of the American Academy of Matrimonial Attorneys. He is not only an incredible and highly sought after divorce attorney, but a tremendous person who gives so much back to the profession, his community, the practice of family law and the next generation of family law attorneys.More on Cary: https://carmodymacdonald.com/people/cary-j-mogerman/
Evan is joined by Dr. Marisa Franco: speaker,professor, friendship expert and the author of the new book 'Platonic,' which just hit the bookshelves.Get the book here: https://www.amazon.com/gp/product/0593331893?tag=randohouseinc19538-20
Villanova professors Erica Slotter and Patrick Markey join the show to talk about their book 'F*ck Divorce: A Science-Based Guide to Piecing Yourself Back Together after Your Life Implodes.'Get the book at: https://www.amazon.com/Divorce-Science-Based-Yourself-Together-Implodes/dp/1510751602#:~:text=Using%20the%20latest%20scientific%20research,slug%2Dbreath%20ex%2Dspouse.
LSU Law Professor Elizabeth Carter has written and spoken extensively on the topic of prenuptial agreements.More on Dr. Carter: https://www.law.lsu.edu/directory/profiles/elizabeth-r-carter/
Dr. Tracy Dennis-Tiwary is an anxiety researcher and author, professor of psychology and neuroscience and the co-executive director of the Center for Health Technology at Hunter College. She's been featured throughout the media, including the New York Times,Wall Street Journal, ABC and CBS. Her book out this year is Future Tense: Why anxiety is good for you, even though it feels bad.
Dr.  Robin Stern is the co-founder and associate director for the Yale Center for Emotional Intelligence. She is a senior consultant at Yale New Haven Hospital. A licensed psychoanalyst with over 30 years of experience, Dr. Stern is the author of the Gaslight Effect.More on Dr. Stern at https://robinstern.com/
United States