Discover
The NFN Radio News Podcast
Claim Ownership
The NFN Radio News Podcast
Author: Bob Gatty
Subscribed: 2
Played: 126
© Copyright Bob Gatty
Description
Progressive commentary and newsmaker interviews from Notfakenews.biz. with journalist Bob Gatty and other Not Fake News writers. Insight regarding today's news with just a little lean to the left.
Why is it that some Republicans insist on denying the reality of racism? Why is it that there are still those who apparently believe slavery wasn't all that bad? How can that be?Now, there are at least two GOP state legislators who are saying that the "Three-Fifths Compromise," which counted slaves as three-fifths of a person back in 1787, really was a good thing for Blacks.Really? Sounds like another big GOP lie to me.So, that's the topic of today's podcast written by Not Fake News writer Stacy Fitzgerald. Take a listen to "The Big Lie of the Three-Fifths Compromise" from Not Fake News.biz.
Am I crazy, or do you agree with me?It's my opinion, that the Republican Party's continued buy-in to Donald Trump's claims that he was cheated out of the presidency can only end in their undoing.Yes, his hold on most members of the GOP is unquestioned, despite his defeat, and he is continuing his quest to remain the titular head of the party.But we all know what happens when something is built on a lie. It generally falls apart.That's the topic of today's podcast. Take a listen to "The Big Lie and the Sad Truth" from Not Fake News.biz.
Mark M. Bello is a trial lawyer and prolific author of headline inspired legal thrillers, the most recent of which is Supreme Betrayal, a gripping novel about a Supreme Court nominee who is a sexual predator.He's the latest guest on today's podcast.In our conversation, Bello discusses his books, of course, but also the conflicts of police violence and he need for reform, some of the consequences of the Trump presidency, continued efforts to take away Constitutionally guaranteed rights, and much, much more.I'm also pleased to report that Mark will be a frequent contributor to our Not Fake News.biz blog site, and his first contribution, "Another Young Black Man," which is focused on police killings such as that of George Floyd and Daunte Wright, is now on line. So take a listen to our interview with attorney and author Mark M. Bello.
Some of us thought, at least I did, that when America elected its first Black president with Barack Obama that racism in our country was at least beginning to wane.But then came the election of 2016 and Donald J. Trump, who made it seem OK for the millions of Americans who harbored racist attitudes that had actually hardened during the Obama years to come out of the closet, so to speak.Trump, a world class racist in his own right, made it OK to be racist again.Now, the Republican Party is dealing with that, and many have chosen either to ignore the reality of racism within their own ranks, or to pretend it doesn't even exist.Apparently, Sen. Tim Scott, the only Black Republican in the U.S. Senate, is in that last group. At least that what he said on TV the other night.Take a listen to Steve Hamelman's piece from Not Fake News.biz. It's called "American Racism: Republican Denial Continues."
It's becoming increasingly apparent that Republicans have little or nothing to offer, other than obstructionism and self preservation.Their determination to block the House-passed voting rights bill that seeks to ensure that every American is able to cast a ballot, even as Republican-controlled states pass restrictive laws, is an example of that focus on self preservation.They appear to becoming desperate. The more success President Biden has, and the better he is received by the American people, the more they resort to all manner of lies and deflection.The run up to Biden's address to Congress April 28 is a great example, and then the aftermath, even more so.And then, today, it was reported by CBS News that 89 percent of speech watchers thought he was presidential and the same number said he was caring. 84 percent said he was inspiring and 80 percent said he was bold. And, overall, 85 percent of Americans who watched approved of his speech, while only 15 percent disapproved.Meanwhile, Americans have more money in their pockets because of Biden and they are beginning to emerge from the scourge of the pandemic. And much more has been promised.With that in mind, it's no wonder Republicans are running scared.Take a listen to "Biden Goes Big: Republicans Act Like Toddlers" from Not Fake News.biz.
Remember the song from the '60s, "Secret Agent Man" with Johnny Rivers? The opening chorus went like this…I can't sing, so I'll just read the lyrics…you're welcome…There's a man who leads a life of dangerTo everyone he meets he stays a strangerOh, with every move he makes another chance he takesThe odds are he won't live to see tomorrowSecret Agent ManSecret Agent ManWell, looks like Russia has its own secret agent right here in the United States, and for four years he occupied the highest, most powerful seat in the land.His name was Donald J. Trump, and he had a lot of help from certain segments of the media in accomplishing his mission on behalf of Vladimir Putin.Take a listen to "Putin's Man in America" from Not Fake News.biz.
Today we're speaking with Lisa Skinner, a behavior expert in the field of Alzheimer's disease and other related dementia. Lisa has been a community counselor, a regional director of senior care facilities, a trainer, speaker and private adviser helping thousands of families and caregivers understand the daunting challenges of brain disease. She holds a degree in Human Behavior.In our conversation, Lisa offers counter-intuitive solutions and tools to help people effectively manage the symptoms of brain disease, using some real-life examples to help increase understanding. Lisa is the author of the two-times best selling book, "Not All Who Wander Need Be Lost," available on Amazon, and she regularly writes a blog under the same title on Facebook.So, take a listen…
I have two commentaries for you today from Not Fake News focused on the aftermath of the conviction of former Minneapolis police officer Derek Chauvin for the murder of George Floyd.First, writer Stacy Fitzgerald points out that Chauvin's conviction amounted to "accountability", but not really "justice." Had justice been served, she writes, Floyd would still be alive. However, she points out that much was different in this case from others involving police killings of Black people suspected of minor offenses. And, she says, there were several heroes who helped hold Chauvin accountable for his actions.Then, we'll turn to C.J. Walderon's piece in which he asks if America safer now in the aftermath of that verdict, in which he says justice was served.So take a listen, first to "At Last…Accountability" by Stacy Fitzgerald and then "Is America Safer Now?" by C.J. Waldron. Both from Not Fake News.biz.
It was just reported that the feds have stopped a shipment of over 170,000 counterfeit N95 masks from China, masks that actually are putting the health of many American healthcare workers and other frontline personnel at risk.According to the report, Customs and Border Protection officers on April 7 intercepted the shipment of 171,460 masks at Houston Seaport. They carried the logo of the National Institute for Occupational Safety and Health, but a check with the agency found that the shipment was not licensed.They were fake, and they were headed to White Plains, NY.Paul Hickey is co-founder and president of Utah-based PuraVita Medical, a manufacturer of medical grade face masks for the healthcare industry and the general public. He's been leading a mission to inform the American public that their lives are at risk by using these fake masks from China, 60 percent of which fail to meet the specs on the box, according to the Centers for Disease Control and Prevention.The feds' action to confiscate those 170,000 counterfeit N95 masks are just the tip of the iceberg, says Hickey, adding that some 20 U.S.-based mask manufacturers have banded together to convince the Biden administration and Congress to take strong action against Chinese companies that are dumping those masks in the U.S.Hickey explains all of this in this episode of NFN Radio News. Take a listen to our interview with Paul…and if you stay to the end, he has a special offer just for you.
Thanks to the Trump administration, the intelligence community is in disarray. The cooperation that we once shared with other agencies throughout the world has been shattered. This lack of a reliable intelligence network has left America open to another 9/11 style attack, cautions Not Fake News contributing writer C.J. Waldron.Take a listen to "Are We Headed for Another 9/11" from Not Fake News.biz.
Ever want to get a law passed or even just changed, but you have no idea how to go about it? Best selling author John Thibault has developed an "app" for that, well sort of.Thibault, who is our guest on this episode, explains how his I Lobby platform makes it possible for the everyday person to generate support for an idea for a new law or a law change and to actually have a chance for success.Thibault's book, "How to Change a Law," walks the reader through that process and makes a real contribution to our participatory democracy.Take a listen...
I want to tell you about our latest episode of Tempo and the Times, our sister podcast, in which we take a look at the news media today and some of the issues surrounding it.Our guest on the podcast is Guy Reel, a veteran journalist and now college journalism professor, who talks about the good old days when grizzled, hard-drinking reporters sat around the newsroom comparing notes about their stories and then headed out to the nearest bar to continue after work.The goal of many was to ferret out the facts and the truth and if that meant exposing wrong doing, so be it.But today, Reel says, times have changed. Newsrooms have thinned out, the rattle of typewriters and teletype machines have been replaced with the quiet tapping on computer keyboards, and a big focus is on gaining social media followers and recognition.Reel talks about the impact of fake news and about the new crop of reporters that he's teaching, and has some interesting observations.Here's more from my commentary today at Not Fake News.biz.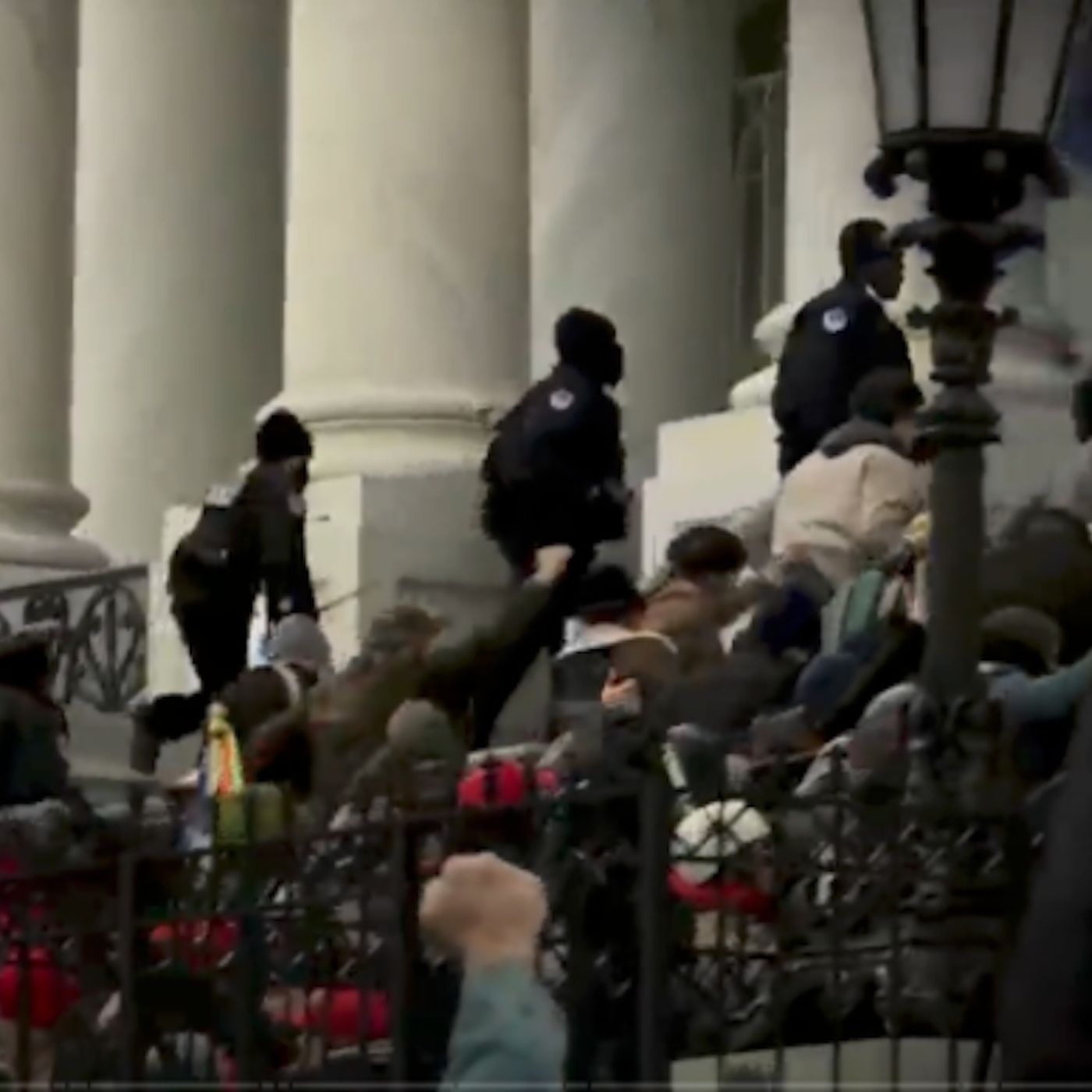 Hey guys, thanks for checking in on the NFN Radio News podcast, brought to you by Not Fake News.biz. I'm Bob Gatty, editor and publisher of Not Fake News. What is an "angry mob?" It depends upon whose version of the truth you accept: Donald Trump's and his enablers', or those who understand the facts.In just the past year, let alone the totality of the Trump administration, we've had all too many examples of angry mobs acting and reacting to events, not the least of which was the January 6th attack on the Capitol as Trump supporters protested Joe Biden's election.Perhaps these actions by angry mobs are simply a symptom of our broken nation. Consider that we had a brutal murder play out on camera in front of millions of viewers, but the perp could go free. And, we had an election where losers are now trying to fix future elections. In this podcast, I'll present two blogs by C.J. Waldron on Not Fake News.biz. First, will be "The Angry Mob," followed by "Our Broken America".So take a listen … from Not Fake News.biz.
Hey guys, thanks for dropping by the NFN Radio News podcast, where we talk a little politics with a little lean to the left, and where we interview interesting guests who can add to our dialogue.Today we have with us Kim Curry, author of The Death of Fairness, a book that explores the aftermath of the 1986 decision by the Federal Communications Commission to rescind the Fairness Doctrine. With that action, broadcasters no longer are required to present "contrasting points of view" on their airwaves, and Curry believes that's one reason why our nation is so politically and socially divided today.So welcome, Kim. Thanks for joining us today. Tell us a little about yourself, Kim, and about The Death of Fairness.
Earth Day 2021 is two weeks from today, April 22, so I thought it would be a great idea to look at some of the major developments that are taking place that will help to conserve our environment and protect our planet.One such development is the utilization of wind energy, something that Donald Trump belittled, saying windmills kill birds and can cause cancer.But President Biden, unlike Trump, recognizes the importance of our society moving away from reliance on fossil fuels and is willing to embrace technologies that can provide clean, renewable energy, and that includes wind power.And so, late last month he announced a major push to expand offshore wind, something that Europe has done for three decades now. We explored the potential and implications of this in our companion Tempo and the Times podcast, which streams starting tomorrow. That podcast is the debut episode of former New Jersey Governor Jim Florio as guest host with Scott Ramminger and me, and we interview a top expert in wind energy who is leading a special initiative designed to help the U.S. achieve its offshore wind potential.So take a listen to this preview from Not Fake News.biz. You can listen to the entire podcast starting tomorrow on all major podcast channels. Just go to Tempo and the Times and you'll find it. So take a listen to Harnessing the Ocean's Wind, Power for America from Not Fake News.biz.
Can't tell you when I've laughed harder than this morning when I read that Mitch McConnell is threatening big business because some companies have had the nerve to stand up against election fraud and fakery.Who's he kidding? Republicans are actually going to cross corporations who they've been serving for centuries and upon whom they depend for financial largesse for their campaigns?It really was pretty funny.Oh yea, also what was funny is how McConnell and Trump are using the term "woke" to describe how nasty Democrats are. They simply sound stupid.So take a listen to my take on all of this in today's commentary from Not Fake News.biz. Check out "Repubs Angry at Corporations: What a Twist!
The decision by Major League Baseball to take the July All-Star Game away from the city of Atlanta is causing reverberations, both on Capitol Hill and in Trumpland where the defeated former president was true to form, making veiled threats against those who cross him.But MLB's decision was the right one. They did it because the state's governor, Brian Kemp, signed a new law designed specifically to make it harder for people to vote. The law targets people who are likely to vote for Democrats. I.E., African Americans.The thing is that Georgia's new voter suppression law is just part of what's going on around the nation today as GOP politicians react to losing the Presidency and control of the U.S. Senate, and to Donald Trump's unconstitutional challenge to the 2020 election that he lost in a landslide to Joe Biden.If Georgia voters don't like it, they need to know who to blame. Trump. And the Republican butt kissers who helped him spread his Big Lie about the election being stolen.That's our topic for today so listen to "The Trump Big Lie Fallout Continues" From Not Fake News.biz.
You know the old saying, Money Talks and Bullshit walks.Well, today Major League Baseball hit the state of Georgia where it hurts. In the freaking pocket book. They did it because the state's governor just signed a new law designed specifically to make it harder for people to vote. The law targets people who are likely to vote for Democrats. I.E., African Americans.What did MLB do? They yanked the July Allstar Game from the city of Atlanta, that's what they did. Now, those Republican politicians and Gov. Kemp can just suck it up, because what they have done is not only racist and despicable, but it cost the state millions of dollars and a ton of publicity and prestige that comes along with hosting the annual classic.But that law is just part of what's going on around the nation today as GOP politicians react to losing the Presidency and control of the U.S. Senate, and to Donald Trump's unconstitutional challenge to the 2020 election that he lost in a landslide to Joe Biden.That's our topic for today so listen to "Voting Restrictions: What are They Afraid of?" From Not Fake News.biz.
Former New Jersey Gov. Jim Florio will co-host on Tempo and the Times, a podcast that explores the collision of popular culture with news, politics, and business.Tempo and the Times was launched in February by Bob Gatty, Myrtle Beach, SC, editor and publisher of Not Fake News, who was Florio's Congressional office chief of staff from 1976-78, and musician/writer Scott Ramminger, Nashville, TN. It is hosted on Spreaker and available on most major podcast streaming services.It's a "sister" podcast to NFN Radio News.Take a listen.
Today, you're going to hear from Chief Harold Hatcher of the Waccamaw Indian People, a small tribe of Native Americans that is indigenous to South Carolina.Better known as Buster, Chief Hatcher is fighting against what he calls "document genocide," actions by people in power that he believes have served to deny his people many of their rights.He's been waging a battle to convince the federal government to recognize the Waccamaws as an official Indian tribe, something the state of South Carolina did several years ago. But documentation requirements make this virtually impossible.The result is that the Waccamaws are unable to benefit from many of the same rights accorded to federal recognized tribes, including such basic things as religious practices and even the ability to profit from the sale of jewelry that they make. Take a listen to this conversation with Chief Hatcher. He talks about what it was like growing up in the South as an Indian, neither White nor Black, and about his tribe's traditions and ongoing fight for recognition.Take a listen to "Fighting Against Documentry Genocide" from Not Fake News.biz.
United States