Claim Ownership
Author:
Subscribed: 0
Played: 0
Description
Be sure to tap in on this exclusive interview. As we chopped it up with Sam Ant. about a lot of interesting things. From Snoop Dog to Chris Rock, Will Smith & Jada Smith. You have to tune in to get the Exclusive. to Watch the Full EPISODE : https://youtu.be/28PnsRW8UKgVisit our Website: thepreacherscorner.net subscribe to our Channels : @Viral Hip Hop News https://linktr.ee/ViralHipHopNews @Pastor J.T. Maberry @Lady Fenita R. Maberry #viralhiphop #pastorjt #ladyfentiarmaberry #fypシ
WEBSITE: www.imhod.com FOLLOW US on FACEBOOK : House of Deliverance Of Crowley, TX IG: @h.o.d.crowleytxFull video of the Service : https://youtu.be/ryJKejB9ZuE Don't Forget to Follow & SUBSCRIBE
PASTOR JT CONTINUES TO SHARE A WORD OF ENCOURAGEMENT TO THE MEN TO EMPOWER MEN TO BE WHO GOD CALLED US TO BE www.thepreacherscorner.netFollow us on your choice of platform for listening. IG : @the.preacherscorner
PASTOR JT gives a CHALLENGE TO THE SONS OF THIS GENERATION FROM a short Lesson from Proverbs. The SON SOLOMAN & THE FATHER KING DAVID and GOD the FATHERFOLLOW US ON YOUR CHOICE OF PLATFORMSwww.thepreacherscorner.netIG: @the.preacherscornerFACEBOOK: THE PREACHERS CORNER
Thanks to all our Supporters and Listeners abroad. Here's the Presave Link to order your download to Pastor JT's Upcoming EP Release. https://distrokid.com/hyperfollow/pastorjtmaberry/rapture-ready-vol-1-3website:thepreacherscorner.net
D. Bottz, a Multi platinum multi award-winning producer, musician, engineer, and owner of Bottz World studios is the bomb that will make you explode with laughter and wisdom in this interview! He talks about how to be successful in the music industry along with his "Cookout" tour that allows industry pros to connect with just about everyone needed in the music arena. Bottz worked with Mya, UGK, Kirko Bangz, Devin the Dude, Killa Kyleon, Fantasia, Slim Thug, Mike Jones, Natalie, Scarface, Z-Ro, Raheem Devaughn, LeToya Luckett, Chamillionaire, and plenty more!
Mr. Ali Abdin is an Actor, Director, Writer & Producer. Co- Owner of 1500 Entertainment, LLC with His Brother Aaron, They've produced THE number 1 Move Streaming on the AMC/ALLBLK App.www.thepreacherscorner.netTo catch the Premiere Visual : https://youtu.be/jjEHVuN8v88
Las Vegas' OWN Super Producer Stanley Harris ( Better known as ) Rothstein Beatz will be our guest on the Corner!! He's worked with Grammy Nominated Artist Trev Rich , Miesha of the award-winning singing group 702, and Amiss Omega, to name a few. Currently working with artist Naomi, Megan B, and Bran tha Brain, with more on the waiting list. Rothstien Beatz has a lot of influence in the entertainment industry and we're excited to have him coming to chat with us on The Preachers Corner!!
Pastor JT Preaching from Psalm 82:1-8 . Full video Available on our Church Website imhod.comClip From U.S. Rep Chip Royhttps://youtu.be/oFyJPTm4Yh4Sermonic Selection Chaotic Times Remix-Pastor JT & Lady Fenita R. Maberryvisit our website: www.thepreacherscorner.net
Will Williamson Is a Creative Content Creator from the UK!!!!! He has a lot of Knowledge in Social Media Management! He's Coming To Share with Us a Few TIPS!!!He has several Brand ambassador / influencer credits , CEO of Born2capture Media ,CEO of Content Creators Assembly! He's a Photographer & Videographer and Graphic Designers as well.Follow This Podcast on Whatever Platform You Are Listening onVisit us at our website: www.thepreacherscorner.net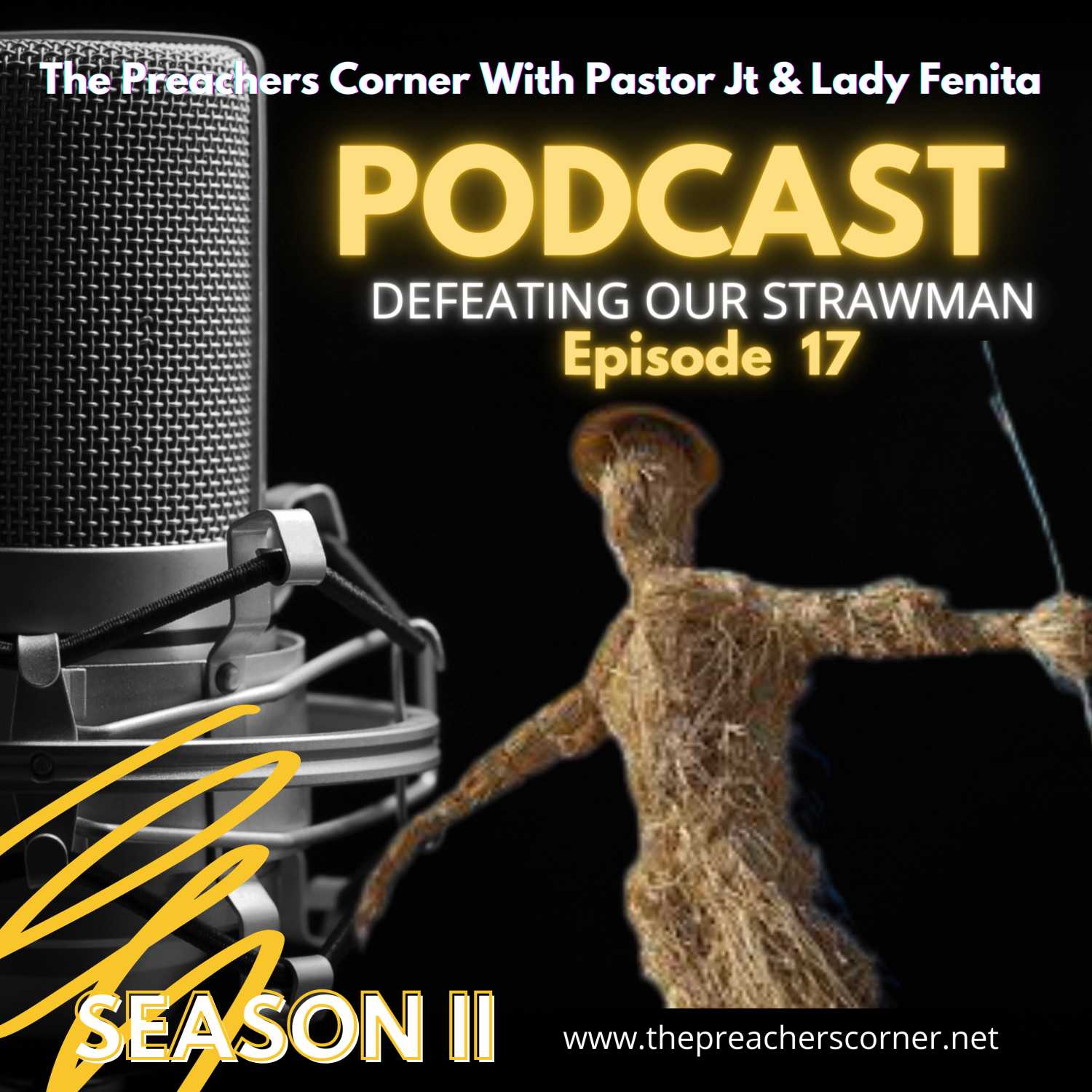 Morning Inspiration Brought to you by Pastor JT for Inhouseproductions Music & Film Visit us @ www.thepreacherscorner.net
Sunday Morning's Sermon -Pastor JT Maberry Full Video of the Service can be seen via our church website imhod.comTo sow a Seed Cash app : $HOUSEOFDELIVERANCEOutreach Ministry: www.wearemofia.comPodcast Website: www.thepreacherscorner.net
WE start the week off with the continuation of Laying the foundations of Prayer with Lady Fenita. If your Just joining us please go back and check out the rest of theis series. www.thepreacherscorner.net
We close this week out in Acts Ch 4:23-37 & Ch 5 1-11 . This mornings' Topic ; It's time to grow up. Take ownership of the things WE KNOW that GOD has called and ordained us to do and be apart of. 4 Focal Points to pray about. 1. Accountability 2. Conviction 3. Consequences 4. UnderstandingTo donate to better the performance of our podcast you can do so on our websitewww.thepreacherscorner.net
Morning Inspirational Brought to you By Pastor JT & Lady FenitaPlease Follow Like Share & Leave a Review www.thepreacherscorner.net
Praise God for the acknowledgement and achievement in rankings of Being in the 19th Position in the category of Music Interviews 27th in Mental Health77th in Health & Fitness in the Country of Zimbabwe! Thanks so Much for Listing! We Pray God's favor and Blessing upon each of you! Please Continue to Listen , Leave a review, and share this podcastwww.thepreacherscorner.net
Lady Fenita is back this week with another Episode on Laying the Foundations of Prayer. Prayer request can be made via our email jtm@thepreacherscorner.netwebsite: www.thepreacherscorner.net
His iconic tenor is reminiscent of the glory days, when gospel music sung by choirs dominated the airwaves, with class, style and grace. As an original member of the prolific gospel ensemble Kirk Franklin & The Family, Dalon Collins' undeniable vocals underscored the revolution of "message music," taking the lead on some of the group's most legendary hits such as Conquerors, Now Behold the Lamb, and other timeless Family classics. But it wasn't until he launched his solo career that Dalon began to soar beyond his highest notes. Following a brief break from music, Dalon came roaring back on the creative scene with a starring role in his feature film debut – 2017's The Jesus Freak, seen in limited release in select theaters around the country. Acting in the film only strengthened Dalon's faith in the power of his gifts to drive the masses to God through art; he has toured the country, delivering The Good News at countless venues, churches, arenas and theaters, leaving awestruck audiences transformed to witnesses for God's glory! Now, Dalon's latest single - Worthy of the Glory (a mighty ode to the sheer goodness of God), is available on all digital platforms and will be featured as part of the forthcoming series by Ernest J. Lee, #TEAMWORSHIP! The purity in Dalon Collins' textured vocals is ripe with the type of sincerity that's needed to bring reverence back to worship. And with new music in the Fall of 2022 on the horizon, get ready for a move back to the basics, and back to God's glory! #pastorjt #daloncollins #kirkfranklin #ladyfenitarmaberry #indieartist #gospelmusic #inteviewTo View The Interview Here's the Youtube Links https://youtu.be/gP--tKBYZkI It drops 4-26-2022 at 7pm central https://youtu.be/sRmrci_IWOk
Were starting the week off with Self Exzamination, Lets Get rid of somethings that's keeping us away from purpose and full potintial.
Lady Fenita picks up where she left off on yesterday to give us more on Laying the Foundations of Prayer. Like Follow and Sharewww.thepreacherscorner.net
United States