Discover
The Company Show
Claim Ownership
Author: Megan Dougherty
Subscribed: 0
Played: 7
© 2022 980681
Description
The Company Show is a podcast about running a podcast for your business or company. Podcasting FOR your business or company is different than podcasting as a passion project, or even with your podcast AS a business. You need to meet real organizational goals with a minimum of time and energy, because the podcast is just one part of all that you do. Whether you're a solopreneur who is running a whole business, or the marketing manager overseeing multiple cross-channel campaigns company podcasts have specific requirements, restrictions and opportunities that hobby, passion and solo-project podcasts just don't have.
But if you can work out a good system, you can shorten sales cycles, pre-warm leads, meet new partners, increase your brand awareness and authority, and generate weekly (or more!) fresh, dynamic content, all in the course of producing your show. This podcast will help you do that, with answers to every question you've got about podcasting, and interviews with different subject matter experts in the content marketing and multi-media industries.
Megan Dougherty is a digital marketer with over a decade of experience consulting and supporting business owners, who co-founded One Stone Creative in 2017 as a podcast production agency for business owners. One Stone Creative helps plan, produce and promote podcast episodes with a high-touch, consultative approach. Every business is different, and so is every business podcast. Over 5 years, and thousands of podcast episodes, we've identified the "blueprints" that make a company podcast successful, and are thrilled to be sharing that information with you.
There are a lot of really, really smart people in this industry and I rarely have an interview that I don't learn something from. The single biggest benefit of having a podcast, in my opinion, is getting to know more of them.Join me in the first official episode of the newly rebranded The Company Show (formerly The Business Podcast Blueprint Show), as I reflect on valuable lessons learned from industry experts from our  previous season and our monthly strategy and networking calls.Tune in to hear insights on:The importance of having a process to connect and engage with guests between interviews.The power of video SEO and why it should be prioritized alongside on-page SEO.How social audio can have a significant impact on business.Planning and conceiving effective podcast ads before recording is crucial.The value of collaborating with others, and guesting on other shows within the podcasting community.The importance of investing in top-quality audio and sending guests gifts like headsets to help improve audio quality and build relationships.Creating a great podcast as a marketing activity, going beyond just getting the show out there.Tips on optimizing social media reach by mastering algorithms with consistency, engagement, and relevant keywords.Networking calls and one-on-one networking opportunities can provide valuable insights and connections in the podcasting industry.Thank you for joining me on the very first episode of The Company Show. Stay tuned for the next episode with longtime friend, Tom Fox, where we'll answer the question: should you have a podcast network? Don't forget to join us for our monthly strategy calls on the third Thursday of every month at OneStoneCreative.net/strategy-calls.
Welcome to a new phase in the life of this podcast. Up until now, we've been the "Business Podcast Blueprint Show." And the business podcast blueprints are an important part of how we think about and help people achieve, effective podcasting. They represent the key high level archetypes for company podcasts - the prime directives that inform all of the other strategic decisions: Thought Leadership, Audience Engagement, Relationship Building and Content.Those are still very important, and we're still going to be talking about them a lot.What the business podcast blueprints lack in terms of a name is being sticky, and immediately comprehensible. Sticky, when it comes to podcast names, means easy to remember and to say. Immediately comprehensible, pretty obviously, means it doesn't need to be explained. To try and bridge these gaps a little, I'm delighted to introduce our new name: "The Company Show".The name, and the art, are changing, and we're going to continue experimenting and exploring different formats - more case studies, more instruction, more commentary, and at least for the next season, more regular releases, with an every-other week schedule.I welcome you to this new iteration of our podcast, and encourage you to listen and to share it!
As I reflect on the first-ever video season of the Business Podcast Blueprint Show, I'm convinced that video really is the future of podcasting. This season, we've explored the value and importance of video with the foremost experts in the field. After experiencing the mental and time burden that video production adds to the process, however, I've come to the realization that video podcasting may not be for me. In this season finale episode, I'd like to share my insights on the pros and cons of video podcasting and why I won't be doing another video season. Tune in to hear me discuss: While video podcasts are on the rise, it's important to consider your personal circumstances and preferences when deciding whether to make one. Hosting a video podcast adds a mental burden to the production process, as you have to pay attention to details like lighting, clothing, and makeup. Video is great for promotional content. 96% of the top 100 podcasts have YouTube channels. 69% upload full episodes on YouTube. The investment you can make in video production is an important consideration, especially since many of us don't have access to studios or videographers. The time investment required for post-production, repurposing content into clips, and promoting it on multiple platforms should not be underestimated. Hosting live podcasts adds a different dynamic and energy, but it's not always favorable to the listener. Bi-weekly shows can provide a more consistent and manageable workload for busy business owners. Thanks for joining me on this season of the Business Podcast Blueprint Show. Stay tuned for the next season in early May, where we'll explore new directions and strategies for podcasting success. Don't forget to join us for our monthly strategy calls on the third Thursday of every month at OneStoneCreative.net/strategy-calls.  KEY QUOTES "...data isn't everything! When you're creating your own content for your company, you get to choose what makes the most sense for you…" - Megan Dougherty "With podcasting, it's enough consistent, similar work, that you really have to at least not hate it. And when it's going to be on video - I hate it. It adds too much friction to my internal process" - Megan Dougherty "Repurposing and reusing [video content] are all well and good on paper, but they don't mean much if you can't make or prioritize the time to actually do it." - Megan Dougherty Resources One Stone Creative | LinkedIn | Twitter | Facebook | Instagram | Website | Monthly Strategy Calls
Are you ready to unlock the true potential of audio in your business? In this episode of the Business Podcast Blueprint Show, I sit down with voice actress and audio branding expert, Jodi Krangle, to discuss the importance of audio branding and how it can enhance your podcast's overall impact. From creating music to understanding the power of voice and sound, Jodi shares her insights on making a memorable audio brand. You'll also learn about her experiences in voice acting, her love for technology, and her thoughts on social audio platforms like Twitter Spaces and Clubhouse.Don't miss this episode, where we reveal the hidden power of sound to engage and captivate your audience! Jodi Krangle is a talented voice actress and audio branding expert with a passion for sound and technology. She began her career in voice acting in the mid-90s, volunteering at the Canadian National Institute for the Blind. Jodi's background in music and her love for computers made her a natural fit for the world of voice acting and audio engineering. Her experience in internet marketing and SEO also led her to create a successful songwriting resource online called The Muse's Muse, which ran from 1995 to 2016. Jodi's unique blend of creativity and technical expertise have made her a sought-after voice in the industry, and she continues to share her knowledge and insights to help others elevate their audio brands. You'll hear Jodi and I discuss: A well-crafted audio brand can not only enhance the overall perception of your brand, but also create more profound emotional connections with your target audience, leading to increased brand loyalty and recall. Jodi shares her expertise on using various sound components, such as music, voiceovers, and soundscapes, to create a unique and memorable audio identity that sets a brand apart from its competitors. Her fascination with technology and her interest in learning about the technical aspects of sound recording and editing has enabled Jodi to become her own audio engineer, offering her more control over the quality of her work. The tremendous progress that has been made in the field of sound technology over the years. To hone your voice acting skills and to succeed in the competitive voiceover industry, you need to continuously invest in coaching, education, and you need to learn from your mistakes. Sonic branding and audio logos have been around for a long time and are effective mnemonics that listeners recognize and associate with specific brands. Recent studies have shown that sonic branding can boost audio ad recall by double digits, increasing recall by 17% in radio ads and 14% in podcasts. The intro and outro are key elements of audio branding, and choosing the right voice for them is important. A professional voice talent can be used if the host's voice does not match the desired tone. Consistency in audio branding is essential, as it helps build recognition and memory among listeners. KEY QUOTES "Audio branding is a brand sound that represents the identity and values of a brand in a distinctive manner." - International Sound Awards "You want to be remembered. That's the whole point of advertising really." - Jodi Krangle Resources One Stone Creative | LinkedIn | Twitter | Facebook | Instagram | Website Jodi Krangle on LinkedIn | Twitter | Facebook | YouTube | Voiceovers and Vocals Audio Branding Podcast | The Power of Sound Clubhouse | Clubdeck Audacy-Veritonic study | International Sound Awards
Are you considering advertising on your podcast? If so, you're not alone. Many podcasters are interested in monetizing their content through ads, but how do you do it effectively? On this episode of the Business Podcast Blueprint Show, I interview Heather Osgood, founder of True Native Media, about how to structure podcast episodes for effective ads. Heather explains why podcasting is such an effective medium for advertisers, due to the high engagement and intentionality of podcast listeners. She also discusses the different types of advertisers and industries that are interested in podcast ads, as well as the technology behind dynamic ad insertion. If you're interested in monetizing your podcast through ads, don't miss this insightful episode. Heather Osgood is an expert in podcast advertising and the founder of True Native Media, a podcast representation agency that connects podcasters with advertisers. With over seven years of experience in the industry, Heather has helped countless podcasters monetize their content and has worked with a wide range of advertisers, from direct response companies to those targeting niche audiences. Heather is passionate about the engagement and intentionality of podcast listening and believes that podcasts provide a unique opportunity for advertisers to reach their target market.  You'll hear us talk about: Many podcasters consider advertising at some point for monetization and sustainability.  "The reason that advertisers have a tendency of gravitating toward podcasts and having a lot of success is because of the engagement that happens with the podcast audience," Heather says.  People are very intentional about the podcasts they listen to, so the audience is usually highly engaged. "The other thing that is really fascinating about podcasts," Heather tells me, "is time spent listening. So the average podcast is really about 40 minutes long. The average listener listens to about 80% of the podcast."  This makes podcasts an excellent choice for advertisers to get in front of their target market.  There are several types of advertisers that succeed in the podcast space. Direct-to-consumer and financial products are popular. Software does particularly well. Heather says, "I would say software works exceptionally well in podcasts because the other thing to think about with podcasts is that they are global… Somebody can listen to a podcast anywhere in the world. And one of the things that's great about software is in most cases people can buy software anywhere on the planet." Podcasts are a global platform and can offer localized ad placements. Dynamic ad insertion technology allows for better targeting of ads to specific listeners.  Announcer-read ads are typically programmatically inserted into a podcast, while host-read ads are advertised by the host of the show. Announcer-read ads are usually placed by large advertising agencies to reach specific targets. An effective transition in a podcast will avoid the listener feeling there are too many ads. I like the cliffhanger method as an effective way to keep listeners engaged during ad breaks. Heather also recommends using music to create powerful transitions. If your podcast gets 30,000 to 50,000 downloads per month or more, Heather would love to represent you. You can fill out the podcast questionnaire on the True Native Media website for more information. KEY QUOTE "With podcasts, people are...there because they want to hear the content. And that creates this engagement, which then allows this advertiser to really align themselves well with that content and reach the target market that they're looking to reach." - Heather Osgood Resources One Stone Creative | LinkedIn | Twitter | Facebook | Instagram | Website Heather Osgood on LinkedIn | Twitter | Facebook | Instagram | Website True Native Media Remarkable People | Terrestrial Radio | Vox Media | Sawbones: A Marital Tour of Misguided Medicine Edison Research
Have you ever thought about how to take your podcasting strategy to the next level? With video becoming increasingly important in podcasting, it's essential to understand how to make your content stand out in a sea of information. That's why I'm thrilled to have Atiba de Souza as this week's guest on the Business Podcast Blueprint Show. Atiba has been working in search and SEO since the 90s and has applied his extensive knowledge to help content creators build their audience and shorten their sales cycle. Today, we're discussing the different ways podcasters can use video and how to create valuable content that ranks on page one of Google. We'll also dive into the benefits of using video to build relationships and connect with your audience on a deeper level.  Atiba de Souza is a seasoned expert in the world of search and SEO, with over two decades of experience in the industry. He co-founded a computer consulting firm in 1996 and wrote one of the first search engines, starting his journey in search technology. Atiba has worked with numerous government agencies, including the DoD, Army, and DLA, building search systems and consulting on various projects. In 2019, he began focusing on video and YouTube, realizing the potential to create valuable content that ranks on page one of Google. Atiba is passionate about helping content creators shorten their sales cycle and build relationships with their audiences through the power of video and valuable content. Here are some key ideas you'll hear us discuss: Video is becoming increasingly important as part of a comprehensive podcasting strategy, according to reports. Video can help shorten the sales cycle and help people connect with who you are, understand why they should trust you, and take them through the process of getting to know you, learning to like you, and then trusting you. Google is starting to reclassify a big chunk of its database to be video-first content. They want to show video first because people want to consume video before they consume written content. Video fills the void that Google created for itself, and if Google loves your video, they will place it at the top of search. Podcasters can use video in different ways and should keep in mind the different things when they are creating video for distribution across different channels. Videos can be splintered into short snippets to answer questions that Google users may ask. Podcast episodes can be converted into videos and chopped up for snippets that can rank in Google searches. The decision of who answers the questions in the videos depends on the goal of the video. If the goal is to rank on Google, it could be either the guest or the host. But if the goal is to generate business, it would be better to shine the spotlight on the guest. YouTube Shorts is YouTube's second newest thing, which is still really big for them. YouTube Shorts can help rank both long and short form videos. Community is YouTube's newest thing. It's been around longer than Facebook and Twitter and was originally about creating a platform where a creator can bring people together in a group and make money. YouTube has Feedburner, which can be connected to a YouTube channel to produce an RSS feed that can be used for a newsletter that goes out every time a new video is published. KEY QUOTE "The beauty of podcasting, the beauty of video is it completely revolutionizes your ability to connect with someone and take them through that process of getting to know you, learning to like you, and then more importantly, get into that place where they trust you." - Atiba de Souza Resources One Stone Creative | LinkedIn | Twitter | Facebook | Instagram | Website Atiba de Souza on LinkedIn | Twitter  Sean Cannell: YouTube Secrets
Are you struggling with optimizing your audio setup for your podcast? If so, you're not alone. On this episode of the Business Podcast Blueprint Show, I talk to Junaid Ahmed, an expert in home audio and video setup. Junaid shares his tips on how to optimize your recording space, troubleshoot audio issues, and pick the right microphone for your needs.  Junaid Ahmed is an expert in podcasting, voice acting, and audio engineering, with over 15 years of experience in the industry. He has a strong background in photography and video cameras, dating back to 1989, and stumbled upon podcasting in 2012. In 2018, he began documenting his beekeeping journey and interviewing guests on his podcast. With over 400 interviews under his belt, Junaid is an authority in audio and video setup for home studios. He has worked with a diverse range of clients, from small businesses to Fortune 500 companies, to create high-quality audio content that engages their audience. Junaid is passionate about technology and how it can enhance storytelling, keeping himself up-to-date with the latest developments in the field. He shares his expertise on several podcasts and blogs, and he hosts his own podcast, Hacks & Hobbies, where he interviews experts in different fields and shares insights on how to turn hobbies into successful businesses. To optimize and troubleshoot your own podcast setup, you need to get all the variables right, which includes analyzing the space you're recording in, picking the right microphone, and using the right equipment to capture high-quality audio and video. The ideal home studio removes all friction to creating content and is designed for permanent installation, but in reality, many people don't have a dedicated space for recording and have to make do with what they have. To optimize a closed office or multi-use space for podcast recording, you need to analyze the space and add personality to it, pick the right microphone for the space, and use acoustic treatments like rugs, paintings, and curtains to absorb sound and reduce echo. To optimize a temporary space like a hotel room, use a lapel mic to capture high-quality audio and pay attention to lighting. "What you want to do in those kind of spaces, especially if you're doing video, is to have a lapel mic on you," Junaid says. "It's close to you and it only has a very small distance of capturing your video and your audio." You can also use a small closet or portable sound treatments to absorb sound and reduce noise. Lapel mics or headsets with microphones are recommended for capturing good audio in conference rooms with flat walls and wide empty spaces. Recording platforms like Riverside, Zencastr, and StreamYard can save recordings in high quality wav files, whereas Zoom compresses recordings into mp3 files. It's possible to start podcasting with a few hundred dollars, and mid $2,000 can get you a good set of gear, including a microphone, camera, headphones, and lighting equipment. It's better to start with minimal investment and upgrade as you go. KEY QUOTES: "The idea behind setting up a home studio is to remove any and all friction to creating content." - Junaid Ahmed "You've got to know the type of microphone you're using, where the driver is capturing the audio and you're talking into that space as opposed to the offside. That can help improve the audio by miles." - Junaid Ahmed "All of this has enabled us to not only connect with each other but also grow as a person and grow as a human being." - Junaid Ahmed Resources: One Stone Creative | LinkedIn | Twitter | Facebook | Instagram | Website Junaid Ahmed | Home Studio Mastery | LinkedIn | Twitter | Hacks & Hobbies podcast Adobe Character Animator | Apple | Skype | Zoom | Zencastr | Blue Yeti | Nvidia | Riverside | StreamYard
Are you a podcaster looking to take your interview game to the next level? Look no further! In today's episode, we're diving deep into the world of guest management with podcasting expert, Jason Cercone. From booking guests to creating a comfortable environment for them, Jason shares his top tips for conducting engaging and informative interviews in this episode of the Business Podcast Blueprint Show.  Jason Cercone is an expert in guest management, pitching, and building authority through podcast guesting. He started podcasting in 2015, took a break to study the art of communication, and came back to podcasting to help others launch their podcasts. He now helps people maximize the guesting side of things to build their brand and establish thought leadership in their niche.  You'll hear Jason and I talk about: The initial outreach to guests should be simple and not overly salesy. Contact them by phone if it's their preferred method of communication. Hosts should create a warm and welcoming environment and ensure that the guest has a good microphone for high audio quality. Provide your guests with clear expectations, topics, and questions before the recording. That way you'll avoid surprises and ensure that everyone is on the same page. During the call, actively listen and engage with your guest, show appreciation for their expertise, and encourage them to speak freely and openly. After the call, follow up with your guest, share the episode's publication schedule, and thank them for their time and contribution to the podcast. A pre-call before recording a podcast episode can help establish a good rapport with the guest and ensure that they have the necessary equipment for recording. Most podcasters benefit from some preparation for a show with a guest, such as looking at the guest's social media profile or listening to them on other shows. Sending a list of questions to the guest before recording can be helpful, don't feed them questions that are too limiting or contrived. A good host should be able to create compelling content that goes beyond surface-level questions and elicits an engaging response from the guest. This can help keep listeners invested in the show and lead to more engagement and growth. The type of preparation and approach to hosting a podcast depends on your podcast's main goal, whether it is relationship-building, audience engagement, or thought leadership. Jason likes to gauge his guests' level of show prep before the recording. He strives to have engaging conversations with his guests and gets them to the value as quickly as possible. It's important to have good audio quality during recordings. Turn off devices and notifications to prevent distractions. Don't neglect common courtesy items like arriving early, testing your mic, and ensuring a quiet recording environment. Hosts should feel comfortable giving direction to guests on tech issues, such as adjusting their mic volume, to ensure the highest quality production. Life happens, and sometimes unexpected issues arise during the recording process. It's best to deal with it creatively and constructively. KEY QUOTES: "It's all about the relationship with the person in front of you, not this audience they've built. That's all something that can come into play down the road. But if you're building that relationship with the person in front of you, that can lead to a number of opportunities before the interview even goes live." - Jason Cercone "...[make] sure that you're asking those engaging questions and letting that organic conversation flow." - Jason Cercone Resources: One Stone Creative | LinkedIn | Twitter | Facebook | Instagram | Website Jason Cercone Website | Twitter | Instagram | Facebook | YouTube The Absolute Guide to Authority Enhancement
Chris Weiher, an experienced video producer, joins Megan Dougherty to lay out the pros and cons of podcasting and vlogging to settle once and for all - should your podcasts be on video? They're digging into all of the different ways multi-media content can impact your business and seeing which platform comes out on top. "If you're going to spend an hour recording your voice, talking about something passionately, interviewing somebody passionately, you should record the video as well because it's fascinating to us and obviously to people like consuming media in different ways." Chris Weiher is a video producer with over 20 years of experience in the industry. Chris's company, CLEAVER Creative has created B2B animations, sales presentations, and commercials seen by millions and now works with business owners to help them create their own videos and he only cares about results. There is something biologically wired in us that draws us to watch faces, and that is what Chris is working to take advantage of to help build relationships. If we're all recording with video on, why not capture and make use of the video? Taking it a step further, Chris started exploring how vlogging on Linked int creating an opportunity to connect directly with clients and community – he was convinced. Listen to this episode to find out how vlogging and podcasting can each contribute to your overarching business goal with your show, with details about Thought Leadership, Relationship Building and Audience Engagement. In this episode, you will learn the following:  1. Exploring the Benefits of Recording a Video Podcast: What are the advantages of recording a video podcast over an audio podcast, and how can this help you engage your audience more effectively? 2. Learning How to Build a Community Through Social Networking: What strategies can you use to network with other professionals and build a strong community on LinkedIn? 3. Leveraging Your Content Across Different Platforms: How can you repurpose your content to maximize engagement on different platforms?   RESOURCES One Stone Creative | LinkedIn | Twitter | Facebook | Instagram | Website Chris Weiher | Cleaver Creates | LinkedIn
Our goal at One Stone Creative and the Business Podcast Blueprint Show is to help companies harness the power of podcasting. In this episode, I sit down with the amazing Paula Thomas, host of Let's Talk Loyalty. We chat about sponsorship and partnerships and the importance of beginning with the end in mind. Paula Thomas is the mastermind behind Let's Talk Loyalty, a top 5% podcast globally according to Listen Notes. Paula has built a thriving podcast empire from the ground up. Her creative approach to podcasting and clever marketing moves, as well as her expertise in sponsorship and partnerships has made her a go-to expert in the field. Tune in to hear Paula and me chat about: Her background in digital marketing and her passion for loyalty marketing inspired Paula to start a podcast. Consistency was key to building the success of Let's Talk Loyalty. Paula's focus on interviewing compelling brands attracted her target audience. "What I learned by doing is probably one of the most important early things, was [that] I really wanted to interview brands that were compelling to my audience," she tells me. Paula went all-in on building the podcast as a business. This was crucial to her success. The sponsorship model she adopted is simple and effective: 30-second host-read ads, with one sponsor per show; 3 shows a week, 156 read-out slots to sell; She also offers executive interviews, 2-3 per sponsor per year. These interviews focus on thought leadership and are clearly labeled as sponsored content; Content is appealing to both sponsors and audience. Limit advertising to 1 minute per show to avoid content overload and appeal to both sponsors and audience, Paula advises. Partnering with loyalty industry associations helped Paula promote her show. Paula has a full-time team for production and publishing, including a client success manager to manage sponsors. Paula considers her podcast as a product and is proud of its commercial success. KEY QUOTE: "Our whole distribution strategy for the show is to be the default audio content creator for every loyalty industry association in the world." - Paula Thomas RESOURCES One Stone Creative | LinkedIn | Twitter | Facebook | Instagram | Website Paula Thomas | LinkedIn | Let's Talk Loyalty
We're back for season 3 of the Business Podcast Blueprint Show! My first guest this season is my business partner, Audra Casino, and we're going to dive into the crucial aspect of podcasting that often goes overlooked - show structure. Audra and I are going to talk about the structure of a podcast episode and how it affects the listener's experience and the success of the podcast. Audra is an expert in this area, so we'll be discussing topics such as mic problems, show structure, episode segments, and the best way to improve your podcast performance consistently.  You'll hear us chat about: Recording the first ever episode of Business Podcast Blueprint Show with the wrong microphone. We now use this mishap to illustrate the importance of having the right mic selected to ensure good sound quality in a podcast recording. Banter is a way for podcast hosts and guests to bond and create a relaxed and friendly atmosphere, but it can also be harmful if it crosses the line into inappropriate or insensitive territory.  You can view the structure of your podcast episode as the bones of your show, and as a template that you can use for every episode. A basic structure can be modeled after an essay with an introduction, body, and conclusion. Recording each segment separately gives more control over the content, making it easier to write a better intro, deliver on promises made in the intro, and create cohesive episodes. Repurposing content is a power tip. When recording video content, little segments can be treated as repurposing content and can be used in various ways. Three types of business podcast blueprints:  A Thought Leadership podcast is focused on promoting the speaker's reputation and intellectual property. Thought-provoking, informative, and educational content that is relevant to their industry is the best for a thought leadership podcast. Segments on current events, trends, and hot topics within the industry are ideal for this type of podcast.  The Audience Engagement style: answer listener questions to make the audience feel seen and heard. Engage directly with the audience and incorporate listener questions, either written or recorded. You can also have a segment where listeners can introduce themselves and talk about why they like the podcast. Other tips include encouraging participation on social media. Relationship Building style: This is about creating a "flywheel of new connections" through guest appearances and hosting others on their own podcast. Relationship building is a common goal for businesses podcasting as a marketing channel. Serve the audience with good content while also giving guests a chance to shine. A speed round or personal anecdotes can be a great way to build relationships. Allowing guests to think about questions beforehand also helps them put their best foot forward. Solo episodes can be used to create content that can be easily repurposed on social media platforms. Frontload planning for easier execution. Also, listen to finished episodes and write down observations about what works and what doesn't, to improve your show. The Business Podcast Blueprint Show team at One Stone Creative invites you to their monthly strategy and networking sessions on the first Thursday of every month. These free sessions include trainings, Q&A, hot seats, and opportunities for networking. To learn more and register, visit OneStoneCreative.net/strategy.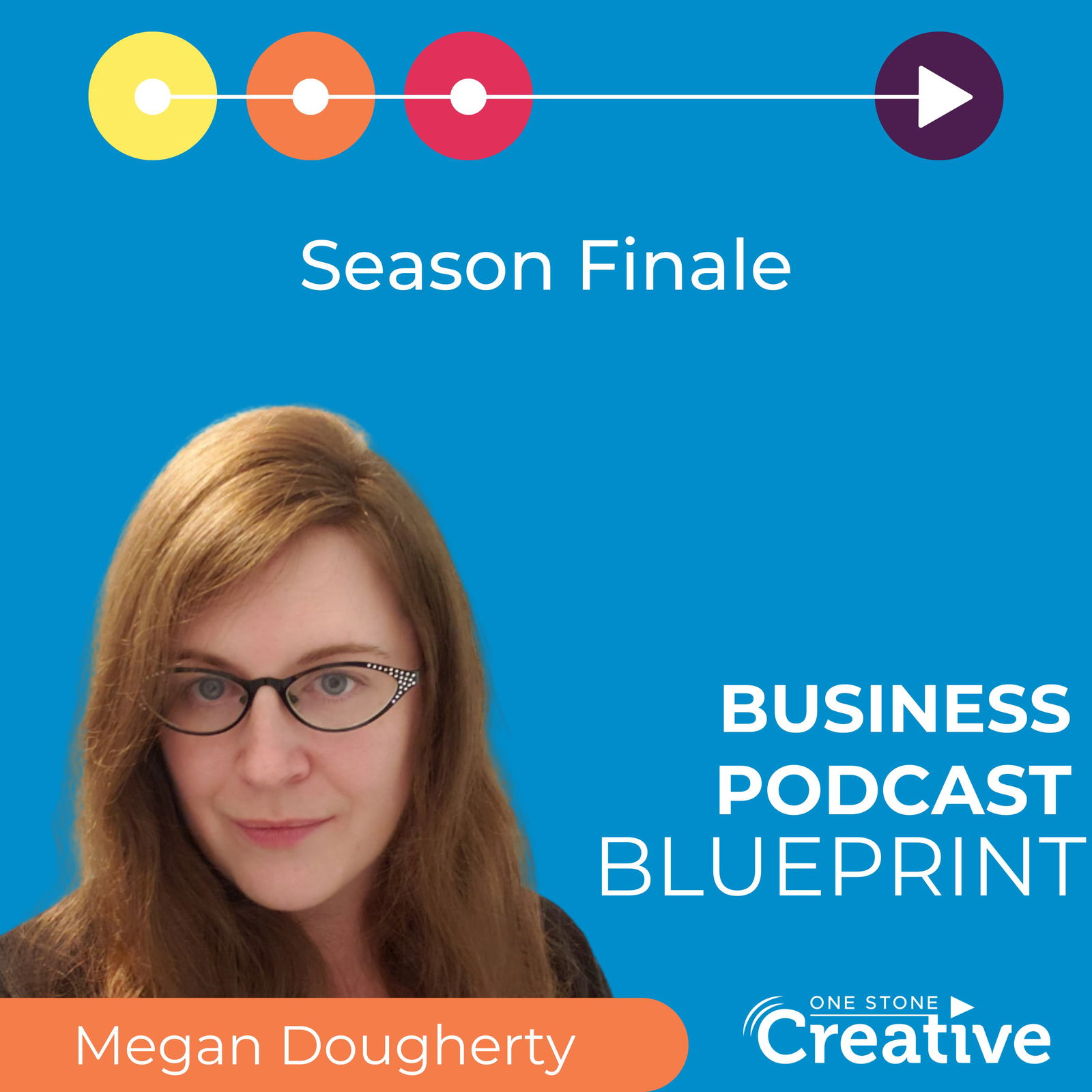 I quite frequently swear that when this project is finished, I'm going to take a nice break and spend some time resting and reflecting. I'm generally a dirty liar, but not this year. This December, I'm doing my best to make an honest woman out of myself and spend more time reflecting and gently planning the next year. It's not what I'd call easy, but I do suspect it's going to be worthwhile. This is the last Business Podcast Blueprint episode of the season and the year, and I'm talking about how it's gone and what's going to happen next. Tune in to hear me talk about: One of the best ways to improve the quality of an interview is to restrict the length. This forces you to get more good content out in a shorter amount of time. The same thing applies to seasons as well! I plan to make changes to my podcast workflow and cadence next year. The biggest change involves switching from an all interview format to weekly interviews or shorter seasons focused on specific topics.  The Podcasting for Business Conference was a huge success! The content was amazing, brought by absolute experts in their spaces who brought their A-game. It nearly makes me burst with pride that we were able to assemble and put everything together for the attendees.  Investing more in the grassroots style of marketing rather than the traditional affiliate-based advertising methods is something I'm going to be looking at doing next year. RESOURCES One Stone Creative | LinkedIn | Twitter | Facebook | Instagram | Website Head to PfBCon.com to grab a copy of the recordings! Get the State of Business Podcasting report here! Cedar & Sage Media | Website
This week's guest, Desmond Dixon, is CEO of Remote Sales Manager, co-founder of Hubalz, and host of the Campfire Capitalism Podcast. Desmond is a world-traveling, sales team-building entrepreneur who loves connecting like-minded people together. Today, Desmond shares his story as we discuss how podcasting can help you network and build relationships and his strategy for having valuable conversations. Tune in to hear Desmond and I explore: Desmond created an internal team to help him with his podcast from the get-go. This experience taught him the true value of expertise: even though his team was effective, they could only do as well as he directed them to.  Desmond let go of perfection and focused on going all in, he shares. Podcasting while traveling was difficult at first, but when he remembered that at its core podcasting is simply talking to people, the hardest part was easy to overcome. That hardest part, according to him, was getting guests.  The secret to talking to people is being curious, Desmond claims. Being more curious about another person than you are about your inner world will allow you to have real conversations.  One sure way to deepen and maintain relationships with your guests is to "be obsessed with them outside of the podcast," according to Desmond. This involves getting them on other shows, introducing them to potential clients, and engaging with their content. Question of the Week: Q: How do you follow up with your podcast guests? A: One of the main reasons most businesses run podcasts is to establish and develop professional relationships. That means talking to people, of course, but that's only the first step to make your podcast a really meaningful networking tool. The first follow up is easy: thank your guest for coming on your show, and share the podcast details. After that, it can be a little more difficult to decide how to continue building the relationship in a way that feels natural.  Connect with them on all social media platforms and engage with their content. Be the kind of connection you want to have. Keep a running list of the people you're building relationships with and periodically reach out with something they might find interesting or update them on something that you've talked about in the past or the episode that you recorded together. RESOURCES One Stone Creative | LinkedIn | Twitter | Facebook | Instagram | Website Desmond Dixon | LinkedIn | Twitter | Website
Since 2020 we've been looking at the top 100 business podcasts to find out what they're doing with their shows and what we can learn from them. We discussed this year's results during last week's Podcasting for Business Conference, and are sharing that examination today on the Business Podcast Blueprint Show. Tune in to hear Tom and I explore: The State of Business Podcasting report is a collection of data points about the top 100 business podcasts. It's an overview of the trends in B2B or business podcasting for companies. For the third year in a row, the average podcast length is 43 minutes, and the most popular type of content is networks focused on a single topic.  If you are building a business and a brand around being a public original thinker, your name should be in the podcast title because that's the foundation of your brand. If you're not looking to create a named brand like that, use a name that is more topical or relevant to your audience rather than about yourself.  Assets like show notes really add to the overall SEO; that is the cheapest, most cost effective way to get more information on your show out, Tom shares. For More Information: Head to PfBCon.com to grab a copy of the recordings! RESOURCES One Stone Creative | LinkedIn | Twitter | Facebook | Instagram | Website Tom Fox | LinkedIn | Twitter | Website | Blog
This week's guest, Fatima Zaidi, is CEO and founder of Quill Inc, a full-service podcasting hosting platform and production agency. Fatima supports brands in launching their podcast and helps global brands and pro-podcasters distribute, grow, and measure their audio as founder and CEO of CoHost. Today, we're discussing how podcasts can be used to serve business objectives, the importance of diversity in podcasting, and why having an external host can benefit you. Tune in to hear Fatima and I explore: Audio can reach people where other forms of media can't. You can't watch Netflix while driving to work, or read an article while walking your dog, but you can do these things and more while listening to a podcast, Fatima shares. Fatima describes how podcasts help business objectives. Corporate podcasts typically serve to educate or entertain consumers; they often center around brand awareness, thought leadership, lead and sales generation, or telling their brand story. In being intentional about representation and diversity, you have to unapologetically stick to your guns. It's a challenge to straddle the line between running a business and supporting positive change where DEI is concerned, but sometimes you have to be "willing to say no to a lot of the powerful people in podcasting who always have the stage," Fatima explains. Understanding listener behavior is one of the biggest challenges in podcasting and discoverability metrics. Question of the Week Q: How do I become a better storyteller in interviews? A: Like every other skill, the answer is in practicing. Within business or professional podcasts, there are two high-level types of story that you can use. The first is the bigger, overarching narrative of an episode. People understand and connect with stories and narrative tension caused by not knowing how to solve a problem. As you're planning episodes, think about that gap in knowledge that your listener has, whether it's a solo episode or an interview.  The other type of story is the kind that you tell to illustrate ideas and create connection with the audience, known as anecdotes. It might feel like a genuine anecdote has to be fresh off the cuff, but the truth is, you can practice them, and a lot of people do. Curate a little library of stories that amuse, delight, and explain. Practice them in front of the mirror, transitioning to and from them in different ways, so that when an appropriate opening comes up in the future, you are ready to go.  RESOURCES One Stone Creative | LinkedIn | Twitter | Facebook | Instagram | Website Fatima Zaidi | LinkedIn
Humans think and understand the world through stories and narratives. Creating those stories is one of the best ways to get our messages across effectively as podcasters. A few weeks ago, our client and long-time friend, Gini Dietrich of the Spin Sucks Podcast, released an episode about how to become a better storyteller. Spin Sucks is your one-stop shop for modern communications - an independent communications agency and a community for professional communicators. Gini shares compelling ways we can use storytelling in a professional context. She also explores: Some communicators paint a bad image for the PR industry as a whole. "[Most] of us don't lie for a living," Gini affirms. "There are some who [do]... and that's what movies and media focus on. The rest of us are doing the real work." Bruce Harrison and his team were interviewed and said that they regret the work that they did, and had they not been young and naive, they never would have participated in the disinformation campaign against climate change. When telling a story, experts carry great weight. RESOURCES One Stone Creative | LinkedIn | Twitter | Facebook | Instagram | Website Spin Sucks | Website | Podcast | Twitter | Instagram Gini Dietrich | LinkedIn | Twitter
This week's guest, Dina Behrman, is a former journalist turned PR strategist and publisher. Dina works with entrepreneurs who want to inspire millions, skyrocket their visibility and attract more clients. Today we're talking about her publishing company and the collaborative books that she creates with entrepreneurs and experts from around the world, as well as how to feel comfortable putting yourself out there, being visible, and engaging in awkward PR activities.  Tune in to hear Dina and I explore:  As the face of your brand, you have to put yourself out there so people can see you as an expert in your field. Actively seek out media opportunities to showcase your expertise and to share what motivates you and your journey. Being a podcast guest is an excellent way to promote your own story. Dina says that the best way to maximize your appearance is to share your story and expertise from the human interest angle. Your message will resonate with the audience. Once you find your story that attracts your niche audience, use it on all your social media, such as the about page on your website or pinned posts on social media platforms. Repeating your content can save time, but it can also be harmful. You may be pitching the same story to different media outlets, but tailor your pitch to each platform. Question of the Week Q: How should I name my podcast? A: Naming your podcast is one of the first big decisions that you have to make right after you decide to launch your show. It feels more high stakes than it actually is for most company shows. It's not unimportant: of course, you want a name that communicates what the show is going to be about and who it's for. But it's not the be all and end all: the success or failure of your show doesn't hang on the name you choose.  There is a quality you should try to capture with your podcast name and that is stickiness. Stickiness means that it's easy to remember and to say. It's great if you can have it, but not the end of the world if you don't. Easy to remember happens when you're using words, phrases, or names that have meaning for your audience. RESOURCES One Stone Creative | LinkedIn | Twitter | Facebook | Instagram | Website Dina Behrman | LinkedIn | Twitter | Instagram | Facebook | Website
One of the things I love most about podcasting is the way you can use it as a vehicle to make connections - something that is very important in the world of business. This week's guest, Tom Fox, is my partner-in-crime for our upcoming Podcasting for Business Conference. Tom is hailed as the Voice of Compliance, serving and evangelizing for the compliance community for over 15 years. He is the founder and creator of the Compliance Podcast Network. We talk about the value of podcasts for business, how we came up with the idea for the conference, and where you can learn more about the event. Tune in to hear Tom and I explore: The Podfest Global Summit is an amazing event, but it wasn't easy for our clients to attend because of time, money, and resource constraints. Tom and I figured we could host our own conference, but virtually. We started reaching out to people and before long, we had a great line of speakers to join us in November. A hallmark of the conference is its accessibility. The action-packed, easily digestible presentations are relevant to many parts of your business. Podcasting allows you to use a variety of strategies to get your message out; for example, repurposing content on various platforms. Authenticity is fabulous, and that's how you'll find your voice: by being you. Building relationships with guests is one of the benefits of podcasting. If you invite someone to share their story, you will get a response.  Get the full notes at: https://onestonecreative.net/35 For More Information: Head to PfBCon.com to register or learn more about the conference. RESOURCES One Stone Creative | LinkedIn | Twitter | Facebook | Instagram | Website Tom Fox | LinkedIn | Twitter | Website | Blog
We've all heard the old adage "communication is key," but did you know it also applies to podcasting? This week's guest Maribel Quezeda-Smith is an expert in all things podcast production, with a demonstrated history working in television, documentary, and social media. She is co-founder of BIPOC Podcast Creators and co-host of the Pulso Podcast. We talk about editing, scripting, recording, and using different mediums for different types of communication. Maribel also shares insider knowledge she has gained from 16 years of experience. Tune in to hear Maribel and I explore: Working in podcast production has made Maribel an "audio snob," she claims. Now that she knows what works and what doesn't, she's more sensitive to errors or mistakes in audio. One pet peeve of hers is upspeak; this is when a person's intonation rises at the end of a statement. Done too often, it can give the impression that the speaker isn't sure of what they're saying. Production is all about process and thought. Everything you see on television in a show was predetermined - somebody put it there for a reason. When you're producing a show, you're trying to control the outcome because you know the audience is looking for specific types of outcomes. You don't have to deliver every single line perfectly. Even if the conversation doesn't flow in the way you want, or it's not synced up right, you can always edit it to improve the quality.  Having an intro in every episode is important! New listeners are just now chiming in - they need to know who you are and what your podcast is about, and they're more likely to click the most recent episode. They're not going to dig through your episode list for an introduction. Successful productions and content creators all have one thing in common that significantly contributes to their success: consistent creating.  Question of the Week: Q: What day of the week should I release my podcast episodes? A: Almost as soon as you decide to podcast, you need to decide when you want your episodes to be released and if you want to go really high level. The day or time you release doesn't matter as long as you pick a particular schedule and you stick to it. The most important thing is a schedule you and your team can keep to over time.  RESOURCES One Stone Creative | LinkedIn | Twitter | Facebook | Instagram | Website Maribel Quezada-Smith | LinkedIn | Twitter
I've been to a fair number of podcast conferences over the past few years. I really like them. They are filled with people who are passionate and knowledgeable about the art and craft and business of podcasting. If you ever have a chance to travel to one of the events, it can be a fantastic experience, and you can meet interesting people, learn important skills and strategies, and generally be a part of the scene. But there is a problem with in-person and big "everyone's welcome" events, with scores of presentations dealing with all elements of podcasting. They can be a little hard to work into a schedule when you have a whole business or department to run, and because there are so many people podcasts for different reasons- a lot of the content is going to be great - but not for you.  That's why I'm pleased to announce that in about a month from the airing of this episode, we'll be running the first Podcasting For Business Conference - all virtual and all recorded, in collaboration with Tom Fox of the Compliance Podcast Network.  Meet the Speakers! Get the full notes at: https://onestonecreative.net/33 RESOURCES One Stone Creative | LinkedIn | Twitter | Facebook | Instagram | Website
United States