Discover
More Love: The Power of Empathy Podcast
Claim Ownership
More Love: The Power of Empathy Podcast
Author: The More Love Podcast
Subscribed: 3
Played: 11
©2023 The More Love Podcast
Description
For one of us, empathy is a superpower. For the other, empathy is an unwelcome guest. More Love: The Power of Empathy Podcast takes you into the depths of empathy and compassion... on the road less traveled. The soul-mate friendship between Erin and Rebecca helps listeners experience the many sides of empathy through stories, hearts-to-hearts, playful banter, and deep (but not too deep, right Rebecca?) reflection.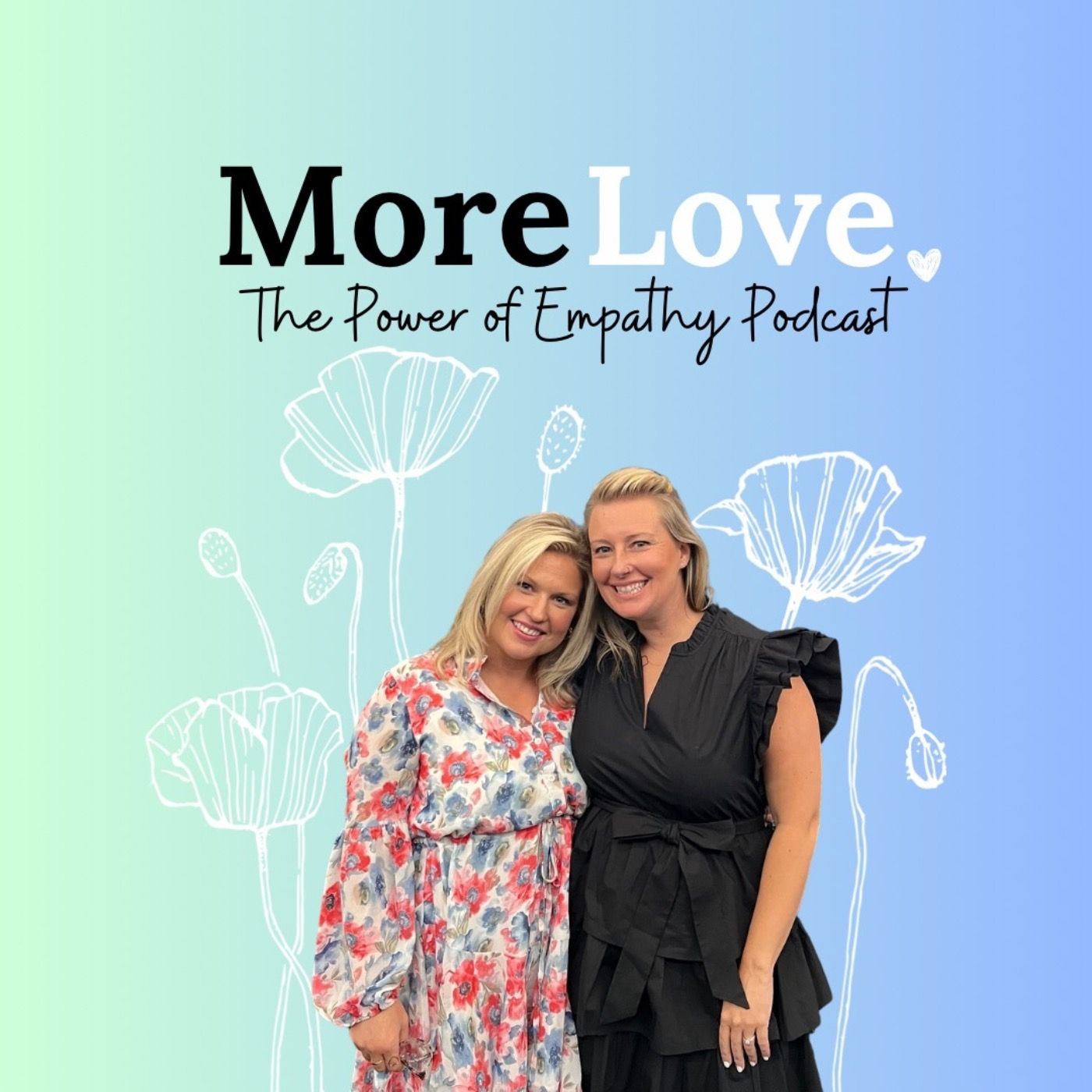 Dumpster fire. Erin's life is in the gutter so it's Rebecca's turn to carry the weight of the show. Strap in, folks cause Erin's energy is NOT okay during this episode. After a tarot reading about 'purple scales' (was anyone paying attention to the real message?) and some "Mama Medium" talk the heart of the matter comes out - when you're an authentic person who's really struggling, it's super hard to talk about anything else of substance. The weight of carrying the energy-load can be really heavy sometimes. Can you relate?
Rebecca went out of town for 4.5 seconds and Erin kinda freaked out. Her heart hurt, her stomach churned, and she decided we're "alllllll done" being apart for any period of time. This led to an inevitable conversation about co-dependency and the final conclusion that the girls are kinda okay with that title. They embrace it even. Erin then discusses the ways in which her empathy can be unfair, both to herself and others. "Toxic" even. And how she's coming to terms with the ways in which her empathy might change the world... or land her in the hospital.
Scott "yells" at Erin. Surprise, surprise, that didn't go well. So, they processed it. Then quickly transitioned into an opinion-based discussion about local radio show hosts and what makes a listen-worthy show. The day's affirmation about "stuckness" tossed the girls into a conversation about sensitivity, empathy, the parasympathetic nervous system, and what "responsible" vulnerability looks like.
Gang's all here in the "More Love Media Center", live with Scott, Erin, Rebecca, and Rebecca's 15 year old daughter Taylor. The girls show off their new tattoos, a promise they made to each other if they got 1,000 listeners, and showcase Rebecca's Pochahontis outfit. Then in conversations with Taylor we get to see the effects of Rebecca's parenting on at least one of her children. Sawyer on the other hand… well, you be the judge.
Scott brings Erin an empathy problem and she comes through big time, complete with a custom copy/paste text he can send to the "offender". The similarities between how Scott and Rebecca handle the build up to conflict in work environments are uncanny, but Erin has a different take. Her clarity, boundaries, and directness around empathy and engagement in a professional setting are somewhat surprising… and honestly, refreshing!
After starting with an #empathyproblem about alligators and news sensationalism the girls move onto the hippy voo doo sh*t, and Rebecca's past life regression. Then, for the first time ever, they tackle a question submitted by a listener about what to do when your empathy puts you in an uncomfortable situation.
Level up. Another guest! He's seriously all the things. Colt Briner of Scrappy AF Solutions joins us for this "session" and boy was it ever a SESSION (especially starting at 40 minutes). In a discussion of empathy and needs-based communication Colt, Rebecca, and Erin dive deep into the challenges people have communicating their core needs and thus, the feelings that are present as those needs are not met. Hang on for this ride
"Goose", we mean Rebecca, starts us off in the usual hippy shop way with mixed reviews about the red grounding chakra. Rebecca discloses that the charity she has supported for 10 years, The Front Row Foundation, is closing its doors and they discuss the ways in which grief has revealed itself in the last few months. They read their first sponsorship message EVER (yay!) for ConcernCenter and with the remaining 20 minutes Rebecca convinces Erin that they've talked about empathy enough and instead, should play We're Not Really Strangers.
Erin and Scott have a moment - one that, of course, Erin needs to process. How many times do conversations like this happen, feelings fly, and no one gets a chance to talk it out? Well not on The More Love Podcast! Rebecca sits back and enjoys being an active observer this time instead of a participant. Then they move on to some videos that Erin knew Rebecca was for sure going to hate. Rebecca did not disappoint.
Despite Erin's urging, Rebecca still remains unprepared to talk about empathy boundaries and convinces her that it's just a successful defense tactic. They dive deep into the story behind Erin's "Ws", Rebecca's hatred of eyes, and even Scott joins in on the neuroses! Part II of Empathy Boundaries focuses on places where they both struggle to put empathy boundaries in place. Surprise, surprise, Erin's list is much longer. Fill us in on where you struggle with setting boundaries around empathy.
Rebecca's voodoo shop remains open, this time focused on the heart chakra. Erin remains skeptical, but not as skeptical as she is about Rebecca's bedroom portal… They then move into discussing the scenarios in which their empathy boundaries are securely in place. Where do you have good empathy boundaries? When are you clear that empathy stops and a strong boundary begins? Join us next week for Part II of this discussion.
Episode 109: Rebecca takes over the podcast with her voodoo shop trinkets, mermaid incense burner, and chakra oils. Not only that, but Rebecca also decides to suggest a movie that she and Erin should watch together, prefaced only with, "It's a movie about empathy". This episode dives deep into their review of the movie The Whale and concludes with a decision to leave the show's content creation to Erin from now on.
After Rebecca and her "beehive" give some Amazon return tips the girls jump into their weekly tarot reading and showcase their new sound bite button. A video about an angry, resistant cat parallels Rebecca and Erin's relationship and yet again becomes the topic of an empathy discussion. What are your empathy limits? Do you give unlimited chances?
Episode 107: Lots of people (more than Rebecca, Erin, and Erin's mom) are listening to The More Love Podcast and the girls are in shock! After processing the feedback, comments, love, and support they received post-launch they show off their new merch (thanks to Kelli-up-the-street from a not-yet-created-business she will call Imperfect By Kelli) and openly discuss Rebecca's unique "experience" with service providers.
Episode 106: After an intense Tarot reading and commentary about Erin's bra selection, the girls unpack a video about the topic of Weaponized Incompetence and the role that Empathy plays in choosing to disregard other people's requests. What do you think? Leave us a comment, below!
Episode 105: Never a dull moment, Rebecca and Erin share the most ridiculous stories of their best friendship and show how empathy and vulnerability are alive and well in their everyday lives. What would you have done if you saw Rebecca walking around the store with her lip stain? Have you had an espresso bean moment? Who covered for you? Rebecca said it best, "The more vulnerable you can be with the people you trust and love, the more memories you can make… the deeper level of connection there always will be."
Episode 104: Who are we kidding? A conversation about the relationship between vulnerability and empathy requires more than one "session". Join us for further discussion about the differences between empathy and vulnerability as well as why Rebecca is a walking example of empathy without vulnerability and Erin oozes empathy with vulnerability. Which one are you?
Episode 103: Creativity coach Greg Halpen joins Rebecca and Erin in a conversation about the relationship between vulnerability and empathy. How does trauma impact one's ability to be empathic? How did Erin get so vulnerable? How did Greg use creativity and performance to access emotion? Come along with us and share your own thoughts and experiences here. Greg's Instagram: @themoodycreative53
Episode 102: They can't help it, they love a good ice breaker (#studentaffairsmoms). Erin and Rebecca write secret questions that they want each other to answer, then ask those questions on air. A deeper dive into the inner workings of Erin and Rebecca, this episode helps you understand your hosts a bit further and see just how well they know one another.
Episode 101: If you're going to be spending time with us each week, you probably want to know a little more about who we are, what we have to say, and if you can relate. Join us on this episode of More Love as we take an initial dive into the hearts and minds of Erin and Rebecca.
United States