Discover
Anachronismo!
Claim Ownership
We're back with the further adventures of the Koh-i-Noor diamond, the famously cursed and huge diamond of the Mughal empire as it makes it's way from it's homeland to the hands of Queen Victoria. It's a journey that has thrills, chills, spills and terrible deaths from diease and violence, as the diamond works it's dark magic. Then, do you ever wonder if folks from the past looked up at the moon, thinking about what might be there and yearned to ... trade with it? Find out the science, theories and just plain lies that we told ourselves way back when as we delve into Moon People!
Just the core team today as we jump into the history of piggy banks and the New England vampire scare!First, learn how piggy banks came to be, from a type of clay alled Pygge that was used to make money jars, to the pacific islands and boar-shaped pottery, to the innovation of the rubber plug. The piggy bank ranges far and wide!Then, learn about how New Englanders of the 17 and 1800s reacted when Tuberculosis broke out in their communities, and the chain of reasoning that led them to conclude that vampires were to blame. If you ever exhume a skeleton with a stake in it's chest, you'll know that tuberculosis, organ burning and folk remedies were to blame!
John Serpico joins us to talk about the insane history of the papal interregnum. Now we know that talking about the period between the death of one pope and the election of the next sounds boring, but it was hog wild. When the old pope died, all the prisoners in vatican city were released, and the government was non-existent until a new pope was elected, which could take months or even years. So Rome turned into an all you can kill murderfest as prisoners sought revenge and people hired mercenaries to keep themselves safe. Incredible. Then, Jackie tells us all about Annie Edison Taylor, the first person to go over Niagara Falls on purpose and live. Annie was a dance teacher who had fallen on hard times, over and over and over. After an attempt on her life when she was moving up north, she decided that her best way to swell the ranks of her dance school was to raise some publicity by going over the falls in a barrel of her own design. Along the way we find out about Max's secret swordfighting past, the real way they elected popes, and the nature of waterfall whales.
Special guest Garth Goldwater joins us this week to talk about the Goat Man. Who was the goat man you ask? A shadowy figure in the night, dressed in a costume designed to strike terror into the hearts of criminals? A horrifying half-man half-ungulate abomination? A man who drove an iron cart pulled by goats, preaching about goat power for almost a hundred years? Yes. The last one. You got it! The Goat Man, or Charles "Chess" McCartney, was a figure of lore on the American highways from the 1900s up through the 80s. That's right, this dude who drank goat milk for every meal and burned tires to cook his food over was around the same time as Nixon. It's wild. Then, Max brings us into the mysterious world of the ancient Athenian symposeum, the ancient tradition of drinking, talking, making merry, drinking some more, singing, eating,l drinking, telling stories about drinking, and drinking some more. The Athenians had intricate and weird customs around each of these, and special rooms to drink and party in. Ok, we know it just sounds like a frat party, but trust us, it's far stranger.
Today we're talking about the Year Without a Summer and the disaster that was 1904 Olympic Games. The year was 1816. A series of volcanic eruptions had spewed dust into the atmosphere, lowering GLOBAL temperatures and leaving a blood-red fog in the sky. Crops failed, people died, and... Mary Shelly wrote Frankenstein?!? Sure it was a disaster, but tune in to find out how this year where everyone was hungry also inspired paintings, recipes, and the invention of the bicycle!After that, Jackie takes us into the world of the 1904 Olympic games. The games, recently resurreted, were at odds with the World's Fair, which blackmailed the organizers into holding the games in St. Louis. No offense to ST Louie, but most European athletes just didn't want to go. And we can't really hold it against them, since the games were a twisted carnival of racism, poor planning, and the most incredibly stupid marathon we've ever heard of. A marathon with only 32 contestants and only 14 finishers. Between a stupidly hilly course, an experiment in dehydration and ANGRY DOGS, it's a miracle that no one died. And that's not even getting started on the racist 'human zoo' taking place back at home camp! It's insane, and you have to hear about it.
Happy new year all! We return with two tales of weird history - first, Max reveals his research into the pipe smoking culture of Victorian England, with stops along the way to revel in the crazy things that we've done with and to tobacco over the ages. From Reeking Gallants to city-sized snuff factories, prepare to get weird. Then, Noel takes us through the life of Ferdinand Waldo Demara, the most prolific imposter in history! By the time he was 30, Ferdinand had lived 10 different lives, in different places and professions, and not easy professions either. He impersonated a monk, a professor, a zoologist, a surgeon and so much more, with the aid of his photographic memory and incredible confidence. Along the way, we make jokes about farting horses, incredulous popes, and teeny tiny baby pipes.
We're taking xmas off! We hope that you're having a wonderful holiday and that we can help you distract yourself from your families with the re-cast of one of our favorite episodes. We'll be back with new stuff in 2020, see you then! This episode features guest host David Fouhy subbing in for Noel. We dive into Saturnalia: a Roman festival of rebirth that if you squint at it looks an awful lot like xmas, if xmas was way cooler and involved making servants into princes for a week. There were gifts of wax, feasting, dancing and the softest of meats. We even talk about it's place in Roman politics and it's roots in some small amount of human sacrifice (probably). Then Fouhy tells us all about Gregor MacGregor and the Poyais Scheme. Gregor, an ex-soldier who married into the nobility, managed to put together what some are calling, "the biggest dick move in history." Gregor, after a short and unlustrous career in the military, made up an entire country in the ass end of nowhere and sold British people land there. When those people tried to sail and settle in this place that DID NOT EXIST, hundreds of them died. But the survivors still believed in him! And he fled to France to do it again, before returning to England to do it again. He got away with this scheme over and over, and eventually set himself up as a knight in Caracas with the money he made off this scam. Just the fucking worst. Oh, he also tried to free Florida from the Spanish and had a 200-mile battle march or whatever, but really, we hate this dude. Talking points include: over 30 mentions of soft meats! ironic punishments, the finest in wax fruits and heads, and more.
Choo Choo! All aboard the Jackie express to the history of the Transcontinental Railroad! Learn abou tthe train barons and their shitty tricks to bilk as much money as they could from connecting up America! Marvel at how poorly they treated their workers! Laugh as they eventually eat (a little) shit when the time comes to join up both side of this great project! Along the way enjoy the stories of scouts who learn about all the native flora and fauna but forget the topography and much more!Then, join up with Ferguson's Gang to save British historical sites in the 1920s, using costumes, masks and outrageous pranks to raise awareness of the National Trust. Learn about Bill Stickers, The Bluddy Beershop and the various Biddies who kept their identities a secret while making sure everyone knew about conservation.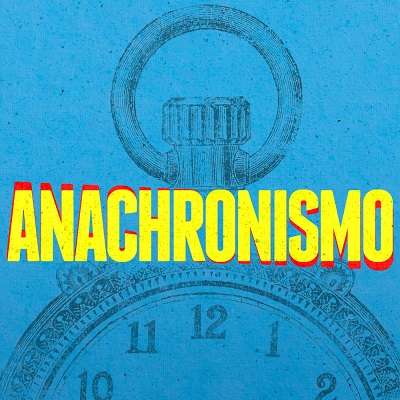 Heart of Darkness
2019-11-2748:34
When we recorded this episode Max and Jackie were full of flu, so we handed the reins off to Noel to get deep in the weeds on the history of the film "Apocalypse Now!" Tune in to listen to the doomed history of this classic film, interspersed with incredibly loopy, feverish tangents from the rest of us. It's a hell of a story, filled with stunt corpses, military mobilizations, broken contracts and the hubris of filmmakers.Jackie also gets a story in, fighting through her body rebelling, to tell us about an obscure-ass dish that has since vanished from the face of the earth. Don't listen to this one at the thanksgiving table, you might lost your appetite.
We're back, with special guest Rob Mulligan! First, Rob takes us through the Revolution Summer of DC hardcore Punk music, and all the punk rockers that made it happen. Learn who started the straightedge movement, and why? Just why is it called moshing? And just how much do punks hate Ronald Reagan (a lot). These questions and many more, including some really dumb ones, we answer!Then, Jackie tells us about Fruitlands, yet another failed Massachusetts utopia of the 1800s. This one had Louisa May Alcott and a bust of Socrates! Find out what happens when a farmland built on the idea of working all day and debating all night fails to include a single actual farmer. It feels good to be back.You can find Rob on social media a @muralgoblin or on his actual play DnD podcast, Adventure Inc.
It's just Max and Noel today, since Jackie is off at an improv festival in Vermont, so brace yourself for a whole bunch of historical shitposting. First, Noel gets into how the Dutch defended themselves against the Spanish invasion at the beginning of the 80 years war, by employing their one natural hazard – being … Continue reading "51 – Dutch Defense, Oktoberfest Origins"
It's a Max-free episode today so join Jackie and Noel for the stories of Marie-Antione Careme, the world's first celebrity chef who built towering palaces of pastry during the Napoleonic Era, wrote a bestselling cookbook that came in second only to THE BIBLE, and did we mention he was Napoleon's personal chef? Then, Noel dives … Continue reading "Ep 50 – World's First Celebrity Chef, Bowling"
So this episode's normally scheduled recording fell on the 4th of July, and since we were all attending the same bbq, we decided to interview our history nerd friends there about whatever story about America they wanted to share. What we failed to take into account was that everyone had been drinking. What we ended … Continue reading "Fourth of July Special 2019"
Today our friend Micheal E fills in for Noel as they bring us the tale of Hussaria, the nation-state that controlled European roads, and it's great debate about what should be it's official state religion. Hussaria was caught between larger powers trying to invade, and it sought help through the system of religious alliance available … Continue reading "ep 49 – Hussarian Debate, Silver Tree of Karakorum"
This week we're diving into the life of fht eone and only Florence Nightingale, before we hold our noses for the Great Cheese War of 1936. You've probably heard of Florence Nightingale, "The Lad of the Lamp" who brough succor to soldiers in the Crimean war, but what does that mean, really? Does it mean … Continue reading "48- Nightingale, Cheese War"
Today we bring you the story of how Ranjit Singh, the maharajah of the punjab, took the Koh-i-Noor diamond from Shah Shuja, the deposed King of Afghanistan – a story of treachery, intrigue and food fights. Then it's time for the story of the great Seattle regrading project, that took a city of seven hills … Continue reading "47 – Ranjit Singh & the Koh-i-Noor, Seattle Spite Hills"
Today's episode has our first LISTENER SUBMITTED STORY! Sent in by Brother Trebius on twitter, tune in for the tale of Ada Blackjack, the lone survivor of a doomed arctic expedition. Ada, a seamstress who joined the expedition so that she would have money to pay for her son's tuberculosis treatment, was untrained in survival … Continue reading "46 – Ada Blackjack, Castro Gameshow"
On today's episode Noel is finally back! He brings us a story from his travels about how whiskey used to be cut with all sorts of stuff back before regulations got passed down. What kind of stuff you ask? How do you like tobacco, ethanol, and rat poison in your whiskey? No? But it gives … Continue reading "45- Bottled in Bond, Cabeza de Vaca"
This episode, our friend Amancio Lopes joins us again to talk about Elizabeth Bathory! Elizabeth was a Hungarian noblewoman with a troubled past who, depending on who you believe, killed over 600 people or as few as 30. Which is still A LOT OF MURDER. Maybe she was troubled by the violence she saw in … Continue reading "ep 44 – Elizabeth Bathory, Nuke the Moon"
Today we're talking about legendary lawman Bass Reeves and legendary highwaywoman Katherine Ferrers. Which we swear we didn't plan.
United States