Ep. 11 "New Beginnings" (1-25-18)
Update: 2018-01-26
3
Description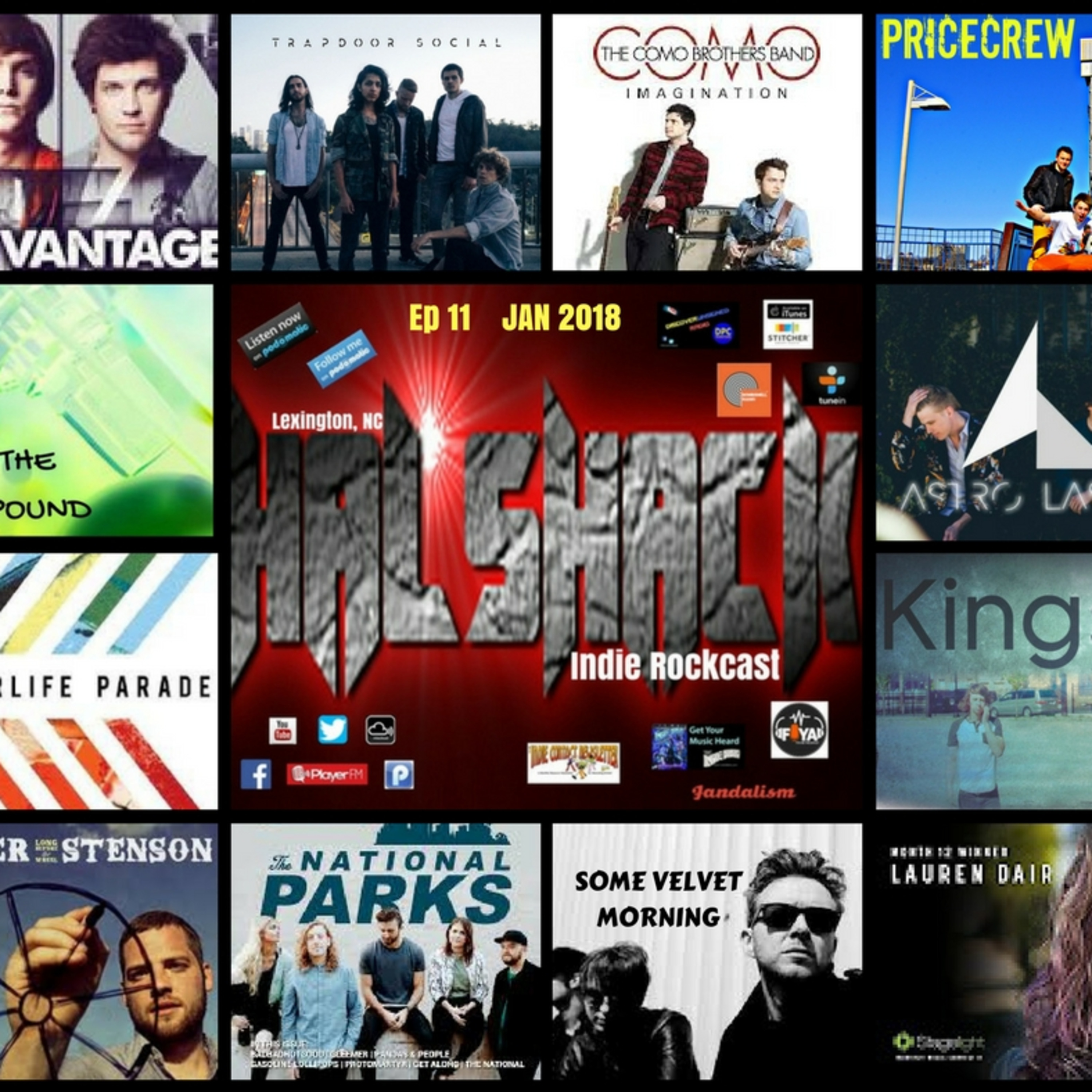 Happy New Year 2018!! Time to get crankin' with a new episode and all new 11 bands and artists to get your new year started off with a bang!!
There's even some Hollywood star talent in this show. A popular actor turned musician will be featured amongst many other rising talent hopefuls.
There's even an all-new me to present with a new mic setup, I'm sounding more professional and ready to take on the radio airwaves in any city anywhere USA/Canada/UK/Australia and wherever else people like good music and a happy endearing infectious host...me!!
So as usual I'm not one to tell you who is in the show until you hear it. My reputation proceeds itself, just hit the play button and you will be pleasantly surprised that you have stumbled across the best kept secret in indie rock/pop/alt radio. We are growing immensely and are now featured on Discover Unsigned Radio, Bombshell Radio, The Indie Bible, FIYA music platform as well as Podomatic, PlayerFM, Mixcloud, Fandalism, Halshack website, Facebook and Twitter. Thank you for helping us to achieve success and for your continued support to help us reach our goals!!
I will be posting track lists for all episodes at my website as well as links where each episode can be heard. The track list for this show will be posted at a later date once its had its run. I don't believe in spoilers, I believe you should have no preconceptions when you hit the play button other than trust that I will not waste a minute of your time on non-marketable, non-mainstream radio ready bands that don't have proven reputations and tract records with at least some moderate success within their region of the world or maybe even globally.
In this episode there will be:
Alt Vault..2 songs
Funk Trunk..2 songs
Mystery Spotlight including Pop Stop....4 songs
Rock Block ....3 songs
Blues Grooves (Americana)..2 songs
Within these segments I award special tracks recognition.
Shacktrack Of the Month
Breakout Artist of the Month
Homegrown Artist of the Month (Local North Carolina and SC acts)
All-new award for Ep. 11
Songwriter award ..thinking of calling it the Shack Muse
So listen and find out who wins the all-new Shack Muse of the Month!!
OK ya'll Ive yammered enough and I'll probably be adding more at a later time....lol
Links....
www.halshack.com
www.halshack.com/crews-views
www.twitter.com/halshack
www.facebook.com/halshack
www.indiebible.com/halshack
www.fiyaplatform.com
www.fandalism.com/halshack
P.S. be sure to look for 11.5 "Shackstars", there will be 2 versions floating around for Airport Impressions and Narrow Plains. Why is there an 11.5 and why is there 2 versions? Oooohhh..Im' soooo glad you asked..lol
Well since this show also runs on 2 radio stations Bombshell Radio and Discover Unsigned, I have 2 hour time slots to fill so I make an extra 45 min showcase on past talent and officially with this release they will be full cd's. (Well as much as I can fit anyway..lol) There will be no me just music and you can find a track list posted on the podcast and at my website.
Now I made 2 versions cause frankly I couldn't decide who to use and who to keep back for episode 12 Shackstars and I thought I would let the radio stations play both if they wanted or they could choose. Plus these camps are just so nice about sharing and spreading the love all around for the Halshack that I shall always try to return the favor for these so helpful ladies and gents.
Thanks again folks!! See you soon for Episode 12!!