Halshack Ep 19.5 (STAY HOME DON'T ROAM) Apr 2020...bonus show
Description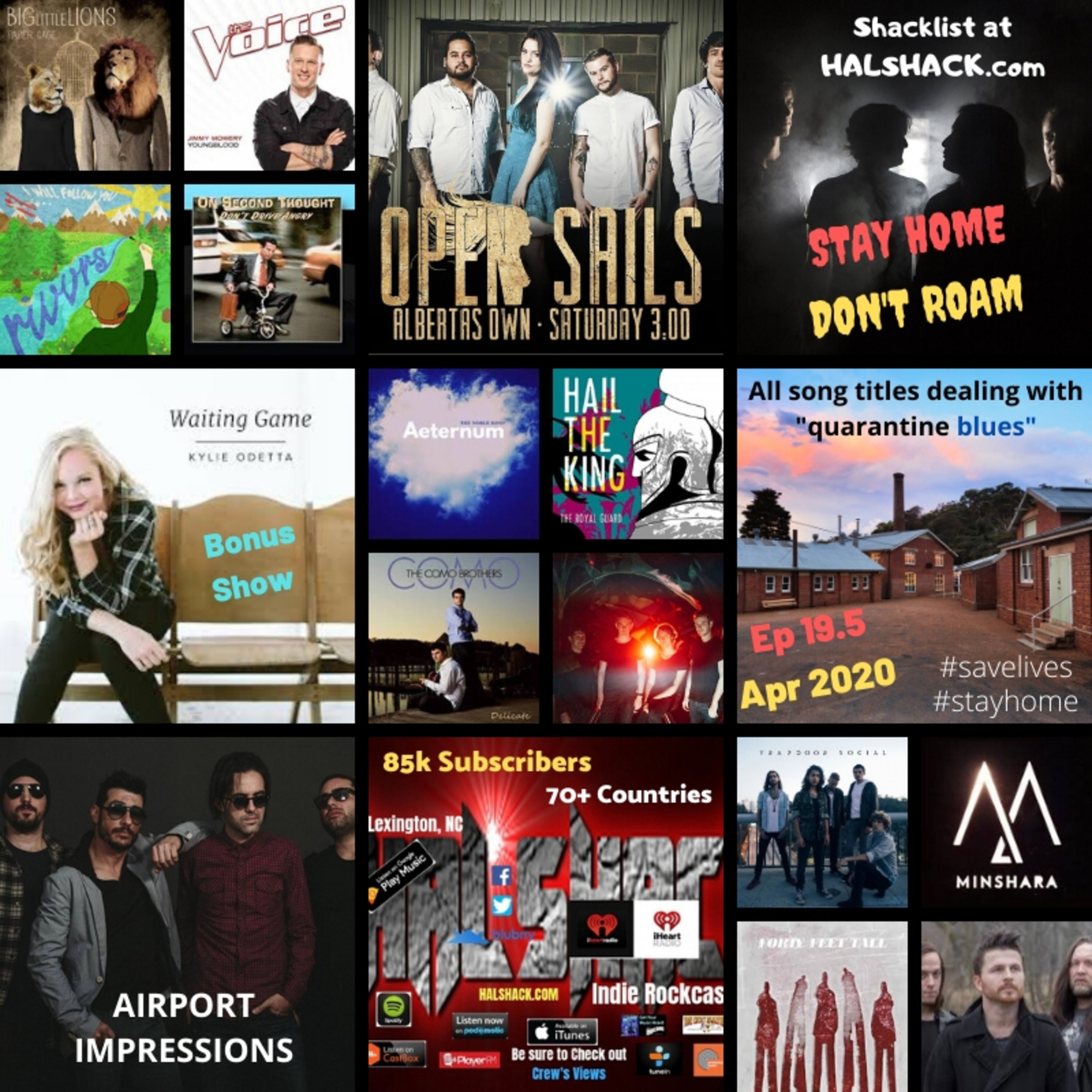 Ep 19.5 (Stay Home, Don't Roam) Apr 2020 ....bonus show, music only
A year ago today I left for Nashville, TN to start a clandestine journey into growing a colossal music juggernaut out some fine talented indie bands from the "backwoods" and "unknowns" of the world!! We have succeeded in building the coolest reputation for outstanding talent! Next step...conquer! We need investors. Start building a membership to offer exclusive content for the members! Build the base we can pay the staff and the bands!! I like this plan! Maybe you will too! Drop me a line and let me know what you think! Thanks so much!
Now to business at hand..lol
HOWDY PARTNERS!! HOW YA'LL DOIN'? (as we say here in the south..lol)
What ya'll doin' all sitting at home like that? Act like you're saving the world or somethin' by chillin' on your keester or mowin' the grass!..lol Oh wait YOU ARE SAVING THE WORLD!
THANKS SO MUCH for staying home and staying alive! ah ah ah ah Staying Aliiivvveee...oh sorry just having a little BEE GEES fun! ..lol
So while your cooped up at home and need some cool music to get you through your day then look no further than this "virus" free eargasm.
The CORONA VIRUS might have us all preoccupied at the moment but we all need music to turn too during these dark and uncertain times. I got a "cue" from Dave Cruttendan (owner of Discover Unsigned in the UK) from his facebook post about putting together a "hit" song virus playlist and well I was already struming my brain on this idea anyway. Thanks Dave for the push as well as the new video channel SHACKVIDS was inspired by Dave as well yet I was already on this in my brain...lol
I think Dave and I are just cut from the same cloth and on the same page. He's a bright dude and a good friend who helps so much with the indie music scene in the UK. So does Tizz Shearer too over at XRP!! You guys are the best!!
SO these song titles all have to do with some "Quarantine Blues" which was going to be the original name but I just thought that was too dark and its not all dark music. Anyway the song titles as usual were perfectly timed for yet another world event. These were the logical choices for song titles and for the rotation timing of most of these tracks AAANNDDD it perfectly fits with todays world theme. I cant make this stuff up folks.. I swear!
I pick songs based on rotation and theme then I start forming the play patterns by flow and genre, the kicker is the songs are the logical choice for that show but the songs have not been played recently or hardly at all or it was just time to kick that one back out again. Its just eerie and the subject matter will fit the timing. I dont plan this stuff folks. Lately Ive been taking cues from my show and life and just roll with it and its panning out to be a blast!!
Song Titles..I was gonna make a story with them but I think alot of this is just too damn funny and "more to make light heart of our lockdown blues" not to make light of the travesty that has destroyed so many lives and family members hearts.
HALSHACK is very sorry for your loss if any of my listeners have been affected by Covid-19. My prayers go out to you and your loved ones.
Have fun folks! You can find all my shows at Halshack.com
Check out the new VH1 or MTV style videos shows over at SHACKVIDS page
Halshack.com/shackvids
Find everything at my website including the playlist for this show at SHACKLISTS!