Live GLoP on Zoom II: GLoP Harder
Description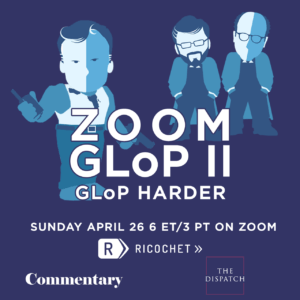 Hello die hard GLoP listeners (see what we did there?). Our previous live Zoom GLoP was such a smashing success that by popular (or unpopular) demand, we're doing it again. Please join us this Sunday, April 26th at 6PM ET/5PM CT/3PM PT for another visual romp through pop culture, politics, liquor, and tobacco products. We may have a special guest or two, some cameo appearances, and maybe even take a few questions from the audience. There's only one catch: you must be a Ricochet member, a member of The Dispatch or a Commentary subscriber to watch this show live. So join today and be part of the fun and we'll see you on Sunday. Literally.

Join the conversation and comment on this podcast episode: https://ricochet.com/podcast/goldberg-long-podhoretz/live-glop-on-zoom-ii-glop-harder/.

Now become a Ricochet member for only $5.00 a month! Join and see what you've been missing: https://ricochet.com/membership/.

Subscribe to GLoP Culture in Apple Podcasts (and leave a 5-star review, please!), or by RSS feed. For all our podcasts in one place, subscribe to the Ricochet Audio Network Superfeed in Apple Podcasts or by RSS feed.