Discover
The Alise Intuition Radio Show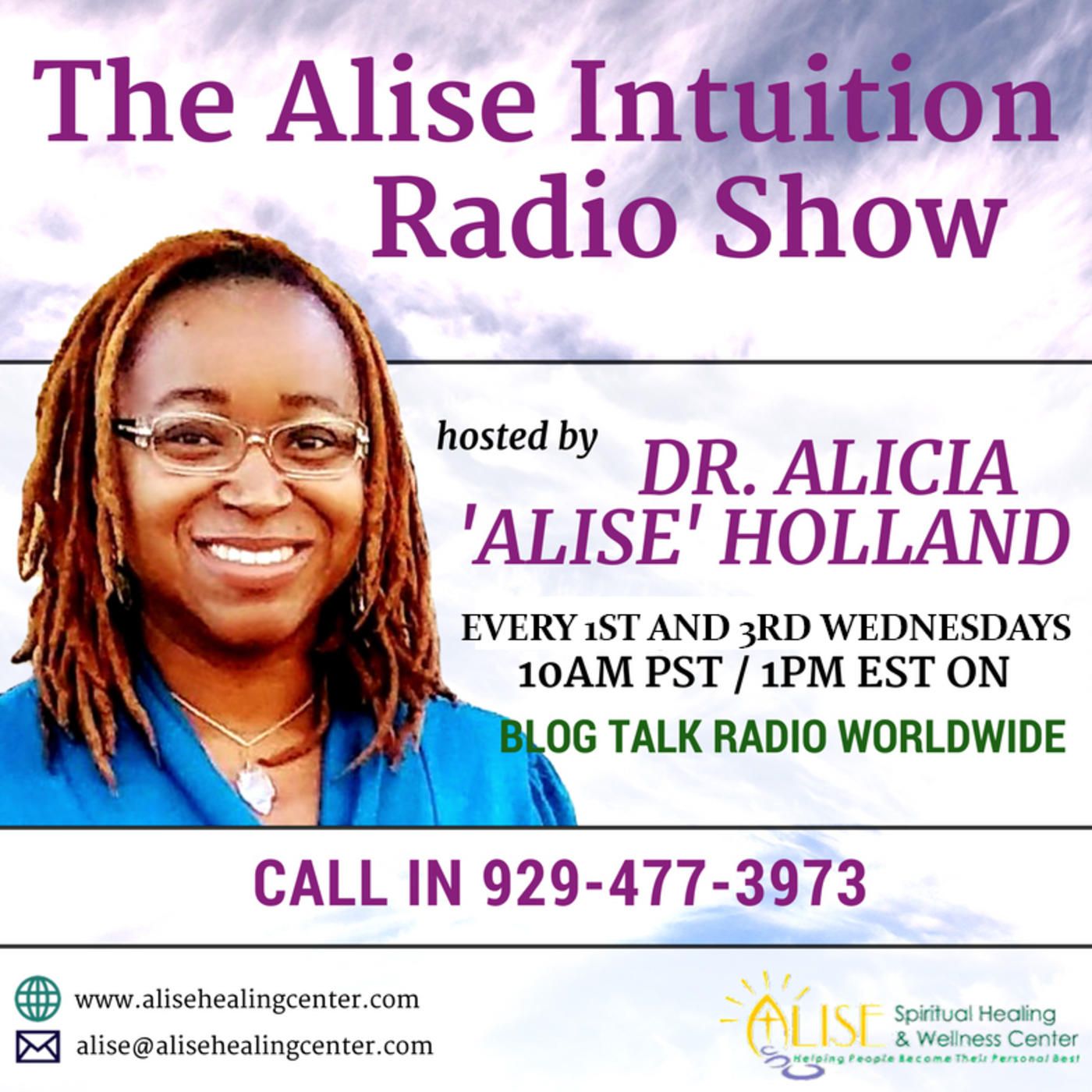 Claim Ownership
When you think of the law of attraction, what comes to your mind? Did you know that the laws of attraction and manifestation of the mind are real? However, there is a lot of misconception about this which has stopped people from harnessing the mind's true powers. Come join us as New Jersey's #1 Conscious Creation and Energetic Transformation Coach, Kelli Cooper shares with us why misconceptions occur and how to positively utilize the laws of attraction.
Emotional wounds are really difficult to heal because they leave the soul scarred for a pretty long time. Talk about childhood traumas caused by verbal and sexual abuse or disorders like anorexia and PTSD, which cannot be explained. Whichever of the above you are dealing with, be assured that your healing time has come. It is time to redirect your focus to better things life has to offer and a healthier lifestyle. Come Join us in this episode as Special Guest, Beverley Searle discusses powerful strategies to help you have an envisioned mind to pursue your dreams and aspirations.
About 6,000 immigrants, including men and women, experience domestic violence every year and feel helpless. Did You Know? An immigration lawyer handles everything about visa applications, green cards, employment for non-citizens, deportations, and citizenship. You can also contact an immigration lawyer for a fiance visa if you would be joining your fiancee in another country or bringing your fiancee home to you!Join us in this episode as Chicago's #1 Immigration Lawyer, Attorney Dhenu Maru share with us about immigration law.
Who said that you have to keep living the same routine from the day in to day out. No one! Did you know that you have the power to create a new lifestyle? Do you want to know what it takes to transform to your next level? Come Join Empowerment Lifestyle Coach and Alchemist, Rhonda Maria Farrah as she shares some of her secrets of how to create your new life.
It's no secret that God is with us through all seasons in life. What does testifying about God's work in your life mean to you? What has been your experience as a witness of God as he has helped you and others? Do you know why testifying about God's work is important? Come Join Author and Evangelist John Jay Ricci as he shares some pearls of wisdom about the importance of testifying about God's work in your life.
Do you know what the Gift of Prophecy means? Have you been prophesized over? Do you have the gift of prophecy? In the 21st Century, we are living in times where the Spirit is calling all of humanity to connect to their spiritual gifts to get in touch with God themselves. Come Join Dr. Alise and Spiritual Strategist and Verified Eagle Eye Prophet, Adrienne Fierce Manson as she shares with us how she helps people connect with their authentic self and getting out of their own way to achieve their life purpose.
Do you know what your partner is communicating to you? Do you know what your words and actions are communicating to your partner? What are the different ways your partner can experience his or her love for you? If you are wondering about these questions, then this episode is for you. Come Join Dr. Alise as she shares how important it is to set clear healthy boundaries in romantic relationships as you better understand your partner and how important the value of knowing both you and your partner's love language.
Did You Know that hypnosis date back to ancient Egypt in 1500 B.C.? Hypnosis is an acceptable form of medical treatment. You may be wondering, "What is Hypnosis? What is Hypnotherapy? Can hypnosis be used with any situation? Who uses hypnosis?" Come Join Special Guest, America's Most Trusted and Awarded Hypnotist, Celebrity Hollywood Hypnotist Kevin Stone, and Dr. Alise as he shares how hypnosis works and takes us on a deeper discussion about hypnosis and how it can transform your life.
What is Intuition? Does Everyone Have It? If you are wondering how the Spirit can communicate with you, then this is the episode for you. There are different types of intuition that help connect us to help guide us, teach us, or lead us to true happiness and authenticity in all areas of our lives. Come Join Dr. Alise as she shares how the Spirit communicates with you and how to discover your strongest type of intuition as it will play a big role in your access to spiritual guides and your own connection to the Great Divine.
Addictions are on the rise, leaving more addicts in the world and ending tons of healthy relationships. Research has shown that 50 to 70% of men and 20 to 50% of young women less than the age of 40 use every year. One of the negative impacts of addiction is its damage to the bond in romantic relationships. Join us in this revealing episode as California's #1 Licensed Marriage and Family Therapist, Tony Overbay, and Dr. Alise take us through problematic influences of addiction on relationships.
Did You know what we believe to be true creates reality? You owe it to yourself to make your reality a happy life and go within the matrix to increase your energy to attract positive relationships in business, love, and even your health. Join England's #1 Matrix Master and Life Purpose Coach, Marie Chapman, of Happily Evar After, here with us to discuss futuristic strategies to help you take your life to the next level.
Do you are someone you know struggles with Alcohol Use? Did you know that Alcoholism doesn't have any boundaries and affects all cultures from all walks of life? Did you know that Alcoholism effects the entire body, specifically, the brain, heart, pancreas, mouth, liver, and immune system? According to the United States Centers for Disease Control (CDC), more than 88,000 people die from alcohol-related deaths each year in the United States. Given these statistics, alcohol continues to be one of the nation's most preventable causes of death, second only to tobacco and a poor diet/sedentary lifestyle. Join Dr. Alise and Special Guest, Registered Nurse and Alcoholism Expert, Lisa Boucher as she shares her own story and take us on a deeper discussion about Alcoholism and Recovery.
Do you have an Autoimmune Disease? Are you interested in learning more about healing autoimmune diseases? The National Institutes of Health (NIH) estimates up to 23.5 million Americans have an Autoimmune Disease. It is one of the top 10 leading causes of death in females, children, and women in all age groups up to 64 years of age. Medical education provides minimal learning about autoimmune disease. Come join us as Special Guest, Maria Aparis, the Author of her new bestselling book, The Essential Gut Awakening, shares her journey with us on how she figured out how to heal herself using her intuition and going natural.
Do you know that about 50% of startups fail in the first four years of business?  While these failures point to the fact that the business owners prepared poorly for the first few years, the majority of failed business owners did not apply the keys to business success. When it comes to spiritually driven entrepreneurs, there is that extra layer of the fear of failing and sharing their work on a larger scale. Join Special Guest, Leslie Karen Hammond, and Dr. Alise as our special guest reveals to you what it means to live a spiritual life and tame your inner critic so that you can get down to business.
The word "Karma" is often associated with negativity. "You reap what you sow" does not only have to end the bad way. Life rewards you for every good deed just like it punishes you for your bad deeds. Join us in this interesting episode as we deliberate on soul contracts and how to balance karma with Special Guest, Michael Bradford, and Dr. Alise. This is an episode that you don't want to miss!
Did You Know You are More than Enough? You are the Image and Likeness of the creator!  According to David the psalmist, we are "fearfully and wonderfully" made. The Big question is, how do you dress to appear in this light? Join Personal Stylist and Coach, Stephanie Michelle, and Dr. Alise in this revealing episode as we take you through tips and secrets of dressing with the purpose to attract the right energy for positive interactions, business, and matters of the heart.
Harmonizing work-life balance is often considered the bane of entrepreneurship.  Putting 24/7 work efforts in your business comes with the sacrifice of losing touch with the requirements of a healthy relationship. In this educative episode,  Florida's #1 Life Balance Expert, Special Guest Benson Gedeon and Dr. Alise, will take you through tips and tricks on how to balance work and life as an entrepreneur.
United States