Discover
The Retirement Wisdom Podcast
Claim Ownership
The Retirement Wisdom Podcast
Author: Retirement Wisdom
Subscribed: 97
Played: 1,941
© Retirement Wisdom LLC
Description
This retirement podcast covers the changing nature of retirement today. Our guests offer useful insights on how to retire as well as the non-financial aspects of a successful retirement transition including retiring early, working longer and making a career shift in pre-retirement.
What unique challenges do women face in retirement planning? We talk with Russ Thornton, an experienced retirement advisor who specializes in helping women prepare for retirement. And we cover several topics of interest to anyone who's planning for retirement. We discuss: The story behind why he specializes in retirement planning for women What he sees as the unique challenges women face in planning for retirement What's different about planning for retirement today versus 10 to 20 years ago The key building blocks of a sound retirement plan What many people don't know about retirement planning - but should The mistakes he sees people make in planning for retirement that can be avoided How his clients navigate the challenges that come with the transition to retirement How couples can get on the same page about retirement His approach at Wealthcare for Women The upside of life in retirement he sees his clients living today Russ joins us from Atlanta. _________________________ Bio Russ Thornton has been a retirement advisor for over 25 years and specializes in helping women retire confidently on their own terms to comfortable, fulfilling lives, at his retirement advisory firm Wealthcare for Women. Russ was selected as one of Investopedia's Top 100 Financial Advisors in 2019, 2020, and 2021. Prior to establishing his own firm, Russ was a Financial Advisor with Merrill Lynch. _________________________ For More on Russ Thornton Wealthcare for Women _________________________ Wise Quotes On Not Deferring Living "I like to always emphasize the idea that you can do things now and in retirement. You don't have to wait. And if you wait, you run the risk that you're not here. Tomorrow isn't promised. I'm sure we all have heard about, or maybe know, people that have planned to retire and for one reason or another, they never made it to retirement. Or they retired and in a year or two or three in something happened and they didn't even get to enjoy all the years they'd planned on. So, I think you need to think about how you can start enjoying your life today while still preparing for a comfortable and confident retirement ahead." On Planning for How You'll Invest Your Time "Clearly retirement planning revolves around making sure that you've got the financial pieces in place to support your life, no matter how long you live. But, I think it's worthwhile to also spend time thinking about how are we going to spend our time? And who are you going to spend your time with? What are you going to stop doing once you retired? Maybe that gives you the opportunity to eliminate some things in your life that by necessity that you're dealing with now related to work or other commitments." On Shifting from Saving to Spending "I find that it's often very difficult for people to make that mental shift from saving and accumulating to starting to spend, and as a result, I find a lot of people underspend - especially in the first few years of retirement.  When in reality, if they're going to overspend, maybe they should actually overspend a little bit more early in retirement when they're younger, more mobile, want to travel, and want to do more things." __________________________ Podcast Episodes You May Be Interested In Retire Happy – Dr. Catherine Sanderson Why Retirement is About Much More Than Money – Ted Kaufman & Bruce Hiland Advice for Successful Career Women Transitioning to Retirement – Helen Dennis Ways to Retire on Less – Harriet Edleson The Future You – Brian David Johnson Who Will Take Care of You When You Are Older? – Joy Loverde The Key Decisions for Retirement Success – Wade Pfau _____________________________ About Retirement Wisdom Retirement is about much more than money. You haven't worked this hard for so long to have a mediocre post-career life. It's your time. Make it your best time. Take the first step toward your new life.
Giving thanks is probably on your mind this week if you're here in the US. And there's a lot to be grateful for. There's science behind gratitude and how it can enhance your health and well-being. Dr. Glenn Fox from the University of Southern California joins us to chat about the research on gratitude and how to apply it in your daily life. We also touch base on how gratitude plays a role in high performance and what he's learned from his work with entrepreneurs and Navy SEALS. We discuss: The Science of Gratitude How gratitude is defined The benefits of gratitude What gets in the way of gratitude Why gratitude is a positive emotion and also a skill The practices he uses in his daily life to apply the research on gratitude How to start a gratitude practice Entrepreneurship How gratitude plays a role in high-performance among entrepreneurs What to consider before becoming an entrepreneur   And...what he learned from being in Back to the Future 3 way back in the day Glenn joins us from California. ________________________________ Bio Dr. Glenn Fox is a faculty member at the University of Southern California's Lloyd Greif Center for Entrepreneurial Studies, in the Marshall School of Business. His current projects focus on neural systems for emotion regulation, high stakes training, and developing entrepreneurial mindset skills in founders and business leaders. Glenn received his Ph.D. in Neuroscience from USC, where he focused on the neural correlates of gratitude, empathy, and neuroplasticity. Following graduate school, he started a company, Ph.D. Insight L.L.C., which focused on providing data science consulting for small businesses and early-stage startups. Prior to joining Marshall as a faculty member, Glenn led the Performance Science Institute at USC where he worked with the United States Marine Corps, Army Research Laboratories, Seattle Seahawks, and numerous Olympic athletes and Fortune 500 companies to examine the role of mindset in business and high stakes pursuits. Currently, Glenn is the Director and Founder of the USC Found Well Initiative which aims to understand and promote entrepreneurial mindset in founders and business leaders. He also serves as a Principal Investigator at the USC Sensorimotor Assessment and Rehabilitation Training in Virtual Reality Center (SMART-VR) and a fellow of the Brain and Creativity Institute. Outside of USC, Glenn serves as the Chief Science Officer of the C4 Foundation, which serves to strengthen and protect Navy SEAL families. Glenn is also currently on the advisory board of the Flow Research Collective, where he works with Steven Kotler on projects related to gratitude, flow, and high performance. He consults regularly with companies and media outlets on topics ranging from small business management, gratitude, and high performance. Glenn is an avid maker and restorer of things old and metal. He lives in LA with his wife and son. __________________________ For More on Dr. Glenn Fox What Can the Brain Reveal About Gratitude? Practicing Gratitude Can Have Profound Health Benefits The C4 Foundation Follow on Twitter @glennrfox ________________________ Wise Quotes On Gratitude "Gratitude is a word we hear thrown around a lot, and I think that's a good thing. And we only begin to understand gratitude more. The more we begin to look for it. And as you start to look and observe gratitude, you realize that it's so much more than what people talk about. We hear the word gratitude, and we think about it as a synonym for happiness, a lot of the time, but this limits what I think gratitude really is - and what it really can do for people. It's more than happiness. It's more than just getting something nice. It is a framework. It's part of our moral compass for how we keep track of our relationships to others. It's part of our deepest motivational circuits." On Paying Attention
If you're planning for retirement, you're focusing on covering all your bases. But how about your happiness? When you're able to retire, will you be prepared to retire happy? Professor Catherine Sanderson joins us for a conversation about research from the field of positive psychology on happiness, and her practical recommendations on how to enhance your well-being. We discuss: How she become interested in positive psychology and in the study of happiness How our Mindsets influence us What predicts happiness If Eyerores can become Tiggers If money buys happiness Why linking happiness to external events isn't wise How we think about aging influences how we actually age How she applies the research on optimism and happiness in her daily life What gets in the way of happiness that we should avoid Practical tips to enhance your happiness Dr. Sanderson joins us from Amherst, Massachusetts. _________________________ Bio Catherine A. Sanderson is the Poler Family Professor and chair of psychology at Amherst College. She received a bachelor's degree in psychology, with a specialization in Health and Development, from Stanford University, and received both masters and doctoral degrees in psychology from Princeton University.  Her research has received grant funding from the National Science Foundation and the National Institute of Health. Professor Sanderson has published over 25 journal articles and book chapters in addition to four college textbooks, middle school and high school health textbooks, as well as the Introduction to Psychology course for The Great Courses. In 2012, she was named one of the country's top 300 professors by the Princeton Review. Professor Sanderson has written trade books on parenting as well as how mindset influences happiness, health, and even how long we live (The Positive Shift). Her latest trade book, published in North America as Why We Act: Turning Bystanders Into Moral Rebels (Harvard University Press) and internationally as The Bystander Effect: The Psychology of Courage and Inaction (HarperCollins), examines why good people so often stay silent or do nothing in the face of wrongdoing. For a preview of the topics addressed in this book, watch Catherine's TEDx talk on the Psychology of Inaction, which describes the factors that contribute to inaction and provides strategies we all can use to help people act, even when those around them are not. Professor Sanderson speaks regularly for public and corporate audiences on topics such as the science of happiness, the power of emotional intelligence, the art of aging well, and the psychology of courage and inaction. These talks have been featured in numerous mainstream media outlets, including The Washington Post, The Boston Globe, USA Today, The Atlantic, CNN, and CBS Sunday Morning with Jane Pauley. She also writes a weekly blog for Psychology Today - Norms Matter - that examines the power of social influence on virtually all aspects of our lives. Catherine lives with her husband, Bart Hollander, and three children - Andrew, Robert, and Caroline - in Hadley, Massachusetts. _________________________ For More on Dr. Catherine Sanderson Website The Positive Shift: Mastering Mindset to Improve Happiness, Health, and Longevity One Day University: The Science of Happiness The Art of Aging  (Subscription required. Currently offering a Two Week Free Trial) __________________________ Wise Quotes On What Predicts Happiness "So about 50% of our happiness seems to be built in - in terms of our genes. And this means that some people have a genetic predisposition to feeling happier. Now it's not as simple as a happiness gene. There seems to be a constellation of different genes that predispose somebody to being, in part, more resilient when things don't go well, but also probably predisposed to seeing the bright side, finding that silver lining, no matter what happens.
There are many decisions to make in planning for retirement and a big one is where to live. Are you interested in a retirement community or plan to age in place? Will you move to be closer to family members or downsize to a place with the "livability" factors you want? What will be the right place for you? Ryan Frederick, the author of the new book Right Place, Right Time joins us to share his insights. We discuss: Why he chose to live in a retirement community in his 20s - and what he learned from that Why Place is so important How the pandemic is changing how people think about where we choose to live A case study from his book and the lesson it highlights The key factors (like livability) that make a place the right place for someone The pros and cons to be aware of if you plan to age in place How Design Thinking can help people choose the right place to live next His advice for couples His personal experience in moving his family to Austin. The key trends shaping where - and how -  we'll be living in the future Ryan joins us from Austin. ___________________________ Bio Ryan Frederick is the Founder & CEO of SmartLiving 360 and the author of the new book Right Place, Right Time: The Ultimate Guide to Choosing a Home for the Second Half of Life. Ryan is focused on the intersection of healthy aging and the role of place, including housing. SmartLiving 360 helps institutions and individuals thrive in the Age of Longevity by providing consulting services, real estate development services, and consumer content. Ryan is recognized as a national thought leader and innovator in the real estate development and healthcare services industries and is a keynote speaker, instructor, author, and blogger. His work and insights have been cited in Forbes, The Washington Post, and Environments for Aging, among other outlets. His real estate development in Rockville, MD, The Stories at Congressional Plaza, is an age-friendly apartment community that has attracted national attention. Mr. Frederick is a member of the National Advisory Board for the School of Nursing at Johns Hopkins University, a member of the AgingWell Hub, a collaborative of leading innovative providers in the field of aging led by Phillips, and has been appointed to the Advisory Council of the Bipartisan Policy Center Health and Housing Task Force. He is a 2018-2019 Encore Public Voices Fellow. Mr. Frederick is a graduate of Princeton University and the Stanford Graduate School of Business. ______________________________ For More on Ryan Frederick Right Place, Right Time: The Ultimate Guide to Choosing a Home for the Second Half of Life Blog  The University of Michigan Study on Purpose and Longevity mentioned on the podcast __________________________ Wise Quotes On the Importance of the Right Place "It makes it easier to be socially connected, be physically active, be financially secure for a longer life. And then it has a direct effect because in some cases you may be in a physical place that you might be emotionally connected to or not. Or you might have some physical limitations and you may find a place that may not be appropriate for you. So I think it's so important that Place should be on the same level as eating well, exercising, and financially planning for longevity. It's right up there as we think about planning for a longer life. And it starts with a vision of what you want your life to look like. And then how does Place help enable that to happen?" On Happiness and Longevity "When you look at the research of a longer life, and we don't hear this much in the media, but there's something called the U-shaped Happiness Curve based on people's self-reporting of their well-being and happiness. You're at a certain level in your 20s, then you kind of go down for a stretch. And then your late 40s, early 5os is the nadir in the US. I like to think it's correlated to having teenagers in the house...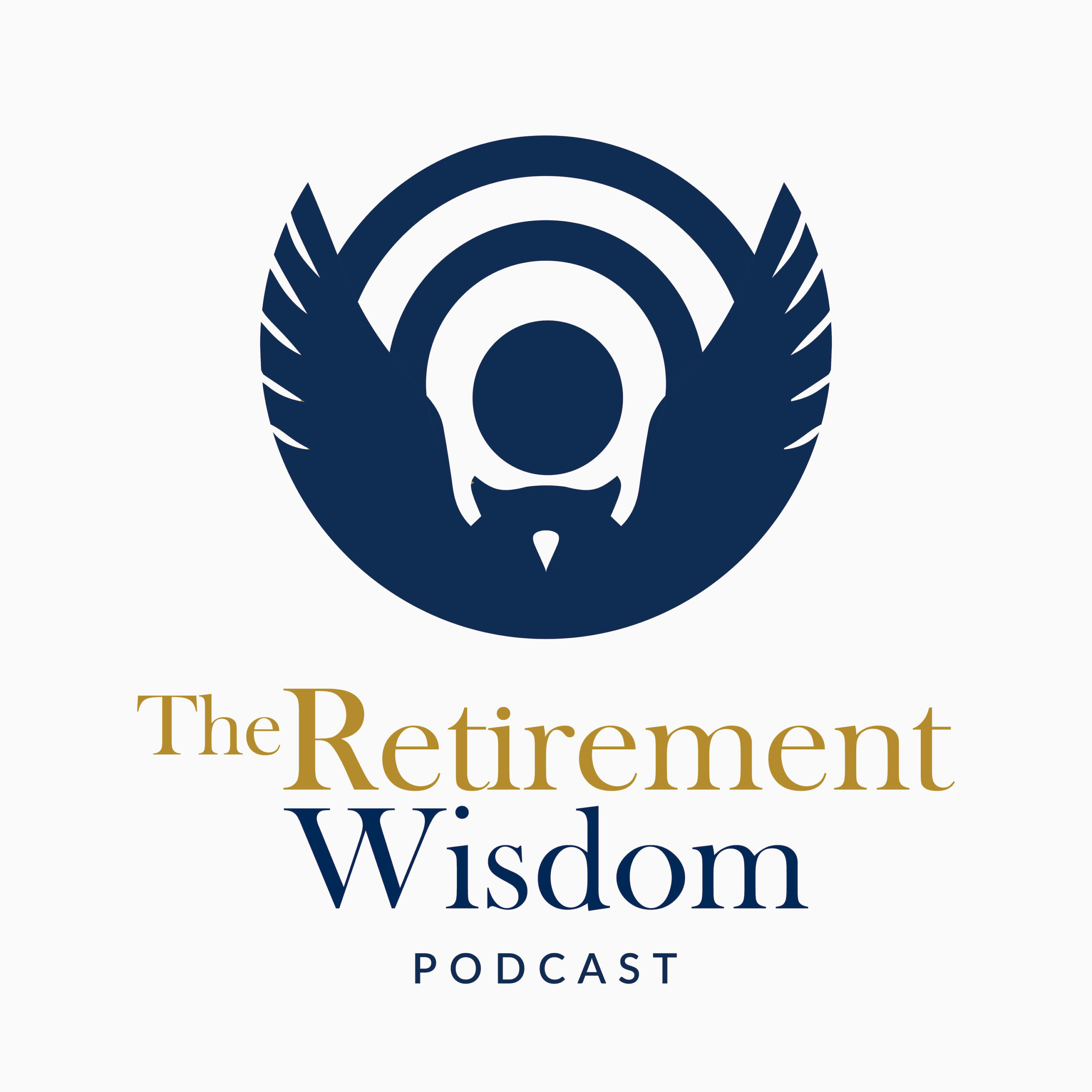 When you're learning something new, it's helpful to understand both theory and practice. Planning for retirement is no exception. What can we learn about life in retirement from those who planned well for retirement (and wrote excellent books about it) - and are now living it? In this new installment of a series of panel discussions with our most popular previous guests, we're joined by Fritz Gilbert, Dr. Barbara O'Neill, and Mark Shaiken (you'll find their bios below). We discuss: Their lessons learned about life in retirement so far How they're investing their time now versus their full-time working years What do they know now that they wished they did then What they learned about themselves by writing a book about retirement The ingredients for a Good Life today Their advice for pre-retirees who are planning for retirement now Dr. Barbara O'Neill joins us from Florida, Fritz Gilbert from Georgia, and Mark Shaiken from Colorado. __________________________ Bios Fritz Gilbert is the author of The Keys to a Successful Retirement. He retired after more than three decades in corporate America, where he progressed through the various levels of a multinational corporation serving the global aluminum industry. His award-winning blog "The Retirement Manifesto" is focused on people achieving a great retirement. Fritz and his wife, Jackie, live in a cabin in Blue Ridge, Georgia, an Appalachian Mountain town where they're active in their local church and various local charities, including Jackie's charity Freedom for Fido (FreedomForFido.com). When he's not writing, Fritz enjoys spending his time outdoors and is an avid fly fisherman, mountain biker, hiker, camper, photographer, and fitness fanatic. He also cherishes his daily walks in the woods with their four dogs, who run the household. Fritz and Jackie also travel cross country in their RV to visit their daughter and her family in the Pacific Northwest. Previous Visits: The Keys To A Successful Retirement - Fritz Gilbert The Soft Side of Retirement – Fritz Gilbert, The Retirement Manifesto Website  ---  Barbara O'Neill, Ph.D, CFP®, CRPC®, AFC, CHC, CFEd, CFCS, CPFFE, is the author of Flipping the Switch: Your Guide to Happiness and Financial Security in Later Life. As the owner/CEO of Money Talk: Financial Planning Seminars and Publications, Dr. Barbara O'Neill, CFP®, AFC®, CRPC®, writes, speaks, and reviews content about personal finance. A Distinguished Professor Emeritus at Rutgers University, after 41 years of service as a Rutgers Cooperative Extension educator and personal finance specialist, Dr. O'Neill has written over 160 articles for academic publications and received more than 35 national awards and over $1.2 million in grants to support her financial education programs and research. Employed by Rutgers since 1978, she provided national leadership for the Cooperative Extension programs Investing For Your Future and Small Steps to Health and Wealth™ for over a decade. Part of her work time is bought out to provide personal finance training for military family service professionals (for the eXtension Military Families Learning Network) and for New Jersey financial educators as part of a state Department of Education contract. She is also the author of two trade books, Saving On a Shoestring and Investing On A Shoestring, and co-author of Money Talk: A Financial Guide for Women. She is a certified financial planner (CFP®), chartered retirement planning counselor (CRPC®), accredited financial counselor (AFC), certified housing counselor (CHC), and certified financial educator (CFEd). She also holds the CFCS (certified in family and consumer sciences) and CPFEE (certified personal and family finance educator) credentials from the American Association of Family & Consumer Sciences (AAFCS). Dr. O'Neill received her Ph.D. in family financial management from Virginia Tech,
Is it time to make the healthy lifestyle changes that perhaps you've been putting off? Our guest is Glen Robison, author of  Healthy Dad, Sick Dad. The book's subtitle says it all: What Good Is Your Wealth If You Don't Have Your Health? We discuss: The story behind his two Dads - and what lessons he took from them How your lifestyle choices affect your health The most important lifestyle factors to zero in on The biggest changes he's made personally Yin and Yang foods - and how to achieve the optional balance His go-to recommend resources He joins us from Arizona. _________________________ Bio In Healthy Dad, Sick Dad, Dr. Glen N. Robison shares his personal journey with two very similar fathers who ended up in drastically different retirements. Determined to understand why, Dr. Robison studied his healthy father's lifestyle and emulated it for fifteen years, with dramatic improvements to his own health. Now, he shares the secrets of living toward a long, healthy life. Dr. Glen N. Robison is Diplomate of the American Board of Multiple Specialties in Podiatry Board Certified in Primary Care in Podiatric Medicine. Dr. Robison is a Jin Shin Jyutsu practitioner and certified Myopractor, trained in releasing deep restrictions of motion in the body that resides at the root of our symptoms and ailments. Having applied the principles found in this book for over fifteen years, he has expanded his practice to include dietary approaches that address everything from fungal infections to diabetes. _____________________________ Wise Quotes On Adopting a Healthy Diet "I think part of the challenge here, at least it appears to me, is that medicine today is about how a pill makes a quick fix. Work takes a little bit of a long time, but perhaps is more sustaining over a course of a lifetime. Right out of my residency, I was in my first year in practice, and I was on the go, go, go. I was trying to pay off the student loans. I was starting a family. I was trying to pay down the debt. And so I was running on willpower. I was running on adrenaline. And so I gravitated to the social things of life, the quick energy, high-sugary food type things. And over a course of time, it really started to take a toll on me. And so when I couldn't get out of bed and because of my back was hurting so bad and I realized, man, being young in practice, I didn't have any health insurance. Nothing. I was like, what am I doing? And so surgery wasn't an answer for me. I didn't want to get cut on. I know my sick dad had back surgery. I didn't want to follow down his road. So I was directed to my healthy dad. And I remember when he worked on me and he made a comment: Man, you're like a dang bag of potatoes. You're so stiff. In order to really fully get you to where you need to be, you're going to have to change what you eat. And that didn't make sense to me. I said I'm just here for my back. I just need to get my back fixed. But it took a couple of years of him talking to me and telling me that you really have to change what you eat." On Emotions & Health "I've learned how to engage my emotions to hold me in check, meaning that anger, grief, frustration, resentment, all these things, have a direct effect on our health. Grief and worry are directly related to diabetes. And so I could tell you a story right there that I've experienced, I had with worry and grief, that can elevate your blood sugars. And so I've been more attuned to the emotions and have learned to just be more trusting, be more forgiving, be more loving, and not take in these harsh, emotional elements that I've incorporated into my life." ___________________________ For More on Dr. Glen Robison Healthy Dad Sick Dad: What Good Is Your Wealth If You Don't Have Your Health? Learn more at www.liveitlifestyles.com ____________________________ Podcast Episodes You May Be Interested In Take Charge of Your Well-Being – John La Puma, MD
You'll face a myriad of decisions in planning for retirement. Wade Pfau has written a comprehensive guide to help you prepare well, financially and otherwise. He joins us to discuss how to fortify your retirement planning and decision-making. We discuss: How he became interested in studying retirement and retirement planning The key risks to manage in planning for retirement Why the traditional concept of retirement is increasingly unaffordable - and what to do instead His views on the 4% rule The roles that annuities and reverse mortgages can play in retirement planning The pros and cons of working longer What to consider in deciding where to live in retirement The non-financial aspects of transitioning to retirement - and special challenges for introverts How to assess your preparedness for retirement Wade joins us from Dallas. ______________________ Bio  Wade D. Pfau, PhD, is Professor of Retirement Income in the Ph.D. in Financial and Retirement Planning program, Co-Director of the New York Life Center for Retirement Income, and RICP® program director at The American College of Financial Services. Pfau is a co-editor of the Journal of Personal Finance. He has spoken at national conferences of organizations for financial professionals such as the CFA Institute, FPA, NAPFA, AICPA-PFP, and AFS. He also publishes frequently in a wide variety of academic and practitioner research journals. He hosts the Retirement Researcher blog, and is a monthly columnist for Advisor Perspectives, a RetireMentor for MarketWatch, a contributor to Forbes, and an Expert Panelist for The Wall Street Journal. His research has been discussed in outlets that include print editions of The Economist, The New York Times, The Wall Street Journal, and Money Magazine. Pfau was a selectee for the InvestmentNews "Power 20" in 2013 and "40 Under 40" in 2014, the Investment Advisor 35 list for 2015, the IA 25 list for 2014, and Financial Planning magazine's Influencer Awards. He is a two-time winner of the Journal of Financial Planning Montgomery-Warschauer Award, a two-time winner of the Academic Thought Leadership Award from the Retirement Income Industry Association, and a best paper award winner in the retirement category from the Academy of Financial Services. Pfau holds a doctorate in economics and a master's degree from Princeton University, and bachelor of arts and bachelor of science degrees from the University of Iowa. He is also a Chartered Financial Analyst® (CFA®). _________________________ For More on Wade Pfau Retirement Planning Guidebook: Navigating the Important Decisions for Retirement Success Retirement Researcher Website _________________________ One Day University At One Day University, you can watch hundreds of fascinating talks by the most popular professors from 150 top schools. A special offer for listeners of The Retirement Wisdom Podcast: learn more and start your two-week free trial at www.onedayu.com/wisdom Check out the video library to see what interests you. _________________________ Wise Quotes On Risks "Risks fall into a few different categories. Longevity risk is worth mentioning first, and it's a good thing in a way. You don't know how long you're going to live, and you might live a very long time, which is wonderful, but just on the financial side, it's expensive to live a long time. You have to fund your retirement for more and more years. So longevity risks really is the overarching risk, and you've got the different types of market risk and market volatility, interest rates that are changing, and so forth, just market-related risks and inflation could be part of that as well. But even a low inflation rate over a long retirement can really compound over time. And then everything else really falls into the category of spending shocks. Which is you may have a reasonable baseline budget that you anticipate,
Can learning from your parents' mistakes help you age gracefully? In his 50s Steven Petrow began a list of things he was observing that he vowed never to do when he became old. Now in his 60s, he has a different appreciation of his observations. Listen in to a fascinating conversation as Steven shares his humor and insights on making smarter choices to age gracefully. __________________________ Bio Steven Petrow is an award-winning journalist and book author who is best known for his Washington Post and New York Times essays on aging, health, and civility. He's also an opinion columnist for USA Today,  where he writes about civil discourse and manners. Steven's 2019 TED Talk, "3 Ways to Practice Civility" has been viewed nearly two million times and translated into 16 languages. Steven's new book is Stupid Things I Won't Do When I Get Old. He is the author of five other books, the most recent of which is Steven Petrow's Complete Gay & Lesbian Manners. He's a much sought-after public speaker, and you're likely to hear him when you stream NPR or one of your favorite  —  or least favorite  —  TV networks. Steven also served as the host and executive producer of "The Civilist," a podcast from Public Radio International and North Carolina Public Radio WUNC. __________________________ For More on Steven Petrow The Book: Stupid Things I Won't Do When I Get Old: A Highly Judgmental, Unapologetically Honest Accounting of All the Things Our Elders Are Doing Wrong Steven Petrow's Website How To Age Gracefully  (The article mentioned by Jane Brody in The New York Times) __________________________ One Day University At One Day University, you can watch hundreds of fascinating talks by the most popular professors from 150 top schools. A special offer for listeners of The Retirement Wisdom Podcast: learn more and start your two-week free trial at www.onedayu.com/wisdom Check out the video library to see what interests you. __________________________ Wise Quotes On Being a Perrenial "There are many ideas that were good for a long time - and then they're not anymore. And then of course there are new ideas that come into vogue - and one of the new ideas that I talk about is this notion of being a perennial. So we're very divided by our generation. We have the Greatest Generation. We have the Boomers, Millennials, Gen X, Y, and Z. And in a way, those are divisions that keep us apart. And so I like this notion of being a perennial. Anybody can be a perennial, whether you're 25, 64 like we are, or 85. It's an attitude. And it's an attitude of being involved and curious and often having friends of different generations. So this is like a new behavior that we can start to adopt. That is very gratifying. I've had the experience several times, especially with multi-generational friends, but also I'm having younger folks really kind of keep me in the swim of what's happening in life. And I think that's important to all of us." On Adapting "The thing I saw most, especially I'll say with my Dad - and I think this is somewhat of a male condition. He was very independent, very stubborn. He always liked to do things his way, and he really did not want assistance in general. And he did not want his three kids to be providing any kind of help - I'll say it in air quotes. And we were very aware of the sort of family dynamic and the generational dynamic and did not want to be telling our father what to do. Both because we knew that that was futile and that that's really not how we were approaching these problems, especially when he was falling a lot. So we tried to give him tools and he rejected most of them. And then he continued to fall and he died. He died from a series of falls. And what really struck me was his own father had died from a series of falls. And my Dad had been trying to help his Dad not do that. So in a way, I feel like I have a greater awareness of these issues.
How can you get smarter about getting smarter? Our guest Elizabeth Ricker, author of Smarter Tomorrow, introduces us to neurohacks that can cognitive functioning. She explains her concept of scientific self-help and how to improve cognitive functioning through a variety of short exercises and experiments. We discuss: The story of her middle school math teacher How neurohacking and scientific self-help work with how to improve cognitive functioning What she learned from tracking her New Year's Resolutions since 2011 What we need to know about cognitive functioning that may be different than we expect The New IQ and the New EQ Common Lifestyle Bottlenecks – and how they can be addressed and improve cognitive functioning How Serious Brain Games can improve executive function The MIND diet How having an accountability partner can help The key messages from her book Smarter Tomorrow Elizabeth joins us from San Francisco. ________________________ Bio Elizabeth R. Ricker is the author of the new book, Smarter Tomorrow: How 15 Minutes of Neurohacking a Day Can Help You Work Better, Think Faster, and Get More Done Her work has been featured globally, including in the Wall Street Journal, Fast Company, on SiriusXM radio, and on public broadcast TV in Europe. She has given talks on cognitive enhancement and neurohacking across the US and overseas. She is a sought-after expert by Silicon Valley venture capital firms, technology startups, schools, and the Fortune 500. She runs the citizen neuroscience, DIY, and neurohacking organization, NeuroEducate, and her consulting and speaking work goes through Ricker Labs. Ricker received her undergraduate degree in Brain and Cognitive Sciences from MIT and her graduate degree in Mind, Brain, and Education from Harvard. In college, she worked in the neuroscience lab of Nobel Prize winner Dr. Susumu Tonegawa. Ricker was also a nationally ranked athlete and class president-- the latter of which occasionally involved such serious duties as dressing up in a giant rodent costume to play Tim the Beaver, the MIT mascot. __________________________ Wise Quotes On Neurohacking "I think before you dive into all the things that the media is going to tell you that are falling apart as you get older, I think it's really important to just start with the things that you are probably stronger at than you realize. This is a really important thing with neurohacking - to start with an understanding of where you're strong and then understand what your personal bottlenecks are so that you can personalize everything that you do." On Scientific Self Help "You can take a very scientific approach to your life and the things that seem kind of abstract and maybe not under your control, like life satisfaction or mental performance - these things seem uncontrollable. I think they seem like you're either born with them or fate seems to play a role and you just don't have control over them. And what I want to really introduce to people is that we actually have a lot of data, and we have this tool, which is self-experimentation, that can allow you to actually take control over it. And if it helps at all, when you look back at the number of Nobel prize winners who have won awards in medicine or physiology, a surprising percentage of them actually ran self-experiments in the exact area that they won the Nobel prize in. So you will actually be in pretty good company. This is not some [sci-fi] stuff. This is something that even very various data scientists have done themselves. So, [there's] no reason why you can't ask and approach things just like a Nobel prize winner." On Neurohacking  "...When you start your neurohacking, I think of there being a pyramid. So before you get into the really fancy neurohacks, like later on in the book, I talk about neurostimulation, neurofeedback, these sort of lab-grade technologies that are now - due to the decrease in consume...
Your "retirement" could be longer than your career. What if you reject the traditional version of retirement that your neighbors and your colleagues have in mind? What if instead, you design a new life around what matters most to you and yours? And what if you bring the same qualities that made you successful to your new post-career chapters? Today's guests, Milledge and Patti Hart are the authors of The Resolutionist: Welcome To The Anti-Retirement Movement. The Harts are living their new life on their own terms, based on twelve Resolutions they developed that define a pathway to make this phase of life the best of their life. And you can apply ideas from their framework to do the same - and measure your progress - as you define it - along the way. Milledge and Patti Hart join us from California. __________________________ Wise Quotes On The Anti-Retirement Movement "This generation of people actually really relates to the word anti. We were anti-war, we're anti-aging or anti-racism. Whatever the word is, it doesn't mean that you're against it. It really means that you're trying to redefine it. And I think that's really why we chose the word anti-retirement to say: How do we get society to shift its thinking about retirement and put it in a new place? If you think about the work we've done with the Stanford Longevity center, we have added 30 years to our lifespan in the last century and that's all in retirement. And so how do we take an anti-retirement approach and say: We're not going to approach this in the same way that historically the world has approached retirement? And if you're anti-something, you're definitely pro-something else." On Prioritizing Yourself "It's important to me because it's something I'd never done before because you're at such a different place in life, where you are more in control of things. Things aren't being set up for you and done for you. I'm making certain that I now [have] no guilt around moving myself up the priority list. It's important for a lot of reasons. I think at this stage of life mental health, self-confidence, and physical health [are] obvious things that matter when you get to this stage of life. But for me, it was the guilt. I had to really deal with the guilt of saying it's okay for me today to spend today on me." On Metrics for Your New Life "We all have lived with scorecards, probably since you were five years old, right? You brought home your first report card from school - and then you find yourself at whatever age you retire. And now there's no scorecard. There's no year-end bonus. There is no raise. There's no promotion. There's no whatever your scorecard was, whatever units it was in. And so it is important to your self-confidence that you actually see yourself making progress, that you see yourself as relevant, that you see yourself as important, and that you see yourself as still accomplishing. But for each person, it's very different. One of the things Milledge and I talk about in our book is really pushing people to try to measure the unmeasurable because the things we have been measuring - wealth and bonuses and money and units of whatever you [tracked ] - are gone. Now, what's your weight? And how many miles did you run today? Those are easy to measure, but we really pushed ourselves to say: How do we measure the unmeasurable? And we did that by saying, What is our desired state? What's the desired outcome? Is it a level of happiness, a level of connectedness, a level of relevancy? What's the end state that you're trying to accomplish? And what moves you towards that and start measuring deeper in the funnel?... We all need to have a measurement system in life, but it does need to be developed around what is important to you." ____________________ Bios Patti Hart Patti Hart spent her early life in a small town in Illinois cheering for her Chicago Cubs, going to public schools and sharing chores with her many siblings.
The pandemic has been a catalyst for reflection on what matters most and what constitutes a good life today. For many, it's sparked a realization that there's much more to life than the traditional model of work and careers. But what's next for you? For those contemplating retiring, perhaps earlier than expected, it's an opportunity to redesign their lives and pivot to a phase with greater meaning and purpose. How are you approaching your second half of life and retiring? Uncertainity leads many people to approach it with trepidation. Michael Clinton, the author of the new book ROAR into the second half of your life (before it's too late!), asserts that there's a better way. We discuss his four-part process to help you take charge of your next phase. __________________________ Bio Michael Clinton is the former President and Publishing Director of Hearst Magazines and is currently the special media advisor to the CEO of the Hearst Corporation. He is also a writer and photographer who has traveled to over 120 countries. He has appeared in the New York Times, The Wall Street Journal, Town and Country, O, the Oprah Magazine, and other national media. Clinton is the Founder of Circle of Generosity, a nonprofit that grants random acts of kindness to those in need and serves on multiple nonprofit boards. His newest book, ROAR into the second half of your life (before it's too late!) is a manifesto on how to get the most out of your life experience in work, lifestyle, and relationships. __________________________ Wise Quotes On the acronym ROAR "First of all, the awareness of if you're 50 and you're healthy today, you have a really good shot at living to be 90 - or a hundred. And the construct that we were handed by our parents - and by both government policy and corporations - is a very outdated construct. The days they were developed in were the days when the life expectancy quite honestly was in the early 60s. And so you'd check out of a job and you wouldn't live much longer. Well, all that's changed. So ROAR and the acronym that it stands for is designed to help people have that aha moment about this. So they are: Re-imagine yourself and be one of those "Re-Imagineers" before others do it for you, whether it is being laid off or pushed out or any of the above. And re-imagining your favorite future, especially if you're going to have this long life arc, the O is own who you are. I like to call it a midlife awakening, not a midlife crisis because once you've lived 25 years, you know a lot about yourself. So use that awakening [to accept ]that you've made good decisions and bad decisions - just kind of own them and assess where you are right now.  But at the same time, own your numbers. Think about it - it's amazing to me, Joe, how many people I ask what's your blood pressure or your heart rate, and they're completely clueless. And that's not a good thing because as we live longer, we need to keep our health numbers and metrics in place with our financial numbers. We need to own our successes and our failures. So, own who you are, is a big part of this book, and what's next for you. A is Act now with this concept called life layering, which I hope we can get into and talk about. And then the final R is reassess your relationships, because when you're in midlife and you want to make a change in whatever part of your life you're talking about, you need the support of your family, your friends, your community, your colleagues. They're the ones who are going to help facilitate that. And so you gotta really have a clear, clear head as to who they are and who your posse will be to get you there. So it's this four-step process, which is in the book, which stands for ROAR." On Being Person-Appropriate - Not Age-Appropriate "We all are sort of wired to think about what a 50-plus life is supposed to be, which is an outdated concept. So the biggest mistake people make is they create self-imposed ages.
Achieving the financial security to retire is a big milestone. But you're not done. There's inner work to be done to move into this next phase of life. Retired psychotherapist and bestselling author Connie Zweig joins our retirement podcast to discuss her new book The Inner Work of Age: Shifting from Role to Soul - and her insights on how reflection and contemplation can be valuable practices in your transition. We discuss: How retirement can be a catalyst for an inner journey to reimagine life What the words retire and yoga have in common The obstacles often encountered on this inner journey - and what Shadow Work is How an Identity Crisis following retirement is different from a Mid-life Crisis Why letting go is important – and challenging Her own journey in retiring as a therapist – and what it's taught her What she's learned from grandparenting What an Elder is – and how one becomes one How people can come to view retirement as a spiritual journey The main message of her new book The Inner Work of Age: Shifting from Role to Soul Connie joins us from California. __________________________ Thank You Thanks to our wise guests and loyal listeners The Retirement Wisdom Podcast is among the top 3% in popularity globally according to Listen Notes. __________________________ Bio Connie Zweig, Ph.D., is a retired therapist, co-author of Meeting the Shadow and Romancing the Shadow, author of Meeting the Shadow of Spirituality and a novel, A Moth to the Flame: The Life of Sufi Poet Rumi. Her new book, The Inner Work of Age: Shifting from Role to Soul, extends shadow-work into late life and teaches aging as a spiritual practice. Connie has been doing contemplative practices for 50 years. She is a wife and grandmother and was initiated as an Elder by Sage-ing International in 2017. After investing in all these roles, she is practicing the shift from role to soul. __________________________ Wise Quotes On Letting Go "My framework in the book is that the shift from senior to Elder in late life is a rite of passage. And we don't have rites of passage for elders in our culture, right? It just doesn't exist. So there are three stages of every rite of passage - and the first stage is letting go. And that might mean letting go of outworn roles or attitudes, letting go of outworn beliefs, or self-images or relationships that don't work - or jobs, or finances, or goals of some kind. And so letting go at every stage of life is hard because as humans, we bond, and we get attached. And with our egos to try to control everything. But to become an Elder, we actually need to let go of the Ego's agenda and step into a different speed limit, a different pace of life, a different sense of flow. I call it from Obligation to Flow - and we need to let go of the past. A lot of people are clinging to the past, feel regret about the past, and need to give and receive forgiveness about the past. So there's a chapter about how to do the emotional work to help us let go of the past so that we can live fully in the present because many people don't know how to do that. They don't really know how to be here and enjoy it fully." On Becoming an Elder "I think this is very individual, but what I explore in the book is that everyone becomes a senior with a Medicare birthday, but becoming an elder is not an age. It's a stage. It requires intention and what I call inner work so that there's a certain level of self-knowledge and awareness and ways of relating and a desire to give to the common good. Some people are Activists Elders, and some are Creative Elders and some are Spiritual Elders. So we can transmit the knowledge of our lives in many different ways, but there is this impulse of generosity to give back." On a Life Review "There are lots of tools in the book. The last person I spoke with before you today said, she's having to really chew it and digest it. It's not a quick read.
It's a blast to dream about your retirement. Freedom. Flexibility. Fun. Just like you see in the commercials and the brochures. But if you want to truly retire happy and lead a life of fulfillment, you'll need to prepare better. You'll want to go beyond the highlights and take a serious look at what your day-to-day life will really be like - and what it will be about. Tony Hixon, author of the new book, Retirement Stepping Stones, joins our retirement podcast to share his experiences and insights on how you can prepare for the stumbling blocks that can arise in retirement -  and how you can find a new purpose after you leave the world full-time work. We discuss: The tragedy that forever changed how he sees retirement - and why he's on a mission to help people prepare differently The most challenging stumbling blocks people face in retirement The key solutions to those challenges Why you should dream big about your retirement - but why you should look past your highlight reel version of it How career burnout can get in the way of a great retirement Why retirement isn't for everyone - and why you need a Plan B How your legacy should be part of your retirement planning Tony Hixon joins us from Ohio. ____________________________ Thanks to our wise guests and loyal listeners The Retirement Wisdom Podcast is among the top 3% in popularity globally according to Listen Notes. ____________________________ Wise Quotes On Transitioning to Retirement  "You retire one day and [on] the last day they throw you a party. Your email is still active and you get probably a hundred to three hundred emails. And then the party's over. The cake has been eaten. You had the weekend to kind of recoup and Monday morning rolls around. And you open up that email account. It's been deactivated. You switch to your personal email and there are only two [emails ] there, and both of them are junk. So it kind of messes with your mind. You're not quite sure what this new phase of life should look like. You've had the ideal version of what retirement will be based on all the commercials and the Americanization of what retirement is, but perhaps you haven't done the correct work on what you're retiring to. You certainly know what you're retiring from, but you don't necessarily have an idea of what you're retiring to. So that loss of meaning and purpose is certainly a stumbling block that we see many clients face in retirement. Just not knowing for sure if they're needed anymore."   On Purpose and Legacy "However, we often encourage our clients to think more deeply about the kind of emotional impact they want to make on their family and their friends and their community. We ask them questions - and I'd ask your listeners these questions: What lessons do you want to impart? How do you want people to feel when you interact with them? What do you want to be remembered for? These questions are certainly as important - if not more so - than planning for the financial strategy to care for your loved ones. Remember you get to define your legacy. How you live each day builds the legacy that you want to leave behind. Don't be afraid to start living with purpose. It's never too late - or too early - to start." ________________________ Bio Tony Hixon, CIMA®, RFC® is the author of the new book Retirement Stepping Stones: Find Meaning, Live with Purpose, and Leave a Legacy. Mr. Hixon is co-founder, Chief Operating Officer, and Chief Compliance Officer of Hixon Zuercher Capital Management.  As Chief Operating Officer, Tony is responsible for overseeing the administration and compliance of the firm.  In addition to managing the firm's operations, Tony serves on the firm's Investment Committee and is a co-Portfolio Manager, an Analyst, and Trader. Tony has experience providing investment services since 2003 and providing financial advisory services since 1999.
What's more important than Wellness? You want a healthy portfolio when y0u retire, but most importantly, you want a healthy you. This Best of The Retirement Wisdom Podcast episode highlights valuable practical advice from our guests on wise moves to take charge of your wellness and fitness. Listen to the full conversations: John LaPuma, MD Marta Zaraska Kelli Harding, MD, MPH Kelly McGonigal, PhD BJ Fogg, PhD _________________________ Thanks to our outstanding guests and loyal listeners, The Retirement Wisdom Podcast is ranked in the top 3% of podcasts globally in popularity according to Listen Notes. Browse all 4 Seasons of our episodes here Follow: Apple Podcasts | Google Podcasts | Spotify | iHeartRadio | Stitcher | TuneIn | RSS | More __________________________ Related Retirement Blog Posts A Diagnosis Leads to a Retirement Course Correction Tiny Habits That Deliver Big Changes Put the Bounce Back in Your Retirement Because of the excellent writing of contributor Bev Bachel, The RW Blog was named as one of the Best Blogs to Read in 2021 by Blog Overview __________________________ Take Charge Ready to take charge of your wellness? It begins with building the right habits - by starting small - actually tiny. Schedule a free call with Joe Casey, a Certified Tiny Habits coach at Retirement Wisdom, about his 4-week one-on-one coaching program to build the habits you want.
What will help you retire happy? After a long career, are you looking for a retirement life that has more variety and flexibility? And a rich, diverse set of activities and interests that you can build gradually and adjust as you go? Our guest on this retirement podcast is Andy Robin, a retired technology executive who's doing just that. He's joining us to share insights from his book Tapas Life: A Rich and Rewarding Life After Your Long Career. Andy joins us from California. _________________________ Are you ready to discover your new life? Our Design Your New Life group program kicks off on September 24th. It's limited to 10 participants. Learn more here. __________________________ Bio Andrew Robin, known to most as Andy, was born in Chicago and raised in Mexico City.  He holds a BA in Computer Science from the University of Texas at Austin and an MBA from Harvard University.  He has been happily married to Carole for 35 years, and they have two fine kids, Nick, 33, and Molly, 31. Andy was an entrepreneur with his dad in the computer industry in the early '70s in Mexico City (his dad moved the family there from Chicago to pursue an opportunity).  He was in the semiconductor industry for 22 years (at Mostek, Monolithic Memories, AMD, and Lattice), mostly in marketing, but also as a general manager, and most recently as VP of New Business Ventures.  He was a house dad from 2002 to 2007 until Carole and Andy's youngest went off to college. Today he retains the duties of shopping/cooking, household maintenance, travel planning, and finances.  He also plays a lot of classical piano, some golf, enjoyed 6 years on the Board and Executive Committee of his large synagogue (Congregation Beth Am of Los Altos Hills), where he was also co-chair of raising an endowment, was part-time CEO of a promising tech start-up for 6 years (and remains on the Board), is an Executive Coach and Life Coach, serves on the Board of a foundation in Palo Alto and a NYC hedge fund and enjoys day-trips, lectures, and concerts around the San Francisco Bay Area and Silicon Valley. Andy wrote Tapas Life to do some good for others. Andy's wife, Carole Robin, wrote a terrific book for Penguin RandomHouse with her colleague David Bradford:  Connect:  Building Exceptional Relationships With Family, Friends, and Colleagues.  It distills the combined 70 years she and David enjoyed teaching the Interpersonal Dynamics course at Stanford Graduate School of Business.  She believes that when more people embrace the learnings in her book, the world will be a better place. __________________________ On a Tapas Life "For those who don't know is it's one of the foods of Spain. It's the concept that instead of having an American style, large porterhouse steak on your plate with some potatoes and a veggie, instead you have a bunch of little dishes, and often times the table orders six or eight little dishes as you go. You order a few more and so on. And so it's almost like a little buffet that you make yourself at your own table. And that's kind of how I think about the Tapas Life. During what I call my long career decades of working in an office, that was my big job. And I probably did that 45 to 60 hours a week for decades. My plate was very full for decades. And now that I'm done with my long career, instead, I like to assemble a number of smaller activities that comprise my life today. It's rich and rewarding. It's tasty and interesting. It's varied and enjoyable. And also one of those Tapas is meaningful. So I'm also doing some good for others on the planet." Examples of a Tapas Life "I've seen others who have done important things about social connection for Tapas. What I write about in the book that I just loved is one couple I interviewed who said that once a month they get together with another couple for a weekend. And they alternate each month. It's one couple's responsibility to figure out, within a three-hour drive,
Can you get stronger after 50? Strength training, done properly and safely, can bolster your wellness. It's a key component of an overall fitness plan. Our guest, Dave Durell, shares his experience on how to do it right. Dave joins us from Florida. ________________________ Are you ready to discover your new life? Design Your New Life with a proven three-phase process to explore alternative versions of your future using the principles of design thinking. Schedule a call to learn how it can help you get unstuck & move forward. __________________________ Bio Dave Durell has formerly worked as a Strength and Conditioning Assistant with the Tampa Bay Buccaneers, a Strength and Conditioning Consultant to the Jacksonville Jaguars, and the Assistant Strength and Conditioning Coach at Southeast Missouri State University. He has been published in the Journal of Strength and Conditioning Research and has written 2 books on strength training. He holds a Master's Degree in Health Fitness Administration and is a Master Level Personal Trainer and a licensed Physical Therapist Assistant. After turning 50, Dave started feeling the effects of age-related wear and tear on his body, just as many people do. Knowing he had to figure out how to change his own workouts to overcome these limitations, Dave called upon the knowledge and experience he had gained over 35+ years in personal training, athletic strength and conditioning, and physical therapy, and created the Stay Strong Forever program, a unique strength training system that is especially suited for those over 50. __________________________ Wise Quotes On Why You Need Strength Training "Once we get into probably our forties or so, there's a physiological process called sarcopenia that begins to manifest itself. And it sticks with us for life. Sarcopenia is age-related muscle loss and experts estimate it causes us to lose around half a pound of muscle per year. On average, that's about five pounds of movement producing muscle tissue per decade. This would be like the engine in your car shrinking and losing horsepower every year. It's not a good thing. And it gets worse. Assuming we maintain the same eating habits throughout the years that lost muscle will be replaced by stored body fat." On Recovery "Strength training is going to give you the biggest bang for your buck time-wise and done properly. It requires very little time under 45 minutes, a couple of times a week. Another point is strength training is instrumental in reducing the risk of injuries. So people that regularly engage in sports-type activities, whether they're runners or they're in the local cycling club, or they play tennis, strength training is important to help make you more resistant to the injuries you might possibly inflict during those types of activities. So it's important for that reason. Of course, I'm not saying people should only do strength training and be sedentary the rest of the time. I'm a big believer that we rust out faster than we wear out. So I want everybody to be active, at least engaging in low moderate intensity, leisure activities or exercise on their non-strength training days." __________________________ For More on Dave Durell Website __________________________ Podcast Episodes You May Like The Joy of Movement – Kelly McGonigal The Future You – Brian David Johnson How to Make Healthy Lifestyle Choices – Alan Carpenter Best of The Retirement Wisdom Podcast – On Successful Aging Believe In Yourself & Try Something New – Carol Cooke Tiny Habits Can Lead to Big Changes – BJ Fogg ____________________________ About Retirement Wisdom What do you want your new life to look like? Even if you have some ideas about your future, it can be hard to figure out exactly how to get there. You need a structured, principle-based process – and a guide you can trust. Our Certified Designing Your Life coach can help you envision and transition ...
Positive aging can bolster your retirement. It includes cultivating your mindset, your engagement, creativity, and gratitude. Author Stephanie Raffelock shares her insights on positive aging and explains how you can reclaim what you love. Stephanie joins us from Austin, Texas. __________________________ Are you ready to design your new life? Our group program kicks off on September 24th. It's limited to 10 participants. Learn more here. _______________________ Wise Quotes On Reflection "There are these wonderful arcs in our life. We don't get a chance to reflect upon them when we're in the midst of them. When you're in your thirties and you find a way to make a mortgage and marriage and kids work, we don't really reflect on what that is. But I think when you get to be 70 years old, you can sit back and go, Wow, I did good. We both tried our best when I say we both. I'm thinking of my husband. So I think that's one of the gifts of growing older. I think another gift of growing older is that we don't have to be the center of attention anymore, not the way that we did in more youthful days. We can kind of sit back a little bit and become the observer and become the appreciator. ...That's part of the gift of aging that you can actually sit still long enough to ponder these things." On Reclamation "I also think that there's a period or an opportunity for reclamation. And what I mean by that is as we were growing up and becoming mature adults, there were things that we put aside because they just didn't fit into the responsibilities and obligations that we needed to run our lives. For example, my husband was a musician and a bass player and loved the bass. And yet during most of our marriage, he didn't touch the bass, but then we hit retirement years and suddenly he started playing the bass. Again, he reclaimed that for himself and the music keeps him mentally young and because of the magic of the internet he can play with any bands now online, he can go online and take online courses in the bass. And so there's this great period of reclamation to you. We can reclaim those things. I think too that creativity is something that we can embrace in older years. We can give ourselves to the creative endeavor without having to worry about the accolades of fame and fortune around our art, our master gardening, our expert cooking, our writing. We can just do those things for the sake of creating and for the sake of art. And that definitely keeps us feeling, I think, vibrant and younger and gives us a sense of purposefulness in our life." On Creativity "I think it's a matter of surrendering what is it that you love to do that makes things, That can be master gardening, that can be music. It can be art, it can be any of those things. And I don't think we're as judgmental of ourselves at this phase of life as we were in our youth. So it doesn't really matter what the picture looks like. You're not trying to get into the Met. It's just a matter of giving yourself to the process. It's the process of creativity that I think speaks to our brain and our heart." On Power "I think the big thing that we learned from women is that the word power means something different to women. And I think that as a culture, men and women have to redefine power for meaning more than it currently does. Power has been traditionally a male word. Men have power over something. It's a warrior kind of word. Power means I can do what I want. I can take this from you. Power is for winners, that kind of power. When women talk about power, it's more the sense of knowing themselves, standing in the knowledge of self, and approaching the world from a place that is more heart-oriented. Now, I don't believe that men have to become like women or that women have to become like men. But what I see in the word power is that we have to find a greater balance with that word, that that word doesn't necessarily have to mean I have power over you.
Have you ever wondered about your family history and what it means for your legacy?  We asked Laurie Hermance-Moore, an accredited Genealogist to help us get smarter about the topic. We discuss: What a professional Genealogist does How understanding family history can be an important part of someone's legacy What's possible to learn about your family history - and what's not The biggest obstacles to overcome in a family history project What you can do on your own - and where a professional Genealogist can help How she's helped people discover their family history When someone may need a Forensic Genealogist Why this may be an interesting project in retirement Laurie joins us from Ohio. ___________________________ Ready to design your new life in retirement? Our group program kicks off on September 24th. It's limited to 10 participants. Learn more here. __________________________ Bio Laurie Hermance-Moore is a history geek turned librarian, digital agency strategist, and professional genealogist. Her passion is helping individuals connect with the people that matter to them. As a researcher, she loves finding those elusive records that will solve a mystery—and creates experiences for her clients that bring an ancestor to life in the context of history. Laurie has more than 20 years of experience working in digital marketing agencies, serving other professionals at large companies. She enjoyed working directly with executives on strategic planning, developing brands, and conducting market research to better understand how consumers think and feel. Laurie is an adoptee that found her amazing birth family and now feels as though she's been adopted a second time.  Because it took her fifty years to actually know who her family is, she figures that's why she's been blessed with especially interesting ancestors who were on the leading edge of westward migration. Laurie holds a B.A. History from the University of Kansas, a Master's in Library Science from the University of Alabama, a Master's in Marketing from Franklin University, and the Certificate in Genealogical Research from Boston University.  She is a member of the Association of Professional Genealogists, the National Genealogical Society, and serves on the board of the Ohio Genealogical Society as 1st Vice President. She received her accreditation in genealogy research in the U.S. Midwest states through the International Commission for the Accreditation of Professional Genealogists (ICAPGen℠). She resides in Ohio with her husband and at least two cats. _________________________ Wise Quotes On the Gifts of Family History "What do you do with all the other things that you're going to leave behind or could leave behind? So, I like to define legacy as the thoughtful and intentional process of deciding on the gifts to share with future generations. And those gifts can be a lot more than money. Those gifts can be your family history. They can be your story. They can be the traditions that your family has, they can be knowledge that you've gained. There's a whole lot more there. That can be a gift to a future generation...I think that the important thing here is to figure out which are the things that really speak to your family's history." On Geneology Travel "...one of the most interesting and rewarding things that you can do is genealogy travel. So whether it's to a place in the US, or Europe, standing on the land of your ancestors can really impact you. One time I was in Kansas City with a coworker and her family had traveled the Oregon Trail. And I said, well, we need to go out to Minor Park. And she said, Why? And I said, well, did you know that the routes of the Oregon Trail still exist in the Kansas City area? Because that's where people started from. They went West to Independence, Missouri. But in this one city park, in, in Kansas City, the southern side of Kansas City,
Planning for retirement is a delicate balancing act. Focusing on the practical realities is essential. But it's important to imagine your future with a sense of adventure, too. Harriet Edleson, the author of 12 Ways to Retire on Less: Planning an Affordable Future joins us to discuss how to plan your retirement with both in mind. We discuss: The hopes and dreams people have for their retirement How a sense of adventure can boost your retirement planning The realities of retirement today - and the implications that can be underestimated How to find the perfect location for your retirement Considerations for Staying-in-Place The case for – and against – working longer A case study from her book 12 Ways to Retire on Less Common mistakes people make in planning for retirement – and how you can avoid them ________________________ Ready to design your new life in retirement? Our group program kicks off on September 24th. It's limited to 10 participants. Learn more here. ________________________ Bio Harriet Edleson is the author of 12 Ways to Retire on Less: Planning an Affordable Future. She writes for the Washington Post Real Estate section and MarketWatch.com. A former staff writer for AARP and contributing writer to Kiplinger's Retirement Report, she has written the Retiring feature for the New York Times. _________________________ Wise Quotes On the Dreaming Aspect of Retirement Planning "...I think that the dreaming aspect is something that gets the wheels spinning and thinking about something other than the kind of life that you've had for maybe 30, 40, or whatever number of years where you were in some kind of a routine, some kind of a structure where you had to be somewhere, you had to do something. Maybe you had to answer to a supervisor, people call it their boss, whatever. And now you can really - if you plan correctly - do what you want. And so you have to stop before you retire and think about what it is that you would enjoy, what maybe you haven't had time to do, or [how] to rekindle an older interest."   What If Money Were No Object? "Will I have enough? Will I run out? Which a lot of people have the fear of. And then once you've got that straightened out, then you think what are the things that I really would love to do? I'd love to get a second home. For example, I'd love to ski. Again, there are people who want to do these things. There are people who might want to travel around the world. So then you figure out: how much is this going to cost me? So the dreaming has to be in the context, of course, of what you can afford. But at some point, you can just say: If money were no object, what would I want to do? And you can sit down with your spouse of 30 years or partner, whoever it is that you share your life with, or if you're solo,  and actually write down some of those things: if money were no object, what would I want to do? I want to take a balloon ride, whatever it is that you think you might want to do- or d0 you want to be able to fly back and forth between three homes, whatever it is, actually allow yourself to fantasize a bit and get away from the same little box that you have been in for maybe...20, 30 or more years."   On Deciding Where to Retire "...List your priorities and then figure out places that would match those. And the second thing is to consider places that you vacation to and love, but realizing that the vacation time will be very different than living there in all four seasons if you think you may be doing that. So you might want to test out the place in the different seasons and check out the weather. And when you talk about the weather, think about the weather with today's climate change, not the weather that was 10 years ago because of weather may be very different now. And you may be [surprised] when people tell me it's 110 here. ...Well, when you moved there, what was it? Oh,
To celebrate the 100th episode of The Retirement Wisdom Podcast, we've invited three special previous guests for a panel discussion on the challenges retirees face today, how to age wisely, and retire happy. We are grateful for all our guests who've shared their insights and wisdom on our retirement podcast - and to you, our listeners. We discuss: What makes retirement so different today The biggest challenges today's retirees face and how to retire happy Their favorite stories from the retirees they've profiled What people who are still working full-time need to know about life in "retirement" What should retirement be called now? The key ingredients of a life well-lived – that are often overlooked _______________________ Ready to design your new life in retirement? Our group program kicks off on September 24th. It's limited to 10 participants. Learn more here. ________________________ Top Retirement Podcasts to Follow in 2021 The Retirement Wisdom Podcast was named to Feedspot's list of the best retirement podcasts. ________________________ Bios Melissa Davey Melissa Davey is a documentary filmmaker who lives in Valley Forge, PA, and created Beyond Sixty (now available on TV and streaming platforms). She is a wife, a mother, and a grandmother to three young boys. She is a world traveler and curious about everything unknown. She recently retired after more than two decades from GENEX Services Inc., where she was recruited to build and operate the company's Social Security representation division. GENEX is the largest Managed Care case management organization in the U.S.  Prior to GENEX, Melissa had almost twenty years of diversified experience in the field of disability. She held senior leadership and management positions throughout her career. Melissa's second act is fueled by a lifelong passion for film and story-telling. Previous conversations: What Do You Really Want to Do?  |   Take the Detour --- Richard Haiduck Richard Haiduck is a former life sciences executive and mentor and now has an active retirement. He is becoming the Voice of Boomer Retirement Stories. He is immersed in challenging the boundaries of his own retirement, while observing the experiences and areas of curiosity of his fellow retirees. At age 7, he was sure he wanted to be an author. Now, 66 years later, that dream has become a reality. The inspiration for the book came from hearing about the meaningful journeys in retirement taken by friends and colleagues. They were doing fascinating activities at this stage of their life, and often completely new directions from their prior careers. The idea that these stories could become a book became a driving force for Richard. His 75+ interviews and his frequent social media interactions have developed his perspectives and insights on the retirement activities of the boomer generation. Richard's prior roles as both a leader and a mentor have been based on his ability to listen and to get people to share their feelings. He uses a style of interviewing with short, open questions to get people to open up about their retirement stories. The result is Shifting Gears: 50 Baby Boomers Share Their Meaningful Journeys in Retirement now available as an audiobook. He graduated from Miami University and got his MBA from Xavier University. He is happily married to his wife of 52 years and has 2 daughters and 4 grandsons. His own retirement has been hyperactive. He learns new things through weekly interactions at Stanford, formerly via attending lectures and via zoom during the pandemic. Each year he reads about 100 books and bikes more than 3000 miles. He mentors organizations serving refugees and small farmers in Ghana. He combines family time with domestic and international travel. Previous conversation: Are You Ready to Shift Gears? --- Dr. Thelma Reese Thelma Reese, is the co-author of How Seniors Are Saving The World: Retirement Activi...
United States